Schonert Firing Shocks Team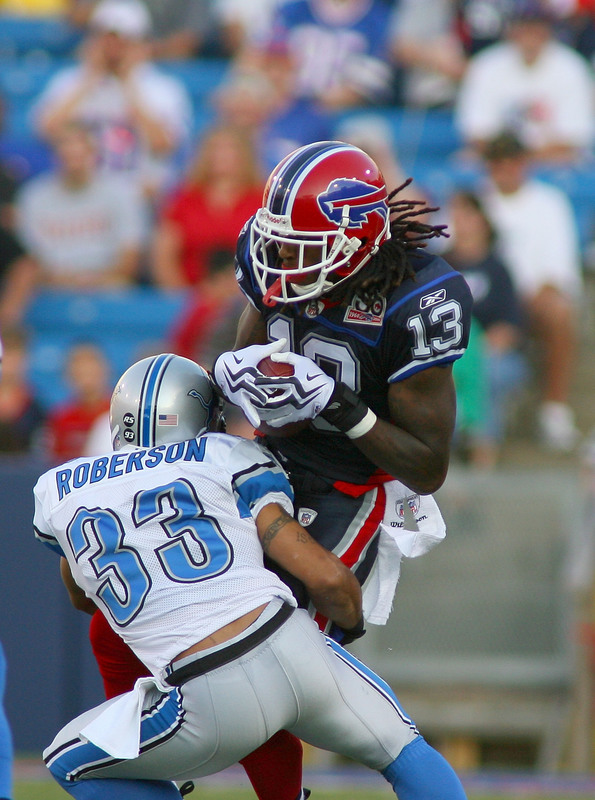 Practice Squad Established: The Bills brought back eight of the players released yesterday as they established the practice squad today. No surprises here as the only draft pick released, Cary Harris was placed on the squad along with preseason recpetion leader Jonathan Stupar. Last year's fifth round pick Alvin Bowen also is on the squad along with Nick Hennessey, C.J. Hawthorne, Felton Huggins, Corey Mace, and Bruce Hall.

Wilson Calls Meeting: ESPN is reporting that Ralph Wilson summoned Dick Jauron, Russ Brandon, Alex Van Pelt, and Eric Studesville to Detroit for a meeting. It was reportedly a give and take session after the volatile preseason for the Bills. The team would not confirm or deny there was a meeting.


Saturday September 5, 2009


Roster At 53: The Bills got their roster to 53 men by releasing 17 players. Dominic Rhodes and Kirk Chambers lead the list of players cut along with preseason stars Copeland Bryan and Jonathan Stupar. They also placed Brandon Rodd on the waived/injured list and James Hardy on PUP. Marshawn Lynch also doesn't count against the roster as he is suspended for three games. Seven of eight draft picks made the team, only 6th rounder Cary Harris did not. With Chambers getting cut the Bills kept OT Jonathan Scott. With Rhodes leaving, FB Corey McIntyre sticks around leaving just Xavier Omon behind Fred Jackson for the first three weeks. The team took a long look at McIntyre carrying the football in the preseason and must think he can carry the rock if needed. Players Released.

Cutdown Day: Today is the big cutdown day as the Bills will likely release 19 players. Their roster is at 73 right now, with the trade of Ko Simpson, and they need to get to 53. They will have a roster exemption for Marshawn Lynch. James Hardy doesn't count on the roster right now because he's on PUP. He likely will be put on the in season PUP and still won't count on the roster. Most of the cuts will be easy to figure out but there are always a few surprises. We think that Ryan Denney may not make the team this year. Our Final 53.


Friday September 4, 2009


Evans Surprised: Lee Evans put a statement on his website. He said, "I was surprised to hear we fired our O.C. He was a good dude and I learned a lot from him. It changes things but Iím looking forward to working and winning with the new O.C."

Schonert Talks About Differences: Turk Schonert talked to WIVB-TV today and said that Dick Jauron told him the offense was too complicated and not simple enough for him adding there were too many plays and formations. Schonert went on to say that Jauron has been on his back all offseason to limit plays and fomations. He said Jauron wanted a Pop Warner offense.

Simpson Traded: Reports say the Bills have traded Ko Simpson to Detroit for an undisclosed draft pick. Adam Schefter says it is probably a late rounder next year. Simpson was a fourth round draft pick who played a lot as a rookie but missed almost all his second season with an injury. He was likely going to get cut as he was going to be the odd man out in a very crowded group of safeties.

Offensive Focus To Change: While the offensive scheme won't change, Dick Jauron said the focus will change under Alex Van Pelt and he expects the offense to become more attacking. He said the decision to make the change was his and he informed Ralph Wilson after making the decision, Wilson gave him his blessing. Jauron also did not discuss the move with any players. Jauron admitted he deserves some of the blame but feels the offense wasn't going where he envisioned it to go.

Van Pelt To Handle Play Calling: Dick Jauron officially announced the firing of Turk Schonert saying it wasn't something they planned and it isn't something they wanted to do. He said they will move forward as quickly and as best they could now. To make the transition as seamless as possible Alex Van Pelt will call the plays and it appears the no huddle offensive scheme will remain intact. Van Pelt will still be the quarterbacks coach and Eric Studesville's responsibilities as the running game coordinator will not change. Van Pelt has little play calling experience doing it in NFL Europe in 2005.

Schonert Fired: The Bills have shockingly fired offensive coordinator Turk Schonert. The anemic play of the offense in the offseason seemed to be too much for Dick Jauron and he has let Schonert go. He will be replaced by Alex Van Pelt. A press conference will start shortly. It is a surprise because of the timing and he obviously is getting the blame for the rough play this preseason. What do you think of them move? Take our poll on the homepage and let us know!

Rodd, Omon Hurt: Brandon Rodd and Xavier Omon were injured in the loss to the Lions. Rodd suffered a left leg ligament injury while Omon hurt his calf. No word on how serious either injury is. In other injury news, Marcus Smith and Lydell Sargeant cleared waivers and now have been placed on injured reserve with the team. Drayton Florence may return to practice next week. James Hardy is still not cleared to practice so he may go on PUP during the first six weeks of the season. Injury Page.

Who Helped Themselves: Many of the backup players did help their chances of making the roster despite the lackluster 17-6 loss yesterday. On offense, Justin Jenkins may have clinched his spot on the team. He has always been a very good special teams player but he has really performed well at wide receiver this summer. He had two catches for 67 yards. Fellow wideout Stevie Johnson had three catches for 69 yards clinching his spot on the team. On defense, Aaron Maybin showed he will have an impact as a rookie with his second solid game in a row. He had a sack, forced fumble, and QB hit along with a pressure that forced Detroit to settle for a field goal. Copeland Bryan helped his status by being johnny on the spot again with a fumble recovery. Nic Harris may have taken a step towards a starting job as he was all over the field leading both teams with 12 tackles. He also almost pulled in an interception. Jairus Byrd had a nice interception. Marcus Buggs probably won a roster spot with eight tackles. George Wilson helped himself with nine tackles. Ellis Lankster closed out a solid offseason as he was all over the place as well.

Who Hurt Themselves: Ryan Fitzpatrick could have given the coaches something to think about at the QB position with a good performance but he was very Trent Edwards-like in his lackluster performance. Bruce Hall clinched his release as he had a chance when Xavier Omon left the game with an injury. He had 11 carries for just 28 yards. Jonathan Stupar dropped a pass hurtin g his chances. Derek Schouman had a costly fumble. Ashton Youboty will likely get released as he struggled in the game giving up a deep ball with Ko Simpson in coverage. It was called back by a penalty.

Bills Lose Preseason Finale 17-6: No starters played on defense but they kept up their opportunistic play forcing three turnovers and two sacks but it wasn't enough as the offense failed to find the end zone once again in the 17-6 loss. Ryan Fitzpatrick led the team in the first half but threw for only 78 yards and an interception. Gibran Hamdan took over in the 2nd half and threw for 163 yards but also threw a pick. Rian Lindell hit 2 of 3 field goal attempts for the Bills only points. A 79 yard touchdown run by rookie Tristan Davis clinched the game late in the fourth quarter for Detroit.


Thursday September 3, 2009


Very Few 1st Team Players: The entire starting defensive unit not playing at all tonight. On offense Marshawn Lynch, Lee Evans, and Trent Edwards among others are not playing as well. Ryan Fitzpatrick is the starting QB and Dominic Rhodes is the starting running back as Fred Jackson is not expected to play at all.

Final Roster Makeup: Tonight's preseason game against Detroit will go a long way in deciding the final couple of roster spots. We decided not to wait until after the game to predict what the 53 man roster will look like. The Bills must release 20 players by Saturday. The roster is currently at 74 and they need to get down to 54 as they have a roster exemption for Marshawn Lynch. Complete Story.


Wednesday September 2, 2009


Thomas Released: The Bills have released LB Pat Thomas. He was signed as an unrestricted free agent this offseason but was hampered recently by a calf injury. He was the one veteran they had as depth at the linebacker spot. Depth Chart.

Kelsay Excused: Chris Kelsay has been excused from practice today and tomorrow night's game as his daughter is having a surgical procedure in Chicago. Demetrius Bell and Derek Fine were among the players not practicing today. Injury Page.

Starters Won't Play Long: As usual Dick Jauron is keeping his thoughts close to the vest. He said he hasn't figured out yet how long the veterans will play. All indications say that they won't play more than a series if even that. Some people think the starting offense should play longer since they have struggled mightily this preseason. This will not happen as they are too concerned about possible injuries to let them play any length of time. How long do you think they should play? Take our poll on our homepage and let us know!


Tuesday September 1, 2009


Evans Sits Again: Lee Evans did not practice for a seconnd straight day today but Dick Jauron says he's not injured and that the two days off were planned. He explained that Evans worked every day in practice and had extra reps because of a rash of injuries at the position so he wanted to rest him. Paul Posluszny returned to action today but had to leave for a bit after the stitches on his chin opened up. He had it re-stitched and returned according to the team's website. Sitting out practice today were: Felton Huggins, Demetrius Bell, Drayton Florence, Derek Fine, and Copeland Bryan. Injury Page.

Roster Moves Made: The Bills had to clear five roster spots and did so by releasing six players and adding one today. They have placed Travis McCall, Lydell Sargeant, and Marcus Smith on the waived/injured list. They also waived Chris Denman, Solomon Elimimian, and Shaine Smith. If the injured players clear waivers their rights revert back to the Bills. The team added TE Tyson DeVree. He was an undrafted free agent that signed with the Patriots in 2008 and spend most of last year on their practice squad. He did appear in two games for them late in the season. Depth Chart.

Game Blacked Out: Thursday's preseason game is not soldout so it is blacked out in Western New York. There are still a few thousand tickets available for the game. It will be shown on tape delay on NFL Network along with WKBW in Buffalo, WHAM in Rochester, and WTVH in Syracuse.


Monday August 31, 2009


Owens Goes Full Speed: Terrell Owens practiced full speed today and said he'd like to play Thursday night if the coach lets him. Dick Jauron said he will see how it goes but doesn't think he'll let Owens play. T.O. said the problem with his toe wasn't structural, it was just a problem with a new shoe he was trying this year. He changed shoes and doesn't feel it will be a problem anymore.

Schobel Returns: Aaron Schobel and Fred Jackson both returned to practice as well today. Dick Jauron said Schobel moved well. Jackson was still sore but he said it is something he'll have to play through. The joint between the thumb and wrist is not 100 percent yet. Paul Pozluszny did not practice because of a shot in the jaw he took Saturday night. It was a bit swollen and had stitches in it. Lee Evans was given the day off. Pat Thomas is also back practicing fully. Demetrius Bell, Derek Fine, Drayton Florence, Travis McCall, and Lydell Sargeant remain sidelined. They were joined by Copeland Bryan who was banged up in Saturday's loss. Injury Page.

Back To Work: The Bills get back to work today and have a lot of work to do after another pitiful preseason performance this weekend against the Steelers. There is a practice late this morning and the team also must cut five players by tomorrow's 4pm deadline to get the roster to 75. It is a short week as they finish up the preseason on Thursday night at Ralph Wilson Stadium against the Lions.



---
News Archives index
Latest News Section
Archives Library
Back to Bills Daily Homepage