Bills Lose To Another Winless Team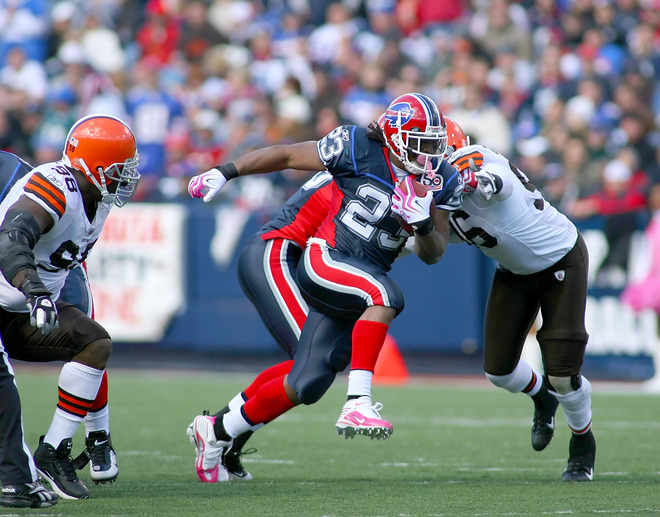 Wilson Keeps Jauron: When it was announced this morning that Dick Jauron would address the media as he always does on Monday afternoons, it was clear that he had survived another week as the head coach of the Bills despite losing to winless teams in back to back weeks. Ralph Wilson told the Buffalo News that making a midseason coaching change right now was not the right thing to do. Jauron said he understands the criticism and it's on him that he hasn't been able to get through to the team to get them over the hump the past three weeks. He didn't respond to a question on whether or not he deserves to stay as the head coach.

Game Was A Letdown: Dick Jauron told the media today that the game was a letdown for the whole team. The defense played well enough to win but offensively they didn't get much done. The big turnovers and lack of scoring were huge in the game. He says he has to do a better job in giving them a chance and finding different ways but they will keep working at it. They will analyze everything over the next day or two and see if changes will be made. He doesn't think the no huddle is a problem but they will look at it as well.

Buggs, Mitchell Out For Season: Dick Jauron confirmed the worst today by announcing that both middle linebackers Kawika Mitchell and Marcus Buggs have been lost for the season because of knee injuries that will require surgey. The team is very thin at a position that they were already thin at. They will workout some people as they now will have two roster spots at their disposal. They will likely move Nic Harris back to linebacker since the safety position is healthier now. Moving Aaron Maybin to linebacker apparently is not an option to Jauron. Jonathan Scott has an ankle injury and is day to day. The rest of the injured players remain week to week. Injury Page.


Sunday October 11, 2009


Special Teams Snafu Costs Bills: For the second time this year the Bills lost a game after having a big special teams snafu. Roscoe Parrish's muffed punt cost the Bills a chance at a win. Leodis McKelvin cost the Bills in the opener when he fumbled a kick return. The defense played well in this one allowing just 22 yards in the air. The offense was awful once again. Gameday Grades.

Bills Lose To Browns 6-3: Roscoe Parrish muffed a punt late in the fourth quarter that setup a game winning 18 yard field goal by Billy Cundiff to allow the Browns to escape with a 6-3 win over the Bills. Cundiff also hit a 24 yard field goal in the 2nd quarter. Rian Lindell accounted for the Bills points with a 36 yard field goal in the second quarter. Derek Anderson only completed two of 17 passes for 23 yards and still found a way to get a win. Trent Edwards completed 16 of 31 passes for 152 yards in the loss. Marshawn Lynch had 125 total yards. Bills Blitz.

Injury Update: The Bills suffered three more injuries in the loss to the Browns. Kawika Mitchell reportedly broke his leg in the loss. Marcus Buggs and Jonathan Scott also did not finish the game as it appears like they suffered leg injuries as well. Injury Page.

A Chill In The Air: It should be a nice fall day at Ralph Wilson Stadium today but it will be cold for this time of year with some wind. Gametime temperature should be 46° but with winds out of the west northwest at 17mph making it feel a bit cooler.


Saturday October 10, 2009


Wilson To Be Honored: Ralph Wilson will be presented with his Hall of Fame ring during a ceremony at halftime of tomorrow's game between the Bills and the Browns. Wilson was inducted into the Hall in August. If the Bills get off to a slow start it could be an ugly ceremony. Let's hope the players come out ready to go this week so the owner can enjoy the ceremony.


Friday October 9, 2009


Bell Expected To Play: Demetrius Bell, John McCargo, and Jairus Byrd all practiced fully today and are expected to play. They are all listed as probable. Ellis Lankster is suffering from back spasms and did not practice today. He is questionable for the game. Terrence McGee is probable with a knee issue. Injury Page.

Can Bills Compete? The recent events surrounding the Bills have everyone pessimistic. We have been getting flooded with e-mails and thoughts on the future of the franchise. Here's another fan's sarcastic look at the future of the Bills franchise. Complete Story.


Thursday October 8, 2009


No Injury Changes: The Bills had no changes to their injury report today. The players that were limited yesterday were limited again today. The Browns had two players that did not practice yesterday take limited reps today. LB D'Qwell Jackson did not practice after being limited yesterday. Injury Page.

Bills Look To Rebound: The Bills are desperate for a win but their opponent may be more desperate. The Browns have not won a game since beating the Bills on a cold Monday night in Orchard Park in November. The Bills may be playing to save Dick Jauron's job as well. If they get off to a bad start it could get ugly at the Ralph. Complete Preview.


Wednesday October 7, 2009


Byrd, McCargo Limited: Jairus Byrd is the only new name on the injury report. He was limited today with a hip injury. John McCargo did practice today on a limited basis after missing Sunday's game with a calf injury. The team expects to be without Chris Ellis until the weekend at the earliest since his Mom's funeral isn't until Friday. He won't play this weekend. Injury Page.

Linebacker Changes: The Bills have shaken up their linebacking corps thanks to two dreadful games on run defense. Kawika Mitchell is moving to middle linebacker and Ashlee Palmer will start on the outside. Mitchell played in the middle for the Chiefs. He said it is natural to move back there. Dick Jauron says it gives them more experience at a tough position to play. The middle linebacker makes all the play calls for the defense. Depth Chart.

Bell Practicing: The Bills got a bit of good news as Demetrius Bell took part in practice today. Chris Ellis was absent as he deals with the passing of his mother this weekend. Donte Whitner, Bryan Scott, and Paul Posluszny were in attendance for today's practice but did not workout.

Fans Everywhere Pessimistic: In many circles I'm known as a person who looks optimistically but realistically when it comes to the team. If you've been following my articles and tweet posts during games you know that has become nearly impossible to do. I received an e-mail from a fan that nicely states how I feel as well as I'm sure many Bills fans feel about the future of this team. Complete Story.


Tuesday October 6, 2009


Bills Look To Put Game Behind Them: There is plenty of blame to go around for the debacle in Miami. Dick Jauron took the blame and so did many of the players. The so called 24 hour rule means the players are using today's day off to put the loss behind them and come back to get ready for winless Cleveland on Sunday. The players must realize if they get off to a slow start in front of the soldout home crowd it could get ugly in the stands real fast. We will be there to see it. It could get interesting.



---
News Archives index
Latest News Section
Archives Library
Back to Bills Daily Homepage