Bills Win Back To Back Road Games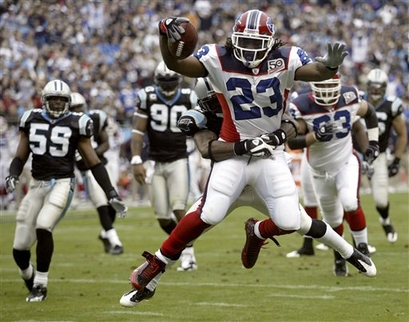 Team Put In Position To Win: Dick Jauron held his normal Monday press conference this morning and said that they won the takeaway/giveway battle helped them win. He thought Ryan Fitzpatrick handled the game well and it was a great win for them. The coach likes the additional leadership Chris Draft brings to the team. He called him a very savy player. The whole team plays so hard and it is not always pretty but they find a way to hang in there and battle. They got it done two weeks in a row and you have to take your hat off to them. Despite all the injuries on defense Perry Fewell puts them in a position to succeed. He called Jairus Byrd a terrific young player who is very skilled. The coach said Terrence McGee was returning the last kickoff because the hands team was out there and he's on that unit.

Edwards Ruled Out For This Week: Dick Jauron announced today that Trent Edwards will not play this week against Houston. He is doing better but they are following the proper protocol for this injury. He will workout this week and practice but won't play. The fact that Edwards has had two concussions in one calendar year is making the recovery process longer. As far as Trent getting the job back when he's healthy Jauron said they will cross that bridge when they come to it.

Players Healing: In his press conference Dick Jauron said that Kyle Williams and Corey McIntyre are getting further evaluation today and they will know more on Wednesday. Jonathan Scott, Bryan Scott, and Donte Whitner look a bit better and are day to day. The coach is a little more optimistic about Shawn Nelson's availabity this week as he comes back from an illness. Injury Page.

Injury Updates Today: Dick Jauron will address the media today and hopefully have an update on the status of the injured players. The team seemed to suffer two new injuries yesterday as Kyle Williams suffered a knee injury that may be serious while Corey McIntyre injured his ankle. It will be interesting to see if there is an update on Trent Edwards. He needs to pass a baseline test before he can resume practicing. Injury Page.

Sunday October 25, 2009


Defense, Special Teams Carry Bills: It wasn't pretty but the Bills pulled off their second straight win. It was a great day for the special teams as they gave the Bills the field position edge all day long. The defense was on the field an awful lot but they kept the Panthers at bay and made the big plays to setup the offense to score enough points for the win. Gameday Grades.

Bills Beat Panthers 20-9: Jairus Byrd picked off two passes that setup both of Buffalo's touchdowns as the Bills won back to back road games for the first time since 2004 with a 20-9 win in Carolina. Marshawn Lynch had a seven yard touchdown run and Lee Evans caught a 2 yard touchdown pass. Rian Lindell hit two fourth quarter field goals of 29 and 22 yards out to give the Bills a cushion. The Panthers scored on a safety when Fred Jackson was tackled in the end zone and they got a 15 yard TD run by D'Angelo Williams. Bills Blitz.

Williams Suffers Another Injury: Kyle Williams did start despite his injured shoulder but he only lasted one play as he left the game with a left knee injury. He walked to the locker room and his return was ruled out quickly and Dick Jauron indicated after the game that it's not good. Corey McIntyre was hurt in the fourth quarter as well. He was helped to the locker room and did not return after injuring his ankle. Injury Page.

Williams Active: The Bills have five players inactive because of injuries as Donte Whitner, Jonathan Scott, Bryan Scott, Shawn Nelson, and Trent Edwards were previously ruled out. Kyle Williams is active after being a gametime decision with a shoulder injury. The health inactives are Chris Ellis and Xavier Omon while Roscoe Parrish is listed as the emergency third QB.

Perfect weather in NC: The weather for today's game between the Bills and Panthers in Charlotte NC should be great. Skies are expected to be partly cloudy for the 4:05 kickoff with a gametime temperature of 67°. Winds will be out of the Northeast at around 7mph so they won't be a factor.


Saturday October 24, 2009


Nelson Now Out: The Bills announced this afternooon that Shawn Nelson has now been ruled out of tomorrow's game. He was listed as doubtful. He reportedly suffered a concussion last Sunday against the Jets. He did not practice all week but the official word was that he has an illness, maybe the flu. Injury Page.

Draft To Start? The Buffalo News reports today that recently signed LB Chris Draft may start in his second game as a Bill. He got some practice time with the first unit at weakside linebacker and may get the nod over rookie free agent Ashlee Palmer. Draft got in the game for one play last week and got a sack. He gives the Bills much more experience as he is an 11 year veteran with many starts under his belt including 16 against for this week's opponent in 2006. Depth Chart.


Friday October 23, 2009


Starting Safeties Out: The Bills have ruled out four starters for Sunday's game including both starting safeties and the starting quarterback. As expected the Bills will be without Trent Edwards, Bryan Scott, Jonathan Scott, and Donte Whitner. With both Whitner and Bryan out the Bills will go with Jairus Byrd and George Wilson at safety. Jamon Meredith will get his second straight start at right tackle. Kyle Williams is questionable and likely a game time decision after practicing on a limited basis today. Terrence McGee is expected to play while Shawn Nelson is doubtful. Injury Page.

No Edwards Or Owens: Trent Edwards did not practice today which all but rules him out of Sunday's game against Carolina. He should be officially ruled out later today. Terrell Owens was on the sidelines as well. No word yet on why he did not practice. On the positive side, Kyle Williams did practice some today. Donte Whitner, Bryan Scott, Jonathan Scott, and Shawn Nelson remain sidelined as well. Xavier Omon, Terrence McGee, and Chris Kelsay all practiced.

Parrish Unhappy: Roscoe Parrish spoke about his benching with the media yesterday. He said he's frustrated that he was not in the lineup last week returning punts and doesn't understand why he has fallen so much on the depth chart. He understands he made a mistake when he muffed the punt against Cleveland but feels everyone makes mistakes and he's being singled out. He also can't understand why he would be benched after being the top punt returner in the league the past two years. He has not had an answer from the team. Parrish did say he will help Fred Jackson anyway he can and doesn't want to be a distraction. Who do you think should be returning kicks and punts? Take our poll on our homepage and let us know.


Thursday October 22, 2009


Flu Bug Hits Bills: It appears the Cleveland Browns aren't the only team in the league with the flu bug. The Bills have two players that were not in attendance today because of flu like symptoms as Shawn Nelson missed his second day with the illness and Xavier Omon not being at One Bills Drive today. Dick Jauron is trying to keep the numbers who get infected down since it's easy for it to spread in the locker room environment.

McGee Returns; Edwards Remains Out: Terrence McGee returned to practice today and participated on a limited basis after missing yesterday's session with a chest injury suffered against the Jets. Trent Edwards remains sidelined and was not in attendance during practice again but did make in appearance at the team's facilities to visit with the doctors. Bryan Scott and Chris Kelsay were also limited. Jonathan Scott, Donte Whitner, and Kyle Williams did not practice. Williams said he would like to try and play Sunday but the training staff may not allow it. Injury Page.

Bills Face Tough Running Attack: The Bills head to Carolina with some confidence after their win last Sunday. They do face a tough matchup with the Panthers who are coming off back to back victories. The Bills run defense needs to get better fast as the Panthers have perhaps the best one-two punch at running back in DeAngleo Williams and Jonathan Stewart. Both backs ran for over 100 yards last week. Complete Preview.

Jackson Remains In Role: Dick Jauron said on Wednesday that he will stick with the roles from last Sunday in the return game. That means Fred Jackson will remain as the main return man on kicks and punts and Roscoe Parrish will likely be inactive for a second straight week. He continues to say that he wants to get Jackson more touches which has become more difficult now that Marshawn Lynch has returned to action. Parrish has led the league in punt return average the past two years and is the all-time league leader in return average. He has struggled this year. Depth Chart.

Hardy Not Expected To Play This Week: Now that James Hardy has begun to practice the team has until November 10th to either activate him to the 53 man roster or place him on season ending injured reserve. The latter is highly unlikely but don't expect to see Hardy in uniform this week. Dick Jauron basically put the kabosh on that in his media day press conference yesterday saying that it would be careless to rush him back this week. Injury Page.


Wednesday October 21, 2009


No Edwards: As expected Trent Edwards did not practice with the team today. He was not even in attendance. Jonathan Scott and Donte Whitner were not in attendance either but Whitner was getting treatment on his injured ankle. In attendance but not practicing were Terrence McGee, Shawn Nelson, and Kyle Williams. On the good news front as we reported earlier James Hardy was practicing. Bryan Scott was on the field but did not practice. Chris Kelsay has an eye issue that limited him in practice today. Injury Page.

Hardy Hits Field: The Bills return to practice today after getting two days off following the win over the Jets. James Hardy is expected to join his teammates on the practice field for the first time since tearing his ACL last December. His impending return to the lineup raises questions on who will leave the roster. Many felt Roscoe Parrish would be traded to make room for Hardy but the trade deadline past yesterday with no deal being made. The team does not need to activate Hardy until he plays in a game, they have three weeks to do that or place him on season ending injured reserve which is not likely since Hardy appears ready to go.



---
News Archives index
Latest News Section
Archives Library
Back to Bills Daily Homepage