Bills Pull Off Ugly, Upset Win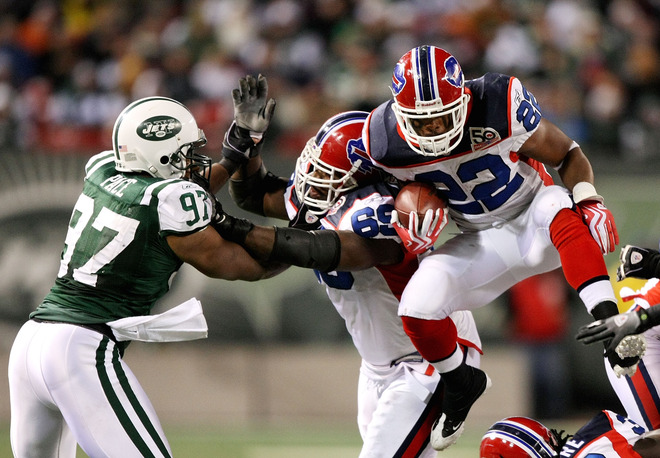 Big Win For Bills: Dick Jauron told the media today that it was a big win for the team they were depleted in numbers and it was tough and long but they got a win. He thought it was helpful having Alex Van Pelt on the sidelines for this game since he was in the sidelines huddle and they may stick with this setup. He was asked about George Wilson and he raved about how he is one of the team leaders and he prepares and plays like a pro. He called him a great guy to have on the football team. The guys prepare hard and want to get it done when you watch the tape the team was confident they would win that game and they played very hard. The coach thought Ryan Fitzpatrick doesn't get rattled and he has a good sense of the game and he handled all the situations on the field very well and he's competitive and tough who moves well.

Parrish Inactive For Personnel Reasons:Roscoe Parrish wasn't active for a lot of reasons. One of them was the availability of using Fred Jackson in the return game since Marshawn Lynch is back. With Jackson returning kicks it gives them more options like using Stevie Johnson and Justin Jenkins. The coach thinks Jackson and Parrish are both solid returners so he doesn't think he loses anything by making that switch. He wasn't worried about overloading Jackson since he isn't the only top back they have. There was no mention of the calf injury being the reason he was inactive. Jauron's comments did nothing to stop the trade rumors swirling around Parrish.

No New Injury News: Dick Jauron said the injured players are being re-evaluated today. Trent Edwards and Shawn Nelson both suffered concussions but were able to fly back with the team. He hopes to have Edwards healthy next week but it is too early too tell as further examination is being done. Kyle Williams has what is being called a shoulder strain but the coach did not rule out anything more serious since he is still being re-evaluated. Donte Whitner suffered an ankle injury and Terrence McGee suffered a chest contusion. Neither injury is considered that serious and they are day to day. Whitner tweeted that his ankle is ok. Jonathan Scott and Bryan Scott are now considered day to day as well. Fred Jackson limped off late in the game but it doesn't appear to be anything serious. Derek Fine had his eye closed by a punch late in the game that resulted in an ejection. Injury Page.

Parrish On The Block? Since the offseason speculation has been all around that Roscoe Parrish was going to be traded. The rumors are swirling again based on the fact that Parrish was inactive for yesterday's game and the trading deadline is tomorrow. Combine that with the fact that James Hardy will practice this week and when he's activated someone will have to go and the team will likely not keep seven wide receivers. Parrish has wanted a trade since the offseason saying he needs to be used as a wide receiver more. There is no word yet on why he was inactive it could have been because of a thigh injury he was battling as he was listed as probable. It could be to avoid him getting hurt with a possible trade opportunity on the horizon. It could also have been because of his performance as a returner against Cleveland.


Sunday October 18, 2009


Tale Of Two Defenses: The Bills were a two faced defense. Against the run they could do know right as the Jets ran for over 200 yards in the first half and 318 yards total. The pass defense shutdown in opponent for the second straight week as the Jets had just 96 yards passing. The offense continued to struggle but did make some plays while the special teams made more bonehead mistakes but got aided by the solid play of the kicker and punter. Gameday Grades.

Bills Win 16-13 In OT: In a game that neither team seemed to want the Bills stunned the Jets in overtime 16-13 as Rian Lindell hit a 47 yard field goal with 2:49 to go in the extra session to give the Bills the win. Lindell missed from 46 yards at the end of regulation to send the Bills to their first overtime in 96 games. Paul Posluszny got the last of six interceptions that setup the winning field goal. The Jets had lined up for a winning kick earlier overtime but a bobbled snap led to another interception. The Bills tied the game with 10 third quarter points including a 37 yard catch and run touchdown pass from Ryan Fitzpatrick to Lee Evans. Bills Blitz.

Edwards Suffers Concussion: Trent Edwards left the game in the 2nd quarter and did not return. He suffered a concussion after being sacked on a third and short play. He had his legs pinned under and was then hit up top and fell backwards. It definitely looked like an illegal hit since Edwards was already down. Kyle Williams left the game with a shoulder injury. Donte Whitner suffered an ankle injury. Terrence McGee also could not finish the game as he had a chest contusion. Shawn Nelson suffered a concussion. Fred Jackson limped off the field late as well. Injury Page.

Parrish Inactive: One surprise inactive today for the Bills is Roscoe Parrish. He was listed as probable with a thigh problem but apparently either isn't ready to play or was just a benched. That move allows Stevie Johnson to be active. Jonathan Scott and Bryan Scott are inactive because of injury. Keith Ellison will give it a go, he was listed as questionable because of a knee injury. Also inactive are: Xavier Omon, Chris Ellis, Ellis Lankster, and Todd Johnson. Gibran Hamdan is the third QB.

Hardy Ready To Practice: James Hardy is eligible to come off of the reserve/PUP list this week and according to the team's website he is ready to return to practice. Dick Jauron told the website that unless something not anticipated happens he will begin practicing. The team then has up to three weeks to activate him. They may wait a week or two to do that so they don't have to make a roster move.

Weather Could Help Keep It Close: We really mean our prediction of a Jets blowout win during our game preview but the weather may allow the Bills to keep it close if they can slow down the Jets running game which of course is a big if. There is a 70% chance of rain during the game with winds out of the North at 17mph when the game starts. The temperature will be around 44° with the winds it will feel more like 36°.


Saturday October 17, 2009


Harris Could Start For Ellison: Keith Ellison is questionable for tomorrow's game against the Jets. If he can't go Paul Posluszny will be surrounded by two rookies in his return from a broken forearm. He already has rookie free agent Ashlee Palmer on one side of him. Nic Harris is expected to replace Ellison if he can't go. Ellison told the team's website that he will be alright for Sunday but he's expected to be a gametime decision. Harris worked at safety the past two weeks because of injuries at that position but got all his reps at linebacker this week.

Reed Absent Yesterday: Josh Reed did not practice yesterday but it wasn't because of his sore fibula. He was excused from practice for personal reasons according to Dick Jauron. He is probable for the game.


Friday October 16, 2009


Both Scotts Out: The Bills will be without Jonathan Scott and Bryan Scott on Sunday as both have been ruled out after not practicing this week. Jamon Meredith will likely get his first start at right tackle. Donte Whitner practiced all week and is listed as probable. He will take the strong safety spot. Paul Posluszny is also probable and should play. There is some concern regarding Keith Ellison and Josh Reed. Neither player participated in practice at all on Friday. Ellison is listed as questionable while Reed is probable along with Terrence McGee and Roscoe Parrish. Injury Page.

No Huddle Scrapped? It's been a couple of days since ProFootballTalk.com reported that the Bills have scrapped the no huddle offense. The Bills haven't confirmed or denied this but their actions make it pretty obvious that they have made major changes to the offense. They continue to be secretive as they usher the media out of practice a few minutes earlier than usual. Dick Jauron took only injury related questions in practice yesterday. All signs point to a major change and scrapping the no huddle makes sense since the offensive line couldn't deal with it as nine false start penalties last week indicated.


Thursday October 15, 2009


Parrish, Ellison Added To Report: Roscoe Parrish and Keith Ellison were added to the injury report after being limited in practice. Parrish has a thigh injury while Ellison has a sore knee. Paul Posluszny and Donte Whitner practiced fully today after being limited yesterday as they both appear ready to play on Sunday. Terrence McGee and Josh Reed were limited. Injury Page.

Bills Face Rough Matchup: The reeling Bills head to New Jersey to take on an angry Jets team that is coming off back to back losses. The Jets will very likely get better quickly at home against a team that is in total disarray. Complete Preview.


Wednesday October 14, 2009


McGee, Reed On Report: Terrence McGee missed practice today as he has the past few Wednesdays. He is resting his bothersome knee injury. Josh Reed was limited with an ankle injury. As we reported earlier, Paul Posluszny and Donte Whitner were also limited. Injury Page.

Meredith To Start? Another week, another starting tackle? Jonathan Scott didn't practice so the healthy players rotated in and out of the lineup according to Dick Jauron. Jamon Meredith did get first team reps at right tackle and told the media he expects to start on Sunday.

Jauron Addresses Media: Dick Jauron addressed the media during his normal Wednesday news conference. He spoke about the development of Aaron Maybin. He said he's learning about the game and they would like to get him on the field more if they forced teams into passing situations. He made a play in the run game last week and they are happy where he is but the fact that he missed time it did set him back. Jauron thought it was really good to have Paul Posluszny and Donte Whitner back. They went through drills on the off day yesterday and will be pushed more tomorrow to see if they will be ready to play Sunday. They have both been medically cleared to play. Both were limited today but came through ok. They have moved Nic Harris back to linebacker but not fulltime. He feels Todd Johnson is a good, veteran player who will provide insurance and knows Perry Fewell. Chris Draft plays all three linebacker spots and is a quality special teams guy. They worked out a number of linebackers and thought he looked really good and is an impressive person. He calls Sunday's game a great opportunity for them and it is privilege that he enjoys. Jauron said trade discussions involving Terrell Owens have not happened and that his team is self motivated. He said that Trent Edwards remains as the starter.

Poz, Whitner Practice: Paul Posluszny and Donte Whitner did take part in practice today taking reps with the first team. Jonathan Scott and Bryan Scott remained sidelined. Dick Jauron will update the media later today on the status of the banged up players.

Signings Official: The Bills made the signings of Chris Draft and Todd Johnson official today. They should both be practicing with the team today. They also added LB Anthony Waters to the practice squad and waived Marcus Freeman from that unit. Waters has appeared in seven games and was a former third round draft pick. He was released by the Saints before the season started. The moves should allow Nic Harris to move back to linebacker. Depth Chart.

Poz Back? The Buffalo News is reporting that sources within the team say that Paul Posluszny may play on Sunday. This would be at least one to two weeks earlier then expected when he broke his forearm in the opener. If he returns it would give the team a much needed lift at the banged up linebacker corps. Donte Whitner also hopes to return this week. We should get updated on the injury situation whenn Dick Jauron addresses the media in his usual Wednesday press conference after practice today. Injury Page.

Browns Loss Was Ugly: The Bills loss to the Browns was about as ugly as they come. Fans are ready to jump ship but Ahmed Dhorajiwala takes one final look back at the loss. Gameday Recap.


Tuesday October 13, 2009


Bills Sign Two: Adam Schefter is reporting that the Bills have filled their two openings created by the season ending injuries to Kawika Mitchell and Marcus Buggs. They have reportedly signed free agent LB Chris Draft and S Todd Johnson. Draft was one of about seven linebackers brought in for a workout including former Bill Pat Thomas. Draft is an 11 year veteran who plays mostly on the outside. He has made 85 career starts for Atlanta, Carolina, and most recently St. Louis. Draft and Johnson both spent the last two years with the Rams. Johnson also spent four years with the Bears and has 22 career starts.

Fans Abandoning Team: After the loss to the Browns Tony Bogyo texted me and said "I'm Done'. He is ready to abandon the Bills but not the fans so Tony wrote an article that sums up beautifully what all fans are thinking about a team that refuses to do anything to help themselves improve. Complete Story.



---
News Archives index
Latest News Section
Archives Library
Back to Bills Daily Homepage