Bills Hit Low Point Heading Into Bye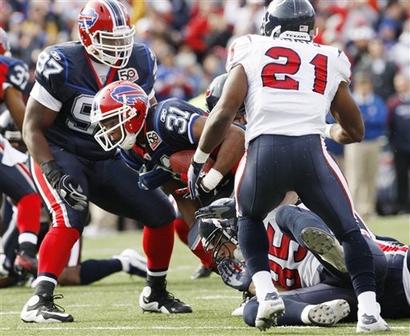 Hardy Expected To Be Activated: Dick Jauron confirmed today that he expects to activate WR James Hardy next week when the 21 day practice period ends on Nov. 11th. At that time he needs to activate him or place him on injured reserve. They will need to release a player or put someone on IR to make room for him. The likely candidate for release is Roscoe Parrish.

Tale Of Two Quarters: The Bills have started games well and have outscored their opponents 41-10 in the first quarter of games this season. They have collapsed in the fourth quarter however as they have been outscored 86-40. The difference is the defense is usually worn out by the time the fourth quarter rolls around since they have been on the field so long. They have held the ball in average seven minutes less than their opponents through the first half of the year. If the offense can't be at least a bit below average they don't have a chance. Turk Schonert sounded like sour grapes when he called the offense a Pop Warner offense. He was right though, it may be more of a pop gun offense.

Offensive Woes: Everyone knows how bad the offense is but how bad is it? Here are some stats from the Buffalo News. They have had less than 10 first downs in back to back games for the first time since 1971. They have only one touchdown in the last six home losses. They have gone six straight games with less than 160 net passing yards and fewer than 300 total yards. The 20:52 time of possession against Houston was the worst in four years. DeMeco Ryans said this about the Bills offense, "They kind of had the same formations. They didn't give us a lot of motions and things. So it was a simple offense to go against." Unfortunately this isn't the first time we have heard this.


Sunday November 1, 2009


Defense Can't Overcome Offense: The Bills defense was depleted by injuries and burnt out by being on the field way too long in the loss to the Texans. They eventually wore out and were run over in the fourth quarter but the offense is the main reason for the loss as they couldn't stay on the field. Gameday Grades.

Bills Lose 31-10: The Houston Texans overcame three first quarter turnovers, including two more interceptions by Jairus Byrd, and took control of the game in the second half to beat the Bills 31-10. The already depleted defense lost Aaron Schobel and Keith Ellison to injuries and the overmatched unit just wore out in the second half as little known RB Ryan Moats ran for three fourth quarter touchdowns and 126 yards. Terrell Owens scored on a 29 yard reverse after Byrd's second interception but the offense did nothing otherwise. The Texans scored on four straight second half possesions to quickly take control of the game that they actually trailed 10-6 at the half. Bills Blitz.

Meredith, Schobel Lead Lengthy Injury List: The injury parade continues as no team needs the bye week as much as the Bills do. Aaron Schobel suffered a groin injury and tried to play with it but couldn't. He missed the second half. Jamon Meredith suffered a right knee MCL sprain in the first quarter and did not return. Kirk Chambers replaced him. Ashlee Palmer left the game with a left wrist injury but returned. Keith Ellison also left with a quad injury. He did not return. Jairus Byrd suffered a groin injury late in the game. It has been bothering him. Chris Draft was also shaken up but returned. Injury Page.

Inactives: With Bills inactives for this week's game is filled with injured players as Shawn Nelson, Donte Whitner, Kyle Williams, Trent Edwards, Corey McIntyre, Jonathan Scott, and Bryan Scott makeup the inactive list. Only Bryan Scott wasn't ruled out before today, he was listed as doubtful. Roscoe Parrish is the only healthy player not active, he will dress as the emergency third QB though.

Wilson To Get Ring: HOF ceremony take two. Ralph Wilson is scheduled to get his hall of fame ring during a halftime ceremony during today's game. The Bills announced the ceremony this week. Wilson was scheduled to get the ring at halftime of the Browns game but the Bills deny it was ever scheduled then.

Nice Weather: It's November in Orchard Park but unfortunately for the Bills the weather will be picture perfect to welcome the warm weather Texans to town. There if virtually no chance of rain as the skies will be partly cloudy with a temperature of 47° at kickoff. Winds will be light as well out of the West Southwest at 8mph. A bad weather day would help curtail the great aerial attack of the Texans.


Saturday October 31, 2009


Bills Face Tough Offense: The Bills bend but don't break defense have their toughest challenge since a week 3 loss to New Orleans when the Houston Texans come to town tomorrow. QB Matt Schaub leads the league in touchdown passes and passing yards. His top receiver Andre Johnson will play after getting a scary injury to his chest late in last week's win over the 49ers. The Bills offense is going to have to come to play or else this game could get away from them. The one big advantage the Bills have is that the warm weather, dome playing Houston team is coming to Buffalo in November.


Friday October 30, 2009


Six Ruled Out: The Bills have listed six players as out for this week's game as they hope with the bye next week some of the injured players can heal up. Shawn Nelson, Donte Whitner, Kyle Williams, Trent Edwards, Corey McIntyre, and Jonathan Scott are out while Bryan Scott is doubtful. Injury Page.


Thursday October 29, 2009


Kelsay Watching: Not much changed for the Bills during today's practice. Chris Kelsay was added to the list after missing practice because his back locked up. Trent Edwards did a little bit more. Everyone else was pretty much in the same position they were yesterday. Injury Page.

Byrd Honored: Jairus Byrd was named NFL defensive rookie of the month for October. He had five interceptions in the month and 15 tackles. He became the first rookie to have that many picks in a month since 1990. He also is the first rookie to have back to back multiple interception games since 1981.

Bills Look To Even Record: The Bills head back home after winning two straight on the road. They look to reverse their recent fortunes at the Ralph where they have lost two in a row. The Houston Texans come to town with a high powered aerial attack led by underrated QB Matt Schaub. Game Preview.


Wednesday October 28, 2009


Williams Has Sprained Knee: Dick Jauron held his Wednesday press conference and said Trent Edwards took a few snaps in individual drills and it was good to have him back and it was good for him to be back. He looked good but will not even serve as the #3 quarterback. Shawn Nelson remains out his illness is migranes and not a concussion and they are working on it. Kyle Williams and Corey McIntyre have sprained knees but surgery has not been talked about in either case. The coach is not optimistic that either player will be available on Sunday. Terrence McGee was also limited today with his ongoing knee issues. Injury Page.

Edwards Practicing: Trent Edwards was back on the practice field today for the first time since suffering a concussion against the Jets. He was taking third team reps. He has already been ruled out of Sunday's game. Also returning to practice was Bryan Scott who may be ready to return from a high ankle sprain. Not practicing were Donte Whitner, Jonathan Scott, Shawn Nelson, Kyle Williams, and Corey McIntyre. Whitner was the only one in the group watching practice. Dick Jauron will update the media later today.

Moorman Honored: Brian Moorman was named AFC Special Teams Player of the Week. It was the fifth time he has won the award and the first time since 2006. Moorman won it for his effort against Carolina in which he contributed to giving the Panthers an average drive start at their own 19 yard line. He had eight punts with four going inside the 20 and an average of 45 yards per punt.

Final Recap: We take one final look back at the Bills win over Carolina. It was the first time in over five years that they have won two road games in consecutive weeks. Gameday Recap.


Tuesday October 27, 2009


Ramsey Tries Out: Adam Schefter tweeted today that the Bills gave a tryout to former Titans and Redskins QB Patrick Ramsey today. This may mean they think Trent Edwards will be out longer than expected.

Whitner Gets Probation: Donte Whitner has put his ugly offseason incident behind him. He was put in an intervention program for his disordely conduct and resisting arrest charge from in incident outside a Cleveland bar in April in which he was tasered by a police officer. Whitner asked for the program last month and the judge granted his request. Upon completion of the program Whitner's record will be clean.



---
News Archives index
Latest News Section
Archives Library
Back to Bills Daily Homepage