Bills Fill Needs In Draft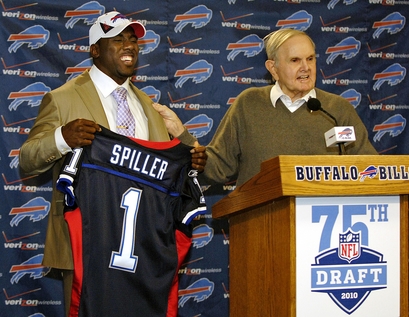 Bills Rebuilding Process Begins: Like the Bills draft or not, they have started their rebuilding process and C.J. Spiller will be the cornerstone of that project. They didn't get a QB until the 7th round and didn't take an OT until the 5th round. Those are suspect moves but there seems to be a reasons why Buddy Nix did what he did and he seems to know that this team is in a marathon not a sprint to finally return to the old glory days. Complete Draft Review.

Bills Continue To Fill Out Roster: The Bills haven't made their undrafted free agent signings official yet but we are keeping an ongoing list based on reports. As of now we have a list of 12 players the Bills reported signed with links to their scouting reports. They reportedly added four defensive backs for depth since they didn't draft any. They also added three offensive linemen another position they need depth at along with wide receiver where two more were added. Complete Unofficial List.


Saturday April 24, 2010


Bills Get Passing Grade: We have released our final draft grade for the Bills and gave them a B. The draft did not help them win now but they are rebuilding and if they drafted properly, and we think they did, this is a solid start to the building of a better football team. Check out our final grade writeup. Final Draft Grade.

Building Through The Draft: Buddy Nix expanded on the team's philosophy during his post draft press conference. He said the team is building through the draft which has been known for a while now. They are trying to build a foundation of solid kids and good solid players that doesn't mean they won't bring in free agents that fill some spots and fit in. He isn't thinking that the team is one player away from going to the Super Bowl. The aren't flashy but they wanted to use all nine of their picks that is why they didn't trade up. One of the reasons is because it's probably the most economical way of building a team. They don't want to use the draft to fill a need they rather get players who cam make an impact right away even if they aren't in a need position.

Undrafted Signings Begin: Every team in the league is busy tonight signing undrafted free agents. Signing these players depend on if the players feel they can make your team and then just spending a little money to get them. While official signings won't be announced for the next or two names come up. Reports already have the Bills signing University of Buffalo WR Naaman Roosevelt, Youngstown St. WR Donald Jones, RB Joique Bell and CB John Destin. The Tulsa defensive back started five games last year and had an interception. Jones is a bigger possession receiver who had a school record 77 receptions for 790 yards last year. Roosevelt will be a fan favorite since he comes from the local school. His numbers dipped slightly last year from his record setting junior year where he had over 1,400 yards receiving on 104 receptions with 13 touchdowns. Bell was a division II standout at Wayne St. who ran for over 2,000 yards in each of the past two years. Complete Unofficial List.

Nix Feels They Got Bigger, Better, and Faster: Buddy Nix and Chan Gailey came out for a post draft press conference. Nix is happy with the draft and he felt it fell right for them where they were picking. He thinks they had the luck of the draw and improved their football team. He acknowledged that everyone will tell you their draft was great but he thinks they got bigger, stronger, and faster as a team. Nix said they had Levi Jones in mind all the time as their fourth quarterback. They wanted a developmental guy that they can bring along and that is what they got in Levi. Gailey said he has excellent size and enough of mobility to escape a pass rush but he's not nimble. He called him very intelligent with a good, tight spiral who is a good looking young prospect. Gailey feels everyone has a chance to play including the undrafted free agents they are trying to sign right now. On the run of small school guys Nix said they don't really look at wear they come from. He was happy with their size and their ability and that is what really matters. Nix said there are good QB candidates next year but they aren't looking at that now. On Ed Wang Nix said he's got balance and can pass protect. He has a lot of things going for him but still needs to be developed. Gailey admits that right now Demeterius Bell would have to be the favorite at left tackle because he started last year but he's a work in progress himself. Gailey said they see Kyle Calloway as a guard since he will work better in tighter spaces because of his size. They confirmed that Arthur Moats will play inside linebacker and Danny Batten will play outside even though he played inside in an all star game. He is taller and has the range to be at that spot instead of Moats. Everyone they drafted they had hire grades on then they took them. He also feels some of the undrafted free agents they are getting they had drafteable grades on.

Moats May Go Inside: Scout Tom Roth says they may use Arthur Moats initially on the inside but they can move him outside to rush the passer on third downs. He should be a solid member of the coverage units on special teams. He has a very good bend, leverage, and hand use. Roth loves him saying he's explosive and fast. Depth Chart.

Calloway Conference Call: Kyle Calloway said he is very excited and thankful to be a member of the Bills. He had little contact with the team before the draft besides the standard interview so it was a bit of a surprise. He played left tackle his sophomore year and played right tackle most of his last two years but has played some guard and is comfortable playing both. He is confident in his playing ability but knows he needs to shore some things up to take the step to the next level. He played in zone scheme with a balanced attack.

Bills Add 2nd OL: The Bills closed out their draft by taking OT Kyle Calloway from Iowa. He is a versatile linemen who can play guard or tackle on this level. He is a three time starter in the Big Ten who many had rated much higher. He comes from a school that has a reputation of developing big time NFL linemen. He has good height at 6'7" and is athletic for his size. Started 11 games at right tackle but played right guard in the Orange Bowl because of injuries.

Levi conference call: Levi Brown said he is just super excited about being drafted by the Bills. He couldn't be happier when he saw his name called. He did have a feeling Buffalo would take him since they have been calling about him for a while. He knew they were interested and he thought they would take a quarterback so he thought it was possible. He knows there has been a lot of concern about how NFL ready he is because he played in a primarily shotgun offense. He feels he's ready, he knows how to read defenses and he doesn't it well. He was under center at the University of Richmond during the first two years of his collegiate career. He feels it will take a little bit of time to get comfortable under center again but he doesn't see a problem with the transition. He feels he has extra motivation because some guys went before him that weren't projected too.

Bills Take A QB: The Bills finally took a quarterback with the 2nd pick in the 7th round they chose Troy's Levi Brown. He comes from a spread offense so will need a lot of work to get ready, looks like a practice squad possibility. Has been the starter for a year and a half and threw for over 4,000 yards last year and 23 touchdowns to just nine interceptions.

Batten Was Very Productive: Bills scout Rashann Curry said Danny Batten is a tough hard nosed guy who was very productive at his level and has the skill set that will work with them. He can play inside and outside so as a backup the more things he can do the more valuable he is. Since he was used in multiple roles in college that will be valuable for him at this level. He feels he showed the kind of attitude that will accept the special teams role well. He is a super competitive kid who didn't get looked at much coming out of college. He dominated at his level and just jumped off the tape.

Batten Conference Call: Danny Batten said to be drafted as a linebacker is a dream come true. He played defensive end in the 4-3 in college but played some linebacker later in the season. He said he's good at rushing the passer and can drop back in coverage. He thinks the move to linebacker will be a great transition since he has the instincts of a linebacker. He is very happy where he landed he spoke to one of the Bills scouts and they hit it off very well. Majority of the time last year he had his hand on the line and rushed the passer.

Bills Take Batten In Sixth: The Bills used both sixth round picks on small school defensive ends that project to outside linebacker in the NFL. The second one taken was South Dakota State's Danny Batten. He had 85 tackles last year, 17 for loss and nine sacks lining up at the strong side end spot.

Moats Conference Call: Arthur Moats said it feels wonderful to be picked and expects to add a lot of speed to the defense and feels he can help on special teams as well. He played defensive end in college but projects to outside linebacker in the 3-4. He feels he'll have no problem in the stand up position. What he does best is rushing the passer but he concentrated more on run defense this year to make him more of an all-around player but he will have an impact as a pass rusher. He said he's a leader by example first but he's the type that will come in first and leave last because of his work ethic.

Moats Taken Early In Round 6: The Bills used the first of two sixth round picks to fill another hole as they drafted Arthur Moats from James Madison. He played defensive end there but expects to play outside linebacker in the 3-4. He's the passing rushing linebacker they were looking for. He had 90 tackles, 23.5 of them for a loss and 11 sacks. He had 11.5 sacks as a starter in 2008. QBs Tony Pike and Dan LeFevour were still on the board but the Bills obviously aren't high on any of this year's QBs.

Wang To Stay At Left Tackle: Bills scout Doug Majeski said Ed Wang has been a three year starter who has gotten better each year and hopes he continues to improve for the Bills. He runs well and is physical and quick who plays consistently. He is rarely beat and is productive although there are parts of his game that can improve. He finishes blocks and doesn't make mental mistakes but there are other areas he can develop. The Bills project him as a left tackle since he has played their in college. There was some perception that he would move inside in the pros.

Wang Conference Call: Ed Wang said on a conference call that he is excited that he has the opportunity to join the Bills. His parents were olympic athletes from China. He moved from tight end to tackle at Virginia Tech the hardest part of his transition was pass protection. He got used to the position and the transition was pretty smooth. Wang said he had no idea the Bills would draft him. He feels he can improve on everything and has a lot of room to grow in his game. He's excited for the opportunity to be developed more.

Bills Take OT In Rd. 5: The Bills finally added an offensive tackle in the fifth round of the draft. They chose Ed Wang, who can be the first Chinese-American athlete to play in the NFL. He is a tough player who is still learning the position after he moved over from tight end. He's quick but needs to work on being a better anchor.

Easley Has Upside: Marcus Easley spoke to the media in a conference call and called it a dream come true and he's excited to come to Buffalo. He also spoke about the fact that he walked on at Connecticut and didn't play much the first three years. He said it just goes to show you what hard work can do and he feels his best is yet to come. Bills scout Tom Roth isn't concerned about his lack of playing time. He says he's very good underneath and vertically. He has strong hands and strength to break tackles with the speed to go the distance. He says he needs to improve on intermediate routs but his fine on drags and vertical straight line patterns.

Bills Refuse To Trade Lynch? Adam Schefter is reporting that the Seahawks tried to get Marshawn Lynch from the Bills but they told them he will not be traded. The Seahawks then traded for LenDale White instead. It's interesting that the Bills may be refusing to trade Lynch with the current logjam at running back. A report out of Green Bay says the Bills may trade him after the draft.

Bills Grab WR In Round 4: The Bills turned back to offense to begin day 3 by taking UConn WR Marcus Easley. He caught 48 passes for 893 yards to lead the team last year after barely playing his first three years. He's a big receiver with good run after the catch ability but he is very raw at this point but has good speed to go along with his 6'3" frame. The team is in desperate need of wide receivers to fill out the depth chart and should take another one before the day is done. The Raiders took free falling OT Bruce Campbell a pick before the Bills took Easley. It would have been a steal if he fell to the Bills.

Day 3 Here: The casual NFL fans won't be as interested in day three of the NFL draft today as they were the first two days. The fact the Bills will add twice as many players today as they did the first two. The Bills, barring trades, are scheduled to have one pick in rounds 4 and 5 and two picks in rounds 6 and 7. They need to fortify the offensive line, pick a mid level quarterback, and add maybe two wide receivers. So this is a big day to plug holes if they draft right. As we have been the past two days, we will be here all day with press conference and conference call notes on this page. Our draft page will continue to link to player reports while we will do our draft capsules as well. We will be commenting on the draft on twitter so follow us there and stay with us here!


Friday April 23, 2010


Bills Get Bigger Today: The Bills brass addressed the media after the pick of Alex Carrington. Buddy Nix says they felt fortunate they got two guys that will help their defense stop the run and get more pressure on the passer. He feels if you are going to get big you have to do it in the first three rounds of the draft. Tom Modrak said there were a few defensive tackles in a bunch at #41 and they liked Torell Troup the best. He plays a lot of snaps, is strong, and can beat the double teams. He hustled to the ball and is a great kid who is a perfect fit on the nose in a 3-4. He said Troup is more like 320 lbs now. He can be a little bit bigger since he carries weight lower which is what you want at nose tackle. Every year Troup has gotten better according to Modrak calling it a testament to him that he got himself in such good shape.

Nix Said They Have Three QBs: Buddy Nix spoke about passing on the quarterbacks saying they have three that have talent although they don't know how good they'll be. Physically they can play but they need to come out and prove that to them. He said they have positions where they don't have three players they can count on. Nix said they need about three players for each pick but they only get one. He knows they haven't addressed the offensive line but they wanted a guy who could come in and help them but that player wasn't there for them. Nix re-iterated that they will still get a fourth quarterback it may come tomorrow or it may come in free agency.

Nix Endorses Williams: Nix said they love Kyle Williams since he plays hard every snap but he can't hold up playing 60-65 snaps a game so if Troup can play 30 plays they'll be in good shape. They won't have anyone taking a play off. Tom Modrak says he gives them some depth and he has time to develop and get better since he has room to grow in that defense.

Carrington Conference Call: Alex Carrington said he is totally blessed to be drafted. He played a 4-3 scheme in college but feels comfortable coming in and learning the system. He wants to get in and get to work. He is 285 lbs but says he can put on whatever weight they want and still be successful. He thinks he opened a lot of people's eyes in the Senior Bowl where he was the defensive player of the week. He feels everyone noticed him at that game. He says he's ready to get to Buffalo and get to work.

Bills Take Carrington in Third: With Colt McCoy stunningly still being on the board when the Bills picked at #72 they decided to fortify the front line of the defense for the second time tonight. They chose Arkansas St. DE Alex Carrington who played in a 4-3 defense but has the size to play on the line in a 3-4 and fills the pass rusher hole they had in their defense. He had 21½ sacks in his college career.

Troup Conference Call: Torell Troup said he was more of a two gap tackle who ate space to allow his linebackers to make plays in the 4-3 defense in college. He said he has no problem transitioning to the 3-4 defense saying he's not a selfish player and will do whatever the Bills want him to do. He said it was a great feeling going high in the 2nd round. He thought he was overlooked this year but he's happy that the Bills saw the work he was putting in. He knows it will be a change going against bigger, experienced offensive linemen. He knows it will be a long grind but he has no problem working hard since he comes to work with his hard hat on. He did not start playing football until freshman year in high school. He was 350 when he started college, but he worked hard and got into much better shape so he could stay on the field longer.

Bills nab Troup: The Bills may have reached in round two but got a prototypical nose tackle in the University of Central Florida's Torell Troup. He is a run stuffing space eater, who weighs 314 lbs, in the middle who will help with the running game but there were at least two higher rated defensive tackles on the board and two of the higher ranked offensive tackles. Not to mention that Jimmy Clausen and Colt McCoy were still on the board. The Bills obviously felt that they aren't the future franchise QB of the Bills. He moved ahead of Terrence Cody.

Spiller Very Versatile: Chan Gailey spoke about C.J. Spiller as well. He said everyone can see how talented he is but his character and hard work year round is why he is a special football player and a special young man. Everyone realizes what a versatile player he is and that created headaches for defensive coaches since they have no idea what he is doing in the future. He will help create doubt and indecision in defensive players minds. He coached against him in his freshman year and knew he was special but he didn't know about his character and football intelligence that they found out about him. That separated him from the pact of fast players. There will be some new terminology used to accent a player of Spiller's caliber. Gailey isn't worried about hurting people's feelings he is worried about scoring points and winning football games and Spiller is a big piece in that puzzle.

Wilson Introduces Spiller: C.J. Spiller is in Buffalo and was introduced to the media in a press conference this afternoon by owner Ralph Wilson. Wilson called him a special guy who deserves praise in the newspapers. Wilson took the blame for the team being "really dull" over the past 10 years. He says they will turn the losing around with Buddy Nix, Chan Gailey, and his assistants. The team thinks they will start off the turnaround by the selection of Spiller. Wilson said they were lucky enough to get one of the best players in the country.

Spiller To Work Hard: C.J. Spiller then spoke to the media wearing a nice suit that Ralph Wilson complimented him on. He called it an enjoyable ride that wasn't stressful and called it an honor to play for an organization that has great tradition. He said they will never regret their choice. Spiller said he's thankful and he will come in and work hard. He loved the introduction by Wilson saying he is the biggest piece in the team's turnaround. He spoke how he worked hard to graduate in three and a half years while playing football including taking classes in the summer. He said it won't be easy but they will work hard to make the team a winner. He said he carries himself with high character and high class because he also represents the small town he comes from. He knows a lot of people will question his size but he knows what type of player he is and can't worry about those questions.

Report: Bills Looking To Move Up: Adam Schefter is reporting that the Bills and Browns have contacted the Rams about moving up to the top spot in the 2nd round tonight. The Browns are likely trying to move up to take Colt McCoy or possibly Jimmy Clausen. The Bills likely are trying to move up for a QB or someone like OLB Sergio Kindle.

Bills Unlikely To Take QB Next: Several reports indicate that the Bills are unlikely to move up to take a quarterback and are also unlikely to take on at the 41st spot. Speculation continues that they will try to take the offensive tackle at this pick. USC's Charles Brown or Indiana's Rodger Saffold or Miami's Bruce Campbell are the top players left at this time.

Bills Didn't Want Tebow: Buddy Nix told the team's website that they were not trying to trade up to take Tim Tebow. In fact, they didn't want Tebow at all although he spoke highly of him. Nix admitted they did try to trade up for another play but he was already gone. Speculation is that was DT Dan Williams. It now appears the Bills may be interested in one of the mid round quarterbacks as they supposedly spent a lot of time looking at them. Possibilities include Central Michigan's Dan LaFevour, Cincinnati's Tony Pike, and Fordham's John Skelton.

Spiller To Be Introduced: C.J. Spiller will make the trip from New York City where he attended the first round of the draft, to Buffalo today and will meet the media at 3:30 this afternoon. Spiller tweeted last night, "I'm so happy to be a bill I can't wait to get there tom. Let's go Bills.

Clausen, McCoy Headline Round 2: The NFL draft resumes at 6pm tonight with rounds 2 and 3. The Bills are set to pick ninth in round 2 and eight in round 3. They may be looking to move up along with other teams that need quarterbacks with both Jimmy Clausen and Colt McCoy still on the board. The Vikings, Browns, and Raiders all pick before Buffalo and may want a QB here. Cleveland is very likely to take one. If the Bills don't move up there is a good chance QB won't be an option at pick 41 overall. Two solid offensive tackles are still on the board after the big four went in round 1. USC's Charles Brown or Indiana's Rodger Saffold or Miami's Bruce Campbell. UCLA's Brian Price leads the pack at defensive tackle after four went off the board in the first round. Only two wide receivers went leaving the Bills with good possibilities in round two including Illinois' Arrelious Benn.


Thursday April 22, 2010


Bills Didn't Get Tebow: The Denver Broncos traded into the 25th spot and took Tim Tebow. Adam Schefter reported on his twitter account that the Bills were heartbroken because they were trying desperately to trade back into the first round to get Tebow. He is a project at quarterback at best and may fit in more as a tight end or in the wildcat offense in the NFL.

A Luxury They Couldn't Afford: I'm not against C.J. Spiller as a player after all I predicted they would take him in my seven round mock draft. He is an explosive player in the Chris Johnson/Reggie Bush mold. Hopefully for the Bills he's more like Johnson and less like Bush. He is a playmaker and as Nix said they are void of playmakers. The fact is he plays running back a position they are loaded at. It's ok to make a luxury pick when you are a good team but when you are rebuilding and have huge holes you can't take a player at a position that you are very strong at. This pick means that there is little room for Marshawn Lynch and he has to go. Well, his trade value was low before this pick now that teams know the Bills really have to move him his value drops even more. Buddy Nix said tonight that the pick doesn't change Lynch's status calling Spiller a hybrid. He also may be trying to raise Lynch's value. Of course in a few years we may forget that when Spiller was taken they were loaded at the position and just that he's a playmaker. Many say he's too small to be an every down back. He doesn't have to be one in Buffalo but that makes him even more of a luxury pick if he's not on the field too often. He's a great return man is well but that's also a very strong area for the Bills. What do you think of the Spiller pick? Take our poll on our homepage and let us know!

Spiller Not Worried About Role: C.J. Spiller said he thought he may be going to Buffalo. He said he's very excited and it's a decision that the Bills won't regret. He will come here and work really hard. He said the team has two great backs here and he hopes to come in and learn from them and he will fill whatever role the team wants him to fill. He decided to finish his fourth season in Clemson instead of turning pro last year. His main focus is in helping to bring the Bills back to their glory days. He wants to help the team win the Super Bowl and doesn't care what his role is. He said he's not worried about the cold weather and he will adjust to it. Draft Capsule.

Bills On Spiller: Buddy Nix said you have to plan for C.J. Spiller defensively since he creates problems. He is an explosive back who is a great returner. Nix says there are a lot of ways he can beat you and that will make it much harder on other teams. Nix called him dynamic in the Reggie Bush mode. He said the team needs to score points and he is one of the many things that this team needs. He is the same size as Chris Johnson but a bit faster. He ran a 4.32 at the combine and they aren't concern that he is on the smaller size because if he gets less touches sometimes they are huge touches. He decided not to come out early. Tom Modrak said he's very good as a punt and kick returner because he's a guy who can make you miss which is great for a punt returner and the acceleration as a kick returner. Nix said the fans will like him because he will supply big plays and help the team win. Nix is excited about who they got and he will be an exciting player for years to come. Modrak said he was the best player available but he's just the first pick and they will continue to improve the football team over the next three days. The Bills made their pick very quickly, Nix said because he was their guy and they didn't need to use 10 minutes just because they had them.

Spiller Explosive: The Bills took RB C.J. Spiller with the ninth overall pick in the draft. He was the first running back taken and was picked at a position of strength for the Bills while two of the top four offensive tackles were available and three of the top four quarterbacks available. Spiller had 3,547 rushing yards in 52 college games and 1,420 yards receiving. He had seven career kick returns for touchdowns and 32 rushing scores. We will have much more on Spiller including our draft capsule of him in a little while.

1st Round Mock: Rich Orefice gives us his first round mock draft for the third year in a row. He has the Bills taking OT Bryan Bulaga from Iowa as the third tackle taken in the draft. Rich also thinks someone will trade into the final spot of the first round to take Colt McCoy, but who? Check it out. First Round Mock.

NFL Draft Is Here! For the 11th straight year Bills Daily will have complete and comprehensive coverage of the NFL draft. Our team draft board will be on the home page and our draft page with links to the scouting report for each new Bill. Our draft page will also have our draft capsules shortly after each pick and our final grade after the draft. It also has links to our preview articles and mock drafts. This latest news page will be the place to get all the snippets from the Bills press conferences and conference calls with the newest players. So come back often as we will be here all weekend with all you need in a glance regarding the draft for the Bills. Also for instant commentary follow us on twitter. The first round is tonight beginning at 7:30 and the 2nd and 3rd rounds are tomorrow night beginning at 6 with the final four rounds taking place during the day on Saturday. Draft Page.


Wednesday April 21, 2010


Bills Contacted? Reports are swirling that the Bills were contacted by the Steelers, as were other teams in the top 10, about their interest in Ben Roethlisberger. The Bills reportedly were not interested. Buddy Nix told Buffalo radio station the Edge that you can put that rumor to rest and the Bills weren't contacted about him.

Bills Claim TE: The Bills have claimed tight end Michael Matthews off of waivers from the Detroit Lions. The four year veteran has eight career catches all coming with the Giants his first two years in the league. Last year he split time between New England and Detroit.

Spiller In First Round? We have put out our annual seven round mock draft for the Bills. It's all in good fun and it's tough to get even one pick right but we have the Bills taking RB C.J. Spiller in the first round. We think they will go with the best available player not that we agree. Bills Complete Mock.


Tuesday April 20, 2010


Schedule Released: The NFL schedule has been released. The Bills open up at home with Miami before traveling to Green Bay week 2. They have their bye after five games this year and will alternate home and road games the second half of the season. They also host the Jets and Jacksonville in October. They will also host three games in November but as we reported earlier the November 7th game is in Toronto against Chicago. All 16 games are currently scheduled for 1pm. The end the season with division games the final three weeks against each AFC East team closing the season against the Jets in their new stadium. What do you think of the schedule? Take our poll on our homepage and let us know! Schedule Page.

Detrot The Following Week? The schedule continues to leak out the Bills reportedly will host Detroit on November 14th. They will also reportedly host Pittsburgh on November 28th. We will have the whole schedule in under an hour!

Bills To Play Bears In Toronto: One of the 16 games on the Bills schedule has been announced. The Bills will play the Chicago Bears in Toronto on November 7th at 1pm. This is the first time they will play a non division opponent in a regular season game in the Bills Toronto series and it is the first time the game will take place during the CFL season. The rest of the schedule will be announced at 7pm. We will have the full schedule on our homepage and our schedule page shortly afterwards.

Number Nine Too Low? The Bills say they would like to get an impact player at the number nine pick overall. The problem Tony Bogyo sees as they may not be a guy available at number nine that could have an immediate impact at a great need position. So do they trade down? Trade up? Tony takes a look back at the offseason so far and a look ahead to the draft and the future in his latest article! Complete Story.


Monday April 19, 2010


New Regime Looks Towards Draft: The new regime led by Buddy Nix and Chan Gailey are putting the finishing touches on the draft board as they look to put their stamp on the Bills. The team is in a rebuilding mode, although they don't admit it, and the draft is where you start building the new team. The battle is between drafting an offensive tackle or a quarterback. They may surprise some and take a running back. They also have needs at nose tackle, outside linebacker, and wide receiver. Our draft homepage is up and running and has a link to a preview article just released check it out! Draft Preview.



---
News Archives index
Latest News Section
Archives Library
Back to Bills Daily Homepage