Bills Blown Out In Preseason Opener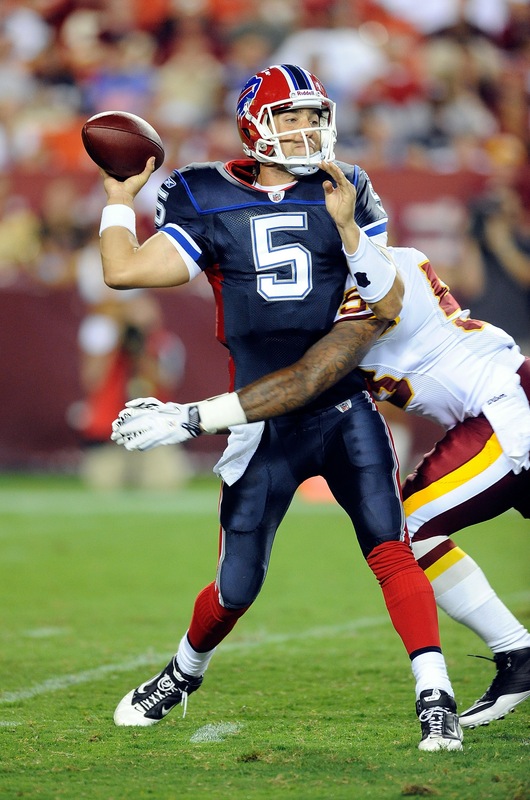 Jackson Out 4-6 Weeks; Lynch 3-4: It was thought that the Bills may have too many running backs, now it appears they may not have enough. Mark Gaughan of the Buffalo News reports Fred Jackson will be out 4-6 weeks with his broken hand and Marshawn Lynch will miss 3-4 weeks. That means the team may be without their top two running backs when they take the field on opening day four weeks from today against Miami. If that is the case, C.J. Spiller will become the starting running back and Chad Simpson along with Joique Bell will be the backups and have a better chance of making the team. Injury Page.

Bills Reportedly Sign WR: The Bills have reportedly signed WR Aaron Rhea according to his agent. He was an undrafted free agent from Stephen F. Austin who signed with the Vikings in the spring before being released in June and given an injury settlement. No word on what the injury was that Rhea settled with the Vikings. The Bills have been short at the receiver position due to injuries to Felton Huggins, Marcus Easley, and James Hardy.

Jackson Getting More Tests: Fred Jackson is scheduled to undergo further tests on his injured hand today. It is believed to be a broken bone in the hand that may require surgery. His agent told AP yesterday that depending on what they hear they will likely get a second opinion to find out if surgery is necessary. Either way he will be out a while with the earliest return to action being the opener.


Saturday August 14, 2010


Jackson Out For Rest Of Preseason: Chan Gailey spoke to the media and said the injury to Fred Jackson will keep him out the rest of the preseason at least and maybe longer. They hope to have him back for the first week but they may not. He feels the injury to Marshawn Lynch is not as serious and they hope to have him back sooner rather than later. Alex Carrington should be ok for next week's game. He felt they made too many mistakes to be a quality football team. It is his job to make sure they become the kind of football team that avoids bad plays that turns games around. Too many penalties contributed to the issues. He did say he needs to look at the tape to grade individual efforts. He said the defense was worn out at the end as the Redskins pounded the ball late. He was pleased with how the young running backs looked. Injury Page.

Edwards' Postgame Comments: Trent Edwards thought they got off to a good start with the opening field goal drive. On his interception, he said he and Lee Evans were not on the same page there. The back to back three and outs after the pick were unacceptable they have to watch the tape and fix the issues they have. They didn't watch any film of the Redskins but they can't use it as an excuse. They need to battle back and Thursday's game will be a good test for them.


Friday August 13, 2010


Redskins Manhandle Bills 42-17: The more things change the more they stay the same. The Bills hadn't played a football game in eight months and have a new coach but it looked like the same old Bills if not worse. At least it was just preseason. Terrible penalties on both sides of the ball, miscommunication that cost them to burn timeouts, and a bad turnover all led to the Redskins opening up a 21-3 halftime lead enroute to a 42-17 rout of the Bills. The Bills had a promising opening drive cut short by a penalty and Rian Lindell hit a 38 yard field goal to give them a 3-0 lead before the Redskins reeled off 35 straight points. The starting defense played into the second quarter and gave up two touchdowns.

Who Helped Themselves: Every year in the preseason we tell you who helped themselves and who didn't in each game. Two lower rung running backs made big plays in the second half as Chad Simpson had a 43 yard run to set up the Bills first touchdown, a five yard pass from Ryan Fitzpatrick to David Nelson who also played well in the game. Joique Bell had a 28 yard touchdown run minutes later. Simpson finished with 67 yards on 7 carries while Bell had 52 yards on five carries. Nelson led receivers with five catches for 47 yards and his score. John McCargo had a solid game up front.

Who Hurt Themselves: Trent Edwards played all but the final 3:40 of the first half and struggled after leading the team to a field goal on their opening possession. His next three series were three plays each and included a terrible interception where he telegraphed his throw. He finished 6 of 12 for 58 yards. Reggie Corner looked awful as he dropped in an interception that would have been an easy touchdown and then was very late to the ball on Washington's third first half touchdown. He also was beaten deep along with George Wilson on Washington's 5th touchdown a 44 yard reception by Devin Thomas. Aaron Maybin hurt himself with a big penalty for roughing the passer. Josh Stamer had a bad illegal block that short circuited Buffalo's first drive and forcing them to settle for a field goal. The special teams were far from special as they gave up a punt return for a score and Ellis Lankster fumbled a punt.

Jackson, Lynch Hurt: Fred Jackson and Marshawn Lynch each went out of tonight's preseason game after the first series. Both walked to the locker room with injuries that appear minor at this time. Lynch hurt an ankle while Jackson banged up a hand. Both returned to the sidelines in street clothes for the 2nd half. Lynch didn't appear to have a wrap on his ankle but Jackson had a cast on his hand. This gave more playing time to rookie C.J. Spiller. Alex Carrington also went off as he was very slow to get up after a play but walked off and looked ok. Injury Page.

14 Players Sit: 14 players are not playing in tonight's game against Washington. Paul Posluszny, Ryan Manalac, Keith Ellison, Danny Batten, Eric Wood, Ed Wang, Cornell Green, Demetrius Bell, Derek Schouman, Marcus Easley, James Hardy, Chris Kelsay, Spencer Johnson and Jon Corto who is still on active PUP. The one surprise here is Kelsay as it was thought he would play after practicing this week but they decided to hold him out as a precaution to rest his shoulder. He hurt it early in camp. Brian Brohm is also not expected to play too much as Ryan Fitzpatrick will get the work with the twos and Levi Brown is expected to get a long look. Brohm will likely get a good look with the twos in Toronto on Thursday night.

Bills In DC: After a delayed plane because of storms in the nation's capital, the Bills arrived in Washington last night for tonight's preseason opener against the Redskins. The starters normally play about a quarter in the first preseason game but Chan Gailey told his starters to be ready to play more possibly. Trent Edwards will start at quarterback and likely be followed by Ryan Fitzpatrick who took the 2nd team reps in the last practice of the week.


Thursday August 12, 2010


OL Banged Up: Amazingly enough the offensive line is still banged up mostly from last season. Three of the five starters will not play tomorrow night as Chan Gailey confirmed that Demetrius Bell, Eric Wood, and Cornell Green will not suit up. Bell and Wood have struggled to stay on the field as they recover from serious injuries suffered last year. Green has been out all week with a muscle tweak. Backups Andre Ramsey and Ed Wang are also sidelined. Expect Jamon Meredith and Kirk Chambers to start at tackle and either undrafted rookie Cordaro Howard or Jason Watkins to start at left guard.

Hardy, Easley Out: The Bills will go in to tomorrow night's game against the Redskins with just seven healthy receivers. James Hardy is expected to miss 7-10 days after leaving practice early on Tuesday night. Marcus Easley will have surgery on his leg and is out indefinitely. This will give a chance for some of the undrafted free agents to make a mark as the team was already without Felton Huggins who was waived yesterday.

Night Practice Update: The team did put on the shoulder pads and helmets for the final practice before the preseason opener last night. They did wear shorts however as they cut back on the throttle a bit before their first game. Sidelined for the workout were: Danny Batten, Ed Wang, Andre Ramsey, James Hardy, Cornell Green, Marcus Easley, Derek Schouman, Spencer Johnson, and Ryan Manalac. The team will be a bit short at linebacker on Friday night as Paul Posluszny, Keith Ellison, and Manalac are expected to miss the game. Injury Page.


Wednesday August 11, 2010


Walk Through Held: This morning's closed practice was just a walk through session. It was the first one of the camp and it was something that you saw a lot of during the Dick Jauron era. Chan Gailey was giving the team a bit of a break as they dial down before Friday's preseason opener. The players were not in pads or helmets. Ryan Manalac was the lone non participant on the sidelines. He was banged up during Tuesday's practice. There is a full open practice tonight. That is the last practice before the game in Washington.

Huggins On Waived/Injured List: The Bills have cut ties with Felton Huggins. He has been placed on the waived/injured list. He suffered a shoulder injury on Monday that was said to be significant at the time. The Bills are suddenly thin at wide receiver with this move and the injury suffered by Marcus Easley this week. Depth Chart.

Starters To Play Longer? Chan Gailey gave some insight to what we will see when the Bills open their preseason schedule on Friday night in Washington. He said that he told the starters that they should be prepared to play longer than they usually would in an opening exhibition game. The reason he gave for that were the new schemes they are implementing on both sides of the ball. He also said that he does have a quarterback order in mind but will not share it with the public since they would likely hold him to that and he wants to have the option of changing things up.

Brown Shines: Levi Brown got a chance to run the two minute drill for the first time since training camp began. Chan Gailey wanted to get him some work since he will likely be the quarterback in that situation on Friday night at the end of the game if they need a late score. Brown shined as he moved the team 65 yards to a 16 yard touchdown pass to Chad Jackson who made a beautiful catch in the end zone.


Tuesday August 10, 2010


Receivers Battered: The first week of training camp the Bills were hit with the injury bug at linebacker. This week it is the wide receiver position. Marcus Easley may see his rookie season end before it starts. Chan Gailey was non committal after practice today but he didn't rule out Easley's injury being season ending. He also was waiting on an update on the shoulder injury suffered by Felton Huggins. He did say yesterday it was a significant injury. It also didn't help matters that James Hardy left today's practice early but he is expected to be ok. Injury Page.

McIntyre Returns: Corey McIntyre returned to practice today after missing only one practice with an ankle tweak. WGR's Joe Buscaglia tweeted that Ryan Manalac limped off during today's session but quickly returned. He also tweeted that Spencer Johnson, Marcus Easley, Ed Wang, Danny Batten, Cornell Green, Jason Watkins, Felton Huggins, and Derek Schouman did not practice. He said Huggins was absent and Batten's shoulder is out of a sling. Injury Page.

Injury Update: Chan Gailey said last night, that he doesn't expect to have all five starting offensive linemen on the field in the first preseason game Friday night. He thinks Keith Ellison has a better chance of playing in the preseason opener than Paul Posluszny as both players are being eased back into action. Marcus Easley was absent yesterday as he went to get a second opinion on his injured knee that is not responding like they hoped. The injury to Corey McIntyre in the morning practice is not serious and he is ok. Felton Huggins isn't as fortunate as his shoulder seems to be a more serious problem. Injury Page.

Practice In Rain: Heavy rain descended on St. Johns Fisher College forcing the Bills to delay their practice a bit and move it to the turf field. Chan Gailey liked how the players adjusted to the conditions as they practiced when the rain slowed to a drizzle. He called it a work in progress as there were some good things and bad things in the night practice. He did say protection is the key to the team since they have some receivers that can make things happen.


Monday August 9, 2010


Poz, Ellison Work: Paul Posluszny and Keith Ellison took part in team drills this morning for the first time in camp according to WGR's Joe Buscaglia. Corey McIntyre limped off under his own power during the morning session with an apparent right ankle injury. Felton Huggins went down awkwardly and hurt his shoulder. Cornell Green remains sidelined after tweaking a muscle on Saturday. Most of the other walking wounded remain sidelined. Injury Page.

Players Back To Work: The players hit the practice field for two workouts today after having yesterday off. The players did attend meetings last night. The morning practice is not open to the public and you need tickets for the night practice. Jason La Canfora of the NFL network reports that C.J. Spiller will be getting some first team reps this week to go along with his duties as a kick and punt returner. Injury Page.



---
News Archives index
Latest News Section
Archives Library
Back to Bills Daily Homepage