Bills Get First Preseason Win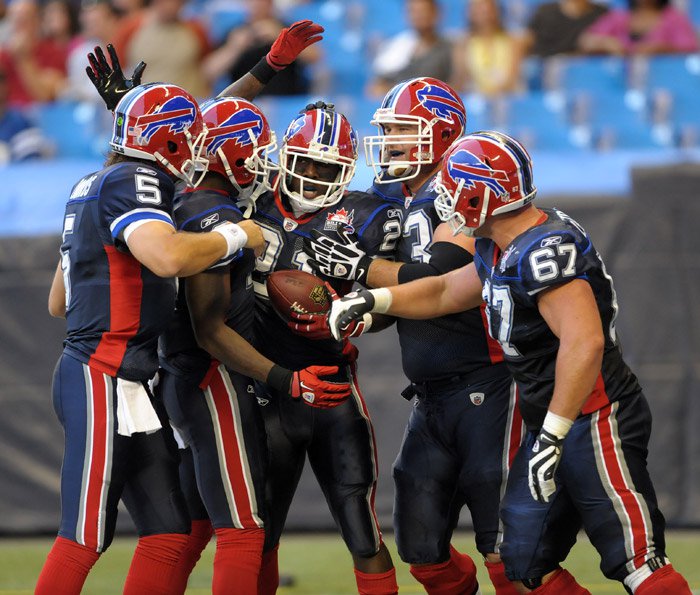 David Nelson Back: One thing is sure about WR David Nelson he is tough. He was back on the field during the morning indoor practice session today just five days after getting carted off the field with an ankle injury. He was originally thought to be out for the rest of the preseason but may now be on target to play on Saturday against Cincinnati. Nelson suffered a pulled muscle earlier in training camp and made a much quicker than anticipated return from that injury as well. Injury Page.

Bills In The Gym: For the first time in training camp rain has forced the Bills to practice inside. Chris Brown of the team's website reports the team's closed morning workout has been moved to the Gym. There were heavy rains this morning in Pittsford, NY. It is suppose to taper off and the plan is to go outside for tonight's practice session.


Saturday August 21, 2010


Schouman, Torbor Out: The Bills may start the season short at tight end if they don't bring anyone else in. Derek Schouman is expected to miss 3-6 weeks with a knee injury he suffered against Indianapolis. Shawn Nelson missed the Colts game with a muscle pull but Chan Gailey said he could have practiced today but did not. Chan Gailey said they will likely sign another tight end and Buddy Nix is looking into it. Michael Matthews and Jonathan Stupar are the lone tight ends at this point for the start of the season. Another injury blow is starting outside linebacker Reggie Torbor. He is undergoing tests for an undisclosed injury and is expected to miss three weeks. Chris Ellis took his first team reps in practice today instead of Aaron Maybin. Kyle Williams also sat out today after getting nicked up in the win over Indianapolis but he should be ok. Injury Page.

Nelson Issues Statement: Shawn Nelson issued a statement today after practice to respond to his suspension for the first four games of the season by the league for violating the substance abuse policy. Nelson said, "On behalf of my team, my family, my church family, the great city of Buffalo, the fans, I want to just say I apologize. It's not nothing bad, nothing illegal that happened. There's rumors that I was dealing with different types of things that myself is not involved in. I'm not that guy, I'm a guy of character. I'm a guy who works hard. I will be suspended for the first four games of the season. I'll be back on October 4th, I'm excited about getting back with my team and working out with my team. I spoke with some of my teammates earlier today and told them what was really going on. I spoke to my coaches, my GM, and we're all on the same page. I've got the same plan down. I'll be working out with Tom Shaw in Orlando for the rest of the season. You want to know about my playing time when I get back, you have to talk to Chan Gailey about that. That's it."

Back To Work: The Bills get back to work today with an afternoon practice at St. John's Fisher College. It's hard to believe but the team already breaks camp on Tuesday. The win on Thursday night may move Chan Gailey to make a few changes to the depth chart. Brian Brohm performed very well and may move ahead of Ryan Fitzpatrick in the battle for the number two spot at quarterback. The suspension of Shawn Nelson may move him to the bottom of the chart if he wasn't there already. Aaron Maybin may be sliding down the depth chart as well as he was on the field at the end of the game and undrafted free agent Antonio Coleman got some reps before him. Depth Chart.


Friday August 20, 2010


Nelson Suspended: The NFL released a statement announcing the suspension of Shawn Nelson for the first four games of the season for violating the league's substance abuse policy. He can still take part in all preseason games and practices and is eligible to return on Oct. 4th, the day after the Jets game.

Byrd Injury Not Too Bad: A team source told the Buffalo News that the injury currently sidelining Jairus Byrd is not the same as the one he had surgery on last year. It also is not as serious as that injury. The hope remains that he will be ready for opening day and they don't expect it to linger throughout the year. Injury Page.


Thursday August 19, 2010


Gailey Thinks They Made A Step Forward: Chan Gailey met the media after the game and said he thought C.J. Spiller played well including an unbelievable run on his touchdown. He also said he picked up some blocks well also. Gailey thinks all his quarterbacks have moxie and was impressed how Trent Edwards bounced back from his hard hit. He thinks he's a tough guy. He thinks they made a step forward this week. Getting four turnovers was huge but they have a lot of work to do on punt coverage. He thinks they took another step in their journey and they played well as a team. Demetrius Bell played 10 plays and is sore but he's ok. He hopes to have the group together for the first game so they can hit the ground running. The injury to Derek Schouman is a knee injury and they will have to see about it. That was all he had to report on injuries.

Edwards Chips Tooth In Win: Trent Edwards said he chipped his tooth on a big hit early in the game and he will get it taken care of at the dentist tomorrow morning. He said the hit in the mouth may have woke him up a little and they responded with the two play scoring drive. He felt offensively they did a great job as a team but he praised C.J. Spiller and said it was enjoyable handing him the ball and it was pretty impressive watching him run. He said it was nice to have the starting offensive line back out there together as well. He feels they did a good job of responding to what the Colts did.

Bills Beat Colts 34-21: The Bills finally played an entertaining game in Toronto and finally won a game north of the border as well. They rebounded from a horrendous performance in their opening preseason game to defeat the Colts 34-21 to earn Chan Gailey his first victory as the Bills coach. The game got off to a rocket fast start with five first quarter touchdowns. The Bills led 21-14 after the opening period because of a trio of big plays. C.J. Spiller had a 31 yard touchdown run on the opening offensive series. Terrence McGee returned a Peyton Manning interception 78 yards for a touchdown. They then closed the quarter with a 70 yard TD bomb from Trent Edwards to Lee Evans. Manning did throw a touchdown pass in a quarter of work and that followed a 17 yard Joseph Addai touchdown run. Brian Brohm followed Edwards and led a drive deep into Colts territory before settling for 24 yard Rian Lindell field goal before the half that gave the Bills a 24-21 lead. Lindell added a fourth quarter field goal and Joique Bell scored the game's final touchdown.

Who Hurt Themselves: Ellis Lankster was beaten for back to back big plays of 38 and 43 yards, the second one was good for a score. Donte Whitner was run over on Joseph Addai's 17 yard first quarter touchdown. The return teams struggled allowing a 38 yard punt return and a 49 yard punt return that set up the Colts first two touchdowns. Chad Simpson only had eight yards on eight carries and may have dropped behind the rookie Joique Bell in the running back rotation.

Who Helped Themselves: Many players helped themselves in this game starting with the first team offensive line who played well in their first appearance together this year. They gave the offense a chance to be effective. C.J. Spiller looked explosive on his touchdown and finished with 54 yards on 10 carries. Trent Edwards may have been the big winner as he might have wrapped up the starting QB job with a fine 5 for 8 for 93 yards including the bomb for the score to Lee Evans. Brian Brohm may keep things interesting however as he was very good in his appearance and may have locked up the #2 job. He couldn't find the end zone though and finished not as strong as he started. He ended up 14 of 21 for 125 yards. Donovan Woods had a nice recovery of a muffed punt. Dominique Harris forced a fumble that Arthur Moats took out of the air to setup a field goal. Joique Bell took over the final scoring drive running 7 times for 49 yards to the final Bills touchdown, a 2 yard run late in the fourth quarter. He finished with a game high 80 yards on 11 carries. Chad Jackson is separating himself from the rest of the 2nd tier at wide receiver. He had five catches for 52 yards. Who do you think helped themselves the most? Take our poll on our homepage and let us know!

Starting OL Plays: The Bills finally put out what they perceive to be the starting offensive line to start this game and they performed well opening up the hole for C.J. Spiller's touchdown and giving Trent Edwards plenty of time to throw deep. Paul Posluszny, Keith Ellison, and Chris Kelsay each played two series on defense. They seemed to come out of the game healthy with Derek Schouman the only player who got banged up. He suffered a knee injury. Injury Page.

Dome Open Tonight: The dome at the Rogers Centre will be open tonight for the game. It is mostly cloudy in Toronto with temperatures in the upper 70s to the low 80s with some wind.

Bills Set For 2nd Preseason Matchup: The Bills and Colts are in Toronto for tonight's 2nd preseason game for both teams at 7:30. It is the Bills first "home" preseason game and we should see the starters go into the 2nd quarter. C.J. Spiller is likely to play longer due to the injuries at the position. We should see more of undrafted free agent wide receivers Naaman Roosevelt and Donald Jones because of injuries at that position. We may get a look at the entire starting offensive line for a few reps as well although right tackle Cornell Green will be a gametime decision. Brian Brohm will follow Trent Edwards tonight and get the majority of the game with Levi Brown getting mop up duty late. We will be doing our usual commentary during the game, so follow us on twitter.


Wednesday August 18, 2010


Nelson May Be Back Soon: Chan Gailey said that the David Nelson is doing much better today and may play as early as next week. Nelson was carted off the field yesterday with what looked like a severe ankle or achilles injury. It now doesn't appear to be as bad as original feared.

Byrd Out With Groin Injury: We now know the physical complication that forced Jairus Byrd to miss yesterday's practice. He underwent groin surgery and is out indefinitely. He may not be ready for the season opener on Sept. 12th against Miami. Byrd has had a history of groin problems that resulted in a sports hernia operation two years ago and groin surgery last year that cut his rookie season short. Chan Gailey said he hopes to have him for the opener but he doesn't know. The surgery was releated to his previous procedure late last year. Injury Page.


Tuesday August 17, 2010


Nelson Suffers Serious Injury: The injury situation at wide receiver just got worse. David Nelson was taken off the field on a cart during today's practice session. He injured his ankle and could put no weight on it. Chan Gailey said the injury doesn't look good. It's the latest blow at a position that has been decimated with injuries this training camp. Nelson was making a case for a spot on the roster with a solid performance on Friday against Washington. There was another inconspicious absence today. Jairus Byrd was not in attendance today. Chan Gailey said it was a physical complication and that it isn't serious and should be resolved quickly. No word on what the injury is or how serious it is. Injury Page.


Monday August 16, 2010


Players Return: The Bills got several injured players back for today's two practices as Spencer Johnson, Cornell Green, and Derek Schouman returned to action and will have a chance at playing on Thursday night. Chan Gailey said he hopes to get some reps in this week's game for Eric Wood, Chris Kelsay, Demetrius Bell, and Paul Posluszny. They all took team reps in 11-on-11 drills with the first unit. Marcus Easley was not with the team as he was having surgery on his knee injury. Sitting out today were Marshawn Lynch, Fred Jackson, Ed Wang, Danny Batten, James Hardy, Alex Carrington, and Marcus Stroud sat out the morning session. Gailey said Lynch may not be out as long as 3-4 weeks and he hopes he can play in the preseason finale. Injury Page.

Signings Official: The Bills officially announced the two signings that we have reported. RB Andre Anderson and WR Aaron Rhea add depth to two banged up positions. To make room they placed Ryan Manalac on the waived/injured list. They had one open roster spot from the Felton Huggins move last week.

Bills Reportedly Adding RB: With the sudden injury situation at running back the Bills have reportedly made a move to sign a back. The agent for RB Andre Anderson said the Bills will be signing him. The former undrafted free agent from Tulane was with the Raiders this offseason.



---
News Archives index
Latest News Section
Archives Library
Back to Bills Daily Homepage