Bills Keep On Preseason Roll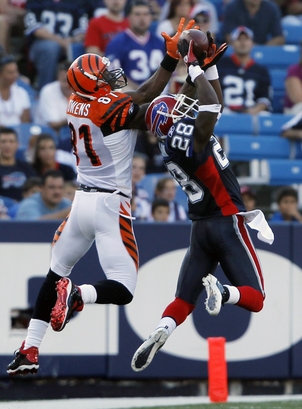 Gailey Pleased With Pass Protection: Chan Gailey addressed the media after the game and adjusted to a passing attack after the Bengals bottled up the run early. The coach would not say Trent Edwards is the starter but did say it will likely end up like the depth chart says it is right now. He knows they have a lot to get better at everywhere but they did some good things. They need to make adjustments quicker and need to start faster especially on defense. The coach was very pleased with how it went with Eric Wood and Demetrius Bell who both seem to be gaining football stamina back. He liked the play of Edwards and thought the pass protection after the first series was very good. He was very happy with the progress they have made in that area. He feels Roscoe Parrish will contribute the more he plays and will be a good weapon. He feels David Nelson has been a very pleasant surprise.

Edwards Having Fun: Trent Edwards thought they were pretty balanced offensively. He thought the offensive line opened up holes for the running game and did a good job against Cincinnati in pass protection as they brought a lot of heat. Edwards thinks they are finding a rhythm and hitting holes harder. Edwards says he's having a lot of fun back there but doesn't feel he is more confident and doesn't want to get ahead of himself. They do need to fix the mistakes they made.

Spiller Scores Twice As Bills Beat Bengals 35-20: If it keeps going like it has in the preseason fans may start worrying about the defense instead of the offense. The first team offense scored three first half touchdowns including scoring runs of 20 and 1 yards from C.J. Spiller. Roscoe Parrish caught a 12 yard pass from Trent Edwards who sewed up the starting quarterback job tonight. The defense allowed two Carson Palmer touchdown passes before he gave way to the second team. The defense bore down at that point and gave up just two more field goals as the Bills won 35-20. Ryan Fitzpatrick came in and steered this ship very well. Fitzpatrick hit David Nelson for a 20 yard score. Reggie Corner put the exclamation point on in this game with a 21 yard interception return for a score in the fourth quarter. The team came out of the game ok injury wise it appears. Injury Page.

Who Helped Themselves: C.J. Spiller ran for two touchdowns and accounted for 46 of 71 yards the team had in their successful two minute drill just before halftime to get the lead. He was electrifying as he had 52 yards rushing and 33 yards receiving. He would have had more but had two huge negative runs. He seemed to learn from and started going more North and South after those plays. If there was ever any doubt that Trent Edwards was the starting quarterback for this team there isn't one anymore as he played his best game of the preseason and led the team to three first half touchdown drives. He had a QB rating of 122.9 going 13 of 17 for 153 yards and a touchdown pass to Roscoe Parrish. Chan Gailey said earlier in the week that Parrish would become a bigger part of the offense and if this game is any indication he means it. Parrish had four catches for 56 yards and the score. Ryan Fitzpatrick was the second QB in and played very well and may have locked up the backup job, he finished 6 of 9 for 77 yards. Aaron Maybin had two sacks and forced an intentional ground penalty. Arthur Moats had two tackles for loss and a forced fumble, three tackles in all.

Who Hurt Themselves: The first team defense looked lousy again and there is real concern about the first team defense. They are struggling with the transition to the 3-4 defense and gave up big runs just like they used to in the 4-3. Another concern is the coverage units that gave up two long kickoff returns by Pacman Jones who averaged over 38 yards on three returns. C.J. Spiller didn't hurt himself as he was electrifying in this game as a runner but his pass protection and blitz pickup were pretty bad. Cornell Green really struggled in pass protection and they only ran successful his way once. Brian Brohm hurt himself by not getting into the game until late in the fourth quarter. He threw only one pass and it was an overthrown bomb. .

Williams Sits: The Bills will get a good, long look at their top rookies with the first team in tonight's preseason game. Kyle Williams will not play tonight so Tyrell Troupe will start in his place. C.J. Spiller has already been with the ones since Marshawn Lynch and Fred Jackson went down with injuries. Williams isn't playing because he has missed practice time this week after getting nicked up against Indy. Other lineup changes tonight include Chris Ellis starting for the injured Reggie Torbor instead of Aaron Maybin. George Wilson continues to start for Jairus Byrd.

Bills Ready For Bengals: The Bills play their only Ralph Wilson Stadium preseason game tonight at 6:30 against Terrell Owens and the Cincinnati Bengals. T.O. said he's excited to be back in Buffalo and had good times in town and keeps in touch with many players, staff, and front office people. Topping that list is Ryan Fitzpatrick, his recommendation to his former team helped Cincinnati decide to sign Owens. We will be tweeting commentary throughout the game tonight and have our usual list of who helped themselves and hurt themselves after the game.


Friday August 27, 2010


QB Rotation: Chan Gailey said that he has decided on a quarterback rotation for Tomorrow night's game against Cincinnati but wouldn't divulge it to the media. In fact he has not told the players yet what the rotation would be. Trent Edwards will start but it isn't clear if both Ryan Fitzpatrick and Brian Brohm will see action. They alternated the first two games.

Hardy Likely To Play: James Hardy practice again during the team's finally workout of the week yesterday. The coach said he looked good and should play some against Cincinnati. He said he won't overdue it with him because that wouldn't be fair but he is expected to see some time. Keith Ellison returned to practice yesterday after missing a day, he should play as well. The starters expect to play at least a half with the possible exception of Eric Wood and Demetrius Bell who may play less. Injury Page.


Thursday August 26, 2010


Hardy Practices: The Bills held a night practice at Ralph Wilson Stadium yesterday and it saw the return of James Hardy to the practice field. Chan Gailey said he came through the practice fine although he didn't do too much. He will get additional practice time on Thursday. That will determine if he can play on Saturday night against Cincinnati. Hardy has missed over two weeks and both preseason games putting his place on the team in jeopardy. Chan Gailey said the starters will play at least a half on Saturday night and they wanted to practice under the lights since they will be playing under them in three days. Keith Ellison missed the practice because of a flare up. Injury Page.

Game Blacked Out: Saturday night's home game against Cincinnati is blacked out in Western New York as it is not sold out yet. That despite the fact that it is kids day with reduced tickets for those 14 and under and activities for children. This event had sold out the previous two years.


Wednesday August 25, 2010


Bills Return Home: The Bills go back to work today at One Bills Drive as they continue preparation for the season. They will hold a night practice at 7:15pm at Ralph Wilson Stadium. All practices at the facilities are closed to the public.


Tuesday August 24, 2010


Bills Break Camp: The Bills have finished camp and ended on a high note with the two minute offense scoring a touchdown on a third down touchdown pass from Trent Edwards to Chad Jackson. Chan Gailey was not overly pleased with the camp. He said the team worked very hard but were lax mentally at times and they need to fix that up. He seemed most upset with the wide receiver position with the exception of Roscoe Parrish. Gailey loves the way he plays and said he's excited to see him be a huge part of the offense.

Gailey Sticks Up For Players: After today's final practice Chan Gailey went over to a group of teenagers that were razzing Trent Edwards and told them the players wouldn't sign autographs for them. When they give one player a hard time they give all the players a hard time. What do you think of what Gailey did? Take our poll on our homepage and let us know!

Bills Add Another TE: The Bills continued their replenishment of their tight end position today. They have signed Andrew George. He is an undrafted free agent from BYU who was with the Carolina Panthers before being released in June. During his collegiate career he had 70 receptions for 827 yards and 11 touchdowns in 38 career games. Depth Chart.

One More Practice: A very busy and physical training camp at St. Johns Fisher College comes to an end today after a morning practice that is open to the public. Chan Gailey says the team will start game planning for the season when they return to Orchard Park to finish preparations for the season. All those practices are closed to the public.


Monday August 23, 2010


Wood At Center: Eric Wood got some reps during today's practice with the first team at center. The coaches gave Geoff Hangartner the day off and Chan Gailey said he needs to cross train people since you have a limited number of linemen active on gameday. Wood played center at Louisville and they wanted to look at him there as an emergency backup on Sundays. The coach also said they will look at tackle Nick Hennessey at tight end because of the continued shortage at the position.

Matthews Gone: It's been a busy day off the field for the Bills. Michael Matthews has been waived/injured. He injured his lower left leg during last night's practice. The team is still down to two healthy tight ends with newly signed J.P. Foschi. Depth Chart.

Lions Game Time Moved: The time for the Bills preseason finale against Detroit has been moved. The Thursday Sept. 2nd game was originally scheduled for 7:00pm at Ford Field. It will now start at 6:30pm.

Bills Add Veteran TE: The Bills made the anticipated roster move today adding a tight end. They signed former Bengal J.P. Foschi who caught 27 passes for 260 yards and two touchdowns for Cincinnati last year. They also released John Destin who has been injured most of training camp. The former Georgia Tech player has appeared in 33 games with 15 starts for Oakland, Kansas City, and Cincinnati. Front Office Page.

Two Draft Picks On IR: Two players from this year's rookie class have had their season end before it started. The team announced last night that they have placed Marcus Easley and Danny Batten on injured reserve ending their season. Easley underwent surgery for a knee injury suffered early in camp. Batten has a shoulder injury also suffered early in training camp. Chan Gailey said the two players would miss too much time into the regular season to carry them on the active roster. These moves open up roster spots, one will have to be taken by a tight end as the team is now down to one. Michael Matthews left last night's practice early with a tweaked ankle or foot leaving Jonathan Stupar as the only healthy tight end. Injury Page.


Sunday August 22, 2010


David Nelson Back: One thing is sure about WR David Nelson he is tough. He was back on the field during the morning indoor practice session today just five days after getting carted off the field with an ankle injury. He was originally thought to be out for the rest of the preseason but may now be on target to play on Saturday against Cincinnati. Nelson suffered a pulled muscle earlier in training camp and made a much quicker than anticipated return from that injury as well. Injury Page.

Bills In The Gym: For the first time in training camp rain has forced the Bills to practice inside. Chris Brown of the team's website reports the team's closed morning workout has been moved to the Gym. There were heavy rains this morning in Pittsford, NY. It is suppose to taper off and the plan is to go outside for tonight's practice session.



---
News Archives index
Latest News Section
Archives Library
Back to Bills Daily Homepage