Bills Blown Away In Minnesota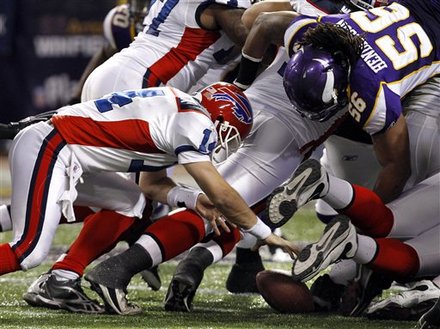 Awful Game For Bills: This was just an egg all over and the gameday grades will not be good. The secondary did pick off four passes but there wasn't much else good in this loss. Gameday Grades.

Vikings Blow Out Bills: The Bills seemed due for a clunker after six straight close games and today was the day. They turned it over five times and the Vikings blew out the Buffalo 38-14. Ryan Fitzpatrick threw an interception and fumbled three times, losing two of them. Drayton Florence returned an interception for a score to give the Bills an early lead but Minnesota reeled off 38 unanswered points. Brett Favre was knocked out of the game on the opening possession on a Arthur Moats hit that forced an interception. Tavaris Jackson came in and played well in spurts but did throw three interceptions of his own. The banged up Adrian Peterson scored three touchdowns and Sidney Rice scored two for the Vikings as both players went over 100 yards. David Nelson caught a late touchdown pass in garbage time. Bills Blitz.

Hangartner, Coleman, Urbik Hurt: Geoff Hangartner, Kraig Urbik, and Antonio Coleman all were knocked out of the game with knee injuries. None of them returned. When Hangartner went out Urbik went to center and Cordaro Howard came in to right guard for Urbik. When he went out, Andy Levitre moved to center and Ed Wang came in at left guard. Injury Page.

Troup Among List Of Inactives: Eric Wood, Shawn Nelson, Torell Troup, and Terrence McGee are inactive with injuries. Troup was a gametime decision with a fibula injury. John McCargo, is active for the first time this year as expected because of the season ending injury suffered by Dwan Edwards. Aaron Maybin is also active because of the season ending injury suffered by Kevin Torbor. Healthy inactives are Scott Chandler, Jehuu Caulcrick and Mike Caussin. For the Vikings, Adrian Peteson will play but Steve Hutchinson, Ray Edwards, and Percy Harvin are inactive.

Game Inside: The Bills escaped the cold and snow of Buffalo for even colder and snowier Minnesota. Luckily the game will be played inside the dome which is good because it will be 15° and mostly cloudy at gametime.


Saturday December 4, 2010


Defensive Shuffle: With Dwan Edwards and Reggie Torbor on injured reserve and Torrell Troup a possible scratch as well, the Bills will have to shuffle the deck defensively. If Troup doesn't go, John McCargo may be active for the first time this year. With Edwards out Spencer Johnson will likely get the start at end but it also means a lot more playing time for rookie Alex Carrington. With Torbor out it creates even more problems since he plays both inside and outside linebacker depending on the scheme. In the 3-4 defense, Torbor plays outside that spot will be taken by rookie Arthur Moats with Antonio Coleman and Aaron Maybin getting reps as well. When they go to a 4-3 or nickel, Torbor is usually in the middle. That spot will likely be taken by hybrid safety/linebacker Bryan Scott. Akin Ayodele will see some time in the middle as well. Depth Chart.


Friday December 3, 2010


Torbor To IR: The Bills officially announced the signing of TE Scott Chandler this afternoon. They made room for their 2nd TE signing of the week by placing their 2nd defensive player of the week on IR. Reggie Torbor is now done for the season with a shoulder injury. In other injury news, Terrence McGee, Eric Wood, and Shawn Nelson have been ruled out after not practicing all week. Torrell Troup did practice some today and is questionable. Spencer Johnson and C.J. Spiller practiced fully and should play. Injury Page.

Another TE Added: Several reports say the Bills have signed their second tight end of the week. The Dallas Morning News reports that the Bills have signed former Cowboy Scott Chandler off of waviers. He played in nine games for Dallas before being released. He has no receptions on the season but is considered a solid blocking tight end. The team will need to make another roster move when they make it official. There are still a few candidates for injured reserve including Reggie Torbor, Terrence McGee, and Shawn Nelson.

McGee, Wood Remain Sidelined: Terrence McGee, Torrell Troup, and Eric Wood remain sidelined yesterday increasing the likelihood they won't play on Sunday. Demetrius Bell and Chris Kelsay were back on the field in a limited basis. Spencer Johnson and C.J. Spiller were limited again. For the Vikings, Adrian Peterson remained sidelined but is expected to practice today and play on Sunday. Injury Page.


Thursday December 2, 2010


Edwards On IR: The Bills placed Dwan Edwards on injured reserve. This is not a surprise since Chan Gailey said his hamstring injury would be a long term thing and there are just five games left in the season. The open roster spot was filled by TE Mike Caussin. As we reported earlier, he was plucked from the Jaguars practice squad.

Bills Add TE: After reportedly trying to get a tight end off of the Cowboys practice squad the Bills reportedly settled on one from the Jaguars practice squad. The Bills supposedly went after Martin Rucker but the Cowboys added the former fourth round pick of the Browns to their active roster to keep him off of the Bills. Reports now say the Bills have plucked Mike Caussin from Jacksonville. He was an undrafted free agent signed by the Jaguars before being released and added to their practice squad. The Bills will need to make room on the roster for him by perhaps putting someone on injured reserve. They need help at tight end as Shawn Nelson keeps battling migraines.

Bills Get Set For Favre: The Bills will look to dig out of all the snow in Western New York and head to even colder Minnesota for Sunday's game against the Vikings. They will be facing Brett Favre for most likely the last time as it appears he will finally retire after the season. All eyes will be on Adrian Peterson however because if he can play he will be big trouble for the Bills. He injured his ankle last week and will likely be a gametime decision. Game Preview.


Wednesday December 1, 2010


Johnson Moving On: Stevie Johnson addressed the media today and said he has put the drop behind him but won't forget it. He said he is over it and ready to move on. Ryan Fitzpatrick said he has not lost confidence in his young receiver and will continue to throw the ball to him as often as he has. Johnson doesn't expect lingering effects saying he's ready to be back to his old self and fight with his teammates.

Torbor Out A While: Chan Gailey updated the media today on the injury situation and it wasn't good. We already knew that Dwan Edwards would be out a significant length of time. Gailey said that Reggie Torbor is also sidelined for an undetermined amount of time but he is out for Sunday's game in Minnesota. Terrence McGee and Eric Wood did not practice today and are questionable at best for Sunday's game. Demetrius Bell, Shawn Nelson, Chris Kelsay and Torell Troup also sat out of practice on Wednesday. Injury Page.


Tuesday November 30, 2010


Two Added To Practice Squad: The Bills have filled the two openings on the practice squad. They have signed CB Trae Williams and G Marc Dile. Dile made the Tampa Bay squad last year after being signed as an undrafted free agent. He was later released and added to their practice squad. Williams was a 5th round pick of the Jaguars in 2008 but didn't make the team. He was on the Eagles practice squad that year and the Seahawks practice squad in 2009 before moving on to the active roster of the Steelers.

Spiller, Johnson Should Return: Chan Gailey told the media yesterday that C.J. Spiller and Spencer Johnson will likely return this week against Minnesota. Both players have missed two games because of hamstring injuries. The news isn't good for Dwan Edwards who may be shut down for the season with the hamstring injury he suffered against Pittsburgh. The team will re-evaluate Terrence McGee and Eric Wood later in the week. McGee also is in danger of being shut down for the year. The team hopes to have Wood back this week or next. Reggie Torbor suffered a shoulder injury against the Steelers and will be re-evaluated as well. Injury Page.


Monday November 29, 2010


No Johnson For Media Today: There were no signs of Stevie Johnson during the time that the locker room was open to the media. Tim Graham of ESPN.com says that a league source told him not to speak to the media. There has been more of a firestorm about his tweet after the game than there is from his drop. Johnson tweeted something that people are perceiving that he is blaming god for his drop. Lee Evans told the media he is taking it hard and he has told him he needs to work hard and get past it.

Wilson Donates $1 Million: Ralph Wilson continues his generous ways in Western New York. He donated $1 Million to through the Ralph C. Wilson Foundation to support adult day care and home care in western New York. His wife Mary presented the gift to Memorial Hospital Adult Day Care Center. "It is an honor to support Kaleida Health and the tremendous work it does to provide care for the residents of the Buffalo-Niagara region," Ralph Wilson said. "We hope to make a positive impact on the quality of people's lives today, particularly during a time of so much need."



---
News Archives index
Latest News Section
Archives Library
Back to Bills Daily Homepage