Bills Lose Third OT Game Of Season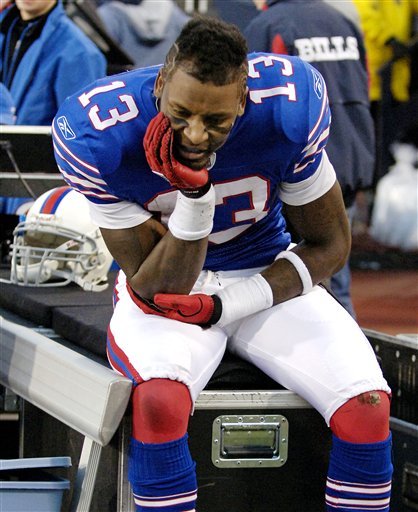 All Units Play Better In 2nd Half: Lost in this wild game was how badly the Bills were dominated in the first half. Statistically they had a horrid first half. The 2nd half all units performed much better bringing the grades up significantly. Gameday Grades.

Bills Lose Heartbreaker 19-16 In OT: Shaun Suisham hit a 41 yard field goal with 2:14 left in overtime to lift the Steelers to a 19-16 win over the Bills. It was a heartbreaking loss for the Bills who battled back from a 13-0 halftime deficit. They had the game won in overtime but Stevie Johnson dropped a perfect pass when he was wide open in the end zone. Earlier in the extra session Lee Evans couldn't pull in a bomb from Ryan Fitzpatrick that likely would have won the game as well. Leodis McKelvin looked like he was going to take the OT kickoff back for a touchdown but he got tangled up with Arthur Moats. He also fumbled a punt in the wild OT but the Bills recovered. The lost field position on the fumble may have cost them a field goal try. The Bills battled back after getting dominated in the first half, thanks to a 65 yard screen pass to Fred Jackson for a touchdown and three Rian Lindell field goals including a 49 yarder with :02 left in regulation time to tie it. Bills Blitz.

Edwards Injured: Dwan Edwards left the game on the opening series with a hamstring injury. He limped off under his own power but was then carted off to the tunnel. He did not return and will be lost for a while according to Chan Gailey. Stevie Johnson and Donald Nelson both limped off but returned. Injury Page.

Spiller, McGee, Nelson All Inactive: C.J. Spiller is inactive for a second straight game with a hamstring injury. He was trying to come back from the injury this week but he wasn't ready as the team is being cautious. Terrence McGee won't go either after re-aggravating his nerve problem in his knee on Wednesday. Shawn Nelson is also out after missing Friday's game with an illness. Spencer Johnson and Eric Wood are also inactive with injuries, they were ruled out on Friday. Because of injuries there are only two healthy inactives and they are John McCargo, and Mike Balogun. That means UB alum Naaman Roosevelt is active and LB Thomas Williams are active after being signed off the practice squad yesterday. Aaron Maybin is also active for the first time in a while this week. Kraig Urbik starts for Wood and as usual Leodis McKelvin starts for McGee.

Reed A Semi Finalist: Not surprising Andre Reed is on the list of 26 semi-finalists for the class of 2011 induction into the Pro Football Hall of Fame. The semi finalist list was announced this morning. Other potential semi finalists that didn't make the list include Darryl Talley and Steve Tasker.

Weather Clearing For Game: The snowy weather in Western New York this holiday weekend gives way to partly cloudy skies today for the Bills and Steelers. The gametime temperature should be 38° and hold steady there. As it is always in late November, the winds will be whipping a bit. They will be out of the West Southwest at 13mph to start the game and then decrease as the game progresses. There is almost no chance at rain or snow.


Saturday November 27, 2010


Merriman, Ellison Placed On IR: The Bills experiment with Shawne Merriman appears to be over before it even started. Merriman has been placed on season ending injured reserve. That means he likely will never play a down for the Bills. He is an unrestricted free agent after this year and unless he feels he owes the Bills for taking nearly $2 Million from them and never play, he likely will go elsewhere in 2011. The team also placed Keith Ellison on injured reserve with his knee injury. They filled the two roster spots with practice squad players. Former UB WR Naaman Roosevelt was activated along with LB Thomas Williams. Front Office Page.

Merriman Trying To Get Healthy: Shawne Merriman said he doesn't know when he'll get on the field. He knows he has to sit and wait for his sore Achilles to heal. He feels he's been healthy besides this nagging injury that has bothered him on and off for over a year. He praised the Bills coaching and medical staff for their support and understanding in the situation. It may be wise to just shut him down for the year and allow him to get his Achilles fixed for next year. The question then would be who would he play for? Injury Page.


Friday November 26, 2010


Three Out; Two Questionable: Terrence McGee did not practice again today but he's listed as questionable for Sunday's game along with C.J. Spiller who did practice later in the week. Spencer Johnson, Eric Wood, and Shawne Merriman have all been declared out for the game against the Steelers. Shawn Nelson and Keith Ellison were also on the sidelines during today's practice.

Spiller May Play: C.J. Spiller practiced on a limited basis yesterday and was moving around well. The signs were encouraging to Chan Gailey and he may be able to play on Sunday. Kyle Williams, Demetrius Bell, and Chris Kelsay all returned to practice and will play. Spencer Johnson, Keith Ellison, and Terrence McGee remain sidelined. Injury Page.


Thursday November 25, 2010


Bills Look To Continue Winning Ways: The Bills welcome a division leader to town this weekend when the Steelers take over Ralph Wilson Stadium. Their fans will likely represent about half the house at the Ralph and the Bills look to play another very good team tough. Will it be enough to extend their winning streak to six games? Game Preview.


Wednesday November 24, 2010


Nine Players Miss Practice: Terrence McGee left practice today during individual drills with a knee injury. He was one of nine players that did not participate in team drills. C.J. Spiller and Spencer Johnson likely won't play on Sunday but Chan Gailey said they have an outside chance at returning for the game. Other players sitting on Wednesday were Shawne Merriman, Keith Ellison, Eric Wood, Demetrius Bell, Chris Kelsay, and Kyle Williams. Wednesday is the day where more players sit to rest bumps and bruises. Injury Page.

Fitz The Guy In 2011: Chan Gailey addressed the media today in his usual Wednesday press conference. When asked about the future of Ryan Fitzpatrick at quarterback he said he couldn't envision him not being the starter in 2011 at this time. He went as far to say it would be dumb if you would think he wouldn't start next year.

Florence honored: Drayton Florence has been named the AFC Defensive Player of the Week. He returned a fumble for a score against Cincinnati. It was his first career touchdown. He also recorded an interception that wrapped up the win.

Johnson Fined: Stevie Johnson was fined $5,000 by the NFL for his end zone celebration after his first touchdown against Cincinnati. He lifted up his jersey to reveal a t-shirt that said Not So Serious. It was in reference to the Batman movie and it was a line that the Joker said to Batman and Robin. Terrell Owens and Chad Ochocinco call themselves Batman and Robin. Ochocinco praised the prank by Johnson.

Green Released: The Bills cut ties with their worst free agent signing of the offseason. They have released Cornell Green from their injured reserve list. He was placed on the list three weeks ago with a knee injury. He signed a three year deal in the offseason. The team also shuffled the practice squad by adding three players and releasing one. WR Paul Hubbard is back on the practice squad after being released from the active roster last week. They also signed LB Jammie Kirlew and DL Ko Quaye to the practice squad. Kirlew was a 7th round draft pick of the Broncos this year but released before the season started. Quaye was on the Jaguars practice squad before being released last month. They had one open spot but to make room for the other two they released WR Montez Billings and placed LB John Russell on the practice squad-injured list. Front Office Page.


Tuesday November 23, 2010


Spiller, Johnson May Return: Chan Gailey had some possible good news when it comes to the hamstring injuries suffered by C.J. Spiller and Spencer Johnson against Detroit. They will both be re-evaluated by the end of the week and there is at least a chance that either or both of them will be able to play Sunday against Pittsburgh. They will err on the side of caution however since there is still plenty of football left to play. Injury Page.


Monday November 22, 2010


Merriman May Not Play This Year: Chan Gailey said trainers have given him no indication about when or if Shawne Merriman will be able to hit the field for the Bills as he battles an Achilles tendon injury. He may never play a down for the Bills. Eric Wood has what is being called a bone bruise or strain and he is likely doubtful for Sunday's game against Pittsburgh.

Milestones Reached: It was a huge comeback win for the Bills yesterday. It was the largest comeback win on the road since 1987. The 35 second half points were the most since 1994. Stevie Johnson had his second three TD reception game, no Bill has ever done that. He's also closing in on the biggest TD reception season in team history. The Bills were the first team in league history to come from 17 points down at the half to win by 18 points. As always, check out the right side of the gameday homepage for more tidbits from the game and the season.



---
News Archives index
Latest News Section
Archives Library
Back to Bills Daily Homepage