Bills Comeback For 2nd Straight Week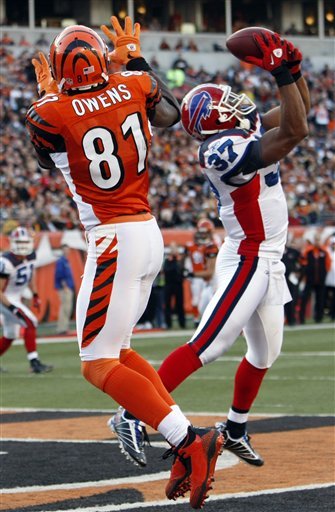 Gameday Grades: It was a rough first half but perhaps the most dominating second half in team history as they outscored the Bengals 35-0 after halftime. It was a great use of halftime adjustments by the coaching staff and solid defensive play after halftime combined with four offensive touchdowns. The grades are pretty good. Gameday Grades.

Bills Blitz: Ryan Fitzpatrick threw for 316 yards and four touchdowns while Fred Jackson ran for two as the Bills pulled off a huge comeback 49-31 wild victory in Cincinnati. It was their 10th straight win over the Bengals and second straight overall. The Bills fell behind 28-7 early in the second quarter thanks to two Fitzpatrick interceptions, one that was returned for a touchdown. The Bills came back and outscored them 42-3 the rest of the way including 35-0 in the second half. Stevie Johnson caught three touchdown passes after halftime. Drayton Florence returned a fumble for a score and picked off a pass as the Bills used three second half takeaways to rumble by the Bengals. Bills Blitz.

Wood Hurt: Eric Wood left the game with a knee injury. He walked off under his own power with a slight limp but he did not return but could have if he needed to. Fred Jackson hobbled off late in the third quarter but he quickly returned. He got his ankle rolled out a bit. Injury Page.

Williams, McIntyre Active: Despite being listed as questionable, Kyle Williams and Corey McIntyre are active for today's game. Cordaro Howard was the third questionable play on the injury report and he's inactive. Shawne Merriman, C.J. Spiller, and Spencer Johnson are the other injured players that are inactive. Alex Carrington is active this week thanks to the Johnson injury. The healthy inactives are Aaron Maybin, John McCargo, and Mike Balogun. For the Bengals Cedric Benson is active despite being listed as questionable.

Warm Day For Late November: It will be a beautiful late October like afternoon in Cincinnati for today's game. The game will be played under partly cloudy skies with the temperature rising into the mid 60s. There will be some wind out of the south southwest at about 15mph.


Saturday November 20, 2010


Fitz Heads Home: Lot has been talked about of Terrell Owens playing against his former team but Ryan Fitzpatrick heads back to Cincinnati where he got his career going fairly well when Carson Palmer was injured. He and Palmer are still very good friends and it is a game that Fitz definitely wants to perform well in. He admitted to the media on Wednesday that this isn't just another game for him and it is special. It will be interesting to see how he performs back at Paul Brown Stadium.


Friday November 19, 2010


Roster Move: With C.J. Spiller out and Corey McIntyre the Bills were looking at going into the Cincy game with just two healthy running backs. That seemed to risky so the Bills have signed RB Jehuu Caulcrick off of the practice squad. To make room they released WR Paul Hubbard. Caulcrick can play both running back and fullback as well as help on special teams. Depth Chart.

Three Questionable: Cordaro Howard, Kyle Williams, and Corey McIntyre are all listed as questionable for Sunday's game against the Bengals. Williams returned to practice today after injuring his hamstring during Wednesday's practice. Gailey thinks all three have a decent shot at playing. As expected Shawne Merriman, C.J. Spiller, and Spencer Johnson have been officially ruled out as Chan Gailey has said all week. Injury Page.


Thursday November 18, 2010


McIntyre Limited: Corey McIntyre continues to be bothered by an ankle injury suffered against the Lions. He was limited in practice today after missing yesterday's session. In other injury news, Chan Gailey said Kyle Williams does have a chance to practice tomorrow. He did injure his hamstring during yesterday's practice. Cordaro Howard did practice on a limited basis for the first time in a week and a half. He has been battling a shoulder injury. Injury Page.

Williams Sits: A day after being limited in practice, Kyle Williams sat out today's session with a hamstring injury. No word on how serious the injury is or when he received it. It probably happened during yesterday's practice. Missing today's workout puts his playing status in doubt for Sunday. If he misses the game that is a huge blow since he has been playing at a Pro Bowl level.

Bills Look To Build Momentum: With win number one finally under their belt, the Bills look to keep the momentum by getting their first road win of the season. Cincinnati is a place that it can happen since the Bengals have lost six straight games. Buffalo has had great success against the Bengals as they have beaten them nine straight times. The last time they lost to them was in the 1988 AFC Championship Game. Could they they add to the streak against T.O. and company? Game Preview.

Spiller In Hot Water? C.J. Spiller apologized for comments he made on twitter yesterday. He was having a public twitter conversation with a former Clemson teammate when he used a derogatory term toward gays. He quickly deleted the comment from his account and wrote that he's truly sorry and it was out of character for him. The Bills say they will reserve comment until they speak to him today. Spiller has already been ruled out for this week's game.


Wednesday November 17, 2010


Owens Speaks Highly Of Buffalo: Terrell Owens was the Bengals player on the call sheet for the media day conference call with the Buffalo Media. He started and ended the call with "Go Bills". In between he raved about the city of Buffalo and the fans calling it a great and warm city. He said he does miss the guys and the camaraderie and tells people all the time good things about the city. He admitted disappointment that they did not re-sign him but doesn't have a problem with their decision. He just wished the new coaching staff would have asked for more input about him from the players. Chan Gailey admitted today that they thought Owens was near hitting the wall and that is why they didn't re-sign him. Owens disputes that saying it was circumstances that kept him and the offense from succeeding last year and his stats this year seem to prove that. He also raved about Ryan Fitzpatrick saying he was surprised he wasn't named the starter at the beginning of the year. It was Fitzpatrick's recommended to his former team that helped get them to sign Owens.

Three Officially Ruled Out: Chan Gailey addressed the media today and re-iterated what he said Monday. Shawne Merriman, C.J. Spiller, and Spencer Johnson have all been ruled out for Sunday's game against Cincinnati. Spiller told the media that he feels pretty good and they are holding him out as a precaution. Eric Wood, Demetrius Bell, Cordaro Howard, and Corey McIntyre also missed practice today. Wood and Bell have not practiced on Wednesday most of the year. Injury Page.


Tuesday November 16, 2010


Injuries Sets Up Lineup Shuffles: A rash of injuries will force the Bills to shuffle their lineup and schemes over the next few weeks. C.J. Spiller will almost definitely miss one game at least. Quinton Ganther will get more carries than he did against the Lions since he will be more comfortable with the offense. He was signed five days before seeing his first action of the season. Leodis McKelvin will handle most of the kick and punt return duties. Spencer Johnson being sidelined means that you will see more of Chris Kelsay at his old defensive end position. This is good news since he is much better with his hand on the ground. Depth Chart.


Monday November 15, 2010


Three Out This Week: Chan Gailey addressed the media today and said that it looks like C.J. Spiller, Shawne Merriman, and Spencer Johnson will all miss this week's game in Cincinnati. Spiller feels he'll be able to practice this week but Gailey says he will miss at least the one game. The coach also feels that Merriman will be back on the field next week. Ryan Fitzpatrick had his throwing hand wrapped saying it was swollen after getting stepped on during an offsides play early in the game. He says he won't miss any practice time and is ok. Injury Page.

Bills Win Ugly: The Bills got their first win of the season yesterday and it brought Tony Bogyo back to his computer screen as he wrote a commentary about the win. While happy with the win, any win, Tony was not impressed enough to change his weekend routine. Complete Story.



---
News Archives index
Latest News Section
Archives Library
Back to Bills Daily Homepage