Bills Get Elusive First Win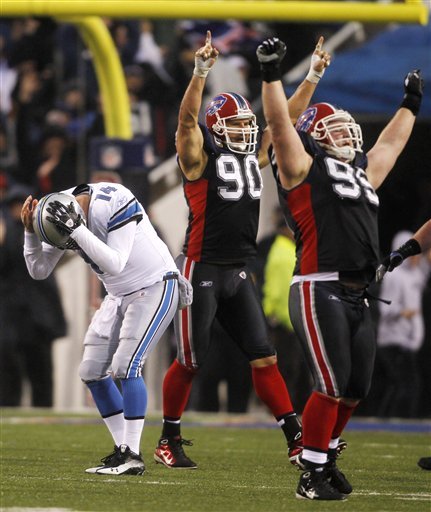 Defense Played Solid Game: The Bills got their first win thanks in part to the best all around game of the season by the Buffalo defense. They held the Lions offense in check until they went prevent and allowed the Lions back in the game. They still made the final big play on the two point coversion attempt and that is reflected in our player by player breakdown of the win. Gameday Grades.

Bills Get First Win 14-12: It wasn't easy but the Bills walked off the field today with their first victory of the season as they held on to beat the Lions 14-12 at Ralph Wilson Stadium. The game was in doubt until the final seconds when Shaun Hill couldn't find an open receiver on a two point conversion attempt and threw it out of the end zone looking for Brandon Pettigrew to seal the win for the Bills. The Lions had a frantic 88 yard, 15 play drive to a score with :14 left on a Calvin Johnson 20 yard catch to pull within two. The Bills went conservative in the fourth quarter after opening up a 14-3 lead through three quarters. Fred Jackson scored both Buffalo touchdowns and had 170 total yards including 133 on the ground to lead the Bills offense. The defense had an inspired effort before going prevent in the fourth quarter to allow the Lions back in the game. Bills Blitz.

Spiller, Spencer Johnson Hurt: C.J. Spiller left the game in the second quarter with a hamstring injury. He limped to the sidelines after his 29 yard punt return. They stretched out his hamstring on the sidelines before bringing him to the locker room. He did not return as he was ruled out very quickly. Spencer Johnson pulled a hamstring in the fourth quarter and was quickly ruled out after going to the locker room. Chan Gailey said Spiller's is worse than Johnson but that they both likely will miss this week's game in Cincinnati. Fred Jackson and Corey McIntyre also got banged up but both returned. Jackson suffered a nerve injury to the back of his knee but he was fine after a few minutes. Injury Page.

Wang Active: Ed Wang is active for the first time in his NFL career today. Shawne Merriman and Cordaro Howard are the only two players inactive with injuries for today's game. Terrence McGee is back in the lineup after missing five games. The healthy inactives are Ashton Youboty, Aaron Maybin, John McCargo, Mike Balogun, and Alex Carrington.

Showers Possible: It will be unseasonably mild at Ralph Wilson Stadium today when the Bills battle the Lions. The gametime temperature will be around 55°. There is a 30% chance of a few showers throughout the game but nothing heavy. Winds will be out of the South Southwest at 13mph.


Saturday November 13, 2010


Lions Injury Report Big: The Lions have many names on the injury report. QB Matthew Strafford and K Jason Hanson have been ruled out. Shaun Hill is back from a broken forearm in his non throwing arm and will start. Dave Rayner was picked up this week and will handle the kicking duties. LB Isaiah Ekejiuba is doubtful with a knee injury. Three defensive backs are among the four players listed as questionable. Seven are listed as probable including Hill. Injury Page.


Friday November 12, 2010


McGee Expected To Start: Chan Gailey declared that Terrence McGee is ready to return after missing five games with a nerve injury in his leg that required surgery. He is also expected to play the majority of the game. Cordaro Howard is officially listed as doubtful but it would be a shock if he played. Injury Page.

Two Miss Practice: Shawne Merriman wasn't in attendance during today's practice and continues to be out indefinitely with an Achilles injury. Cordaro Howard also did not practice and will be ruled out of Sunday's game. Everyone else practiced.


Thursday November 11, 2010


Merriman Out: Shawne Merriman missed practice for a second straight day and has been ruled out of Sunday's game. It is being called an Achilles injury, which is the same injury he suffered from before. The only other player not practicing today, as expected, was Cordaro Howard with a shoulder injury. The other five players that did not practice yesterday practiced fully today. Injury Page.

Game Blacked Out: Sunday's game against the Lions is blacked out. No surprise that the game did not sell out in time for the game to be seen on TV in Western New York. It is the second blackout of the season.

The resistible force vs. the movable object: The Bills are still looking for their first win of the season. The Lions are looking for their first road win in 25 games. If the Lions lose they will set a new NFL record for consecutive road losses. If the Bills lose they take another step towards matching the Lions 0-16 season. Complete Preview.


Wednesday November 10, 2010


Merriman Injury Minor: Chan Gailey said the injury suffered by Shawne Merriman is minor and they were being cautious. He did admit that it makes his chances of playing on Sunday much slimmer than they were before the setback today. He also said it isn't surprising he would tweak a muscle since he isn't in football shape.

Merriman Hurt: As if things can't get any worse for the Bills, 15 minutes into his first practice with the Bills, Shawne Merriman left the field with a noticeable limp. He appeared to hurt his lower right leg, likely a calf muscle. This is not the same calf he injured early in the year with San Diego. It could be related to an Achilles injury he had on his right leg in the past. Chan Gailey said before practice he needs to see if Merriman is healthy before putting him on the field on Sunday. This injury probably puts an end to talk that he will play. Missing practice today were Lee Evans, Reggie Corner, Chris Kelsay, Eric Wood, Demetrius Bell and Cordaro Howard.

Two Added To Roster; Two To Practice Squad: The Bills filled their two open roster spots by promoting WR Paul Hubbard from the practice squad. They also signed LB Mike Balogun. They filled their two practice squad spots by signing local product FB Jehuu Caulcrick and WR Montez Billings. Hubbard was a sixth round pick of the Browns in 2008 and was on the Bills practice squad all year. Balogun was on the Tampa Bay practice squad and was an undrafted free agent from Oklahoma. Caulcrick was just released from the 49ers practice squad. He was with the Jets in 2008. Billings was on the Saints practice squad most recently and was an undrafted free agent out of Auburn.

Merriman Takes The Field: The Bills get back to work today for the first time since Sunday's loss in Toronto. Shawne Merriman will also hit the field with his new teammates. He hopes to play on Sunday but a decision won't likely be made until later this week. One player that won't be practicing is Cordaro Howard. Buffalo Sports Daily reports that he has a torn labrum and will miss one game. Injury Page.

Brown Honored: Ruben Brown will be honored with the Ralph C. Wilson Jr. Distinguished Service Award. There will be a ceremony before Sunday's game and at a luncheon during the Monday Quarterback Club's meeting at the HSBC arena. The award honors former Bills contribution to the team.


Tuesday November 9, 2010


Wrotto To Start: Chan Gailey confirmed yesterday that Mansfield Wrotto will start at right tackle instead of Cordaro Howard next week and will likely keep the job going forward. The two were scheduled to split time last week but Wrotto played the whole second half. Part of the reason is an ongoing shoulder problem that Howard has. He can still play but it is weak and he can't hold up for a complete game. Depth Chart.


Monday November 8, 2010


Two RBs Gone: The Bills continued a very busy Monday later this afternoon. They released RB Andre Anderson from the active roster. They also released FB Rodney Ferguson from the practice squad. That leaves them with two open roster spots and one open practice squad spot with the two injured reserve moves and the signing of RB Quinton Ganther. Front Office Page.

Parrish, Davis Season Over: Bad news on the injury front for the Bills. Chan Gailey announced that Roscoe Parrish suffered a broken wrist in the loss to the Bears yesterday and his season is over. He injured his wrist late in the game when trying to come down with a pass. X-rays revealed the break. In other bad injury news, Andra Davis is headed to injured reserve as he can't play through his torn labrum anymore. The team has one open roster spot now that Parrish and Davis are off the roster and Quinton Ganther is on it. David Nelson now becomes the number three wideout and Donald Jones moves up to number four. Injury Page.

Bills Add RB: The Bills announced that they have signed free agent RB Quinton Ganther. He started four games for the Redskins last year and was with Seattle for three games this year. The team has not announced a roster move yet to make room for Ganther. He would be the fourth tailback on the roster. Front Office Page.

---
News Archives index
Latest News Section
Archives Library
Back to Bills Daily Homepage