Bills Lose A Third Straight Three Point Game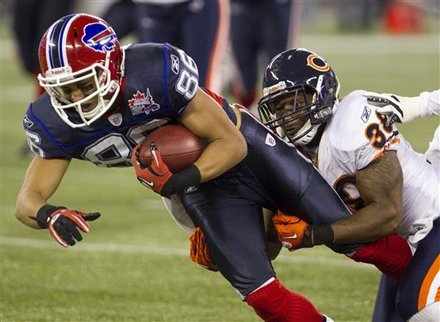 Defense Makes Plays In Loss: It was another three point loss from the Bills so the grades aren't failing. The run defense actually came to play and the front seven did a nice job. The wide receivers are another unit that did very well but the running backs pretty much failed in this one despite scoring two touchdowns. Gameday Grades.

Bears Beat Bills 22-19: The Bills fought hard again but found a new way to lose. Rian Lindell failed to convert an extra point for the first time in his career and the chain reaction that followed gave the Bears a three point victory. Lindell's miss gave the Bears a one point lead after Fred Jackson's four yard touchdown run. Corey McIntyre's first career NFL touchdown was followed by a missed two point conversion giving the Bills a 19-14 lead. The Bills were going for more when Ryan Fitzpatrick threw an interception that setup the Bears winning touchdown drive midway through the fourth quarter. They would hit their two point conversion attempt for a three point lead. The Bills got into Bears territory one more time but turned it over on downs. Bills Blitz.

Parrish Banged Up At End: Corey McIntyre hurt his hand on special teams but had x-rays and returned to the game with it heavily wrapped. Roscoe Parrish left on the second to last offensive play when he came down hard on his hand. Ryan Fitzpatrick was slow to get up after a late pass but seemed ok. Injury Page.

Merriman, McGee Lead Inactive List: Shawne Merriman will be on the sidelines today when the Bills take on the Bears in Toronto but he won't play as expected. He leads the inactive list along with Terrence McGee and Andra Davis who are the lone injured players on the list. They were hopeful McGee would play but it was a gametime decision. The other healthy inactives were Aaron Maybin, John McCargo, Alex Carrington, and Ed Wang.

Dome To Be Closed: Since the game in Toronto is being played earlier this year there was hope that the dome may remain opened but it was decided earlier in the week that the dome would be closed. It's a shame because it will be a perfect football weather in Toronto with partly cloudy skies and temperatures in the mid 40s.


Saturday November 6, 2010


Merriman Thrilled To Be Playing: Shawne Merriman was introduced to the Buffalo area media at a press conference at One Bills Drive this afternoon. He said it feels good to be a Bill and he's excited. He's been to a few meetings already and is trying to cram the playbook. Merriman talked with Buddy Nix for a while and told him he's ready to play so let's go. He wants to be a big part on what is going on in Buffalo and make some things happen. He feels he has had nagging injuries that has hurt his productivity the past three years but he's ready to get on the field as soon as possible. He fits the system well and his body is ready to play. He will start practicing with the team next week and will do whatever they need him to do. He doesn't understand how the team is 0-7 because he sees a lot of talent on film. He feels as fast as he learns the terminology the faster he'll be on the field. He said he's not concerned with the weather in Buffalo since he grew up on the east coast and is used to snow. He loves playing football and putting on the helmet is what it's all about it doesn't matter if it's in the bright lights of a big city or in a smaller market. Merriman is not looking to far into the future and isn't concerned about what will happen next year yet when he's a free agent. He travelled to Toronto with the team and will be on the sidelines for tomorrow's game.

Torbor, Wrotto To Get Playing Time: With Andra Davis sidelined there are several players who can take his spot on the middle including Keith Ellison and Akin Adoyele. It appears though that Reggie Torbor will be moving back inside to get the start. He has been playing outside for most of the season after working inside when he first was signed by the Bills. The other position that needs filling is right tackle now that Cornell Green is on injured reserve. Cordaro Howard has started the last two games and will likely start tomorrow against Chicago as well. Chan Gailey told the team's website though that he will split time with Mansfield Wrotto. He has more experience than Howard and has had enough time now to get up to speed on the offensive scheme. Depth Chart.


Friday November 5, 2010


Davis May Be Shutdown: The Bills may be shutting down Andra Davis as he continues to struggle with his torn labrum. Chan Gailey ruled him out for Sunday's game after he did not practice all week and said they will re-evaluate his condition. The Bills list five players as probable including Terrence McGee. Injury Page.

Davis Misses Practice Again: Andra Davis did not practice again today increasing the likelihood he won't play on Sunday. He's been bothered greatly by a torn labrum for most of the season but he has been playing through the pain. Nobody else missed today's workout.

Merriman Won't Play Sunday: The Bills and the fans are anxiously awaiting the arrival of Shawne Merriman. He tweeted this morning that he was on his way to Buffalo. He obviously won't play on Sunday but could play as early as next week against Detroit. Chan Gailey doesn't think it will be that hard for him to get up to speed with the terminology and he's already very familiar with a 3-4 defense. Gailey said if he's healthy they are getting a player that can play at an elite player and that is good to add at any position. He called him one of the best player's in the league that has all the tools and can really make a difference for the team.


Thursday November 4, 2010


Merriman Coming Tomorrow: Shawne Merrriman is expected to join the team tomorrow. Chan Gailey said today the relationship between Merriman and Nix was the main reason why the Bills claimed him on waivers. Gailey said Merriman arriving tomorrow is tentative and he has to go through the normal process of visiting with doctors.

Injured Players Back: The Bills got all but one of their injured players back on the field today as the offensive linemen that got the day off yesterday took part in practice. Andra Davis was sidelined a second straight day with his torn labrum. Chan Gailey said he hopes to practice tomorrow. Gailey also feels that Terrence McGee is doing ok but it isn't a lock that he will play on Sunday.

Blackout Lifted: The NFL has lifted the blackout for Sunday's game in Toronto but tickets seem to still be available. It appears the league views the Toronto game differently than a regular home game since the Bills basically sold the game to Toronto.

Bills Head North Of The Border: The Bills head to Toronto for a "home" game against the Bears. Chicago is coming off a bye and is well rested after losing two straight games before their one week break. The Bills are the last winless team and desperate to get the elusive W. Complete Preview.


Wednesday November 3, 2010


Merriman Claiming Official; Green On IR: The Bills have officially announced that they have claimed Shawne Merriman off of waivers from the Chargers. To make room they have placed Cornell Green on injured reserve. Front Office Page.

Bills Claim Merriman Off Of Waivers: The Bills have claimed Shawne Merriman off of waivers but have yet to make it official. Adam Schefter was the first to report it and WGR's Joe Buscaglia is reporting that George Wilson and Aaron Maybin have said the same thing. He has five days to report and wouldn't play on Sunday against the Bears. Schefter says Merriman plans on reporting. They are likely just renting a player that becomes a free agent at the end of the season and has been battling injuries. He could use the half of season to get healthy and get some good game film for other teams. It is unlikely he would want to stay in Buffalo next season. Bills GM Buddy Nix had Merriman as a player when he was in San Diego and he's a prototypical 3-4 linebacker. The Bills have been playing more 4-3 recently. What do you think? Take our poll on our homepage and let us know!

Four OL Sit: The Bills had four offensive linemen sit during today's practice as they begin preparations for the Bears game. Cornell Green remains sidelined with his knee injury and will likely miss another game. Eric Wood and Demetrius Bell sat but that is likely just an extra day rest for the two players who are still recovering from very serious injuries last year. Cordaro Howard also sat with an undisclosed injury. Andra Davis sat to rest his torn labrum. Injury Page.


Tuesday November 2, 2010


Why The Bills Never change: It appears the latest loss by the Bills is enough for Tony Bogyo. In his latest, and perhaps last for a while, commentary on the team, he examines why the team are losers and does some soul searching on how he will spend his Sunday afternoons. It means you will likely be hearing less from our senior commentator. Complete Story.


Monday November 1, 2010


No Significant Injuries: Chan Gailey addressed the media today at One Bills Drive but the team did not hold a practice. Gailey said the team came through the game ok injury wise and everyone that played yesterday should be available in Toronto on Sunday. Gailey also said he thinks Terrence McGee has a good chance at returning this week as well. Injury Page.

Gameday Grades: Another day, another heartbreaking overtime loss for the still winless Bills. The Chiefs did everything to keep the Bills in the game but it wasn't a pretty display from Buffalo. The offense struggled all day long and the defense allowed huge gaping holes for the Chiefs high powered running game. Gameday Grades.



---
News Archives index
Latest News Section
Archives Library
Back to Bills Daily Homepage