Bills Lose In Overtime Again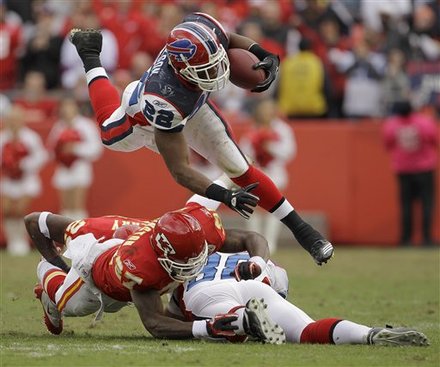 Gameday Grades: Another day, another heartbreaking overtime loss for the still winless Bills. The Chiefs did everything to keep the Bills in the game but it wasn't a pretty display from Buffalo. The offense struggled all day long and the defense allowed huge gaping holes for the Chiefs high powered running game. Gameday Grades.
Sunday October 31, 2010


Bills Lose 13-10 in OT: Ryan Succop hit a 35 yard field goal as time expired in overtime to lift the Chiefs to a 13-10 win over the Bills in a sloppy game at Arrowhead Stadium. The Bills had many chances to win this game after they tied it up on a Stevie Johnson three yard touchdown pass late in the fourth quarter. Rian Lindell initially hit a game winning 53 yarder in overtime but a last second timeout made him re-kick. That kick hit the upright. The Bills had another chance when Succop missed a 39 yarder later in overtime. They constantly drove into Kansas City territory but couldn't get in range for Lindell to attempt another kick. Bills Blitz.

Jones Injured: David Jones left the game after suffering a knee injury. No other injuries were apparent in the game. Injury Page.

McGee Inactive: Terrence McGee leads the list of inactives and joins Cornell Green as injured scratches. Jairus Byrd and and Keith Ellison are active despite being questionable on the injury report. Aaron Maybin is inactive for the second straight week. The other healthy scratches are Antonio Coleman, John McCargo, Alex Carrington, and Ed Wang.

Weather Looks Good: It's a nice day in the midwest for today's battle between the Bills and the Chiefs. Gametime temperature is expected to be 59° and the skies should be mostly sunny. The temperature will climb into the low 60s during the game with a wind out of the East Northeast at 14mph.


Saturday October 30, 2010


How Good Is Fitz? Ryan Fitzpatrick is now the number two rated passer in the entire NFL just points behind the great Peyton Manning. Fans and media have been asking all week how good is Fitzpatrick? He is on pace to have more than 30 touchdown passes despite not starting the first two games. He has shown a command in the pocket that has not been seen in years. He has the gun slinger mentality we like in Buffalo from the Jim Kelly days. Does that mean the Bills can abandon their plan to take a QB in the first round of April's draft? I highly doubt it although the jury is still out. Fitz has a great mentality for a quarterback but he doesn't have the top end talent. He has played very well but has also made the big mistake. His two interceptions were the only blemished in a great effort against Baltimore. The fact is the team is not very good and those blemishes were too much too overcome even though he threw for nearly 400 yards. Similiar thing happened in the loss at New England. So while Fitz may be a solid backup and a good guy to groom the next QB of the future, he isn't that guy. In the mean time he is fun to watch and root for and has made Bills games exciting again as the losses continue to pile up. What do you think? Take our poll on our homepage and let us know!


Friday October 29, 2010


Three Questionable: Terrence McGee, Jairus Byrd, and Keith Ellison are all listed as questionable for Sunday's game against the Chiefs. Cornell Green has been ruled out. All three questionable players will likely be gametime decisions with Byrd possibly the most likely to play of the three. For the Chiefs, rookie RB Dexter McCluster is likely out after not practicing today. Injury Page.


Thursday October 28, 2010


Bell Back: Demetrius Bell returned to practice today and appeared full go according to the team's website. Bell missed practice yesterday with a knee injury. It appears they were just giving his knee a rest after a busy day on Sunday. Jairus Byrd also practiced today on a limited basis along with Terrence McGee and Keith Ellison. Injury Page.

Bills Still Looking For First Win: The Bills head to Kansas City for Sunday's game with some momentum and confidence from their overtime loss in Baltimore. They are still looking for their first win however and it won't get any easier in Kansas City. The Chiefs have made a huge turnaround and are now sitting on top of the AFC West. Complete Preview.


Wednesday October 27, 2010


Bell Has Knee Injury: Demetrius Bell missed practice today with a knee injuy. Chan Gailey wouldn't say where the injury was, when it happened, or how long he would be out. If Bell can't go Sunday the Bills will be down at the tackle position especially with fellow starter Cornell Green out as well. Ed Wang may be pressed into surface if Bell can't go. Wang was practicing at guard the last few weeks but took his reps at tackle today. Rookie free agent Cordaro Howard started for Green last week and by all accounts played well. Injury Page.

Bell, Green, Byrd Sit Again: The Bills were back on the practice field preparing for the Chiefs game today. Cornell Green, Jairus Byrd, and Demetrius Bell were sidelined. Terrence McGee returned to practice on a limited basis but has a chance to pratice fully later this week and play on Sunday. Marcus Stroud and Kyle Williams are the other banged up players, they did practice today. Injury Page.


Tuesday October 26, 2010


Losing Culture In Buffalo: The Bills played an exciting and inspiring effort to almost pull of their biggest upset in a quarter of a century. They still found a way (or a few) too lose. It seems to be part of a losing culture surrounding this team for the last decade. Tony Bogyo explores this in his latest comentary. Complete Story.

Three To Sit On Wednesday: Chan Gailey said that Marcus Stroud, Kyle Williams, and Jairus Byrd are all likely to be back on the field by Thursday but may sit on Wednesday. Stroud hyperextended his elbow in the loss to the Ravens. Byrd has an undisclosed injury while Williams is still hobbled by the ankle injury suffered in practice last week. Cornell Green and Terrence McGee also remain sidelined with injuries. They missed the Ravens game. Injury Page.


Monday October 25, 2010


Offensive Explosion: The Bills may be 0-6 and have a putrid defense that has given up 34 or more points five weeks in a row, but the offense is humming along. They ran off 506 yards against one of the best defenses in the league. Ryan Fitzpatrick snapped the four year old streak of a 300 yard passer and was closing in on 400 yards before Shawn Nelson fumbled in overtime. They had two 100 yard receivers for the first time in four years and first time in eight years on the road. Lee Evans became the first Bills receiver to have two three touchdown days in his career. Check out our gameday homepage for more statistical tidbits on the right side of the page.



---
News Archives index
Latest News Section
Archives Library
Back to Bills Daily Homepage