Bills Almost Pull Off Shocker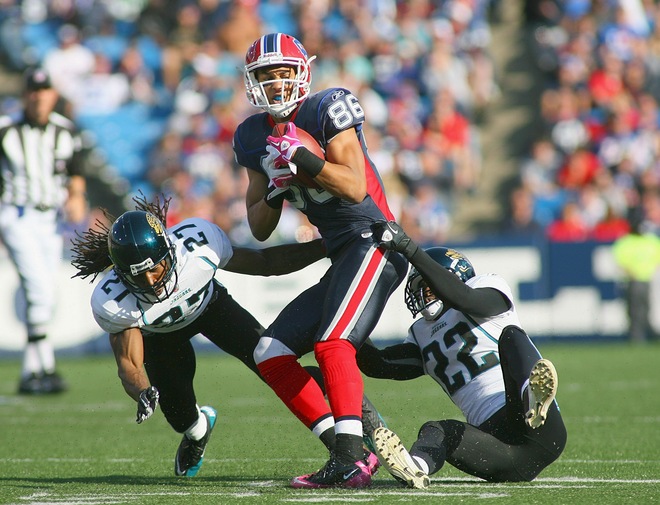 Passing Game Shined In Loss: The Bills may have had two interceptions but the passing game shined better than it has in a long time in the loss to the Ravens. Ryan Fitzpatrick threw for over 300 yards, the first Bills QB to do that in 59 games. Lee Evans and Steve Johnson each threw for over 100 yards and had four scores. Offensively things clicked and it is reflected in our grades. Gameday Grades.

Bills Lose In OT 37-34: Just when you thought the Bills might pull off their biggest upset since 1984 an untimely turnover, bad penalties, and a questionable officiating call cost the Bills the game as the Ravens pulled out a 37-34 overtime win over Buffalo. The Bills were driving for a possible win when Shawn Nelson was struggling for extra yards and his forward progress appeared to be stopped. No whistle was blown and the ball was ripped out of his hands and the Ravens recovered. Geoff Hangartner ripped off his helmet for a penalty that put the ball in field goal range. Billy Cundiff hit a 38 yard field goal for the win. It was a wild game as Ryan Fitzpatrick threw for 373 yards and four touchdowns, three to Lee Evans. The Bils opened up a 24-10 lead and then saw the Ravens reel off 24 unanswered points before the Bills battled back and tied it with :04 left on Rian Lindell's 50 yard field goal. Bills Blitz.

Stroud Injury: Marcus Stroud left the game in the second quarter with an apparent lower leg injury but he quickly came back into the game. He then left in overtime with an apparent arm injury. Everyone else seemed to get through the game ok. Injury Page.

Williams Active; Maybin Inactive: Kyle Williams is active for the Bills and will play after not practicing most of the week with an ankle injury. Cornell Green and Terrence McGee lead the inactive list. Keith Ellison is also inactive after being listed as questionable with an ongoing knee injury. Aaron Maybin is a healthy inactive back in his hometown. John McCargo is also inactive as usual which leaves two former first round picks as healthy scratches. The other inactive are Alex Carrington, and Ed Wang.

Mild Day In Baltimore: The weather will be very mild for late October in Baltimore. The gametime temperature will be around 71° under mostly cloudy skies. No rain is in the forecast and there will be light winds at around 7mph out of the south southwest.


Saturday October 23, 2010


Reed Activated For Ravens: The Ravens have made two roster moves for tomorrow's game with the Bills. They have activated Ed Reed off of the PUP list and he will make his season debut. They also signed LB Brendon Ayanbadejo and placed OT Jared Gaither on injured reserve, he was already out for this game. LB Edgar Jones was released.

How will the Bills Stop The Run? The Bills are on their way to Baltimore to face the Ravens tomorrow. They look to play their bigger defensive alignment and should be a 4-3 team most of the day to try and slow down the running attack of the Ravens. That means a lot of 2nd round pick Torell Troup for a second straight game. The key to this defense may be if Kyle Williams can play or not. If he can't they will have to move either Dwan Edwards or Marcus Stroud inside and start Spencer Johnson on the outside. My vote would be for Stroud but it appears they would move Edwards inside next to Troup. Either way stopping the run will be a very difficult task for this anemic defense.


Friday October 22, 2010


Williams A Gametime Decision: Kyle Williams will be a gametime decision after not practicing again on Friday with an ankle injury. He said if he feels he can help the team he'll give it a go and doesn't need to be 100 percent to go out there. He hopes with two days left before the game that he'll be ready to go. Cornell Green and Terrence McGee have been declared out. The rest of the walking wounded should be ready to go with the possible exceptions of Keith Ellison, who is listed as questionable, and Shawn Nelson. Chan Gailey said he'll make a decision on Nelson later today or tomorrow. Injury Page.

Corto Activated: The Bills had three weeks to activate Jon Corto from the reserve/PUP list but didn't wait that long. They activated him today and released Cary Harris. The move basically is a swap of special teams players. Corto was a star on the coverage units last year. Depth Chart.

Williams Working On The Side: Kyle Williams missed practice again today but did some work with the trainers on the side and appeared to be moving well according to the team's website. Cornell Green and Terrence McGee also sat again and will likely miss the game on Sunday. Injury Page.


Thursday October 21, 2010


Williams Misses Practice: Kyle Williams missed practice today after injuring his ankle in practice yesterday. Chan Gailey said it wasn't a serious injury and he still may be able to play on Sunday. Cornell Green and Terrence McGee missed practice again but McGee did some work on the sidelines. Injury Page.

Tough Game Ahead: The Bills come off their bye and they are looking for their first win but getting it in Baltimore against an upset Ravens team will be incredibly difficult to achieve. The Ravens are coming off a tough loss in New England and Ray Lewis has vowed to take it out on Buffalo. Complete Preview.


Wednesday October 20, 2010


Brown, Green Sit Again: Today is media day and the players and coaches addressed many issues including the new rules against violent hits in the league. Chan Gailey reserved judgment but appeared to be leaning against it. The defensive players thought it was too much while certain offensive players were for them for obvious reasons. On the field just Cornell Green and Terrence McGee sat out practice. Green is out for Sunday while McGee is doubtful at best. Shawn Nelson has a chance at making his season debut depending on how he progresses during the week. Ed Reed is expected to make his season debut for the Ravens. Injury Page.


Tuesday October 19, 2010


Green, McGee Out: Cornell Green and Terrence McGee missed Monday's light workout on the grass field next to the stadium. Every other player participated including Jon Corto who was on the field for the first time all year. He's on the PUP list after undergoing wrist surgery in the offseason. They have three weeks to activate him or release him. Shawn Nelson looks like he will make his debut on Sunday if he gets his conditioning up, he has been battling a groin injury since before his suspension. Arthur Moats was limited in practice with his elbow injury but is gearing up for his return this week as well. Injury Page.


Monday October 18, 2010


Practice Squad Move: Another Monday, another roster move, this time to the practice squad. The team released DT Ra'Shon Harris and signed G Chad Rhinehart. He was a third round pick of the Redskins in 2008 and has played in seven career games. He most recently was on the Jets practice squad. He missed most of last year with a broken fibula.

Back To Normal Routine: The Bills get back to their normal work week schedule today with a practice at One Bills Drive before having their normal day off tomorrow. They got a jump start on getting ready for the Ravens last week. Baltimore is sure to be upset when they host Buffalo after blowing a 10 point lead in New England yesterday.



---
News Archives index
Latest News Section
Archives Library
Back to Bills Daily Homepage