Bills Get Third Win Of The Season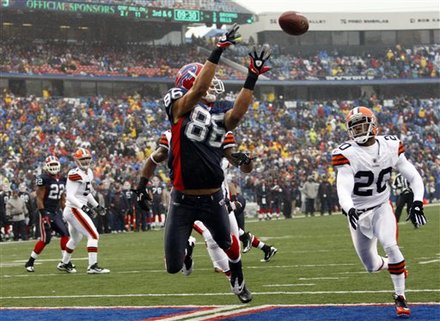 Defense Shines In Victory: The Bills played a solid defensive game, bouncing back after a poor first series where they stiffened at the end to hold the Browns to a field goal. Cleveland never got in the end zone and didn't gain 200 yards on offense. The solid day for the defense is reflected in the grades. Gameday Grades.

Bills Beat Browns 13-6: David Nelson caught an 11 yard touchdown pass from Ryan Fitzpatrick for the game's only touchdown to lead the Bills to a 13-6 win over the Browns. Both kickers would hit two field goals and the second half of the sloppy game saw only three points. Rian Lindell hit field goals from 30 and 19 yards out. The defense held the Browns in check after Peyton Hillis ran wild on the opening possession but they held the Browns to just a field goal. Jake Delhomme couldn't get his team going offensively the rest of the day as the Browns totaled just 187 yards of offense. Fred Jackson ran out the clock with some hard running and finished with 112 yards on the ground. Bills Blitz.

Evans Hurt: Lee Evans suffered an ankle injury late in the first half and did not return. He seemed to moving ok on the sidelines but was ruled out early in the 2nd half. Chan Gailey said it's not good which could mean his season is over. No other injuries were known immediately after the game. Injury Page.

McGee, Williams, Whitner All Active: Three questionable starters, Donte Whitner, Kyle Williams, and Terrence McGee are active and will give it a go today. McGee is expected to see considerable playing time as he now appears healthy from surgery for a nerve injury. Mike Caussin is inactive after missing practice on Friday with an illness but he may have been inactive anyway. Shawn Nelson is inactive with his migraines issue and Geoff Hangartner is inactive with his knee injury as was known early in the week. Healthy inactives are Ashton Youboty, John McCargo, Jehuu Caulcrick and newly signed Kellen Heard.

More Wet Than White: They won't be re-living the blizzard game these two teams played in Cleveland three years ago. Earlier in the week that looked to be a possibility but it appears that the temperatures during the game will be in the upper 30s meaning it will likely be raining throughout the game with some snow showers mixed in. The winds will be out of the east at around 10 mph.


Saturday December 11, 2010


Bills Add DT: The Bills just got bigger in the middle of the defense. The team announced this afternoon that they have signed DT Kellen Heard off of the Raiders practice squad. He is a 6'6" 330 pound unrestricted free agent from Memphis. He should add bulk to stop the run in the middle of the 3-4 defense. The team made room for him by releasing LB Thomas Williams who was activated off of the practice squad two weeks ago. He will likely end up back there. Depth Chart.


Friday December 10, 2010


McGee, Whitner Expected To Play: Terrence McGee, Kyle Williams, and Donte Whitner are all listed as questionable for Sunday's game but all are expected to play. McGee and Whitner were limited all week but doing well. Williams missed practice today with a stiff neck but should be fine. Shawn Nelson has been ruled out with his migraines. Injury Page.


Thursday December 9, 2010


Migraines Back For Nelson: Shawn Nelson's return to practice lasted just one day as he was sidelined today with a return of the migraines that have been bothering him over the past couple of months. Terrence McGee and Donte Whitner were both officially limited in practice but they did much more than yesterday and appear to be on track to playing. Whitner looks very likely to play while they are being cautious with McGee. Injury Page.

Split Practice: The Bills split their practice today. They held half of it inside and half of it outside as they prepare for the bad weather predicted for Sunday as a mix of rain and snow with high winds are expected. The half of the practice outside was done on the stadium field.

Game Blacked Out: It comes as no surprise to anyone that the game is the third blackout of the season for the Bills. There are still thousands of tickets available and if the weather is as bad as it is predicted, there will be no walk up crowd and a very sparse stadium crowd. The last home game against New England also will likely be blacked out.

Bills, Browns Build For The Future: The Bills and the Browns are not going to the playoffs this year. They are two franchises that are used to that disappointment. Cleveland has won two straight and are greatly improved. The Bills have played better than their record, last week not withstanding. This week's matchup brings two teams that are looking towards the future and may be played in a winter wonderland at Ralph Wilson Stadium. Game Preview.


Wednesday December 8, 2010


Whitner Expects To Stay: Donte Whitner told reporters today that he expects to stay in Buffalo beyond this year. He is an unrestricted free agent but said the two sides have been talking for a while and he is pretty confident a deal to get done.

McGee, Nelson, Wood Return: Terrence McGee, Shawn Nelson, and Eric Wood all returned to practice on Wednesday. McGee was limited but expects to do more tomorrow. That will tell him where he stands in his recovery from a nerve injury and whether or not he can play on Sunday. Nelson and Wood are ready to go. Injury Page.

Wood To Center: Chan Gailey confirmed today that Eric Wood will take over the center spot with Geoff Hangartner sidelined with a knee injury. Wood was a center throughout his college career at Louisville. He is coming back from an ankle injury that has sidelined him the past two weeks. He's ready to return to action.


Tuesday December 7, 2010


Player Promoted: The Bills have promoted G Chad Rinehart from the practice squad. He will be the main backup at guard and center. To make room they have placed Kraig Urbik on injured reserve. The team filled Rinehart's spot on the practice squad with CSean Allen. He was with the team this training camp. Rinehart has four career starts and has been on the practice squad since October.

More Roster Moves Ahead: The Bills made a roster move yesterday and likely aren't done for the week. They are very thin along the offensive line and Chan Gailey said yesterday they will need to add some depth before the week is out. With Geoff Hangartner and Kraig Urbik hurt but not lost for the season other moves would have to be made. They could place Shawn Nelson or Terrence McGee on injured reserve. They also could release a tight end since they have five on the roster. Look for the team to promote one or two linemen from the practice squad. Front Office Page.


Monday December 6, 2010


LB Woods Claimed: The Bills officially put Antonio Coleman on injured reserve and have filled his roster spot. The team was awarded LB Pierre Woods off of waivers from New England. He started five games at outside linebacker for the Patriots last year and had 17 tackles in 16 games. He was released on Friday.

Coleman To IR: Antonio Coleman is going on injured reserve as Chan Gailey said today he is done for the year. He did backtrack a bit regarding Kraig Urbik and Geoff Hangartner. He said the two offensive linemen will be out this week but may not be done for the rest of the year. Terrence McGee will return to practice on Wednesday but that isn't an indication if he's ready to return or not. He's just going to test his nerve injured knee. Shawn Nelson is doing better as his migraines have subsided but it is unclear if he'll be ready to go on Sunday. Injury Page.

OL Shuffle: The Bills had to do major shuffling of the offensive line yesterday because of injuries to Geoff Hangartner and Kraig Urbik. Andy Levitre was forced to be the third player to snap balls during the game yesterday. He has never played center at this level but was pressed into action. More shuffling will come this week with Hangartner and Urbik expected to be out for the season. The team has three linemen on the practice squad, and will likely promote two of them. They could get a big reinforcement as they hope to have Eric Wood back this week after missing two games with an ankle injury. If he does, he will play center with Cordaro Howard playing in Wood's right guard spot and Levitre moving back to left guard. Depth Chart.



---
News Archives index
Latest News Section
Archives Library
Back to Bills Daily Homepage