Bills Get Fourth Win In Six Games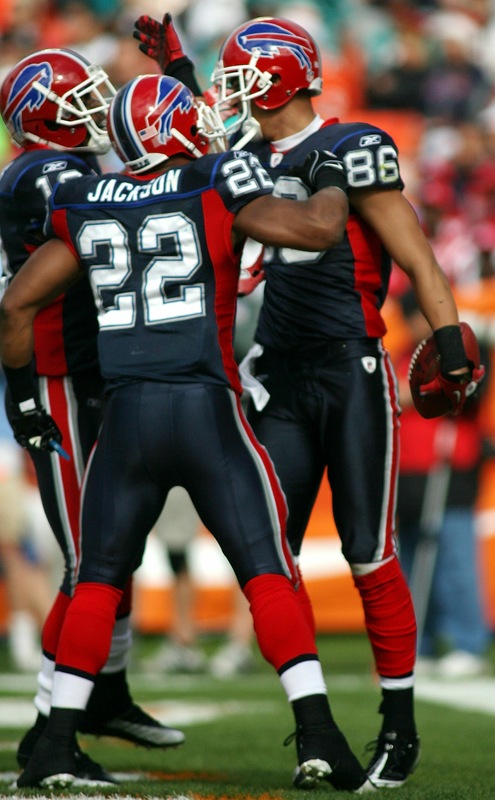 Bills Blitz: Dan Carpenter missed 4 field goals for Miami including a 48 yarder late in the 4th quarter to allow the Bills to hold on for a 17-14 win. The loss ends Miami's postseason hopes. Ryan Fitzpatrick threw touchdown passes to David Nelson and Stevie Johnson and finished with 223 yards passing. The Bills opened up a 10 point lead before Miami tried to rally in the fourth quarter. They got the ball back in the final seconds but couldn't get past their 35 yard line. The defense held Miami's rushing attack to just 65 yards. Bills Blitz.

Injury Update: Bills appear to have come out of the win healthy. Injury Page.

Hangartner Only Injured Inactive: Due to a rash of players going on injured reserve and the rest of the team getting healthy, the Bills have only one inactive player because of injury. Geoff Hangartner was ruled out early in the week and really is the only player that is hurt. The Healthy inactives are Mike Caussin, Erik Pears, John McCargo, Jehuu Caulcrick, Colin Brown, and Kellen Heard.

Players Enjoying Thawing Out: A few players tweeted last night that it was nice getting to a warm weather site. Hopefully it isn't too warm for them when they hit the field today in Miami. The game will be played under partly cloudy skies with temperatures in the low 70s. There will be a bit of a breeze as the winds will be out of the Northwest at 12mph.


Saturday December 18, 2010


Backs, TEs Need To Help: With the Bills being down to just four healthy wide receivers, three of them rookies, the passing game may need some help from the tight end and running back positions. The team is carrying as many tight ends as wide receivers. Jonathan Stupar got more involved last week and could see his time in pass patterns increased this week. If the team needs another receiver in the 4 receiver set they can always put C.J. Spiller and Fred Jackson in the game together and line one of them as a receiver.


Friday December 17, 2010


Hangartner Lone Sidelined Player Again: Geoff Hangartner was the only player not on injured reserve to miss practice for a second day in a row. That means he will likely be the only injured inactive player on Sunday. Three players are listed as probable after missing practice on Wednesday but practicing fully the rest of the week. Injury Page.


Thursday December 16, 2010


Hangartner Lone Absence: Geoff Hangartner is the only player not practicing at all today for the Bills. The four other players who sat yesterday Drayton Florence, Andy Levitre, Chris Kelsay, and Demetrius Bell all returned to the field as expected.

Whitner Expects To Hit The Market: Donte Whitner clarified his twitter comments when he met with reporters today. He said he does expect to hit the free agent market because the two sides are very far apart in contract negotiations and there isn't much time left in the season. He re-iterated that he wants to stay in Buffalo. Buddy Nix declined to comment to the media saying the Bills do not discuss contract negotiations.

Bills Look To Ruin Dolphins Playoff Hopes: The Bills head down to sunny South Florida to play the Dolphins on Sunday. Miami has struggled at home this year winning just once. Their playoff hopes are hanging on by a thread and the Bills would love nothing more to ruin them. Game Preview.

Whitner's Future Bleak? Donte Whitner tweeted this morning that he got some not so good info for Bills fans regarding his future in Buffalo. He did not elaborate on what that info was. The Bills and Whitner have been talking about a new contract and Whitner has said he wants to stay in Buffalo. He is due to become an unrestricted free agent at the end of the year.


Wednesday December 15, 2010


Florence, Levitre Sit: Drayton Florence and Andy Levitre did not practice today. Chan Gailey said on Monday that a couple of players had bumps and bruises but shouldn't miss the game. No word on if these two were among them. Geoff Hangartner, Chris Kelsay, and Demetrius Bell also sat. Bell and Kelsay have been getting Wednesdays off this season. Injury Page.


Tuesday December 14, 2010


Evans, Nelson To IR: The Bills have placed Lee Evans on injured reserve ending his season. Shawn Nelson has been placed on the non football injury list. They used the roster spot on two offensive linemen. As we reported earlier they signed Colin Brown off of the Ravens practice squad. They also signed T Erik Pears. Brown can play either guard or tackle but the Bills see him as a guard. Pears is a six year pro who also can play guard or tackle. He was most recently with the Jaguars and also played for Oakland. He has made 30 career starts, most of them at the tackle position. The Bills also added a WR to the practice squad. Bobby Williams comes from the Texans practice squad. They made room for him by releasing OL Marc Dile.

New OT To Be Added? Fox Sports is reporting that the Bills will sign offensive tackle Colin Brown off of the Ravens practice squad. He was a fifth round pick in the 2009 draft by the Chiefs and is expected to sign sometime today. He missed his rookie season with a calf injury and was released in September before landing in Baltimore.


Monday December 13, 2010


Evans Out At Least Two Weeks: Lee Evans will be out at least two weeks with a high ankle sprain and it will be real tough for him to get back for the final game, it appears he may be headed for injured reserve as Chan Gailey said it's a real possibility. Eric Wood will play center again this week as Geoff Hangartner is still sidelined. One depth chart change, Gailey said Chad Rinehart will start over Cordaro Howard at right tackle because he has earned the right. Injury Page.

Evans Streak To End: The injury suffered by Lee Evans yesterday is serious enough that Chan Gailey has already ruled him out for Sunday's game against Miami and it may end his season. Evans has never missed a game in his career and Sunday will end a streak of 109 consecutive games played and 71 consecutive starts. Look for the team to place him on injured reserve and adding a wide receiver. Behind Stevie Johnson the team now has only three undrafted free agents in David Nelson, Donald Jones, and Naaman Roosevelt.



---
News Archives index
Latest News Section
Archives Library
Back to Bills Daily Homepage