Bills Blown Out By Patriots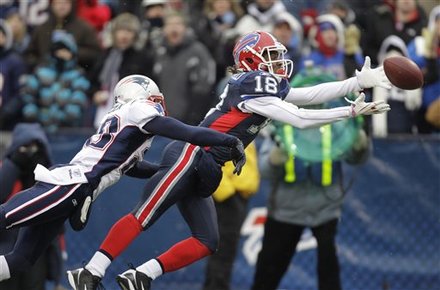 Gameday Grades: The Bills pretty much failed in every aspect of this game as the Patriots beat the Bills for a 15th straight time. These grades will be ugly as the offense turned the ball over seven times and the defense couldn't do anything against the Patriots run game. Gameday Grades.

Bills Blitz: New England came to Buffalo and dominated the Bills again on their way to a 34-3 victory. Ryan Fitzpatrick threw three interceptions and fumbled the ball away twice. C.J. Spiller also lost two fumbles in the blowout loss. The Bills opened the scoring by driving down the field on the back of Fred Jackson who ran for 50 of his 81 yards on the opening possession. They were held to a field goal and that was it. New England dominated the rest of the game as Tom Brady threw three touchdown passes, two to Buffalo area native Bob Gronkowski. Bills Blitz.

Nelson Hurt: David Nelson suffered a rib injury late in the first half but walked off under his own power. He did not return and will not play in next week's season finale against the Jets. No other injuries were immediately reported. Injury Page.

Hangartner Inactive Again: The Bills are very healthy going into today's game against New England. Geoff Hangartner was the only question mark and he is inactive once again. He did practice this week but they don't want to rush him back. The Healthy inactives are Ed Wang, Mike Caussin, John McCargo, Jehuu Caulcrick, Colin Brown, and Kellen Heard.

Cloudy And Cold: It's cloudy and cold for today's game at Ralph Wilson Stadium. Gametime temperature will be 24° under cloudy skies with a chance of a snow shower possible. Winds will be out of North Northwest at 18mph. It could be a lot worse as the Northeast coastal area is dealing with a blizzard.


Friday December 24, 2010


Hangartner May Dress: Geoff Hangartner continues his quick recovery from a knee injury. He did a little more in practice today and now Chan Gailey said he may dress for the game against the Patriots on Sunday. He is officially listed as questionable and won't start even if he's active. This is a major step considering Gailey all but ruled him out on Monday. Injury Page.

Practice Squad Addition: The Bills added DT Boo Robinson to the practice squad today. He fills the spot vacated when DL Ko Quaye was signed by the Browns. Robinson was an undrafted free agent originally signed by the Eagles. He didn't make the team but was signed by the Browns in October and later released.


Thursday December 23, 2010


Hangartner Returns: Geoff Hangartner surprised many by returning to practice today in full pads as the Bills practiced outside today. No word yet on if he'll be available on Sunday but all 53 active players on the roster took part in today's workout. Injury Page.

Game Soldout: In a bit of a surprise, Sunday's game against New England is soldout so the blackout has been lifted. The remaining tickets were bought by Russell Salvatore of Russell's Steaks, Chops, and More. The fact that the game was close enough to a sellout for someone to buy out the remaining tickets is a sign that fans are more excited about the team than they were earlier in the season. This is the fourth sellout in the seven home games at Ralph Wilson Stadium.

Bills Look To Get Monkey Off Their Backs: The Bills have only beaten the Patriots once in the past decade and have lost 14 in a row to them. The Bills are playing with confidence now and the Patriots are looking to wrap up home field throughout the playoffs. Buffalo would love nothing better than to finally get a win over New England. Game Preview.


Wednesday December 22, 2010


Hangartner Sits Again: As expected Geoff Hangartner did not practice today and will not play on Sunday. The only other two players not practicing were Demetrius Bell and Chris Kelsay. They both normally get Wednesday off to rest their knee injuries but both should be back tomorrow.

Practice Squad Move: The Bills were forced to make a practice squad move when they lost DB Dominique Harris. He was signed to Tampa Bay's active roster. They used his spot by signing free safety Brett Johnson who was with the team this spring before being released in June. Front Office Page.


Monday December 20, 2010


Hangartner Likely To Sit Again: Chan Gailey addressed the media today and said they will not rush Geoff Hangartner back on to the field. He said if they were out of linemen he may be able to be rushed into service but they aren't in that situation and don't seem the need to rush him back. There is a chance he'll play in the finale. The only new injury reported from Sunday was to Donald Jones but Gailey expects him to be fine. Injury Page.

Wilson Loves Beating Miami: Since Ralph Wilson is now 92 years old, he rarely goes into the locker room after a game. To Mr. Wilson however, Miami is still a huge rivalry and he was smiling ear to ear after the game as he went into the locker room and even into the interview room to listen to Chan Gailey speak to the media. Wilson even spoke informally to the media as well. He praised the work of Gailey and Buddy Nix saying this team amazes him especially after the brutal drafts the team has supposedly had over the past 10 years. He loves how hard the players have played especially being a group of unheralded rookies and castoffs from other teams. Wilson expects the team to build on the progress this year and thinks they will be much, much better next year.



---
News Archives index
Latest News Section
Archives Library
Back to Bills Daily Homepage