Bills End Season On Down Note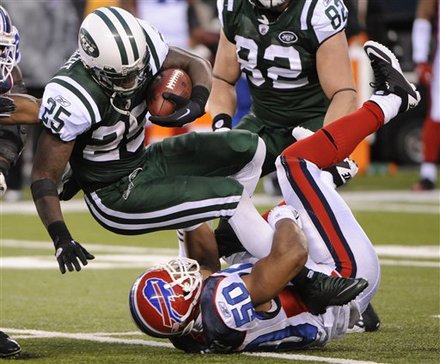 Bills Will Draft Third: Thanks to victories by Indianapolis, San Diego, and Houston combined with the Bills debacle in the Meadowlands, the Bills have actually moved up in the draft. They will pick third in April's draft behind Carolina and Denver. If they had beaten the Jets they could have fallen down to 7th spot in the draft.

Gameday Grades: The Jets backups beat the Bills starters in every way, every phase of the game. These final gameday grades are very ugly. Gameday Grades.

Bills Blitz: It was nothing more than a glorified scrimmage as the Jets played mostly backups after the first series. The Bills played their starters most of the way but were playing without Ryan Fitzpatrick and with only three healthy wide receivers. The results showed how bad the Bills are as the Jets backups blew out the Bills starters 38-7 in a boring, sloppy matchup at the New Meadowlands. Brian Brohm started at quarterback and had a pass picked off and returned for a touchdown. He threw three interceptions and lost a fumble as he was under siege all game. The Bills turned it over six times in all. Mark Brunell threw two touchdown passes in the win and Kellen Clemens and John Conor added touchdown runs for the Jets. Jairus Byrd returned an interception 37 yards for the Buffalo touchdown. Bills Blitz.

No New Injuries In Loss: The Bills appeared to get out of the finale without any more injuries. Some bumps and bruises may develop in the next day or two but it doesn't matter since the season is now over. Injury Page.

Fitz Heads Inactive List: Ryan Fitzpatrick tested out his knee this morning and the decision was made to keep him out although he will dress as the emergency third QB. He heads the inactive list for today's season finale. The Bills will be without two wide receivers as well, leaving them with just three healthy players at the position. Donald Jones and David Nelson both are inactive with injuries. Geoff Hangartner is active for the first time in a month but will be a backup today. The Healthy inactives are Ed Wang, Mike Caussin, John McCargo, Colin Brown, and Kellen Heard.

Nice Day For Football: The Bills will close out the NFL season with an unseasonably mild day in New Jersey for the finale against the Jets. The game will be played under mostly cloudy skies with temperatures in the mid 40s and very little wind which is unusual for the Meadowlands.


Saturday January 1, 2011


Merriman Contract Details: The contract signed by Shawne Merriman today is a two year deal and it appears to be worth $10.5 Million with $2.5 Million guaranteed. Incentives would make that number larger as it could go up to $9.25 Million per year with $8.75 Million per year in likely obtained incentives. Front Office Page.

Merriman Signs Contract Extension: The Bills and Shawne Merriman have agreed to a two year contract extension with the club. The Bills confirmed a Chris Mortensen report. Merriman likely didn't have a big market for his services and getting a new deal before the the CBA expires made sense for the veteran. The Bills get a player that if he can remain healthy is a pro bowl linebacker in the 3-4 defense.

Merriman Staying? Shawne Merriman sent an interesting Happy New Year tweet just after midnight that seems to indicate that he will be re-signing with the Bills. He tweeted, "Since I said #2011 is about accomplishing its also about proving and if your a #Bills fan I have some exciting news coming!!!" It was thought Merriman would finish out the season in Buffalo and move on in free agency but since his Achilles injury kept him off the field there likely is no real market for him so he may decide Buffalo is the place for him.


Friday December 31, 2010


WRs Out: Donald Jones and David Nelson have both been ruled out for Sunday's game after not practicing all week. That leaves the Bills with just three healthy wideouts and they will likely make a roster move or two to add receivers. They have two on the practice squad in Bobby Williams and Rod Windsor, neither has been with the team long.

Fitz A Gametime Decision: The Bills have listed Ryan Fitzpatrick as questionable for the game on Sunday against the Jets and Coach Gailey said he will be a gametime decision. He did not practice again Friday increasing the chances that Brian Brohm will make his second start as a Bill. Fitzpatrick did some light running and passing on the sidelines and did some drop back drills to test his knee.


Thursday December 30, 2010


Fitz Doesn't Practice Again: There is a bigger chance now that Brian Brohm may get the start at quarterback on Sunday as Ryan Fitzpatrick did not practice for a second straight day with a knee injury. The team is very short at wide receiver as Donald Jones suffered a setback with his head injury suffered against New England. If he can't go, and with David Nelson almost certainly out, the team is very short at tight end and the passing game could really suffer. Demetrius Bell, Chris Kelsay, Kyle Williams, Terrence McGee and Torell Troup all returned to practice. Injury Page.

Bills Close Out Season In New Jersey: The Bills 2010 season comes to a merciful end on Sunday in the swamp of New Jersey at the Jets new stadium. New York has clinched a playoff spot and can possibly move up to the five seed with a win. They won't play Mark Sanchez that much, if at all. Rex Ryan is leaning twoards starting him but he will definitely not play the whole game according to Rex Ryan. No word on how long the rest of his starters will play. Game Preview.

Report says Williams First Alternate: Tim Graham reports for ESPN.com that sources tell him Kyle Williams is the first alternate at defensive tackle for the Pro Bowl. That means if Vince Wilfork, Haloti Ngata, or Richard Seymour back out or if either of the first two makes it to the Super Bowl, than Williams will go to the Pro Bowl.


Wednesday December 29, 2010


Several Players Sit: As is usual on Wednesday several players sat out practice that will play in the game on Sunday. There were new names on the list this week led by Ryan Fitzpatrick who got banged up a little more than usual on Sunday. Donald Jones is also sitting after taking a blow to the head in the loss to the Patriots. Other players sitting out were Kyle Williams, Torrell Troup, Jon Corto, Demeterius Bell, Terrence McGee, Chris Kelsay, and David Nelson. Of this group only Nelson is expected to miss this week's finale.


Tuesday December 28, 2010


Pro Bowl Players: The Bills were shutout of the Pro Bowl when the league announced the rosters tonight. No word yet on if any players are alternates. It was the first time in 24 years that no Bill was named to the Pro Bowl and the fourth time ever. This is not a surprise with just Kyle Williams and Stevie Johnson given any consideration for inclusion to the AFC team. The Falcons led the way with seven players to the NFC squad and the Patriots are sending six players to the AFC team.

Roster Moves Made: The Bills made a couple of roster moves today to help their ailing situation at wide receiver for the season finale. Paul Hubbard has been activated off of the practice squad. His spot was taken by WR Rod Windsor who was released from the Browns practice squad three weeks ago. He is a former Arena league standout. To make room on the active roster they have placed Cordaro Howard on injured reserve. Front Office Page.

Pears Getting Work: Chan Gailey is not opposed to using the finale to take a look at some players that he feels has earned more playing time. He started it in the loss to New England when newcomer Erik Pears saw significant playing time at right tackle in place of Mansfield Wrotto. He actually played most of the fourth quarter. Gailey hinted he may get the start Sunday against the Jets. Depth Chart.

Nelson Won't Play: David Nelson said don't count him out of the season finale against the Jets but it appears that is wishful thinking. Chan Gailey said it would take a miracle for him to play. Gailey would not say if Geoff Hangartner will play in the finale. He has been out the past three weeks with a knee injury but practiced last week. Marcus Easley spoke to the team's website and said he's nearing 100 percent from knee surgery this summer. Injury Page.



---
News Archives index
Latest News Section
Archives Library
Back to Bills Daily Homepage