First Minicamp Finished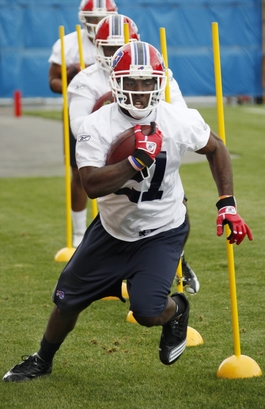 Minicamp Comes To An End: The Bills wrapped up the minicamp this weekend with one practice today. Chan Gailey addressed the media after today's session saying that he loved the effort and energy from all the players in attendance. He also felt it was great for the coaches to get on the field. He expects the young players to stay mentally into it before they return in a week for voluntary workouts. He felt the rookies absorbed the playbook well and was pleasantly surprised by some players while nobody disappointed the coaches. There were no injuries suffered this weekend. The coach said James Hardy was not present because he had something to take care of. He feels Nic Harris will be ready to go by OTAs later this month. He was not in attendance as he continues to recover from a knee injury suffered last season. Marcus Easley was excused from today's session because he was graduating from UConn today. Injury Page.

One Practice Today: The minicamp for rookies and first and second year players ends today with one workout this morning at 10:15am. This is the last workout before the organized team activities get underway later this month.


Saturday May 8, 2010


Afternoon Practice: The afternoon practice session was a lot like the morning workout according to the team's website. Marcus Easley had a good afternoon beating Leodis McKelvin deep while Joe Klopfenstein did a nice job as well including a pass over the middle in the seam as Brian Brohm had a good afternoon.

Morning Practice Forced Inside: Winds of up to 50mph forced this morning's session inside the field house. The tight ends were the main targets of Brian Brohm and Levi Brown. According to the team's website Joe Klopfenstein and Jonathan Stupar combined for 8 catches this morning. WRs Marcus Easley, Steve Johnson, and Felton Huggins combined for 9 catches as well.

Day 2 Of Rookie Camp: Today there are two more practices as day 2 of the rookie minicamp gets underway. The players are on the field for the private practices at 10:55am to 12:05pm and 3:45pm to 5:05pm. The players are getting immersed in the playbook as Chan Gailey wants to see how they hold up mentally by getting more thrown at them than usual in a first minicamp.

Corto Back To Safety: There were very little in the way of surprises during day one of minicamp. The one position switch that wasn't entire expected but assumed was the move back to safety of Jon Corto. He was moved to linebacker last year but he is too small to play at linebacker in the 3-4 defense. 2nd year pro Chris Ellis as expected is one of the many players moved from defensive end to linebacker in the 3-4. Depth Chart.


Friday May 7, 2010


Brohm Watched Carefully: Chan Gailey admitted he will watch the QB situation very carefully as the team looks to pick a starter. He watched nearly every snap thrown by Brian Brohm during today's two workouts. He didn't watch Levi Brown as closely. He admits he will spend more time on the offensive side of the ball since he is the coordinator as well as the head coach but quarterback is the number one position on his agenda.

McKelvin Back: Leodis McKelvin was the biggest name out of the young veterans attending this weekend's minicamp. McKelvin was pumped up and was the star of the afternoon workout according to the team's website. He had two interceptions of Brian Brohm in that workout.

No QB Depth Chart: The team has completed their first mini camp practice and Chan Gailey addressed the media afterwards and said it felt good to finally get on the field. This camp is the extra camp the Bills are allowed to have since they have a new head coach. Gailey thought it was interesting to get the 1st and 2nd year vets on the field with the Rookies. Gailey said there is no depth chart at quarterback saying there is nobody listed as 1, 2, or 3. He says it's not just lip service there is an open competition.

Bills Reportedly Want Gaither: Rumors continue to circulate that the Ravens will move left tackle Jared Gaither before the season starts. It was rumored he would be moved during the draft at that didn't happen. The Ravens moved Michael Oher to left tackle meaning they need to find a home for the promising Gaither. Rumors are circulating today that the Bills want him bad and are the leading candidate to get him. No word on what it will cost to get him.

Rookie Camp Gets Underway: For the first time since the season finale victory over the minor league version of the Colts, the Bills take to the field. The rookies, first, and 2nd year players will have five workouts over the next three days. There are two workouts today and tomorrow and one on Sunday. The morning workouts are scheduled for an hour and 10 minutes while the afternoon workouts will be an hour and 20 minutes. They will have helmets on but no pads and will get the most one on one work of the offseason because when the veterans arrive there will be less time given to the young players.


Thursday May 6, 2010


Rookies Report Today: All the drafted players and the 15 undrafted free agent signed by the Bills will report to One Bills Drive today and take part in the three day rookie minicamp this weekend. 1st and 2nd year players also will be allowed to participate on a voluntary basis. That means Brian Brohm and Levi Brown will get the first crack under center. Brohm will get a head start on Trent Edwards and Ryan Fitzpatrick before the organized team activities get underway late this month. In past years the Bills filled out their rookie camp with tryout players but that likely isn't the case this year because of a bumper crop of rookies, 1st year, 2nd year, and previous practice squad players that are likely to participate.


Wednesday May 5, 2010


Scouting Department Changes: The Bills announced the hiring of Darrell Moody as the team's national scout. He covered the southeast region for the Chargers the past eight years. The team also increased the roles of three area scouts. Matt Hand is now an area scout. C.J. Leak is now the team's BLESTO scout. Michael LaFlamme adds pro personnel assignments.

Bills Add Final Undrafted Player: The Bills announced the signing of California free safety Brett Johnson. He is the 15th and likely final undrafted free agent to officially sign. In 22 starts at free safety Johnson had 107 tackles and three interceptions. He's very athletic and could be a good special teams player.


Tuesday May 4, 2010


Bills Add One: The Bills announced the signing of Cordaro Howard. The guard is the 14th undrafted free agents to officially sign. We have one more player on our list who the team has reportedly agreed to terms with but hasn't officially signed yet.

Wall Date Set: The Bills announced that Booker Edgerson will be put up on the Wall of Fame during a halftime ceremony in the October 3rd game against the New York Jets.


Monday May 3, 2010


Three More Signings Official: The Bills have officially announced the signing of three more undrafted free agents. C Sean Allen, WR Donald Jones, and C Kyle Mutcher were on our original list of signees leaving two players that are still unofficial. Allen played both guard and center for East Carolina but mostly in the pivot in his two years as a starter. He is very strong and can play either position. Jones caught 77 passes as a senior captain for Youngstown St. Mutcher's draft stock was hurt by a foot injury he played through last year and then had surgery on in the offseason. Depth Chart.

Edgerson On Wall: The Bills have gone back to the old days for this year's addition to the Wall of Fame. The team announced today that DB Booker Edgerson will be the 26th member on the team's Wall of Fame. In recent years the Bills have been putting up people from the glory days of the 90s. Edgerson played in the old AFL days and he's the first player from that era to go up since 2000. He played for the team from 1962 to 1969 and was AFL rookie of the year and a former all-star selection. He is tied for 7th on the team's interception list with 23. He is 70 years old and still lives in Western New York. He's the president of the Bills alumni association.

Rookie Camp: The rookies will be coming to Orchard Park on Thursday to check in with the team. They will then hit the field for a three day minicamp Friday through Sunday. At this point the nine draft picks and 10 signed undrafted free agents will be in attendance. By our calculations there are five more undrafted free agents that haven't officially signed. The veterans are invited but it is not mandatory for them. Usually the team will have tryout players as well to fill out the workouts. Some of these players usually get signed as well.


Friday April 30, 2010


Bills Sign Two More: The Bills have announced two more undrafted free agent signings. They official inked Florida WR David Nelson and Utah ILB Mike Wright. Both names have been on our list of signees since the draft ended. Nelson was not a starter for Florida but he's a big target. Wright had 160 tackles the past two years. Undrafted Free Agents.

Nix On QBs: Buddy Nix was on a San Diego radio station yesterday and discussed why the Bills did not take a quarterback in the early rounds of the draft last week. Nix said that none of the QBs available to them offered more than the quarterbacks on the roster. Nix feels all three of them physically can do as much as anyone in this year's QB class. He admitted they were inconsistent and they need to prove that they can play but that is the case with rookies as well. While not taking away any blame from last year's failures he did say the change at offensive coordinator right before the season and the injuries on the offensive line impeded their development.


Thursday April 29, 2010


Bills Add Six More: The Bills made six more undrafted free agent signings including DE Will Croner who was not on our original list of 14 unofficial signing. University of Buffalo WR Naaman Roosevelt was also officially signed. RB Joique Bell was on the list of signees. He had two 2,000 yard seasons at tiny Wayne State. Croner had 64 tackles and 3½ sacks this past year for Howard University. CB John Destin had four interceptions for Tulsa. Texas A&M-Kingsville G Jorge Guerra and Virginia Tech CB Stephan Virgil round out the signings. Undrafted Free Agents.

Mitchell Playing Inside: It has been widely viewed that Kawika Mitchell will play inside in the Bills new 3-4 defense. He confirmed that fact in a twitter response to a fan. Mitchell will lineup next to Paul Posluszny in the new defensive scheme. Depth Chart.


Wednesday April 28, 2010


Bills Make Two Signings Official: There is a list of 14 names of player the Bills reportedly have signed as undrafted free agent. Today they made two of them official as they have signed LB Antonio Coleman and DB Dominique Harris. Coleman had 10 sacks for Auburn last year to lead the SEC. He is considered an explosive pass rusher. Harris has 43 college starts under his belt and had three interceptions and three forced fumbles in 2008. Undrafted Free Agents.


Tuesday April 27, 2010


Bills Interested In Gaither? Pro Football Talk is reporting that the Bills and Cowboys both inquired about trading for Ravens restricted free agent OT Jared Gaither. He is tendered at a first round level but it's likely he could be had in a trade for less than that. He's a promising left tackle that would be a huge upgrade for the Bills. Since a deal wasn't done before the draft it seems talks didn't go anywhere but there is always a chance they could pick up again at some point if the Ravens still want to move him.


Monday April 26, 2010


Undrafted List At 14: The Bills are expected to announce their undrafted free agent signings later this week or next week before the rookie minicamp commences on May 7th. Reports have been trickling in since the draft ended and 14 players are currently on our list. The most intriguing is RB Joique Bell who had two 2,000 yard season at Wright St. The latest names on the list are Weber State OL Kyle Mutcher and Utah ILB Mike Wright. Complete Unofficial List.



---
News Archives index
Latest News Section
Archives Library
Back to Bills Daily Homepage