Bills May Have Hit Rock Bottom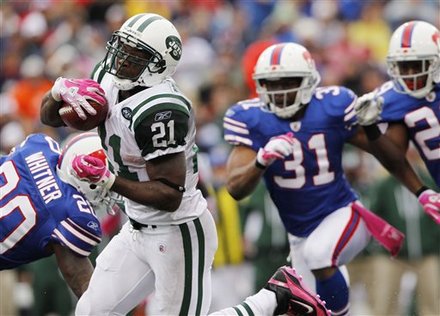 Gameday Grades: It was a total failure and meltdown for the Bills as the offense and defense were both pathetic. Special teams had their own problems. The grades are not pretty. Gameday Grades.

Jets Destroy Bills 38-14: It was a repeat of the two games last year as the Jets ran wild against the Bills. This time the final score was a good indication of the dominance as the Jets routed the Bills 38-14. They had 273 yards rushing as LaDainian Tomlinson had 133 yards and Shonn Greene ran for 117. The Jets scored three touchdowns late in the third quarter to put the game away. Dustin Keller and Tomlinson each scored two touchdowns and Braylon Edwards added another. Ryan Fitzpatrick could get nothing going as he threw for just 128 yards completing just 12 passes. You know it's a bad day when he was the team's leading rusher with 74 yards on 7 carries. David Martin and Steve Johnson caught touchdown passes from Fitzpatrick in the debacle. Bills Blitz.

Moats Out Three Weeks: Arthur Moats left the game late in the fourth quarter with an elbow injury and Chan Gailey said he'll be out around three weeks. Ashton Youboty left with a hamstring injury. Injury Page.

Inactives: Terrence McGee, Marcus Stroud, and Andra Davis were inactive with injuries. Ed Wang remains inactive as he recovers from his thumb surgery. The other inactives are: Cary Harris, Jamon Meredith, and John McCargo. Alex Carrington is active for the first time in his career.

Showers Possible: There could be some rain during today's game between the Bills and the Jets. There is a 40% chance of showers throughout the game with temperatures rising only into the low 50s. Winds will be out of the Northeast at 15mph.


Saturday October 2, 2010


Bills Back Home: The Bills have a chance against the Jets tomorrow for the main fact that they will be at home for the first time since opening day. The game is soldout and may be the last sellout at the Ralph until the Pittsburgh game if the Bills don't start giving the fans something to get excited about. We will be tweeting our comments throughout the game tomorrow.


Friday October 1, 2010


McGee Out: The Bills have announced that Terrence McGee is out for Sunday's game against the Jets. That leaves three defensive starters out. Chan Gailey said yesterday that Marcus Stroud and Andra Davis are also out. McGee did not practice again today with a knee injury. Injury Page.

Practice Squad Move: The Bills swapped practice squad players today. They have released TE Rob Myers and added G Mansfield Wrotto. The need for a tight end on the squad is diminished by the return of Shawn Nelson next week from suspension. Wrotto is a former fourth round draft pick of the Seahawks in 2007 and was with the team early this year before being released. Front Office Page.

Mitchell Released The Bills have released Kawika Mitchell after he reached an injury settlement with the team. The move gets the Bills off the hook for at least part of Mitchell's 2010 salary and allow Mitchell to sign with another team and play this year when his foot heals. He has said the injury could take up to 12 weeks to heal. No word on the details of the settlement.

Pryce To Play: The Jets didn't wait long to sign former Ravens defensive end Trevor Pryce. Rex Ryan signed a player he coached as the defensive coordinator in Baltimore. He should pick up the defense easily and is expected to play in passing siutations on Sunday against the Bills to bolster the Jets pass rush.


Thursday September 30, 2010


Stroud, Davis Ruled Out: Chan Gailey has ruled out Andra Davis and Marcus Stroud from Sunday's game against the Jets. Reggie Torbor took snaps inside while Arthur Moats took snaps outside. Paul Posluszny said he's ready to return after making it through practice the past two days. He said Akin Ayodele will start next to him for Davis. For the Jets, Darrelle Revis said his hamstring injury is worse than he thought and he has ruled himself out for Sunday's game. Depth Chart.

McGee Absent From Practice: The Bills website is reporting that Terrence McGee was absent from practice today. No word immediately on why he is absent. Marcus Stroud and Andra Davis both did not practice again today increasing the chances that they both miss Sunday's game. If Stroud can't go Spencer Johnson should get the start with Alex Carrington making his NFL debut as the backup. If Davis can't go either Keith Ellison or Akin Ayodele should get the start although Reggie Torbor is taking snaps inside and may get the nod. Jonathan Stupar is back on the practice field. For the Jets, it appears Darrelle Revis will not play as he is not practicing today. Injury Page.

Bills Face Another Tough Opponent: The Bills come back home after two unsuccessful road trips still looking for their first win. They have another very tough division opponent as the Jets come in flying high after a big win on Monday night in Miami. Will the Bills be able to pull off the upset? It will be very tough. Game Preview.


Wednesday September 29, 2010


Davis, Stupar Also Sidelined: Andra Davis and Jonathan Stupar joined Marcus Stroud on the sidelines for today's practice. Davis has a shoulder injury and Stupar hurt his foot. Both are expected to be ok to play on Sunday but Stroud may be out with an ankle injury. Paul Posluszy came through practice fine although he was a bit limited. He expects to play on Sunday. Injury Page.

Stroud May Be Out: Chan Gailey said several players are banged up but the only one who may not play Sunday is Marcus Stroud. He suffered an injury in the loss to the Patriots and has a chance at playing but is not practicing today. Paul Posluszny is practicing and if he gets through the next two days ok he should play.

Kelsay Gets Extension: Chris Kelsay has officially signed a contract extension with the Bills. We reported on Monday that he was cose to signing a new deal. It is a four year deal and terms were not disclosed but it is believed to be in the $24 Million range. Kelsay he is very pleased with the deal and it will allow him to finish his career in Buffalo. He feels the team is headed in the right direction.

Spiller Honored: C.J. Spiller was named the AFC Special Teams Player of the Week for his performance against the Patriots. He had a 95 yard kickoff return for a touchdown and 189 total return yards. He is the 88th player of the week the Bills have had.

Will Edwards Play In Buffalo? Trent Edwards is now a Jaguar but will he start or even play when they come to Buffalo a week from Sunday? The Jaguars and Jets are the two teams that put claims in on him interestingly they are the Bills next two opponents. The Jags got him based on being higher in the waiver order. Edwards is a quick learner so he should pick up their offense in time to play next week if needed. Jaguars coach Jack Del Rio is unhappy with the poor play of his starter David Garrard and his backup is out for the year after tearing his ACL in week 2. Edwards will likely immediately assume the number two role and could play in a week if Garrard struggles again against the Colts. It makes next Sunday's matchup much more interesting.


Tuesday September 28, 2010


Edwards A Jaguar: The Jacksonville Jaguars have claimed Trent Edwards off of waivers. This can cause some problems for the Bills as Edwards will be back at Ralph Wilson Stadium a week from Sunday. He may be able to give the Jaguars inside information for the matchup between the two clubs. It is very unlikely Edwards would see action in the game.

Bills Re-sign Brown: The Bills decided to fill the third quarterback spot today. They have re-signed Levi Brown. He was a seventh round draft pick of the team and released during the final cuts. It was unknown if the team would leave the roster spot open since they will need a spot for Shawn Nelson who comes off his suspension on Monday. Depth Chart.

Thankful For The Small Things: Sunday's loss is a loss but for Bills fans it was at least entertaining and some signs of progress. This year the bar is set very low and this game at least gave some hope for some good times in the 2010 season. Check out Tony Bogyo's new column talking about what good things to look forward to with this team. Complete Story.

Poz May Play: Lost in yesterday's big news of the release of Trent Edwards, was the good news on the injury front. The team came out of Sunday's game healthy. There were the usual bumps and bruises but Chan Gailey doesn't think there is anything that will keep anyone sidelined. Paul Posluszny has a good chance at returning on Sunday as well. He said he feels good and today and tomorrow will be big days to see how he progresses. Injury Page.


Monday September 27, 2010


Fitzpatrick On Release: Ryan Fitzpatrick said everyone was caught off guard by the decision to release Trent Edwards. It was difficult since Edwards was well liked in the locker room and harder for him since they were always working so close together over the past two years. It is a harsh business and Fitzpatrick said he has no choice but to throw himself into preparing for this week's game against the Jets.

Gailey On Release: Chan Gailey spoke to the media this afternoon and said Trent Edwards gave them everything they had but they just felt they weren't going back in that direction. They want to get a better look at Brian Brohm. They have yet to decide whether or not they will go to a third quarterback but he did say Levi Brown is an option they will consider. He called Edwards a fine young man who did not indicate he wants to move on. Brohm hasn't proven he's the backup but they feel he has a chance and they want to give him the opportunity to prove it. Gailey said Edwards handled the release professionally but was disappointed. The coach understands it was a fast progression from starting quarterback to release but he felt things were close all along and it wasn't an easy decision.

Bills Release Edwards: In a surprising move the Bills have released Trent Edwards. Chan Gailey will address the media later today to discuss the reason for the release. Ryan Fitzpatrick asserted himself as the starter with his good performance yesterday but Edwards did give them valuable depth at the position. There was talk the team was trying to trade him but there likely was no market for that. He will remain on waivers until tomorrow afternoon and will then become a free agent if he isn't claimed. Reports say the Bills will fill his spot by re-signing Levi Brown. He was released at the end of training camp and surprisingly wasn't put on the practice squad or signed by another team. Let us know what you think of the move by taking our poll on our homepage. Depth Chart.

Spiller In Record Books: C.J. Spiller ran is way into the Bills record books in the loss to the Patriots. He broke the single game rookie kickoff return record by accumulating 189 kick return yards. He also became only the second Bill ever to have a kick return TD and receiving TD in a single game. Roscoe Parrish had his second best receiving game ever as he had 83 yards. These and more tidbits are on the right side of our gameday homepage.

Kelsay Close To Extension: The Buffalo News is reporting that Chris Kelsay is close to a contract extension with the team. He is in the final year of his four year deal signed in 2007. That deal was worth $5.75 Million a year. The coaching staff is pleased with his conversion to outside linebacker in the 3-4 defense. The extension could be in the $24 Million range according to the report but the length of the deal is unclear at this point. The deal could be completed within a week.



---
News Archives index
Latest News Section
Archives Library
Back to Bills Daily Homepage