Bills Play Better In Loss To Pats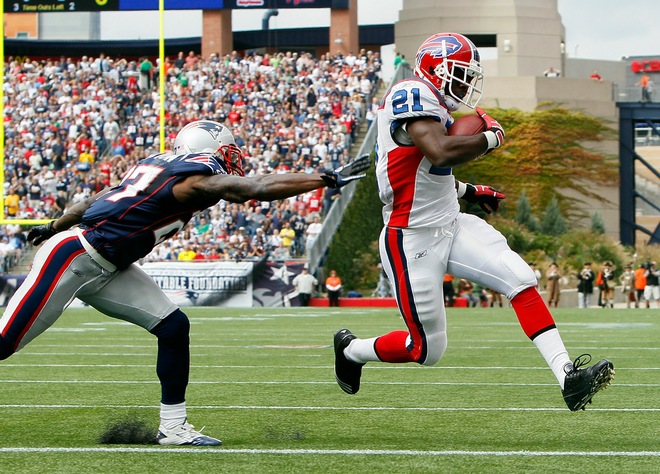 Defense Lets Them Down: Everyone has been worried about the Bills offense but it was the defense that let them down in this game. The offense moved the ball well at times but the defense was shredded on the ground and through the air while the special teams chipped in with a score. Gameday Grades.

Bills Lose To Patriots 38-30: The Bills came to play today, and probably played their best game of the year, but as usual it was not enough to defeat the Patriots. The offense came alive under the direction of Ryan Fitzpatrick but the defense let them down in a big way in the 38-30 loss. It was their 14th straight win over Buffalo which is the longest active streak in the NFL. C.J. Spiller scored his first two career touchdowns on a five yard reception of screen pass and a 95 yard kick return for a score. Steve Johnson caught a 37 yard touchdown pass to get the Bills closer with 4:08 left. Fitzpatrick completed 20 of 28 for 247 yards. He had two costly interceptions, one in the end zone and the other stopped a chance at a game tying drive. The Patriots ate up yards against the Bills defense as they finished with 445 total yards including 200 on the ground. Tom Brady threw for 252 yards and three touchdowns with no interceptions. Bills Blitz.

No New Injuries To Report: The Bills appeared to get through the game ok injury wise. Cornell Green got poked in the eye but only missed a few plays. Their was more shuffling than usual along the offensive line but it doesn't appear to be because of injury. Terrence McGee limped off late but it didn't look serious. Injury Page.

Inactives: Paul Posluszny is the only injured inactive although Ed Wang remains inactive partly because of his thumb injury. The other inactives are: Cary Harris, Antonio Coleman, Jamon Meredith, Alex Carrington, and John McCargo. Harris was out with a hamstring injury but he is healthy enough to play after practicing all week.

Edwards On The Block? Adam Schefter is reporting that the Bills have spoken to at least one team regarding possibly trading Trent Edwards according to a league source. The report also said they at least discussed the idea of trading him in the offseason before opening up the quarterback competition.

Weather A Non Issue: It should be a nice early fall day in Foxboro for today's game. Sunny skies will give way to clouds by kickoff but no rain is in the forecast. Gametime temperature will be 67°. There will be some wind out the EastNortheast at 12mph.


Saturday September 25, 2010


Bills In New England: The Bills are off to Boston to take on the Patriots in Foxboro tomorrow. They have never won in Gillette Stadium and have not won in New England since the 2000 season when Doug Flutie led them to a win. They are heavy underdogs for a second straight week and a win appears very unlikely again. We will be tweeting our comments throughout the game tomorrow.


Friday September 24, 2010


Poz Lone Player Out: At least the Bills are surprisingly healthy after a bad run on injuries the previous couple of years. Paul Posluszny is out but everyone else is expected to be ready to go. Andy Levitre, Cary Harris, and Keith Ellison are listed as probable and will play. They all practiced fully on Friday. The Patriots have two players out for this game but their report is light as well. Injury Report.

Poz, Harris Still Sit: The Bills practiced for the last time today before they fly to Green Bay for Sunday's game. Paul Posluszny and Cary Harris were the only players sidelined. They were ruled out for this game early in the week. Injury Page.


Thursday September 23, 2010


Levitre Expects To Play Sunday: Andy Levitre returned to practice today and said he will play on Sunday. Paul Posluszny was the lone player not practicing today but he did some running on the side. He has been ruled out for the week. Keith Ellison was dinged up in practice today but Chan Gailey said he should be ok. Injury Page.

Lynch To Get Work: Chan Gailey still won't commit to his starting running back for the week but did say Marshawn Lynch will get a lot of work. He also said that he may have rushed C.J. Spiller too quickly. So it appears Lynch is first on the depth chart, Fred Jackson second, and Spiller third. Depth Chart.

Bills Look For New Beginning: The Bills look to get things going in the right direction but they have to travel to New England to do it, no easy task. It could be a fresh start for Buffalo with Ryan Fitzpatrick taking over the starting quarterback role. The Bills try to get things going against a team they have only beaten once in 19 games and have never beaten in Gillette Stadium. Game Preview.


Wednesday September 22, 2010


Parrish Moves Ahead Of Johnson: Steve Johnson reportedly told CBSSports.com that he is now coming off the bench and that Roscoe Parrish is the new starter. Parrish has played well the first two games playing almost exclusively in the slot. He will now go outside in the two receiver set. Johnson will come into the game during the three receiver sets and go outside with Parrish moving back inside. Depth Chart.

Poz, Levitre Not Practicing: The team appears pretty healthy heading into this matchup. Paul Posluszny and Andy Levitre were the lone players not practicing. No players were limited and Cary Harris returned to practice fully after missing last week's game with a hamstring injury. Chan Gailey has ruled Poz out for this week's game. Injury Page.

Edwards Remains Committed: Trent Edwards told the media today he was surprised by his benching but he remains committed to the team and will continue to work hard to help the team win in anyway he can. He is obviously frustrated and disappointed but he won't hand his head since he knows anything can change and it's a long season. Lee Evans also said he was surprised but was glad the move was made sooner rather than later. Fred Jackson believes he got too much of the blame for the offensive failures but they need to move forward and help Ryan Fitzpatrick out.

Fitzpatrick Makes Things Happen: Chan Gailey doesn't expect a lot of change at all under Ryan Fitzpatrick just some subtle changes. He knows the two teams playing this weekend don't like each other and they need to get ready. He said he isn't worried about the losing streak against the Patriots since it's a new team and a new year. He feels his new quarterback feels pressure well and he makes things happen. He understands protections and coverages well and has good mobility that helps him get out of trouble. Gailey wouldn't comment on the running backs saying again it depends on the package.

No Levitre Today: Andy Levitre is not practicing with the team today according to Chan Gailey. They hope to get him on the practice field tomorrow and take it from there. It is very much up in the air at this point if he'll be able to play Sunday or not.

Bills Back To Work: The Bills begin preparations in earnest for Sunday's tough matchup in New England against the Patriots. Ryan Fitzpatrick will be under center with the first unit in practice as he takes over the reigns for this very touch matchup. It is media day so we should get more news on the injury situation including Andy Levitre who is day to day.


Tuesday September 21, 2010


Practice Squad Add: The Eagles officially signed Joique Bell away from Buffalo today. He reported yesterday on his twitter page that he was headed to Philadelphia. The Bills replaced him on the practice squad with another running back. They officially added Andre Anderson today. He was signed by the Bills late in training camp before being released before the season. The team also released TE DajLeon Farr from the practice squad/injured list.

QB Change Much Of The Same: So the Bills have changed quarterbacks? If you think you are having a Deja-vu moment you are not. This has become something that happens just about every year in Buffalo. It is what happens when the team is below mediocre for the past decade. Check out Tony Bogyo's new column about how the QB change is something that is the norm in Buffalo. Complete Story.


Monday September 20, 2010


Fitzpatrick On Promotion: Ryan Fitzpatrick addressed the media after hearing of his promotion to the top of the depth chart at quarterback. He said he's excited for the opportunity but they obviously have a lot of work to do to correct the issues from the last two weeks with a tough opponent ahead. He feels he has chemsitry with the receivers since he's thrown to them before and he's used to being the guy that comes off the bench and starts games.

Levitre May Play: Andy Levitre said he thinks his shoulder will be ok in the next few days and he thinks he will be able to play Sunday against New England. Chan Gailey said it wasn't as bad as originally feared. He is day to day at this point and they will see how he is on Wednesday. No other injuries from Sunday's loss has been reported. Injury Page.

RB Situation Depends On Packages: Chan Gailey did not commit to Marshawn Lynch as his starting running back saying they have packages involving each running back and they feel they have three starters at the position. It will depend on the package which running back will be in the game. He did say they would like to get the ball in C.J. Spiller's hands more often.

Edwards Stays Number Two: Chan Gailey said that Trent Edwards handled the demotion professionally and he will suit up as the number two QB on Sunday. Gailey said that it is not all Edwards fault but they are looking for the right combination to have some success on the field offensively. He said there are no other lineup changes at this time but they will stay this course for the time being.

Fitzpatrick Starting: Ryan Fitzpatrick is the new starting quarterback for the Buffalo Bills. Chan Gailey announced today they are looking for a spark and they turning to Fitzpatrick. He said this isn't a one week thing and he is the quarterback going forward. The Bills are dead last in offense and Trent Edwards only ran for 102 yards against Green Bay and the team was still running despite getting blown out in the second half. Depth Chart.

Bell Headed To Philly: The Bills have let Joique Bell go. He was on the practice squad but has signed with Philadelphia for their active roster. The Bills could have kept him by putting him on their active roster but they would have had four halfbacks then. Letting him go probably means they will not trade Marshawn Lynch. Front Office Page.

No Practice Today: The Bills have no practice scheduled for today but the players will be at One Bills Drive going over film of yesterday's debacle in Green Bay. Chan Gailey is expected to address the media late this afternoon and hopefully will have an update on Andy Levitre who was the lone player to leave the game yesterday with an injury.



---
News Archives index
Latest News Section
Archives Library
Back to Bills Daily Homepage