Bills Blown Out By Packers 34-7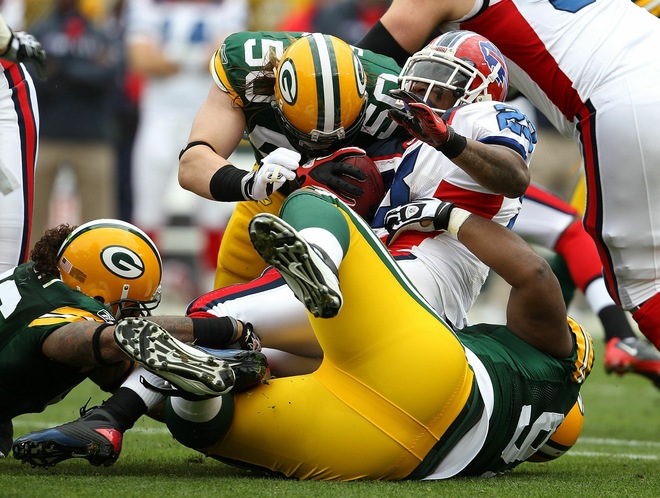 Gameday Grades: The Bills offense struggled for a second straight game and the defense caved under in the second half thanks to turnovers and the high powered Packers game getting into high gear. The result was a loss and some not so good grades for a second straight game as well. Gameday Grades.

Packers Blow Out Bills 34-7: Aaron Rodgers threw for two touchdown and ran for a third as the Green Bay Packers pulled away from the Bills in the 2nd half enroute to a 34-7 blowout victory at Lambeau Field. The Packers dominated the first quarter and scored on all three possessions to take a 13-0 lead on Brandon Jackson's 1 yard TD plunge. The Bills battled back in the second quarter on Fred Jackson's four yard TD run. Marshawn Lynch made the start at running back and took the majority of the carries in the game. The Bills turned the ball over twice in the second half as Green Bay pulled away with three straight touchdown drives. Bills Blitz.

Levitre Hurt: Andy Levitre left the game in the first quarter with a shoulder stinger. He did not return. Chan Gailey doesn't think it's too serious. Trent Edwards was banged up on one play but stayed in the game. No other injuries were reported right after the game. Injury Page.

Gameday Inactives: Paul Posluszny and Cary Harris are the only players inactive because of injury. The other healthy inactives are: Kraig Urbik, Ed Wang, Alex Carrington, John McCargo, and Antonio Coleman. The third QB is Brian Brohm. Coleman missed last week's game with a hamstring injury but he practiced all week so it looks like he is a healthy scratch.

No Weather Problems: Green Bay in September is much more pleasant than in December. The weather conditions for today's game should be fine. It will be mostly cloudy skies at kickoff with a temperature of 58° and very light winds. Temperatures should rise into the low 60s.


Saturday September 18, 2010


Bills In Green Bay: The Bills have made the short flight to Wisconsin and will play in one of the most storied places in the NFL. Lambeau Field won't be frozen but it could be a very long day for the Bills. The Packers are thinking Super Bowl and they have a high powered offense to go along with a really good 3-4 defense. It will be a great test for the Bills vaunted secondary as they try to keep the passing game in check. They should be able to get some pressure on Aaron Rodgers who does get sacked a lot.


Friday September 17, 2010


Moorman Held Out: Brian Moorman missed practice today with a back ailment. He's expected to be fine for Sunday's game though. Reggie Torbor, Antonio Coleman, and Geoff Hangartner are probable as they all practiced on Friday. Injury Page.

Poz, Harris Still Sit: The Bills practiced for the last time today before they fly to Green Bay for Sunday's game. Paul Posluszny and Cary Harris were the only players sidelined. They were ruled out for this game early in the week. Injury Page.


Thursday September 16, 2010


Hangartner Practices: Geoff Hangartner, Reggie Torbor, and Antonio Coleman all practiced for a second straight day today and all should play on Sunday. Chan Gailey wouldn't rule out Cary Harris after saying early in the week he would sit. He still did not practice today but did some light work on the side. The Packers star DB Charles Woodson did not practice for a second straight day. Injury Page.

Uphill Climb: The Bills continue to prepare for Sunday's battle in historic Lambeau Field. Winning in one of the toughest places to play will be hard enough but since it's the Packers home opener it will be even harder. Add to that the fact that the Packers have so much more talent than the Bills and it appears we will be in for a long day on Sunday. Game Preview.


Wednesday September 15, 2010


Hangartner Misses Practice: Geoff Hangartner was the one surprise on the injury report today. He did not practice because of an ankle injury. Chan Gailey said it was a precaution and it doesn't appear serious. It will be interesting to see if he practices tomorrow. Eric Wood took the first team snaps in his place. Injury Page.

Torbor To Practice: Chan Gailey said today that Reggie Torbor will practice this week and they hope he'll be ready to play on Sunday. That will help boost the outside linebacker corps. On the inside Keith Ellison will play more than Akin Ayodele but they will get the newest Bills on the field this week. They will both try to fill the hole left by the injury to Paul Posluszny. Gailey and Trent Edwards both hinted in their media day press conferences that they will likely run the ball more this week.

Bills Back To Work: Chan Gailey kept the players off the field on Monday, so they will hit the practice field for the first time since Sunday's loss today. It is also the weekly media day with coaches and key players addressing the media from both cities. The Bills face an uphill climb as they prepare for the Packers in Green Bay this weekend.


Tuesday September 14, 2010


Same Old Bills: The talk around the water cooler since the loss to Miami on Sunday was how it is the same old Bills. There was some hope after a solid preseason by the offense but they look a lot like last year's offense on week 1. Tony Bogyo is back with his column about the Bills loss to Miami. Complete Story.


Monday September 13, 2010


Practice Squad Swap: The Bills have made a move on their practice squad at the tight end position. They added Rob Myers and placed DajLeon Farr on the practice squad/injured list. He entered the league last year as an undrafted free agent with the Jets. He was released by them and spent time on the Patriots and Eagles practice squads last year. He was with New England this summer before being released on cutdown day.

LB Woes Continue: Chan Gailey met the media today and comfirmed the injury to Paul Posluszny is not as serious as they thought. He thinks he'll miss 2-3 weeks. Gailey said he now needs to get Akin Ayodele ready quickly. They can't ease him in as he will have to play this week. He will likely split time with Keith Ellison. They do hope they will get Reggie Torbor back Sunday to bolster the outside receiving corps.

Jackson Fine: Fred Jackson came out of the game against Miami ok. He took the brace off at halftime and made it through without any problems. He says he's 100 percent and won't wear the brace going forward. Injury Page.

Poz Out Two Weeks: Buddy Nix spoke at the Monday QB club and said the team has dodged a bullet regarding the injury to Paul Posluszny. He said he'll be out about two weeks but won't need surgery on the injured knee. They was fear he would require season ending surgery. Injury Page.



---
News Archives index
Latest News Section
Archives Library
Back to Bills Daily Homepage