Bills Lose Opener 15-10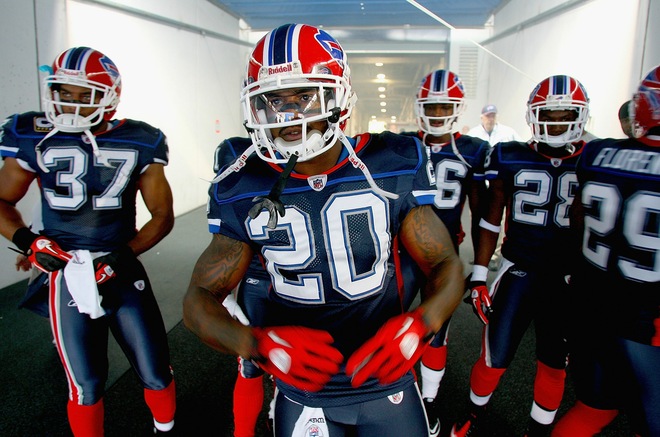 Offense Pathetic: It was a little bit of the same old Bills as the offense was pathetic and Trent Edwards struggled for most of the game while the offensive line did not give him time to throw. This led to just 10 offensive points and it negated a solid defensive effort in the 15-10 loss to the Dolphins. Gameday Grades.

Parrish Also Hurt: The South Florida Sun Sentinel is reporting that Roscoe Parrish suffered a badly bruised back in the loss to Miami. Chan Gailey didn't mention an injury to Parrish in his post game press conference. ESPN reports that the knee injury to Paul Posluszny may be serious. He did seem to be moving ok on the sidelines after the injury. Injury Page.

Bills Lose To Dolphins 15-10: The offense struggled mightily as the Dolphins knocked off the Bills on opening day 15-10 at Ralph Wilson Stadium. Miami built a 13-3 lead before Trent Edwards hit Roscoe Parrish for a 31 yard touchdown pass on a fourth and 10 play to pull the Bills close. They got stuffed inside the one late in the game and took a safety. They got the ball back with seconds remaining but it couldn't do enough to pull out the win. Edwards finished 18 of 34 for 139 yards and the score in the loss. The Bills three headed monster at halfback combined for 14 rushes for just 38 yards. The defense came up big most of the game to keep the Bills in it. They had three sacks including what could have been a big one late in the game by Bryan Scott who played a lot of linebacker in this loss. Bills Blitz.

Poz Hurt In Loss: Paul Posluszny injured his knee in today's loss to the Dolphins. He jogged into the locker room and then came back on the field before going off. Chan Gailey said the injury may or may not be serious. The other obvious injury was to Cary Harris who pulled his hamstring in the loss. Injury Page.

Weather Looks Better: It is looking like the weather for today's season opening game will be ok afterall. Original forecasts had rain for the game but now it looks like any showers will come in overnight and be out of the way early in the morning. The game should be played under mostly to partly cloudy skies with temperatures in the mid to upper 60s. Winds will be out of the West Southwest at around 20mph. We will be tweeting from the parking lot before the game and during the game from the Ralph. A bit of good news for the Bills, the Dolphins will be without LB Channing Crowder.


Saturday September 11, 2010


Opening Day Tomorrow: After a long offseason and hard work over the summer, the Bills take to the field tomorrow for opening day. The matchup against the Dolphins will give them a sense of where they are at in this very young rebuilding project. Bills Daily will be at the game and tweeting from inside the Ralph! Our usual post game coverage including injury updates, our Bills Blitz, and grades will be up later than usual since we will be at the game but should be up sometime Sunday evening.


Friday September 10, 2010


Couldn't Wait For Mitchell: Chan Gailey told the media today that Kawika Mitchell would have been sidelined quite a few weeks and they just couldn't wait for him. That is why he was placed on season ending injured reserve.

Torbor, Coleman, Ayodele Won't Play: Reggie Torbor and Antonio Coleman did not participate in practice today although they did do a few things on their own on the sidelines. Chan Gailey said they won't play on Sunday. He also said newly signed Akin Ayodele won't be ready to play this week and will be inactive. Injury Report.

Mitchell On IR: Kawika Mitchell was placed on injured reserve today ending his season before it started. He hurt his foot in practice on Wednesday and underwent more tests yesterday and the worst fears were realized. The team is decimated at linebacker and quickly added Akin Ayodele to the roster. He is a nine year veteran who was released last month by Denver. He started 15 games last year for defensive coordinator George Edwards in Miami last year. Before Miami he played in Dallas and Jacksonville. He is very good against the run and very familiar with both inside spots in the 3-4 defense.Depth Chart.


Thursday September 9, 2010


Mitchell Likely Out: The injury news is not good regarding Kawika Mitchell. Chan Gailey said he's doubtful with a sprained foot. He suffered the injury Wednesday in practice and was not in attendance for Thursday's session. He was undergoing more tests indicating it may be a severe injury. The team's injuries are all to linebackers right now as Reggie Torbor and Antonio Coleman did not practice again today and are unlikely to play. The good news on the injury front is that Jairus Byrd is likely to play after practicing for a second straight day. The Dolphins added Brandon Marshall to the injury report but he practiced fully. Injury Report.

One Returner Policy: Chan Gailey said after practice today that the team will pick it's kick and punt returners and likely stick with the same guy at least for that game. He has yet to decide on who will return kicks this week. C.J. Spiller is on top of that depth chart but since he's the starting running back they may go elsewhere. I would guess Leodis McKelvin would be the logical choice but they do have many options. Roscoe Parrish in all likelihood will return punts. Gailey also confirmed that Steve Johnson is the number two wide receiver. Depth Chart.

Game Preview: The new look Bills finally hit the field for real on Sunday as the Miami Dolphins come to town. The rivalry isn't what it once was but the Ralph will be packed and the crowd will be in a frenzy since its opening day. It will be interesting to see how the Bills react and play especially the new 3-4 defense that has been vulnerable in the preseason. Game Preview.


Wednesday September 8, 2010


Three Linebackers Hurt: The Bills are hurting at linebacker as Kawika Mitchell joins Reggie Torbor and Antonio Coleman on the sidelines. Mitchell was limited today with a foot injury that was not known prior today to the media. Coleman and Torbor missed practice with a chest and hamstring injury respectively. Jairus Byrd participated fully. Leodis McKelvin and Terrence McGee practiced and are not on the report. Injury Report.

Spiller #1: Chan Gailey confirmed that C.J. Spiller is the starting running back. He has shown he is a very good player and has a chance to be for a very long time. He is starting because he has gotten more reps than anyone else and has done a good job, so he's earned the spot. Gailey feels they have three starters at tailback and they make them rank them but they all are going to play and be valuable members of the football team. He will try to use them in a lot of different ways as the season goes on. They do want to be very smart with how they handle Spiller especially early in the year. They want to watch his snaps but it shouldn't be an issue because of the backs they have. Depth Chart.

Jackson Will Play: Chan Gailey thinks Fred Jackson will play although he will be a hampered a bit. They did a good job protecting the hand and he is practicing so he should play. Jairus Byrd is practicing and doing better everyday. They will determine later in week if he'll be able to play. Reggie Torbor and Antonio Coleman did not practice today. Torbor is struggling in his return from injury and is less likely to play if he can't stay on the field. Leodis McKelvin and Terrence McGee are back on the field today and should practice fully tomorrow and Friday and play on Sunday. Injury Page.

Captains Picked: The players have picked the team captains for this year and they are Trent Edwards, Chris Kelsay, Brian Moorman, Lee Evans, Marcus Stroud, and George Wilson. They picked two offensive, two defensive, and two special teams players to be the leaders of the team.

Bills Add Practice Squad Player: The Bills rounded out their practice squad by adding TE DajLeon Farr to it. He was an undrafted free agent who spent the summer with the Cowboys. He is more of a receiving tight end but he gives them insurance at a position that is low on numbers until Shawn Nelson comes back from his suspension. The team has also waived Derek Schouman from injured reserve. He was placed there after being waived/injured on cutdown day. Practice Squad.

Media Day: Wednesday is the weekly media day in the NFL as the coaches and top players meet with the media from their town and their opposition's town. We should find out today if indeed C.J. Spiller is the number one back as has been reported. The team hits the practice field after having their usual day off on Tuesday. We should no more about the availability of Terrence McGee and Leodis McKelvin after practice. We will be updating our injury page with the first injury report of the season later today. This latest news page will be updated with snippets from Coach Gailey's press conference and more as part of our media day coverage.


Tuesday September 7, 2010


Fitz #2; Spiller #1? Chan Gailey admitted the obvious yesterday by saying Ryan Fitzpatrick is the number two quarterback. The weekly game release also lists C.J. Spiller as the number one running back and Fred Jackson and Marshawn Lynch as co-number twos. This may be more of a result of Jackson's injury situation than Spiller actually being number one. A couple of weeks ago Gailey said the depth chart hasn't changed at the position despite the solid play of Spiller in preseason games. Depth Chart.

Season Ticket Sales Down: The Bills have released the final season ticket figures and they aren't pretty. The Bills old 43,295 season tickets which is 20% off last year when they topped 55,000 season tickets. It still is the fifth highest total since 1995. Many factors figure in the decline including a raise in ticket prices, the economy, and the lack of winning football over the last decade. Two games are soldout including Sunday's opener. The Jets game is close to selling out but the other four home games have plenty of tickets available.

Hopes High For Jackson: Reggie Torbor, Fred Jackson, and Jarius Byrd all practiced again yesterday and there is a chance that they all may play on Sunday. Chan Gailey said Jackson is doing well and they are protecting his hand well. Torbor practiced some but did not finish and Byrd is progressing well. Jackson is the most likely to play of the three. They will see how Torbor practices later this week to see if he can go. With Byrd it depends what kind of game shape he's in. Injury Page.


Monday September 6, 2010


Harris Added: The Bills have added Dominique Harris to the practice squad a day after they released him. This move was not a surprise as it was expected once he cleared waivers. Practice Squad.

McIntyre Gets Extension: The Bills have confirmed that they have given FB Corey McIntyre a two year contract extension worth $1.85 Million.

Top Corners Not Practicing: Three players did not practice today including both starting cornerbacks Terrence McGee and Leodis McKelvin. McGee had his foot iced up during Saturday's practice but Chan Gailey said it was minor. McKelvin has had a wrap on his hamstring after the Bengals preseason game but has been practicing. Cordaro Howard was also watching from the sidelines today. The two newest Bills, TE David Martin and G Kraig Urbik, were on the field with their new teammates.

Two Added To Practice Squad: The Bills have added two more players to the practice squad leaving two spots open. They have added LB John Russell and WR Paul Hubbard. Russell was an undrafted free agent with the Packers this year before going on to Kansas City. He was released in their final cuts. Hubbard has spent the last two seasons on practice squads of the Raiders and Browns. He was a sixth round pick of Cleveland's in 2008. Practice Squad.

Brown Pissed: Levi Brown went from surprised to pissed, according to his twitter post, when he wasn't added to the Bills practice squad. He didn't think he'd be in this position. It sounds like the Bills have told him they won't offer him a spot on the squad depsite the fact that there are four openings.

Urbik Was In High Demand: It appears the Bills aren't the only team that wanted Kraig Urbik when he was released by the Steelers. The Bengals, Jets, Dolphins, and Broncos also put waiver claims in for the second year guard but the Bills were awarded him based on a higher position on the waiver board because of a worse record than the other four last year. Let's hope they find a diamond in the rough.

Regular Season Mode: The Bills are now in their regular season practice schedule as they will be on the field this afternoon for a 2:15 practice session. They have their usual day off on Tuesday before going back to work on Wednesday which is media day. Head coaches for both teams meet with their media and the opposing team's media along with top players from both teams. Thursday afternoon brings another practice as does Friday morning. Saturdays during the season are travel days for road games and walk through days for home games.



---
News Archives index
Latest News Section
Archives Library
Back to Bills Daily Homepage