Bills End Preseason 2-2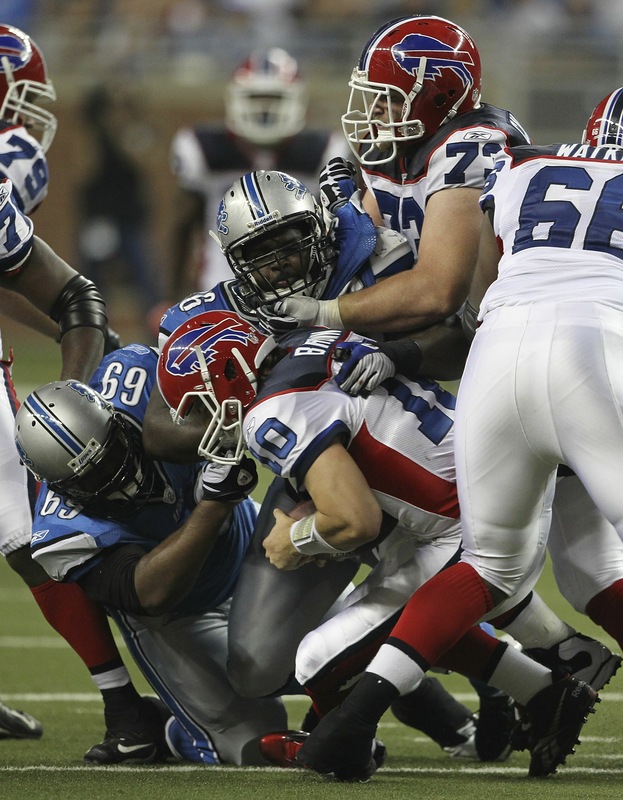 More Roster Moves: The Bills added two players to their roster, released two, and placed four players on the practice squad. The newest Bills are TE David Martin and G Kraig Urbik. Martin is an eight year vet who missed last year with a knee injury. He was released by Miami yesterday. He has 152 catches for 1,519 yards and 14 touchdowns in 101 career games, including 43 starts. Urbik was a third round pick of the Steelers in the 2009 draft but was inactive for every game last year. He was released yesterday as well. To make room they released Dominique Harris and J.P. Foschi. Harris is a candidate for the practice squad. Four players released yesterday were officially back with the team as Naaman Roosevelt, Joique Bell, Jason Watkins, and Rodney Ferguson were added to the practice squad. It is a bit of a surprise that Levi Brown isn't on the squad at this time. Front Office Page.

Practice Squad Today: The players have the day off today but the coaching staff will be busy with the front office assembling the eight man practice squad. Expect most of the squad to be filled with players that have been released by the team. Good candidates include Levi Brown, Joique Bell, Rodney Ferguson, Sean Allen, Naaman Roosevelt, Andre Ramsey, and Jason Watkins. We will have the complete list this evening on the website. When it comes out we will post it for those of you following us on twitter.


Saturday September 4, 2010


Edwards Officially Named The Starter: Chan Gailey finally put an end to the charade and named Trent Edwards the starting quarterback. He was the favorite at the beginning of training camp and given all the first team reps this summer. ESPN reports that Ryan Fitzpatrick is number two and Brian Brohm number three.

Byrd, Torbor Return To Practice: The Bills got good injury news as they practiced today as they get ready for the season opening game next Sunday against Miami. Jairus Byrd and Reggie Torbor both returned to practice and there is a chance that one or both of them will be ready to play against Miami. Terrence McGee had his foot wrapped in ice but Chan Gailey said it's nothing. Injury Page.

Roster Breakdown: The turk was much worse to the offensive bubble players than the defensive bubble players for the Bills. The roster as it currently is (it is never final) has 28 defensive players and 22 offensive players along with the three specialists. Five offensive linemen were cut today leaving the team with just eight players and only one backup guard. They will carry just four running backs including the fullback. There is only five receivers on the roster as well. On defense they are keeping seven along three man defensive line and a whopping 10 linebackers. They are also keeping 11 defensive backs including six safeties. Depth Chart.

Bills Get Roster Down To 53: The Bills released 19 players today to get the roster down to 53. The biggest surprises were at wide receiver where they only kept five including two undrafted free agents. James Hardy, Naaman Roosevelt, and Chad Jackson were among the players released. Donald Jones and David Nelson made the squad. The team is keeping just three halfbacks as both Joique Bell and Chad Simpson were released. Brian Brohm and Ryan Fitzpatrick are both staying as Levi Brown was released but should make the practice squad. Keith Ellison and Arthur Moats both made the team at inside linebacker. Also released were Kirk Chambers and Ellis Lankster. Five draft picks, five undrafted free agents, and five NFL free agents are on the roster. Derek Schouman was waived/injured meaning the team will have just two tight ends until Shawn Nelson's suspension is over. Jon Corto was placed on the Reserve/PUP list meaning he's out at least the first six weeks. Complete Cut List.

Jackson Among Cuts: WGR reports that Chad Jackson, Ellis Lankster and Chad Simpson are cut as they no longer had lockers. At practice today and confirmed to have made the team by WGR are Donald Jones, John McCargo, Brian Brohm, Kawika Mitchell, Keith Ellison and Arthur Moats. Still waiting on the official list of cuts from the Bills.

Roster Rumors Include Brown, Hardy Out: The Bills have yet to officially announced their cuts but sources on twitter and the internet say that the team will release QB Levi Brown and WR James Hardy. They will likely hope he clears waivers and put him on the practice squad. Naaman Roosevelt now tweets he made the team after earlier tweeting he didn't They also reportedly will keep WR David Nelson and release RB Chad Simpson. Nelson was an undrafted free agent from Florida who had a stellar camp and it is not a surprise he made the team. If Nelson and Roosevelt made the team than James Hardy is likely gone. If they do decide to carry four running backs then undrafted free agent Joique Bell would make the team. Our Roster Projection.

Cutdown Day: Today is the day that has players all around the NFL nervous, it's cutdown day. The Bills need to get their roster down to 53 players by 4pm. 22 players will be cut unless any are put on injured reserve or PUP. There really are only a few spots up for grabs, mostly final depth positions at wide receiver, linebacker, offensive line, and running back. The team will then get to add up to eight players back on the practice squad on Monday. They likely will add several players they release today. They may also look at players released on other teams to add to the roster as well. They especially need help at tight end and offensive tackle. Everyone is talking about the pending release of T.J. Houshmanzadeh but it would be a pipe dream thinking he would end up in Buffalo. He will have several better options for more money. Check back later for the complete list of players released. It appears local favorite Naaman Roosevelt will not make the team as he tweeted this morning that he will have to find another home.


Friday September 3, 2010


Roster Prediction: There were a few roster spots up in the air going into last night's game and there are still going to be a few tough decisions to make for Chan Gaily and his coaching staff. The final few spots will be tough decisions. Do you keep Joique Bell or Chad Simpson? Does James Hardy make the team? Which three quarterbacks do you keep? We give you what we think the 53 man roster will look like. Roster Projection.

Who Helped Themselves: Not that he needed to but Trent Edwards helped his case for the starting job he locked up last week. He went 4 for 4 in his only drive leading them to a field goal. Chad Jackson continues to make a run at a starting job with a game high five catches for 59 yards. Drayton Florence may have locked up the starting job with his interception return for a score. Keith Ellison gave the coaches something to think about with a team high six tackles, a quarterback hit, and fumble recovery.

Who Hurt Themselves: It starts with Brian Brohm, he will be cut. He finished 7 of 15 for 78 yards and an interception with a QB rating of 34.9. Bottom line is he did not lead the team to a touchdown once in the preseason. He didn't get any help from his offensive line, there play was abysmal and Chan Gailey said so after the game. Brohm actually led the team with 34 yards rushing as he was running for his life. Joique Bell and Chad Simpson didn't help themselves too much in a fight for the final running back spot. They both averaged two yards a carry but again the line was horrendous. Levi Brown got a lot of work in this game and had an interception but did lead a garbage time touchdown drive. He didn't do much better than Brohm. James Hardy didn't do enough to make the coaches keep him and had a 74 yard touchdown reception called back by a holding penalty on Jason Watkins who punched his own ticket out of town. John McCargo had a chance to make the team but hurt it with just two tackles, an offsides penalty, and getting knocked back on a touchdown run late in the first half. TE J.P. Foschi made two horrible drops, the second one resulted in an interception.


Thursday September 2, 2010


Bills Lose To Lions 28-23: The Lions scored three second half touchdowns to gain a 28-23 come from behind win over the Bills in the preseason finale. The Bills opened up a 16-0 lead in the first half thanks to a Drayton Florence 40 yard interception return for a score and three Rian Lindell field goals from 47, 50, and 41 yards out. Trent Edwards and the starting offense played one series and went 65 yards in 13 plays to Lindell's first field goal. Edwards was 4 for 4 on the drive. Brian Brohm followed him and struggled as the offensive line did a terrible job after the starters went out. Levi Brown followed him and through an interception that was returned 102 yards for a score. His last drive was a 70 play 13 yard drive to a Chad Simpson one yard plunge at the end of the game to make the final score close.

No Spiller Or Fitzpatrick: The Bills will not be playing Ryan Fitzpatrick or C.J. Spiller tonight. Gailey said he's resting Spiller for the regular season after he had a heavy workload in the past two weeks. Marshawn Lynch will start and play about 12-14 reps with the rest of the first unit. The coaches will get a long hard look at Joique Bell and Chad Simpson who are likely battling it out for a roster spot. Fitzpatrick isn't playing so Brian Brohm could get the majority of the action tonight after Fitzpatrick got it last week. It appears this is make it or break it time for Brohm. If he doesn't play lights out he may very well be cut. Cornell Brown, Fred Jackson, and Ed Wang remain sidelined by injury.

Preseason Wraps Tonight: The long summer comes to an end with the final preseason game tonight at 6:30pm in Detroit against the Lions. The starters are not expected to play long as Chan Gailey said they will play one quarter at the most. The Lions starters will only get a cameo appearance. There are a lot of jobs on the line for backup positions as the starters are generally set. The backup quarterback job is one of those positions it will be interesting to see if Brian Brohm will be the first one off the bench since he didn't play a lot last week. The battle for the final wide receiver spots and some backup positions at linebacker are also something to look at.


Wednesday September 1, 2010


Bills Shoot Down Leinart Rumors: Chris Brown reports on the team's website that the rumors of Matt Leinart coming to the Bills are erroneous. The website has confirmed that the Bills have not had any discussions with Arizona and don't aniticpate any discussions will take place in the future.

Bills Interested In Leinart? Adam Schefter tweeted that three teams have at least discussed the possibility of trading for Matt Leinart and the Bills are one of them. He also says the Giants and Raiders have also shown interest. Leinart has lost the starting job in Arizona to Derek Anderson and reports say he may be on the trading block. Do you think the Bills should go after Leinart? Take our poll on our homepage and let us know!


Tuesday August 31, 2010


Bills Getting Healthier: The Bills had four players return to practice today as Marshawn Lynch, Fred Jackson, Cary Harris, and Ed Wang all practiced for the first time in a while. Lynch came through it ok after taking part in conditioning drills on Monday and he will play on Thursday night. Jackson got his cast off and tested it out with a bulky brace on. He could catch passes with it but couldn't carry the ball with the new brace. He hopes to get fitted for a different brace and expects to be ready for opening day. It all depends on how much pain he can handle and he does have a high tolerance for pain. Wang was back for the first time in four weeks with a huge cast on his surgically repaired thumb. He isn't ready to play yet. Harris is back after being out a couple of weeks with an undisclosed injury. Jairus Byrd remains away from the field but Chan Gailey hopes he will be back by opening day. Kawika Mitchell missed practice today as he was getting a little issue checked out. Injury Page.

Brohm To Play More: It appears the battle for the backup QB job is still alive as Chan Gailey indicated yesterday that Brian Brohm will play more this week than he did last week. Gailey said they meant to get him more reps against Cincinnati but the Bengals held on to the ball more late in the game than they thought they would.

Spiller Stays Put: Chan Gailey was asked if C.J. Spiller had moved up the depth chart based on his play the last two weeks. The coach said no and that it remains the same when the injured players return. He did say they plan on using the rookie like they planned to which means he will be on the field plenty. Gailey is likely to use two backs on the field at the same time a lot. Depth Chart.


Monday August 30, 2010


Lynch May Play Thursday: The Bills held a walk through practice today and at the end of it Marshawn Lynch did some conditioning drills and some running. Chan Gailey said depending on what he does tomorrow he expects him to play against Detroit Thursday night. Lynch wasn't so sure however but did say if he doesn't play against the Lions he will be ready for opening day. Injury Page.

Bills Release Three: The Bills got their roster down to 75 men by releasing three players today. 7th round draft pick OT Kyle Calloway was the surprise of the group as the team doesn't have much depth at the position and he was a draft pick. The other two players released were DT Lonnie Harvey, who was considered the one true 3-4 nose tackle on the team, and recently signed WR Aaron Rhea. Depth Chart

Short Work Week: It is a very short work week for the Bills as they get ready for the preseason finale against Detroit on Thursday. They have practices at One Bills Drive today and tomorrow. On Wednesday, they will have a session closed to the media before leaving for Detroit. The coaching staff also must decide how to get the roster down to 75 players tomorrow. The roster is currently at 78, so three roster moves will need to be made.



---
News Archives index
Latest News Section
Archives Library
Back to Bills Daily Homepage