Bills Fall To 0-5 For First Time Since 85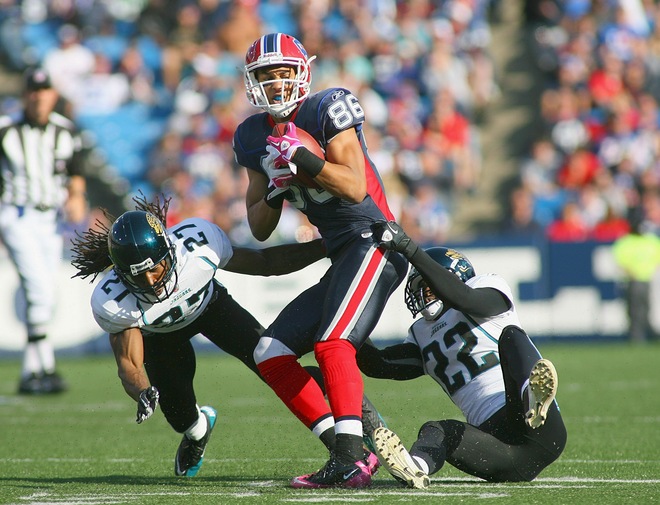 Bills Lose 36-26: Mercedes Lewis caught two touchdown passes as the Jaguars came from 10 points down to defeat the Bills 36-26 in front of a non sellout crowd at Ralph Wilson Stadium. The Bills forced three turnovers in the first half and opened up a 13-3 second quarter lead before the Jaguars came from behind to take control of a tied game after half time. The Bills came out of the game without any new injuries but they went to 0-5 for the first time since 1985. They also gave up 30 or more points in four straight games for the first time in team history. Bills Blitz.

No New Injuries: There were no serious injuries suffered in the loss to the Jaguaars according to Chan Gailey. They seemed to come out of the game healthy. Injury Page.

Weather Is Beautiful: It is a beautiful October day in Western New York for football and Bills Daily will be tweeting comments from inside the Ralph during today's game with the Jaguars. Temperatures during the game will hover in the mid 60's with just a little wind out of the West Southwest at 10mph. The game will be played in brilliant sunshine.


Saturday October 9, 2010


Four Out: The Bills will be without at least four defensive players, maybe five when they face the Jaguars tomorrow. Terrence McGee, Bryan Scott, Keith Ellison, and Arthur Moats have been ruled out of the game and Ashton Youboty is questionable at best after practicing on a limited bsis late in the week with a hamstring injury. Shawn Nelson was added to the injury report late yesterday as his groin muscle may still be bothering him. The team has until 4pm today to activate him or they will get the one wee exemption from the league. Injury Page.


Friday October 8, 2010


Rebuilding Project: Nobody at One Bills Drive will admit to the team being on a rebuilding project but Buddy Nix came as close as anyone has when he addressed the media yesteday for the first time since August. Nix wouldn't use that word but did say it will take a while to get this thing turned around since it has been bad long before he arrived. He did say it would happen however.


Thursday October 7, 2010


Youboty Practices: Ashton Youboty was back on the practice field giving hope that he may be able to play on Sunday. He was limited in his workout but did practice after missing Wednesday's practice with a hamstring injury. If he can't play the team will go with just three cornerbacks. Keith Ellison and Bryan Scott may join Terrence McGee and Arthur Moats on the sidelines for Sunday's game. Neither practice again today with knee injuries and Chan Gailey indicated they likely won't play but shouldn't miss too much time. Injury Page.

Game Blacked Out: Sunday's game became the first blackout in 27 games for the Bills. It was made official when the game wasn't soldout by 1pm today. The last non sellout was in the 2006 season.

Looking For First Win: The Bills have one more game before the bye week and they would love to go into their two week break with their first win of the season. It will be tough going against a Jaguars team that is coming off a major upset win over the Colts. It will be the return of Trent Edwards who comes back to Buffalo as the number two QB for Jacksonville. Game Preview.


Wednesday October 6, 2010


Bills Sign Player To Practice Squad: The Bills filled one of two openings to their practice squad. They added DE Ra'Shon Harris. He was a sixth round draft pick of the Steelers last year and spent time with the Panthers practice squad as well. He has two career tackles in two games.

Five Held Out: The Bills held five players out of practice today, Terrence McGee, Ashton Youboty, Arthur Moats, Keith Ellison, and Bryan Scott. McGee and Moats have already been ruled out for this week and it is highly doubtful Youboty will play. Andra Davis and Marcus Stroud returned to practice after missing last week's game. Stroud said he feels good and should play. Davis told some media that he has a torn labrum but will play through the pain. Leodis McKelvin is wearing a neck collar because of a crik in his neck but he is playing through it. Injury Page.

Jackson To Start: Fred Jackson will get the starting nod when the Bills play the Jaguars. Chan Gailey and Jackson both confirmed that he will get the majority of the reps at running back with C.J. Spiller also getting worked into the game.

RB Rotation: How will the reps be broken down now that Marshawn Lynch is gone? It will be interesting to see but one thing is for sure, Fred Jackson will now see his reps increase at running back after being the odd man out so far this season. It likely will give more time in the backfield for C.J. Spiller. Just signed Andre Anderson likely won't be in the equation and may not even be active this week. What do you think of the Lynch trade? Let us know by taking our poll on our homepage.


Tuesday October 5, 2010


Anderson Added: The Bills filled the roster spot vacated by Marshawn Lynch by signing RB Andre Anderson. He was with the team late in training camp before being released. He was added to the practice squad last month. There are now two open spots on the practice squad. He gives the Bills a third running back option. It was thought that they may leave Lynch's spot open to give to Shawn Nelson when he is activated from his suspension. Depth Chart.

Lynch Traded: Marshawn Lynch is no longer a member of the Bills. He has been traded to the Seahawks for a fourth round pick next year and a conditional pick in 2012. That pick is reportedly a 6th rounder than may go up to a 5th rounder depending on his production. The Bills were holding out hope they could get a higher pick for Lynch but ultimately settled on two picks. The Seahawks were interested in Lynch around draft time and the Bills reportedly had discussions with Philadelphia the last couple of days. It was becoming to burdensome to try and give the ball to three backs. This will allow more playing time in particular for Fred Jackson.

Blackout Likely: It appears fan apathy over the 0-4 start will begin to show at Ralph Wilson Stadium this Sunday. It appears they are definitely headed towards a blackout with around 12,000 seats remaining available for the game against the Jaguars. They would have to sell all those seats by the Thursday at 1pm deadline which is highly unlikely. It will end a streak of 26 straight games without a blackout. The team is also in extreme danger of having blackouts against the Lions, Browns, and Patriots. There is also likely won't be a full house in Toronto for the Bears game.


Monday October 4, 2010


Roster Move Made: The Bills did a slight shake up at the offensive tackle position today. They released Jamon Meredith and added Mansfield Wrotto, who was on the team's practice squad. He signed with the unit a week ago and was most recently with the Seahawks. Depth Chart.

Nelson, Stroud Back: Shawn Nelson rejoined the team today after his four game suspension ended for violating the league's substance abuse policy. He may not be ready to play however as he had surgery for a torn groin four weeks ago. The team doesn't have to make a roster move yet until Nelson plays and they could ask for a one week roster exemption. In other news, Marcus Stroud said he plans on practicing Wednesday. The team did not have a practice today. He missed last week's game with an ankle injury. Injury Page.

Lynch To Eagles? A report out of a Philadelphia area newspaper says that the Eagles have contacted the Bills about the availability of Marshawn Lynch. The Eagles lost RB LeSean McCoy to an injury yesterday. Lynch has been the subject of trade rumors ever since the team drafted C.J. Spiller.

McGee Out 2-4 Weeks: Terrence McGee will miss two to four more weeks after undergoing surgery on Saturday morning a source told the Buffalo News. He had a porcedure to repair a pinched nerve in his left leg. He could return as early as the game in Baltimore after the bye week but he is out again against the Jaguars on Sunday. Injury Page.

Thankful For The Small Things: The Bills may have hit rock bottom on the field yesterday but things don't look any better off the field. The new regime seems to be making similiar curious moves to the old regime like the re-signing of Chris Kelsay and the release of Trent Edwards. Tony Bogyo takes a look at the direction the team is heading off the field while looking at yesterday's terrible loss. It isn't pretty. Complete Story.



---
News Archives index
Latest News Section
Archives Library
Back to Bills Daily Homepage