Bills Lose Preseason Opener; Trade Evans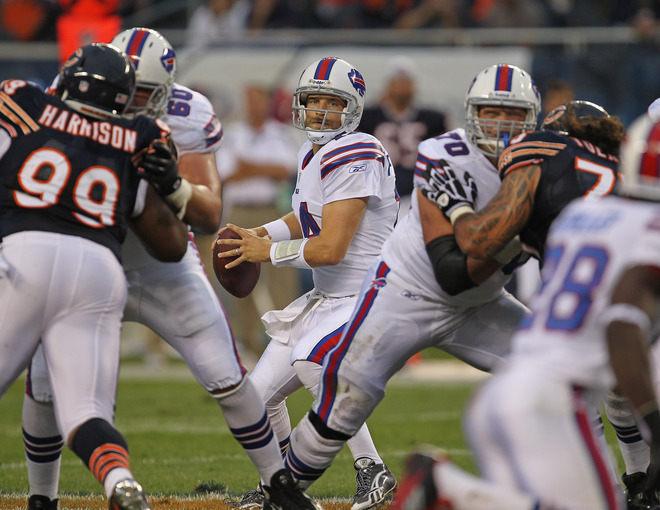 Who Helped Themselves: The Bills starters left the field with a 3-0 lead and several players really helped their case starting with Shawne Merriman. He had two sacks and his pass rush that drew a holding penalty led to a sack by Marcell Dareus who looked like he belongs in the NFL as well. Danny Batten helped his case with two sacks of his own. Ryan Fitzpatrick showed why he is the starter going 7 of 9 passing. Naaman Roosevelt continued his solid summer catching three bals for 26 yards. Longshot QB Joshua Nesbitt looked good in the wildcat running three times for 30 yards.

Who Hurt Themselves: There were several players that didn't help their case with the team. Donald Jones got the first crack at getting the #2 WR job vacated by the Lee Evans trade. He did not catch a pass and was called for offensive pass interference. Marcus Easley wasn't real comfortable with the football in his hands as he put it on the ground. It wasn't a good day for the backup QBs as both Levi Brown and Tyler Thigpen struggled. Thigpen is still trying to learn the offense as he has only had less than 10 days on the field. Brown completed only 7 of 15 pass and threw an interception. Despite pulling off an acrobatic interception, Aaron Williams got called for a penalty and was burned on a deep pass in his first NFL game. The team may have to look at another option at right guard as Kraig Urbik was awful in the game.


Saturday August 13, 2011


Bills Lose To Bears 10-3: The Bills went down to defeat in their first preseason game in Chicago 10-3. It was what you would typically expect from the first practice game with no offseason workouts. A sloppy game but the Bills starters left the field leading 3-0 on Rian Lindell's 44 yard field goal. Ryan Fitzpatrick was 7 for 9 in his limited action but the backups could do little offensively. The defense looked sharp as Shawne Merriman had two sacks and top pick Marcell Dareus added a sack as the Bills had nine sacks as a defense. Aaron Williams picked off a pass near the goal line. They appeared to get out of the game without any serious injuries. Chris White tweaked an ankle but did play some after the injury. Tomorrow we will break down who helped themselves and who hurt themselves with their effort in the loss. Injury Page.


The quickest way to get breaking news from Bills Daily is to

follow us on twitter!
Friday August 12, 2011
Evans Traded To Ravens: ESPN is reporting that the Bills have traded Lee Evans to the Ravens for a fourth round draft pick. The Ravens are confirming that they have sent a draft pick in the 2012 draft to Buffalo for Evans. The team obviously feels they are loaded with young talent at the position and this is another step in the rebuilding process. His contract expires after next season so it is unlikely he would have been here beyond that or even play for the team next year. A 4th round pick isn't a lot for a proven talent at receiver but there is no way they would have got more for him. What do you think of the trade, was it worth it? Take our poll on our homepage and let us know! Depth Chart.
Bills Leave For Chicago: The Bills will hold a morning walk through today before leaving for Buffalo and then a flight to Chicago for tomorrow night's preseason game. Yesterday's practice was shorten about a half an hour to keep the players fresh for the preseason game. Torell Troup returned to practice with a huge cast on his hand and now he is expected to see some action tomorrow night. Marcus Easley and Kelvin Sheppard are also expected to see some reps. Not practicing yesterday were Roscoe Parrish, Shawn Nelson, Justin Rogers, and Robert Eddins. The starters will likely go around a quarter and the game plan is expected to be simple as there has been just two weeks of practice since last year ended. All four quarterbacks are expected to play including Brad Smith. Injury Page.
Evans Rumors: The Lee Evans trade rumors are picking up more steam. Adam Schefter reports that the Bills are indeed open to trading him and some people think a deal will be done within the next two days. Most fans are against trading Evans. The team has a lot of young talent and a log jam at the receiver position but if they move Evans they lose a lot of experience that the young players can learn from. The Buffalo News reports that Evans told his teammates he expects to be traded.
Thursday August 11, 2011
Parrish, Troup Out: Roscoe Parrish re-injured his hamstring during practice last night and has been ruled out for Saturday's preseason opener in Chicago. Torrell Troup will also miss that game as he has a broken bone in his hand. His hand will be put in a cast and when the swelling goes down he is expected to return to practice. Craig Davis received a lot of playing time and left practice early after getting winded. Several banged up players returned to practice including Chris Kelsay, Drayton Florence, Demetrius Bell, Marcus Easley, and Kelvin Sheppard. Scott Chandler missed practice because the birth of his child. Shawn Nelson and Justin Rogers remains sidelined. Jim Kelly was on hand last night and saw the defense dominate once again especially in run defense. Injury Page.
The quickest way to get breaking news from Bills Daily is to

follow us on twitter!
Wednesday August 10, 2011
Evans Rumors: Trade rumors have begun to circulate involving Lee Evans. The only team mentioned by name are the Arizona Cardinals. A local TV station there reports they are interested. National Football Post reports that teams are sniffing around about him. None of this matters if the Bills don't want to trade him. They may be thinking about it however. He is due to make good money this year and the team is loaded with young talent at the position. They may move him so they don't risk losing a young, talented player especially if they think Evans is on the downside of his career. Evans is still valuable however and worth more to the Bills than the mid round pick they would probably get for him. What do you think? Take our poll on our homepage and let us know!
Tuesday August 9, 2011
Bills Very Thin At Offensive Tackle: The Bills aren't the most talented team in the league but there are certain areas that they have less depth than others, offensive tackle is one of those areas. The starters are not considered that strong with Demetrius Bell on the blind side and Erik Pears on the right side. Bell is currently sidelined with a shoulder injury that will keep him out a few days. In his place Ed Wang got the first team reps yesterday and the offense crumbled as Ryan Fitzpatrick had no time to throw. The always cander Chan Gailey admitted they don't have depth at tackle but said that is what training camp is for, to develop it. The question is, do they have enough talent on the roster to develop? They obviously looked for help in free agency and came up empty in their pursuit of Tyson Clabo who went back to Atlanta. There isn't much left on the free agent market but the Bills will likely scour the waiver wire for a serviceable tackle. Depth Chart.
Monday August 8, 2011
Fisticuffs In Practice: There were two fights during Monday's practice including a doozy of a fight between T.J. Langley and Isiah Thompson. Geoff Hangartner and Lionel Dotson also got into a scuffle. It was a day dominated by the defense as by all accounts the offense had a rough day.
Troup Injured: Torrell Troup left practice early today with a hand injury. Chan Gailey did not know the seriousness of the injury but it was bad enough to take him off the field for evaluation. Roscoe Parrish missed his second straight practice and Chris Kelsay sat today more to rest general soreness. With the team off tomorrow, Gailey figured it was a good time to let some bumps and bruises heal. Antonio Coleman was new on the did not practice list. Also not practicing were, Demetrius Bell, Drayton Florence, Donald Jones, Justin Rogers, Kellen Heard, Marcus Easley, and Shawn Nelson. Injury Page.
---
News Archives index
Latest News Section
Archives Library
Back to Bills Daily Homepage