Bills Lose 2nd Straight Preseason Game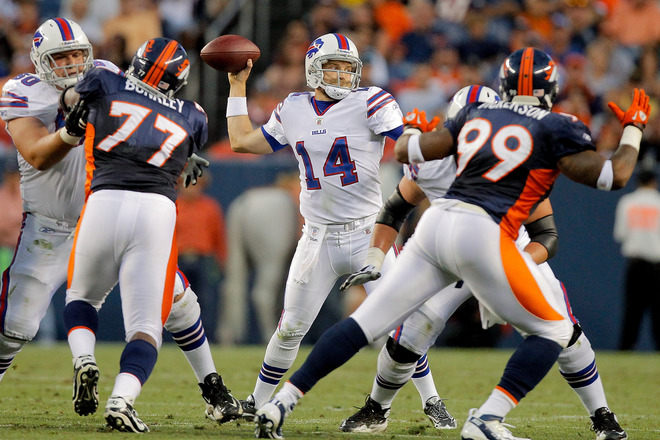 Who Helped Themselves: Not too much went right for the Bills and very few players stood out. Fred Jackson looked solid running the ball and in pass protection. Marcell Dareus had another sack and looked sharp. Not much else went right for the Bills and nobody else really helped their case.

Who Hurt Themselves: Many players really didn't help their cause in the loss to Denver. C.J. Spiller got the start and didn't deliver. He didn't run well and continues to struggle badly in pass protection. The offensive line looked bad especially Demetrius Bell and Andy Levitre who started before giving way quickly to Chad Rinehart. Levitre returned and played into the 2nd half as it appears he may have lost his starting job. Ryan Fitzpatrick let his struggles in training camp follow him into the game as he struggled leading the team to just three points in one half of action.

Bills Play Poorly In 24-10 Loss:The Bills starting units struggled both offensively and defensively as the Denver Broncos beat the Bills 24-10. Former Bill Willis McGahee scored twice as the Broncos built a three touchdown lead. The Bills finally scored their first touchdown of the preseason in the second half when Tyler Thigpen hit Fulton Huggins for a touchdown. We will give you our who helped themselves and who hurt themselves blurbs later in the day.


Saturday August 20, 2011


Moats, White, Jones Hurt: The Bills suffered three potentially serious injuries in tonight's game against Denver. Donald Jones went out of the game in the first half after a helmet to helmet hit in the 2nd quarter. He was down for a few minutes before walking off under his own power. 5th round pick Johnny White took a shot to the head on a hard tackle by former Bill Mario Haggan. He was taken off on a board and then on a cart with his helmet on but he did have use of his arms. He was taken to the hospital but cleared and travelled home with the team. Arthur Moats left the game in the third quarter as he was carted off. Injury Page.

Bills Set For Denver: The Bills are in Denver for tonight's 8:30 kickoff. The starters are expected to play a little more than last week and the second unit should get more playing time as well. Chan Gailey said they played two series last week and he'd like them to get three series tonight. He also wants to get the backups more playing time as they try to develop conditioning towards the season. Roscoe Parrish and Shawne Merriman are banged up and have been ruled out of the game, also likely out are Justin Rogers, Kelvin Sheppard, Kellen Heard, Chris Hairston, Craig Davis, Shawn Nelson, and Chris White. None of these players practiced most or all of the past week.

Follow us on twitter for in game commentary and pre and post game news!
Friday August 19, 2011
Merriman Story Appears Closed: Bills Daily doesn't usually comment on rumors but this one was so big we have to at least address it. Buffalo Sports Daily reported yesterday that Shawne Merriman was stopped at the border and had steroids taken away from him but was not arrested. If you follow me on twitter you know we retweeted Merriman's tweets on the subject where he says nothing was taken away from him at the stop. The Buffalo News spoke to Merriman and he re-iterated it was a routine border stop. The border patrol and the U.S. Attorney's office tells the paper that their are no charged pending on Merriman or any member of the Bills. That means any information obtained at the stop will not be released for privacy reasons effectively ending the case. The original story by Patrick Moran of Buffalo Sports Daily said that Merriman wasn't arrested because possession of steroids is not illegal. Mike Florio of Pro Football Talk says it is illegal and the fact that he wasn't arrested must mean he was not busted for steroids. Merriman was suspended four games back in 2006 for steroids use. He blamed that positive test on a supplement he was taking.
Thursday August 18, 2011
Merriman, Parrish To Sit Saturday: The Bills broke camp after an afternoon practice session at St. Johns Fisher. It is the last camp at the college under the current deal but a new longterm agreement may be in the works according to Russ Brandon. The defense was definitely ahead of the offense throughout the camp but they leave Pittsford, NY without any serious injuries. Roscoe Parrish and Shawne Merriman are banged up and have been ruled out of Saturday's preseason game in Denver. Parrish returned to practice but on a very limited basis as he is battling a hamstring injury. Chan Gailey said if it was the regular season Merriman would play but they will hold him out. He has not practiced most of the week with a minor groin straight. Also sitting the final practice of the camp were Justin Rogers, Kelvin Sheppard, Kellen Heard, Chris Hairston, Craig Davis, Shawn Nelson, and Chris White. Injury Page.
Rookie Kicker Released: The Bills have released rookie kicker Chris Hazley. He had no chance at unseating Rian Lindell for the job and he has not been practicing this week. Front Office Page.
Merriman Sits Last Night: The team continues to be very cautious when it comes to Shawne Merriman. He sat out practice last night again to rest some muscle tightness and his Achillies. New players sitting out last night were Mansfield Wrotto, Dwan Edwards, and T.J. Langley. Roscoe Parrish returned to the field but was very limited as he is battling a pulled hamstring. Zack Pianalto and Kamar Aiken also returned to practice. Still sidelined are Craig Davis, Kelvin Sheppard, Chris White, Chris Hairston, Shawn Nelson, Justin Rogers, and Chris Hazley. Injury Page.
Levitre Back With 1s: It appears to be a rotation at left guard as Andy Levitre was back with the first unit yesterday for the morning walk through and the night practice. He also took a few snaps at center to get ready in case he has to play there in an emergency like he did in Minnesota last year. Depth Chart.
Williams Contract Talks: The Bills and Kyle Williams have opened up contract talks on an extension. He is due to make an average of $3.6 Million a year over the last two years of his current contract. He says he wants to stay in Buffalo and finish the job he started. He is really coming into his own and the team has plenty of room under the salary cap to extend some of their better players. Look for them to finish this extension then possibly move on to extending the contracts of Stevie Johnson and Ryan Fitzpatrick. Their contracts both expire at the end of this year.
The quickest way to get breaking news from Bills Daily is to

follow us on twitter!
Tuesday August 16, 2011
OL Shocker: The Bills have made a change to the offensive line but not the one that we all thought. Instead of benching Kraig Urbik, who played awful against Chicago, Andy Levitre was with the 2nd team at left guard and Chad Rinehart took first team snaps at left guard while Urbik stayed at right guard. Chan Gailey said Rinehart has had a good camp and deserves a shot. He said they will see how it plays out. Everyone is perplexed by this, if Rinehart is going to get a shot why not left guard in place or Urbik? What do you think of the move? Take our poll on let us know! Depth Chart.
Merriman Leaves Practice Early: Shawne Merriman did not finish practice this afternoon, he said he had some muscle tightness. Kyle Williams also left the field but did return. Cordaro Howard was being looked at by trainers at one point in practice as well. Sitting out today were, Craig Davis, Roscoe Parrish, Kelvin Sheppard, Chris White, Chris Hairston, Shawn Nelson, Zack Pianalto, Justin Rogers, Chris Hazley, and Kamar Aiken. White will miss a while with his ankle injury. Chan Gailey said he got rolled up on good in the Bears game and will miss at least two to three weeks.
Nesbitt Moved: The Bills have decided to move Joshua Nesbitt from quarterback to safety. This move has been anticipated and planned for a while. They were waiting for Tyler Thigpen to get up to speed before making the move. Nesbitt was the fifth quarterback in camp and most teams use four. He did well out of the wildcat offense on Saturday. Depth Chart.
Davis Hurt In Practice: The Bills practiced in the rain last night without several players. Craig Davis left practice after tweaking something. Chan Gailey could not remember what part of his body was tweaked but said he will be out a while. The receiving corps is thinned out with the trade of Lee Evans and Roscoe Parrish remains sidelined with his muscle pull. Kelvin Sheppard seems to have taken a step back with his hamstring injury. He practiced some last week but did not make the trip to Chicago and remained sidelined last night. Gailey said he's still not 100% and they want to wait until he's full speed before they cut him loose. Chris White left the Bears game with an ankle injury and did not practice on Monday. Fellow draft pick Chris Hairston did not play on Saturday and remained sidelined as well. The other non participants were Shawn Nelson, Zack Pianalto, Justin Rogers, and Kamar Aiken. Injury Page.
Monday August 15, 2011
Bills Release Maybin: The Aaron Maybin era is over, in what may go down as the biggest bust in franchise history the linebacker is gone from the Bills. In two season in Buffalo he had 24 tackles and no sacks. He just was never big enough to use his speed to get around the big tackles in the league. The release is not a shock since this regime didn't draft him but the timing is a bit odd with three preseason games left. He did not perform well in the loss to Chicago on Saturday. Front Office Page.
Opener Almost Soldout: CEO Russ Brandon gave an update on ticket sales. Individual game tickets went on sale on Friday Aug. 5th. The home opener on September 18th against Oakland is nearing a sellout as only a couple of thousand tickets remain. Brandon also said that sales for the first three home games against Oakland, New England, and Philadelphia are brisk. Looking on ticketmaster besides the extreme corners, and a few isolated pairs, there seems to be just single seats left for the Raiders game.
The quickest way to get breaking news from Bills Daily is to

follow us on twitter!
Sunday August 14, 2011
Who Helped Themselves: The Bills starters left the field with a 3-0 lead and several players really helped their case starting with Shawne Merriman. He had two sacks and his pass rush that drew a holding penalty led to a sack by Marcell Dareus who looked like he belongs in the NFL as well. Danny Batten helped his case with two sacks of his own. Ryan Fitzpatrick showed why he is the starter going 7 of 9 passing. Naaman Roosevelt continued his solid summer catching three bals for 26 yards. Longshot QB Joshua Nesbitt looked good in the wildcat running three times for 30 yards.
Who Hurt Themselves: There were several players that didn't help their case with the team. Donald Jones got the first crack at getting the #2 WR job vacated by the Lee Evans trade. He did not catch a pass and was called for offensive pass interference. Marcus Easley wasn't real comfortable with the football in his hands as he put it on the ground. It wasn't a good day for the backup QBs as both Levi Brown and Tyler Thigpen struggled. Thigpen is still trying to learn the offense as he has only had less than 10 days on the field. Brown completed only 7 of 15 pass and threw an interception. Despite pulling off an acrobatic interception, Aaron Williams got called for a penalty and was burned on a deep pass in his first NFL game. The team may have to look at another option at right guard as Kraig Urbik was awful in the game.
---
News Archives index
Latest News Section
Archives Library
Back to Bills Daily Homepage