Bills Beat Jaguars In OT For Preseason Win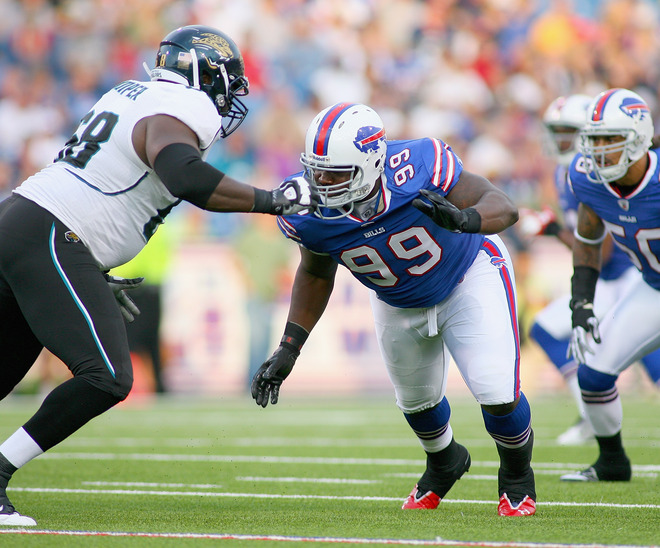 Bills Cut Six: The Bills got their roster down to 81 players by releasing six players today ahead of the Tuesday deadline. They now only need to release one more player to get down to the first cut. Released were P Reid Forrest, RB Anthony Elzy, S Rajric Coleman, WR Paul Hubbard, CB Lloyd Means, and OG Isaiah Thompson. Hubbard is the biggest name on the list as he is the only one of the group who wasn't an undrafted free agent. Forrest was a slight surprise since it was thought in many circles that he was giving Brian Moorman a real fight for the punter's job. Depth Chart.

Who Helped Themselves: Marcus Easley got the start last night and he may hold on to the number 2 receiver spot. He had five catches for 51 yards and a touchdown. Ryan Fitzpatrick was nearly perfect and seems ready for the regular season. Fred Jackson had a solid day including a 30 yard reception when he burned Paul Posluszny deep down the field. C.J. Spiller looked sharp as well with 5.3 yards per carry. Da'Norris Searcy had a nice interception and a forced fumble that was recovered by Michael Jasper. Antonio Coleman had a sack and good pressure while Robert Eddins continued his good camp with a sack.

Who Hurt Themselves: Tyler Thigpen may have led the comeback but he struggled mightily throwing two horrific interceptions and completing just 12 of 28 passes. The backups as a whole struggled mightily giving up 22 of the 32 unanswered points while not scoring until the fourth quarter.

Bills Pull Out OT Win: The starting offensive unit erupted with a solid first half building a 17-0 lead. Ryan Fitzpatrick went 11 of 12 for 165 yards and touchdown passes to Marcus Easley and a bomb to Stevie Johnson. He had a perfect 158.3 QB rating. The starting defense gave up 10 late 2nd quarter points to allow the Jaguars back in the game. Jacksonville scored 32 unanswered points before the Bills battled back to tie on a touchdown pass from Tyler Thigpen to Paul Hubbard, they then connected on the game tying two point conversion. Rian Lindell hit the game winning 40 yard field goal in overtime for the 35-32 victory.


Saturday August 27, 2011


Bills To Battle Jags: The Bills will play at Ralph Wilson Stadium tonight for the first time this year when the Jacksonville Jaguars come to town for the annual kids day game. It's a huge game for some players battling for jobs especially on the left side of the offensive line. It will also be interesting to see how Chan Gailey uses Fred Jackson and C.J. Spiller. We will not have our usual coverage of the game tonight due to Hurricane Irene heading to our area. Sorry for the inconvience.

Williams Signs Extension: The Bills and Kyle Williams has agreed on a six year contract extension worth $39 Million. He had two years left on his current deal. He becomes one of the highest paid defensive linemen in the league and will average between $7.5 and $8.2 million a year depending on incentives reached.


Thursday August 25, 2011


Bell To Start: The focus on Saturday night may be on the offensive line. Demeterius Bell will start at left tackle with Andy Levitre starting at left guard. Levitre will then slide to the right for Bell and Chad Rinehart will move in to the left guard spot. This is the ever revolving door on the left side of the line. Chan Gailey has already said that Levitre will start on opening day just at which spot is yet to be seen. Bell needs to be more consistent to hold on to his starting job. Just a week ago Levitre was demoted briefly from the starting left guard spot.

Dareus Sits; Merriman Practices: Shawne Merriman returned to practice today as the team tried out the new tuf inside the stadium for the first time. Marcell Dareus did not practice and wasn't on the sidelines. His injury is not considered serious, just a bruise of the calf. He has a chance at playing Saturday night but will likely sit. Chris White returned to practice as well but was limited. One Other player was new to the sidelines today, Ed Wang will miss a few days with a shoulder injury. He will not play on Saturday night. Also not practicing today were Roscoe Parrish, Naaman Roosevelt, Donald Jones, Arthur Moats, Reggie Torbor, Kellen Heard, Shawn Nelson, and Chris Kelsay. Injury Page.


Wednesday August 24, 2011


Bills Sign Morrison: The Bills signed a pair of players today, one who may challenge for a starting job. The biggest signing of the day was inside linebacker Kirk Morrison. He had 89 tackles for Jacksonville last year and over 115 tackles the previous five seasons in Oakland. He had five sacks, 7 interceptions, and 6 forced fumbles with the Raiders. He is well versed in the 3-4 defense. He will be a big challenge to Andra Davis for the starting job next to Nick Barnett once he gets up to speed. The team also filled a need at wide receiver by signing Ruvell Martin. He played three seasons in Green Bay before moving on to St. Louis in 209 and Seattle last year. Martin is a big receiver with over 1,000 career yards. He was a need because of a rash of injuries in that position and the trading of Lee Evans. He was given Evans old number of 83, which is something that should have been earned. The team got a bit healthier at the position today with David Nelson and Craig Davis returning to practice. Depth Chart.

Dareus Hurt: Reports say Marcell Dareus suffered an ankle injury in practice today. This was the first session closed to the media so an injury wasn't confirmed. The Buffalo News reports that Dareus was seen with his ankle heavily wrapped and on crutches. A report says he did walk off the field under his own power.

11 Sit Out Practice Today: The Bills got two wide receivers back today but 11 players remain sidelined. Roscoe Parrish, Naaman Roosevelt, Donald Jones, Johnny White, Arthur Moats, Reggie Torbor, Shawne Merriman, Kellen Heard, Shawn Nelson, Chris Kelsay, and Chris White were sidelined. Kelsay confirmed he had laser eye surgery after getting blurred vision following the Broncos game. He should be fine but will likely miss the preseason game on Saturday. Parrish, Merriman, and Chris White worked on the side but all will likely sit again this week. Injury Page.

The quickest way to get breaking news from Bills Daily is to

follow us on twitter!
Monday August 22, 2011
Jackson Not Happy: Fred Jackson feel like he has been disrespected and isn't happy with the current situation with the Bills. It started with C.J. Spiller getting the start on Saturday and Jackson not being told a thing about the starting running back spot. Chan Gailey said he thought Spiller did some things well on Saturday although he was clearly outplayed by Jackson. The coach feels he has two number one running backs but Jackson has the edge. Jackson told Paul Hamilton of WGR radio that he absolutely feels disrespected and doesn't feel like he should have to fight for the number one job that he has earned over the last few years. He feels he's a number one back and should know where he stands. Gailey said he has told Jackson what they are doing and he's a huge part of their football team. The coach said he's not underappreciated from his standpoint.
Offensive Line Shuffle: Chan Gailey continues to shuffle the offensive line as he is now moving Andy Levitre back and forth between left guard and left tackle. The coach is not happy with the lack of consistency from Demeterius Bell and is going to give Levitre a chance to win that job. It appears Chad Rinehart is the favorite to win the left guard job. Depth Chart.
Several Players Back At Practice: The Bills practiced this afternoon for the first time since the loss in Denver, they got several banged up players back on the field. Shawne Merriman, Roscoe Parrish, Justin Rogers, Chris Hairston, and Kelvin Sheppard all returned to the field. The Bills say that Johnny White, Donald Jones, and Naaman Roosevelt will all miss the rest of the preseason but all should be ready to return for the opener. Others sitting out with various degrees of bumps and bruises were, Arthur Moats, Reggie Torbor, Corey McIntyre, Scott Chandler, Craig Davis, Shawn Nelson, Chris Kelsay, Terrence McGee, Chris White, and Kellen Heard. Injury Page.
Bills Go Back To Work: The Bills hit the practice field this afternoon as they try to figure out what has gone horribly wrong especially with the offense. It will be back to the drawing board after a horrible performance in Denver on Saturday night. With training camp over, the team continues to prepare for the season in Orchard Park.
The quickest way to get breaking news from Bills Daily is to

follow us on twitter!
---
News Archives index
Latest News Section
Archives Library
Back to Bills Daily Homepage