Bills Get Roster Set For Season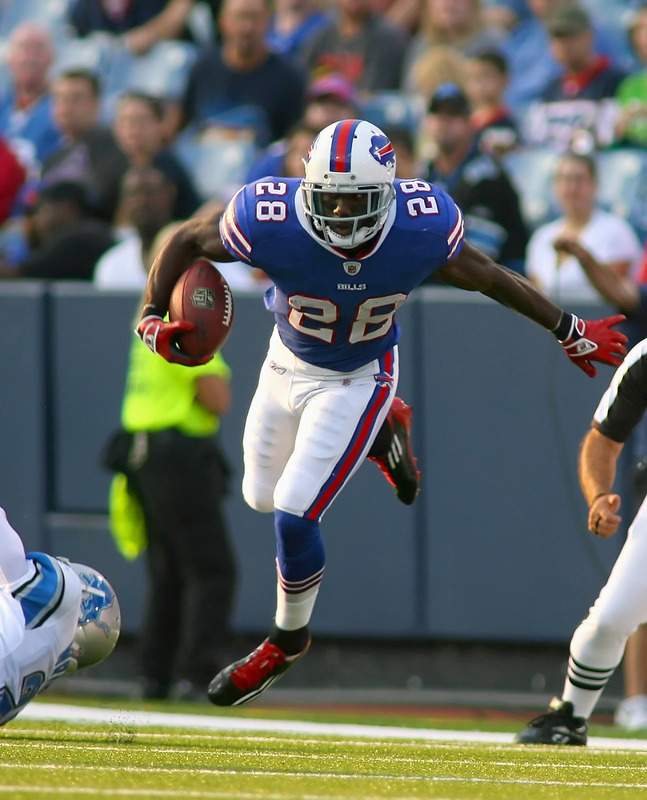 Bills Swap TEs; Add 7 To Practice Squad: The Bills continued to tinker with the roster on Sunday by releasing TE Zach Pianalto and signing TE Lee Smith off of waivers from New England. He was a fifth round pick of the team. The Bills added 7 released players to the practice squad on Sunday but did not add Naaman Roosevelt and Antonio Coleman. The lone draft pick cut Michael Jasper was added to the unit. All seven members were among the cuts on Saturday. Front Office Page.

The quickest way to get breaking news from Bills Daily is to

follow us on twitter!
Saturday September 3, 2011
Hangartner, Corner Leads Cut List: The Bills did some interesting to things to get their roster down to 53 players. They released 22 players, placed four on the waived/injured list, and placed Bruce Hall on injured reserve. Geoff Hangartner leads the list of players released as the team does not currently have a backup center on the roster. They now have just three tackles on the roster with rookie Chris Hairston as the lone backup tackle although Andy Levitre could play there. All the draft picks except Michael Jasper made the team although Chan Gailey said he would like him back on the practice squad. The team kept two undrafted free agents as LB Robert Eddins and TE Zach Pianalto made the team. Pianalto beat out Mike Caussin and Shawn Nelson for the third tight end spot. Nelson was too injury prone and the team gave up on his talent. Eddins made the team over Antonio Coleman who still has practice squad eligibility left. The Bills are carrying 11 linebackers counting Alex Carrington there instead of defensive end. Another surprise was at wide receiver where veteran newcomer Ruvell Martin beat out Naaman Roosevelt and Craig Davis for the final spot. Gailey also said he would like to add Roosevelt to the practice squad. Justin Rogers beat out Reggie Corner for the final corner spot. The Bills are keeping just five corners and may look for help on the waiver wire there and on the offensive line. The other players released were: LS Danny Aiken, WR Kamar Aiken, QB Levi Brown, FB Jehuu Caulcrick, DE Lionel Dotson, DB Sidney Glover, LB Brandon Hicks, G Cordaro Howard, DE T.J. Langley, CB Doyle Miller, DB Joshua Nesbitt, C Michael Switzer, T Jason Watkins, and OL Mansfield Wrotto. Jon Corto, Felton Huggins, Jammie Kirlew, and Ed Wang are waived/injured and will not be back. Depth Chart.
Cutdown Day: Today by 6pm the Bills, and every other NFL team, needs to cut their roster down to 53 men. That means 27 players will be released by the team today. Many of the cuts are easy but the last few will be tough especially at outside linebacker where the competition is real heated for the last spot or two between Robert Eddins, Antonio Coleman, and Danny Batten. Arthur Moats may be on the bubble inside. Rumors have circulated that Terrence McGee may be on the way out but that would not be a good move. Shawn Nelson appears like he is done in Buffalo as well. We will update our front office page and depth chart late tonight with all the moves.

Follow us on twitter! all day and evening long for the latest update on Bills cuts! We will update this page later this evening!
Friday September 2, 2011
Bills Lose To Lions: The Bills closed out the preseason with a 16-6 sloppy loss to the Lions. The starters played two series on both sides of the ball and the game was scoreless at that point. A 16 yard TD pass from Hill to Stovall followed by three Jason Hanson field goals gave the Lions the 16-0 lead. The Bills scored in the final minutes on a Bruce Hall one yard plunge. They came out of the game with no new significant injuries. The Bills finished the preseason 1-3. Injury Page.
Who Helped Themselves: Shawne Merriman got on the field for the first time in three weeks and was dominant in limited play. He had three tackles, one for a loss. Kelvin Sheppard had his NFL debut and was in on six tackles. Antonio Coleman played well looking to save his roster spot, he had five solo tackles. C.J. Spiller got the start as Fred Jackson did not play. He had a 27 yard run on the first offensive play from scrimmage and two catches. Craig Davis made a last ditch effort to make the team with six catches for 38 yards.
Who Hurt Themselves: The offensive line continued their unconsistent play as they struggled giving up five sacks. The backup tackles of Chris Hairston and Cordaro Howard really struggled. That didn't help Tyler Thigpen who was bad and held on to the ball far too long. He completed just 12 of 21 passes for 92 yards. The receiving unit as a whole dropped four passes. The run defense was back to last year's level giving up 176 yards including 72 to Jerome Harrison on seven carries. Shawn Nelson was active for the first time this camp but did not play. That doesn't bode well with his chances of making the roster. Marcus Easley got a bit more playing time than other players that started and he only had one ball thrown his way and he couldn't pull it in. It may cost him the starting job.
Thursday September 1, 2011
Preseason Closes Out Tonight: The Bills close out the preseason with a 6:30 start at Ralph Wilson Stadium tonight against the Lions. This game is critical as two starting spots on offense are up for grabs. Chan Gailey said after this game he will decide who will start at left tackle and who will be the number two wide receiver. If Demetrius Bell wins the tackle spot, Andy Levitre will start at left guard. If Levitre wins the tackle job then Chad Rinehart will start at guard. Marcus Easley has a good chance at winning the number two receiver spot with Donald Jones sidelined the past three weeks.
Contract Extension Talks: The Buffalo News reports that the Bills have opened up contract talks with Roscoe Parrish to extend his deal. This comes after they extended Kyle Williams last week. There are also rumblings that they will extend Stevie Johnson soon as well. Ryan Fitzpatrick is also in the last year of his deal and may warrant an extension.
Two Sellouts: The home opener against Oakland on Sept. 18th and the game against Philadelphia on Oct. 9th are soldout. There are limited tickets available for the Patriots game on Sept. 25th. Plenty of seats remain for the final four Ralph Wilson Stadium games.
The quickest way to get breaking news from Bills Daily is to

follow us on twitter!
Tuesday August 30, 2011
Smith Practices; Williams Doesn't: Brad Smith returned to practice today after sitting out Monday but Kyle Williams remained out. Also still sidelined during this afternoon's practice were David Martin, Jammie Kirlew, Ed Wang, Arthur Moats, and Naaman Roosevelt. New to the list of sidelined players was Felton Huggins who has a concussion. Injury Page.
Bills Get Roster To 80: The Bills released LB Brad Jefferson today to get the roster down to 80 players which is the new limit. They will have to get the roster to 53 by Sunday. They released six players on Sunday to get down to 81. Depth Chart.
Monday August 29, 2011
Several Players Return: The Bills got a few walking wounded back at practice today but lost a few others. Kyle Williams and Brad Smith both sat out today as a precaution. Smith suffered a foot injury but finished the game against Jacksonville. Williams injury was not disclosed. Several players returned to the field on a limited basis including, Roscoe Parrish, Donald Jones, Johnny White, Kellen Heard, and Chris Kelsay. Injury Page.
The quickest way to get breaking news from Bills Daily is to

follow us on twitter!
---
News Archives index
Latest News Section
Archives Library
Back to Bills Daily Homepage