Bills Lose Fifth Straight Game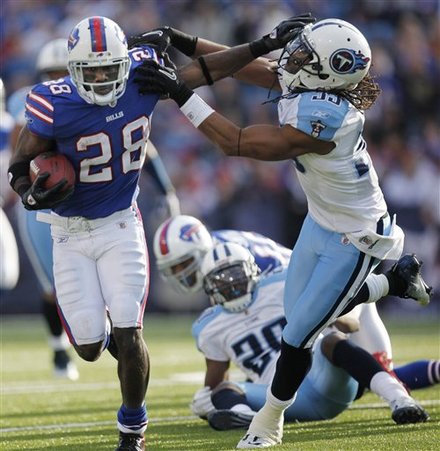 Gameday Grades: The defense was downright awful in the first half but made some adjustments and held the Titans down after halftime. The offense didn't do nearly enough for the win and the special teams were below average again. All adds up to some not so good grades. Gameday Grades.

Bills Blitz: For the second straight game it came down to a last minute desperation drive, and for the 5th straight week the Bills come out of the game with a loss. Chris Johnson ran for 153 yards and two touchdowns to lead the Titans to the 23-17 win. The Bills defense played better in the second half, after falling behind 17-7, they held Tennessee to two field goals. C.J. Spiller led the way for the Bills with 83 yards rushing including a 35 yard touchdown. He had an even longer touchdown run called back by a penalty. Ryan Fitzpatrick threw for 288 yards and a touchdown pass to Stevie Johnson to pull the Bills to within a score with 2:58 to go. Bills Blitz.

Williams, Chandler, Byrd Hurt In Loss: Aaron Williams hurt his right knee and walked very gingerly off to the sidelines. He went to the locker room and was quickly ruled out for the rest of the game. Scott Chandler hurt his left ankle when he fumbled the ball in the third quarter. He had it wrapped on the sidelines and returned to action before leaving for good after his next catch. He thinks it's just a sprain. Jairus Byrd hurt the side of his left calf and had x-rays after the game. He was limping in the locker room. We should get the results tomorrow. Chris Kelsay also got banged up but stayed in the game. Injury Page.

Inactives: With so many players on injured reserve the Bills only have two players inactive because of an injury as George Wilson and Rian Lindell remain sidelined for at least another week. The healthy scratches are Kyle Moore, Derek Haggan, Kamar Aiken, Sam Young, and Antonio Coleman.

Wind Could Be A Factor: The Bills have had very good luck when it comes to weather conditions in their games this year. The calendar has turned to December in Western New York and they had snow earlier in the week at One Bills Drive. No snow for today's game but there is a chance at a few rain showers during the game. The big issue will be the wind as it will be out of the South Southwest at 20mph. The gametime temperatue is expected to be 49° but the wind will make it feel as low as 40°.

Follow us on twitter! For commentary throughout today's game!
Friday December 2, 2011
Wilson Out Again: George Wilson still hasn't been cleared to practice and has been ruled out for the game on Sunday. Leodis McKelvin and Naaman Roosevelt both practice again and should play as they are listed as probable. Rian Lindell is listed as doubtful and Chan Gailey said he won't make it back for this game. Injury Page.
The quickest way to get breaking news from Bills Daily is to

follow us on twitter!
Thursday December 1, 2011
McKelvin Returns: Leodis McKelvin returned to practice today after missing yesterday's session with a rib injury. He hurt it while recovering a muffed punt against the Jets. He should play on Sunday as will Naaman Roosevelt who practiced for a second straight day. It is looking less likely that George Wilson will play as he did not practice again today. Chan Gailey is less optimistic he will be able to go. Rian Lindell is also a week away from returning. Injury Page.
Game Blacked Out: The Bills did not sellout Sunday's game by the Thursday 1pm deadline, which means the game will be blacked out in Western New York. There are several thousand tickets still remaining for the game and with good weather they will likely sell some of them. The team had the option to buy up the remaining tickets at 34% of face value but declined to do that.
Bills Have Tossup Matchup: The Bills finally return to the Ralph for some home cooking and a battle to save their very faint playoff hopes. The battle with the Tennessee Titans can go either way as it is a matchup of two teams with mediocre records who can play inconsistent at times. Whoever brings their 'A' game will likely win this one. Complete Preview.
The quickest way to get breaking news from Bills Daily is to

follow us on twitter!
Wednesday November 30, 2011
Roosevelt Returns: Naaman Roosevelt returned to the practice field today after being sidelined a week with a shoulder injury. Stevie Johnson also practiced, he has been limited on some Wednesdays as he battles a shoulder problem. George Wilson and Leodis McKelvin did not practice today. McKelvin may work tomorrow and they hope Wilson can practice before the end of the week. Injury Page.
Johnson Fined: Reports say Stevie Johnson was fined $10,000 for his end zone celebration against the Jets. He would not confirm the fine to the media but said if he gets fined, it is part of the game.
Troup To IR: Torell Troup has been placed injured reserve with his lower back problem. He has missed five games this year with the ongoing issue. He had hoped to play through it and deal with it in the offseason but they decided to shut him down since he was ineffective when he did play. The injury will require surgery. DL Lionel Dotson was activated off the practice squad and LB Robert Eddins took his practice squad spot. Dotson was with the club this summer and was a 7th round pick of Miami in 2008. he has appeared in six games in his career and is a 3-4 defensive end who can play inside when the Bills go to the 4-3. Eddins made the team out of camp but was placed on injured reserve after the first week. He was given an injury settlement and was able to sign with the team again after six weeks. Front Office Page.
Tuesday November 29, 2011
Wilson Has A Shot: George Wilson has a chance at playing on Sunday against Tennessee. He is improving since suffering a neck injury two weeks ago in the loss to Dallas. He likely won't practice on Wednesday but has a chance at returning to action later in the week with the hope he can be ready to play on Sunday. Injury Page.
The quickest way to get breaking news from Bills Daily is to

follow us on twitter!
Monday November 28, 2011
Troup May Be Headed For IR: Chan Gailey updated the media on the injury situation today. He said Torell Troup may be headed for injured reserve as his back locked up before the game Sunday. He has not been 100 percent all year. Leodis McKelvin is expected to be ok after leaving the game with a rib injury. Rian Lindell should resume kicking activities this week but he may not be ready to kick in a game as covering kicks are a concern. Naaman Roosevelt may be ok for this week's game after missing yesterday's game with a shoulder injury. Demetrius Bell is now healthy but is still sore. Injury Page.
Troup Back Problems Are Back: Torell Troup was a surprise inactive in yesterday's loss against the Jets. It turns out his back problems resurfaced during the week and he was unable to go. He tweeted that he hopes to have good news this week concerning his ongoing back issues. Injury Page.
---
News Archives index
Latest News Section
Archives Library
Back to Bills Daily Homepage