Bills Lose Tough One In New Jersey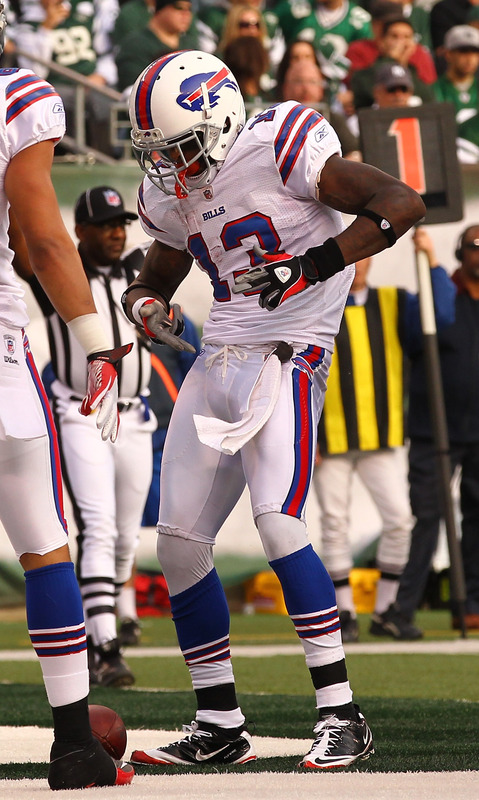 Gameday Grades: It was an up and down battle and that will be reflected in the grades. So many players did good things and bad things in this game as good plays were countered by boneheaded penalties. The lack of discipline was huge in losing this game for the Bills. Gameday Grades.

Bills Blitz: Mark Sanchez hit Santonio Holmes for a 16 yard touchdown with 1:01 left to lift the Jets to a 28-24 win over the Bills. Buffalo battled tough throughout as a last minute drive fell short after Stevie Johnson dropped a wide open pass. If he caught it, he would likely have sailed into the end zone. Ryan Fitzpatrick also missed Johnson in the end zone on a scramble. The ill fated drive ended at the Jets 24. Fitzpatrick threw three touchdown passes to David Nelson, Brad Smith, and Johnson. It was a seesaw battle as the teams traded touchdowns before Dave Rayner hit a 53 yard field goal to give the Bills a 24-21 lead before the Jets game winning drive. Bills Blitz.

McKelvin Hurt In Loss: Leodis McKelvin hurt his ribs when recovering a fumble. He did not return after being helped off the field. Marcell Dareus missed some playing time in the game with an illness. Injury Page.

Troup Surprise Inactive: George Wilson, Naaman Roosevelt, and Rian Lindell are inactive as they were all ruled out on Friday. Demetrius Bell is also inactive despite being listed as probable with a shoulder injury. The other probable players, Stevie Johnson and David Nelson, are also in the lineup as expected. Tashard Choice will make his Bills debut four days after being claimed off of waivers as he is active. The healthy scratches are Kyle Moore, Derek Haggan, and Torell Troup. That means S Joshua Nesbitt is active for the first time in his career. Troup being inactive is a surprise as the former 2nd round draft pick heads towards being another high draft pick bust for the Bills. The Jets will be without RB LaDanian Tomlinson and WR Jeremy Kerley.

Early October-like Weather: It is going to feel like early October in New Jersey today instead of late November. Today's game will be played under mostly cloudy skies with a game time temperature of a whopping 61°. Winds will be out of the South Southwest at about 8mph.

Follow us on twitter! For commentary throughout today's game!
Friday November 25, 2011
Three More Ruled Out: Naaman Roosevelt, George Wilson, and Rian Lindell have been ruled out of Sunday's game against the Jets. None of the players practiced this week. Lindell appears closer to returning as he worked out on the sidelines. Demetrius Bell, Stevie Johnson, and David Nelson are probable and should play. Bell will be the backup tackle as Chris Hairston will start at left tackle. Injury Page.
WRs Getting Healthier: Stevie Johnson and David Nelson both returned to practice on Thursday but Johnson was limited. Nelson will play on Sunday and is fine. Johnson will likely play as well but isn't going to be 100%. Naaman Roosevelt did not practice again yesterday and it is unknown if he can play on Sunday. Injury Page.
The quickest way to get breaking news from Bills Daily is to

follow us on twitter!
Thursday November 24, 2011
Bills Have Uphill Battle: The Bills got blown out by the Jets three weeks ago and things have have got much worse ever since on the field they keep getting blown out and suffering devastating injury after devastating injury. That makes winning at the Meadowlands a monumental challenge. They will be lucky to keep themselves in a game for a change. Complete Preview.
The quickest way to get breaking news from Bills Daily is to

follow us on twitter!
Wednesday November 23, 2011
Jackson On IR: The Bills have announced that Fred Jackson has been placed on injured reserve. Chan Gailey said further tests show he has a broken fibula. The Bills also confirmed his roster spot has been taken by Tashard Choice who was claimed off of waivers.
Bills Claim RB: Adam Schefter is reporting that the Bills have claimed RB Tashard Choice off of waivers. He was let go by the Redskins and it may be a sign that the Bills plan on moving forward without Fred Jackson for the rest of the year or at least long term. Choice is a Georgia Tech product who played for Chan Gailey in college. The Bills will need to make a roster move to fit him on the 53 man roster when the move is announced.
WRs Hurting: Besides Stevie Johnson the Bills had other receivers sidelined today. David Nelson and Naaman Roosevelt missed practice as well. That left on the field today at the position Brad Smith, Kamar Aiken, David Haggan, Ruvell Martin and practice squad player Tim Toone. Other players sitting out included Rian Lindell, Fred Jackson, and George Wilson. We already know Jackson is out, he is officially listed now with a fibula injury. Wilson is improving but isn't ready to hit the field yet. Injury Page.
Jackson Out This Week: Chan Gailey said today that Fred Jackson is out this week against the Jets and is out indefinitely. When asked if he will be back this year, Gailey said he didn't know. Stevie Johnson is day to day with his shoulder injury.
Reed, Tasker Make HOF List: Steve Tasker and Andre Reed are among the 26 players to make the semi-finalist list for class of 2012 induction into the Pro Football Hall of Fame. This list will be reduced by mail ballot to 15 modern era players and 2 players recommended by the Seniors Committee. The final 17 will be known in early January with the class being chosen the day before the Super Bowl.
McGee, Jones To IR: As expected the Bills placed Terrence McGee on injured reserve yesterday. They also placed Donald Jones on the season ending list. They used the two roster spots on wide receivers. Kamar Aiken was promoted from the practice squad. He caught 7 passes for 97 yards in the preseason for the Bills. They also signed free agent Derek Hagan. He actually played against the Bills earlier in the year when he was with Oakland and caught 5 passes for 61 yards in that game. He is a former third round draft pick of the Dolphins in 2006. He spent three years with the Giants and had 29 catches for 373 yards in his best season in 2007. The team lost OT Thomas Welch when he was signed off the practice squad by the Rams. That opened up two spots that were filled by DB Prince Miller and G Keith Williams who was re-signed to the unit. Miller was released earlier this month by Indianapolis. Front Office Page.
Tuesday November 22, 2011
Giving Thanks: It has been a rough three weeks to be a Bills fan but even we have things to be thankful for this Thanksgiving. Tony Bogyo gives us a laugh in these trying football times as he tells us what we are thankful for. Complete Story.
The quickest way to get breaking news from Bills Daily is to

follow us on twitter!
Monday November 21, 2011
Gailey Presser: Chan Gailey updated the media today on many issues. On the injury front he said Fred Jackson is day to day and won't practice early in the week. George Wilson is getting closer but not ready yet to return. Donald Jones may go on injured reserve with his ankle injury and he confirmed Terrence McGee had season ending surgery. C.J. Spiller returns to running back, Kraig Urbik does move to center with Andy Levitre and Chad Rinehart back at the guard spots. Chris Hairston will remain the starter at left tackle. Joe Buscaglia of WGR tweeted this quote from Gailey on the losing streak: "If you're not upset about what's happened to us -- going from 5-2 to 5-5 -- you better get out of the business. And I told the players that. Just pack it up. Take your money, go home, because if you're satisfied with being a loser you ought not to play the game." Injury Page.
McGee Has Surgery: WGR's Howard Simon tweeted this morning that Terrence McGee is having surgery on his knee this morning and his season is over. Chan Gailey said yesterday that his injury was season ending. There is talk that McGee may have played his last game as a Bill or in the NFL as the last three years his season has ended with a serious injury.
Fitz Contract Details: It may not be the best time to look at the contract extension signed by Ryan Fitzpatrick but the Buffalo News released the details. Fitz is the 16th highest paid starting QB in the league which puts him right in the middle of the pack where he likely belongs. His contract included a $10 million signing bonus and option and signing bonuses totaling $11 million over the next three years as well. His base salary is $2.8 million next year and it steadily climbs to $9.4 million in 2017 which is money he will likely never see. Front Office Page.
Levitre Out At Center: Chan Gailey saw enough, he did not need to see the film to know that Andy Levitre isn't a center. In his post game comments yesterday, Gailey apologized for putting Levitre in a place to fail and said he will rectify it. When questioned further he said they will put Kraig Urbik at center next week. That means Levitre will move back to left guard and Chad Rinehart will move to right guard. There is also a chance that the team looks to bring in a center. They will have one or two roster spots opening up with Terrence McGee and maybe Donald Jones heading to injured reserve. Depth Chart.
Jackson Says He's Ok: Fred Jackson said after the game that he should be fine after aggravating an ongoing calf injury that sent him to the sidelines in the second half of yesterday's debacle. Chan Gailey will update the media this afternoon on the myriad of injuries they suffered in the loss to the Miami. David Nelson left the game twice with an undisclosed injury that was not talked about in the post game press conference. Terrence McGee had his season ended for a third straight year by an injury. He hurt his knee. Donald Jones may be lost for the season as well with his ankle injury. Injury Page.
The quickest way to get breaking news from Bills Daily is to

follow us on twitter!
Thursday November 17, 2011
Johnson Practices: Erik Pears and Stevie Johnson returned to practice on a limited basis today. Pears did a lot but Johnson left early for extra treatment. It is unknown if Johnson will play. David Nelson missed practice with an illness but his ankle was better and he could have practiced. Spencer Johnson and George Wilson missed practice again today. Injury Page.
Practice Squad Move: The Bills moved to add some depth to the offensive tackle position by signing Thomas Welch to the practice squad. He replaces G Keith Williams who was released to make room. Welch was with the Patriots but released earlier this month. He was a 7th round pick of the Pats in 2008 and spent time with Minnesota on their practice squad before going on their active roster last year. He has one career start earlier this year with New England. Front Office Page.
Bills Look To Get Back On Track: The Bills head to Miami on Sunday a wounded team looking to get back on track after two lopsided losses in a row. Miami is only 2-7 but they have won their last two and playing with a lot of confidence making this division matchup a very tough battle. Game Preview.
The quickest way to get breaking news from Bills Daily is to

follow us on twitter!
Wednesday November 16, 2011
OL Shuffle: Erik Pears, David Nelson, and Spencer Johnson joined the list of players not practicing today. With Pears sidelined the Bills offensive line had another shuffle. Kraig Urbik slid over to right tackle with Colin Brown manning the right guard spot. Andy Levitre was at center as expected and Chad Rinehart practiced at right guard. Chris Hairston was with the ones at left tackle but Demetrius Bell did return to practice and got some work in there as well. Injury Page.
Johnson, Wilson Sit: Stevie Johnson and George Wilson both did not practice today. Chan Gailey hopes they will do some work tomorrow and a little more on Friday as he hopes to get them ready to play on Sunday. At this point there are both going to be iffy for the game in Miami. Johnson said he isn't totally confident in his shoulder but hopes to be by Sunday. In some positive injury news, Chris Kelsay said he's ready to go and will play on Sunday. If Wilson can't play, Josh Nesbitt may get some action as a backup safety and on special teams. Newly signed Kyle Moore will play end in the 4-3 looks and outside linebacker in the 3-4 look. Injury Page.
Tuesday November 15, 2011
Bills Sign Two: As expected the Bills placed Eric Wood and Chris White on injured reserve opening up two roster spots. They elevated DB Josh Nesbitt from the practice squad and re-added WR Tim Toone to that unit. They also signed DE Kyle Moore off of the Lions practice squad. He has been on that unit all season after he was cut by Tampa Bay. He was originally a 4th round pick by the Bucs in 2009 and started seven games for them last year. He had 29 tackles, six pressures and a pair of fumble recoveries before his season ended early with a shoulder injury. Depth Chart.
Rough Times: There is no doubt it has been a rough two weeks for the Bills and their fans. Tony Bogyo comes back from a two week hiatus, that was rough in its own right, to talk about what is going on with the team right now and it isn't pretty. Complete Story.
Moves Expected: The Bills will likely make two roster moves today as they need to place Eric Wood and Chris White on injured reserve with their torn ACLs. That will open up two spots on the roster. Chan Gailey said they won't use one on an offensive lineman as they feel they are ok depth wise at the position with Chris Hairston ready to return to the lineup and Demetrius Bell getting back on the practice field. They will likely need to add a special teams contributor and maybe a linebacker since they have none on the practice squad.
The quickest way to get breaking news from Bills Daily is to

follow us on twitter!
Monday November 14, 2011
White Out For Year: The Bills lost two players yesterday to torn ACLs. Eric Wood and Chris White. That opens up two spots on the roster when they are placed on injured reserve. In other injury news from yesterday, Stevie Johnson and George Wilson will be day to day with their shoulder injuries. Demetrius Bell should be ready to practice this week but will likely not start at left tackle, Chris Hairston is now fully healthy and will get the nod. Chris Kelsay and Aaron Williams have a chance at returning to action in Miami. Injury Page.
Wood Has Torn ACL: Eric Wood's injury is the worst case scenario, as it has been confirmed he has a torn ACL and will miss the rest of the season. He hurt his right knee while trying to make a tackle on an interception. He may be the last person they can afford to lose long term as he is the nucleus of the offensive line. Andy Levitre is expected to move to center with Chris Hairston moving back into the lineup at left tackle. Injury Page.
The quickest way to get breaking news from Bills Daily is to

follow us on twitter!
---
News Archives index
Latest News Section
Archives Library
Back to Bills Daily Homepage