Bills Hit New Low In Miami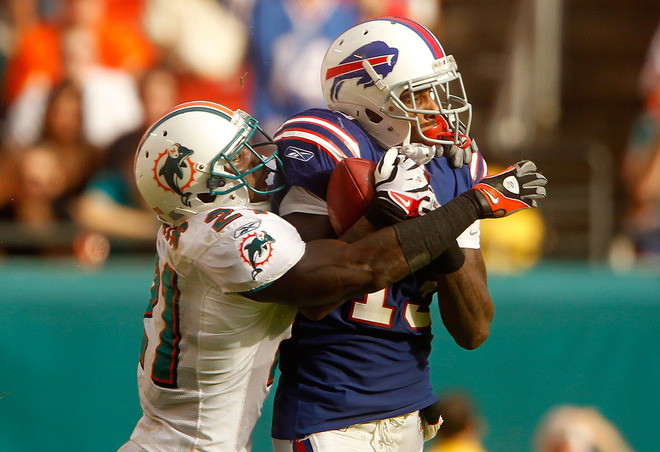 Total Failure: This was another collossal failure as the Bills were beaten badly in all three phases of the game. I had no choice but to give F's across the board. Gameday Grades.

Bills Blown Out Again 35-8: We thought it couldn't get uglier than last week in Dallas, we were wrong. The Bills were thoroughly dominated in every phase for a third week in a row as they went down to defeat again in blowout fashion 35-8. The Bills scored on their opening possession on a Dave Rayner field goal and it was all down hill after that. Miami just physically beat up the Bills as the receivers were hit on almost every pass while the Miami receivers ran free down the field. Journeyman QB Matt Moore threw three touchdown passes, Reggie Bush ran for one and to add insult to injury they returned a blocked punt for a score. Bills Blitz.

Jones, McGee, Jackson Lead Busy Injury Report: The Bills suffered a rash of injures in the blow out loss to Miami. The two most serious injures were to Donald Jones and Terrence McGee. Jones suffered a lower left leg injury and was in a lot of pain as he was carted off after having an inflatable cast put on his leg. It is a re-injury to the same ankle he hurt earlier in the year and will be lost a while. McGee suffered a leg injury as well and was carted off after having an inflatable cast put on his left leg. Chan Gailey said his season may be over. Fred Jackson hurt his right calf in the 2nd half and did not return. He was on the sidelines with it heavily wrapped. It is the same calf that has been bothering him but x-rays were negative. Brad Smith hurt his ribs when going up for a pass. He did return. Stevie Johnson and David Nelson both got shaken up in the deadly 2nd quarter for wide receivers. They both returned but Nelson left again later in the third quarter. Injury Page.

Johnson Active; Wilson Not: George Wilson, Demetrius Bell, and Rian Lindell are scratched with injuries. Wilson made the trip but isn't healthy enough to go. That means Stevie Johnson and Spencer Johnson will play despite being questionable for the game. Chris Kelsay also returns to the lineup as expected. The healthy scratches are newly signed Kyle Moore, Josh Nesbitt, Reggie Corner, and Lee Smith. That means Mike Caussin is active for the first time in his career as the #2 tight end.

South Florida Weather: Typical weather for South Florida for today's game between the Bills and the Dolphins. There is a 30% chance of scattered showers throughout the game with a game time temperature of around 81°. The humidity will make it feel a bit warmer than that with winds out of the East Northeast at 14mph.

follow us on twitter! for in game commentary!
Saturday November 19, 2011
Wilson Makes Trip: George Wilson was on the team plane to Miami this afternoon. That means he has yet to be ruled out of the game. He did not practice all week with a neck injury suffered in the loss to Dallas and is officially listed as doubtful.
Friday November 18, 2011
Both Johnsons Questionable: Stevie Johnson and Spencer Johnson both practiced and are questionable for Sunday's game against Miami along with Demetrius Bell. Chan Gailey said all three have a decent chance at playing Sunday. Chris Kelsay, Erik Pears, and David Nelson are all probable and should play. Nelson is still a bit weak from being sick. Rian Lindell has been ruled out. George Wilson did not practice again today and is listed as doubtful but they are still hopeful he can play. If he can't look for rookie Da'Norris Searcy and Bryan Scott to get extra reps. Injury Page.
The quickest way to get breaking news from Bills Daily is to

follow us on twitter!
Thursday November 17, 2011
Johnson Practices: Erik Pears and Stevie Johnson returned to practice on a limited basis today. Pears did a lot but Johnson left early for extra treatment. It is unknown if Johnson will play. David Nelson missed practice with an illness but his ankle was better and he could have practiced. Spencer Johnson and George Wilson missed practice again today. Injury Page.
Practice Squad Move: The Bills moved to add some depth to the offensive tackle position by signing Thomas Welch to the practice squad. He replaces G Keith Williams who was released to make room. Welch was with the Patriots but released earlier this month. He was a 7th round pick of the Pats in 2008 and spent time with Minnesota on their practice squad before going on their active roster last year. He has one career start earlier this year with New England. Front Office Page.
Bills Look To Get Back On Track: The Bills head to Miami on Sunday a wounded team looking to get back on track after two lopsided losses in a row. Miami is only 2-7 but they have won their last two and playing with a lot of confidence making this division matchup a very tough battle. Game Preview.
The quickest way to get breaking news from Bills Daily is to

follow us on twitter!
Wednesday November 16, 2011
OL Shuffle: Erik Pears, David Nelson, and Spencer Johnson joined the list of players not practicing today. With Pears sidelined the Bills offensive line had another shuffle. Kraig Urbik slid over to right tackle with Colin Brown manning the right guard spot. Andy Levitre was at center as expected and Chad Rinehart practiced at right guard. Chris Hairston was with the ones at left tackle but Demetrius Bell did return to practice and got some work in there as well. Injury Page.
Johnson, Wilson Sit: Stevie Johnson and George Wilson both did not practice today. Chan Gailey hopes they will do some work tomorrow and a little more on Friday as he hopes to get them ready to play on Sunday. At this point there are both going to be iffy for the game in Miami. Johnson said he isn't totally confident in his shoulder but hopes to be by Sunday. In some positive injury news, Chris Kelsay said he's ready to go and will play on Sunday. If Wilson can't play, Josh Nesbitt may get some action as a backup safety and on special teams. Newly signed Kyle Moore will play end in the 4-3 looks and outside linebacker in the 3-4 look. Injury Page.
Tuesday November 15, 2011
Bills Sign Two: As expected the Bills placed Eric Wood and Chris White on injured reserve opening up two roster spots. They elevated DB Josh Nesbitt from the practice squad and re-added WR Tim Toone to that unit. They also signed DE Kyle Moore off of the Lions practice squad. He has been on that unit all season after he was cut by Tampa Bay. He was originally a 4th round pick by the Bucs in 2009 and started seven games for them last year. He had 29 tackles, six pressures and a pair of fumble recoveries before his season ended early with a shoulder injury. Depth Chart.
Rough Times: There is no doubt it has been a rough two weeks for the Bills and their fans. Tony Bogyo comes back from a two week hiatus, that was rough in its own right, to talk about what is going on with the team right now and it isn't pretty. Complete Story.
Moves Expected: The Bills will likely make two roster moves today as they need to place Eric Wood and Chris White on injured reserve with their torn ACLs. That will open up two spots on the roster. Chan Gailey said they won't use one on an offensive lineman as they feel they are ok depth wise at the position with Chris Hairston ready to return to the lineup and Demetrius Bell getting back on the practice field. They will likely need to add a special teams contributor and maybe a linebacker since they have none on the practice squad.
The quickest way to get breaking news from Bills Daily is to

follow us on twitter!
Monday November 14, 2011
White Out For Year: The Bills lost two players yesterday to torn ACLs. Eric Wood and Chris White. That opens up two spots on the roster when they are placed on injured reserve. In other injury news from yesterday, Stevie Johnson and George Wilson will be day to day with their shoulder injuries. Demetrius Bell should be ready to practice this week but will likely not start at left tackle, Chris Hairston is now fully healthy and will get the nod. Chris Kelsay and Aaron Williams have a chance at returning to action in Miami. Injury Page.
Wood Has Torn ACL: Eric Wood's injury is the worst case scenario, as it has been confirmed he has a torn ACL and will miss the rest of the season. He hurt his right knee while trying to make a tackle on an interception. He may be the last person they can afford to lose long term as he is the nucleus of the offensive line. Andy Levitre is expected to move to center with Chris Hairston moving back into the lineup at left tackle. Injury Page.
The quickest way to get breaking news from Bills Daily is to

follow us on twitter!
---
News Archives index
Latest News Section
Archives Library
Back to Bills Daily Homepage