Bills Blown Out Again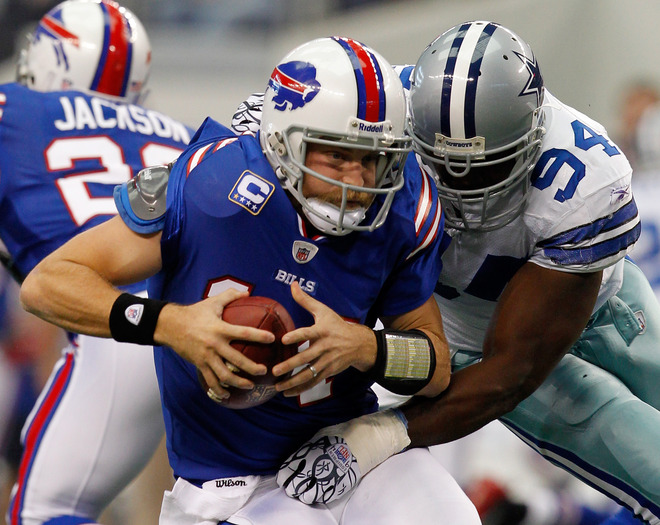 Gameday Grades: In a 44-7 loss there aren't too may players that perform well. These grades are not pretty but check them out if you dare. Gameday Grades.

Bills Blown Out 44-7: The Bills went down to Big D and just didn't put up a fight as the Cowboys destroyed the Bills 44-7. The Cowboys scored touchdowns on their first four possessions while the Bills defense struggled mightily with the Cowboys blitz package. Tony Romo was just about perfect in this game as he only threw three incompletions going 23 of 26 for 270 yards while throwing three touchdown passes. DeMarco Murray ran for a score and finished with 135 yards on the ground. David Nelson scored for the Bills when the Cowboys already had a 21-0 lead. The Cowboys added three straight field goal drives and Terrence Newman put the exclamation point on the rout with a 43 yard interception return for a score. Bills Blitz.

Many Injuries In Rout: As is the case often when you get blown out, you get a lot of injuries. George Wilson suffered a stinger and did not return to the game. Chris White was banged up on a kickoff but walked to the cart under his own power and was quickly ruled out for the rest of the game. A short time later, Eric Wood hurt his left knee when he was blocked by Ware on an interception return. He walked off with assistance but was taken by cart to the locker room shortly after. Stevie Johnson left in the final minutes with what appeared to be an arm or shoulder injury. He went right to the locker room. Injury Page.

Gameday Inactives: Chris Kelsay, Demetrius Bell, Aaron Williams and Rian Lindell are scratched with injuries. Williams had hoped to play for the first time since the New England game. Stevie Johnson will give it a go despite being sick. He tweeted last night that he still wasn't feeling well at all. The healthy scratches are Sam Young, Reggie Corner, and Mike Caussin.

Roof Closed: Despite beautiful weather conditions in Dallas the roof is closed at Cowboys Stadium. The weather outside the stadium is beautiful. It will be partly cloudy during the game temperatures will be climbing to about 80°.

follow us on twitter! for in game commentary!
Saturday November 12, 2011
Lee To Play For Cowboys: The Cowboys will get a big piece of their defense back tomorrow when LB Sean Lee returns from a wrist injury. His injury has cost the Cowboys who went from the number one run defense to the 10th ranked run defense. Lee's injury is part of the reason they have been giving up chunks of yardage. It won't be easy for Lee who will wear a club like cast on his hand. The Cowboys will be without RB Felix Jones and WR Miles Austin. Injury Page.
Friday November 11, 2011
Stevie Misses Practice With Illness: Stevie Johnson is the only new name on the list of players not practicing. He is ill and is listed as probable but should be ok for the game on Sunday. Chris Kelsay, Demetrius Bell, and Rian Lindell all remain sidelined and have been ruled out of the game this week. Kelsay did do some work on the side. Andy Levitre worked with the starting unit at left tackle again and he will get his third straight start there but Chris Hairston is healthy to back up and is not on the injury report. Aaron Williams is listed as questionable. Injury Page.
The quickest way to get breaking news from Bills Daily is to

follow us on twitter!
Thursday November 10, 2011
Levitre Likely At Tackle: The Bills had the same non participants in practice today but there was a change. Andy Levitre took the first team reps at left tackle with Chad Rinehart taking the left guard reps. It appears now there is less than a 50% chance of Chris Hairston starting at left tackle. Yesterday it appeared like he would return to the starting lineup. Aaron Williams has been cleared for contact but it is unknown if he will play on Sunday. Injury Page.
DB Added To Practice Squad: The Bills filled their open spot on the practice squad by adding DB Mana Silva. The former Hawaii product was an undrafted free agent signed by the Ravens this summer and plays Safety. He filled the spot that opened up when the team moved Mike Caussin to the active roster.
Big Battle In Big D: The Bills make a rare trip to Texas to take on the Cowboys in Big D on Sunday. It is a pivotal game for the Bills as they look to get back on track after the loss to the Jets. They have to face another Ryan coach as Rex Ryan's twin brother is the defensive coordinator for the Cowboys. You can bet the Ryan brothers have talked about how the Jets stopped the Bills offense last week. Game Preview.
The quickest way to get breaking news from Bills Daily is to

follow us on twitter!
Wednesday November 9, 2011
Williams Has Surgery: Kyle Williams had surgery on his foot today and it was considered successful. His agent says he is expected to make a full recovery for next season. Chris Kelsay, Rian Lindell, and Demetrius Bell all sat out of practice today and are out for Sunday's game. Aaron Williams was limited as he has not been cleared for contact yet. That may happen tomorrow. Chris Hairston took the first team reps at right tackle and is expected to start there if he makes it through the week ok. Andy Levitre was back at his guard spot. Injury Page.
December Deals: The Bills have announced a deal that they hope will help them sell tickets to the three December games at Ralph Wilson Stadium. The team is offering a 12.5% discount if you buy all three games. The team said there are 16,000 tickets available for the Dec. 4th game against Tennessee and the December 18th game against the Dolphins. The Christmas Eve day game against Denver has 25,000 seats available.
Tuesday November 8, 2011
Rayner Signed; Williams On IR: As was feared, the Bills have lost Kyle Williams for the season. He was placed on injured reserve today after seeing a specialist in North Carolina. His spot on the roster was taken by K Dave Rayner who was signed today after the Bills auditoned kickers to replace the injured Rian Lindell. Rayner is a career injury fill in as he was with Oakland for a game this year and spent 10 games with the Lions last year. He has a big leg so he will be able to handle kickoff duties. He is a career 77.3% field goal kicker. The team also released Ed Wang from injured reserve. Front Office Page.
Williams Season Over? The Buffalo News is reporting that Kyle Williams will miss the rest of the season with his ongoing foot injury. Chan Gailey said yesterday that it doesn't look good and Williams is seeing a foot specialist in North Carolina. The paper also reports that Rian Lindell will miss 4-6 weeks. Gailey said that the injury is bad and the team will tryout kickers today. Injury Page.
The quickest way to get breaking news from Bills Daily is to

follow us on twitter!
Monday November 7, 2011
Lindell Likely Sidelined: The Bills didn't get good injury news today as Chan Gailey said it doesn't look good for Rian Lindell this week and they will decide over the next day or two if they need to bring in other kickers. Kyle Williams and Demetrius Bell are both getting re-evaluated by doctors this week. It is starting to sound like Williams may be shut down for the season. Chris Kelsay is likely out against Dallas as his calf injury has flared up. On the positive side, Aaron Williams seems ready to return to action. Injury Page.
Caussin Activated: The Bills did make a move on the 53 man roster as they activated TE Mike Caussin and released CB Terrence Wheatley. The Bills didn't need Wheatley anymore with Aaron Williams back from injury. Caussin gives the Bills a third tight end. His spot on the roster may be shortlived as they may need to add a kicker this week. Depth Chart.
Lindell Update Today: We should get an update on the condition of Rian Lindell when Chan Gailey addresses the media this afternoon. Lindell hurt his right shoulder on the second half kickoff. He did kick a 24 yard field goal after the injury but barely made it as his leg swing was off because of the injury. Brian Moorman handled kickoffs. Chan Gailey said after the game that Lindell was having tests run and that he wasn't available for any longer field goal attempts. There is a chance the Bills will have to bring in another kicker this week. Injury Page.
The quickest way to get breaking news from Bills Daily is to

follow us on twitter!
---
News Archives index
Latest News Section
Archives Library
Back to Bills Daily Homepage