Bills Awful In Loss To Jets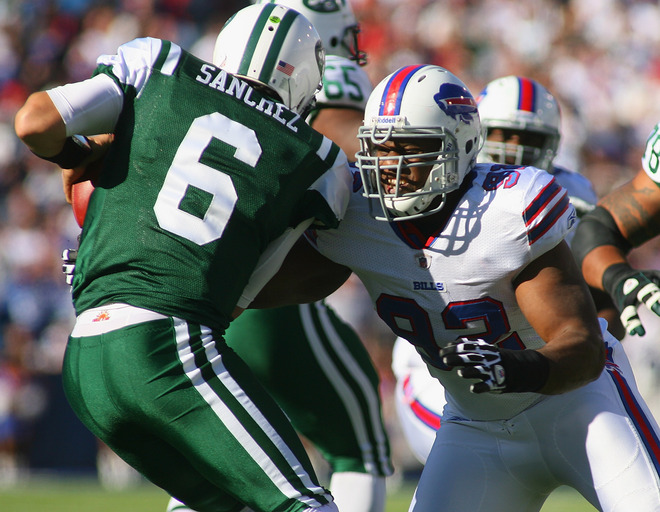 Gameday Grades: The offense struggled worse than it has all year long. The defense gave up a few long drives. The special teams gave up a long kickoff return that put the Bills in a hole to start the second half. These grades aren't pretty. Gameday Grades.

Jets Dominate Bills 27-11: The Bills offense finally struggled for a full sixty minutes as the Jets dominated the Bills 27-11 at Ralph Wilson Stadium. The Jets controlled the first half but only led 3-0 after a comedy of errors by both teams as they turned the ball over back and forth. The Jets stopped beating themselves in the 2nd half while still beating the Bills as they pulled away thanks to three second half touchdowns to open up a 27-3 lead. A late garbage touchdown pass from Ryan Fitzpatrick to David Nelson followed by Fitz scrambled for the two point conversion made the final score a bit more respectable. Bills Blitz.

Jackson, Lindell Banged Up: Rian Lindell suffered a right arm injury when he made a touchdown saving shoestring tackle on the 2nd half kickoff. He stayed in the game to kick a field goal but he did not kickoff. Fred Jackson got a stinger after fumbling the ball in the third quarter. He was looked at by the trainers and then returned to the game after missing a few plays. Injury Page.

Gameday Inactives: Chris Hairston is active for the game but Chris Kelsay is not. Hairston will backup the tackle spots today. These players were gametime decisions. Demetrius Bell, Kyle Williams, and Aaron Williams are also inactive as they were ruled out early in the week. The healthy scratches are Sam Young, Reggie Corner, and Terrence Wheatley.

Beautiful Weather Once Again: It is another in a long line of beautiful weather games for the Bills as they take on the Jets at Ralph Wilson Stadium. The Bills are creating whiteout conditions however as the players are wearing their road whites and 50,000 white pom poms are being handed out. There is no snow in the forecast though as the game will be played under clear sunny skies with a gametime temperature in the mid 50s. Winds may be a factor as they usually are in November at the Ralph. They will be out of the South Southwest at 14mph.

follow us on twitter! for in game commentary!
Saturday November 5, 2011
Dareus Gets Honor: Marcell Dareus was named Pepsi NFL rookie of the week for his performance against Washington last Sunday. He had 2½ sacks in the shutout win. Dareus was voted the award by the fans.
Friday November 4, 2011
Kelsay Questionable: Chris Kelsay and Chris Hairston will be gametime decisions for the Bills on Sunday. Kelsay was struggling with a flare up of his calf injury. Hairston isn't as far along as they thought. If he does play he will backup Andy Levitre at left tackle who is full go after practicing fully today. Donald Jones appears ready as well and is listed as probable. Demetrius Bell and Kyle Williams were the only players not practicing and have been ruled out along with Aaron Williams. Injury Page.
The quickest way to get breaking news from Bills Daily is to

follow us on twitter!
Thursday November 3, 2011
Levitre Returns: Andy Levitre returned to practice on Thursday but appeared limited with his shoulder injury. He is expected to play and split tackle reps with Chris Hairston who is expected to return from a high ankle sprain. Chris Kelsay was limited today as his calf was acting up but it was just a precaution. Ryan Fitzpatrick was limited as a precaution as well. He actually was also limited yesterday but was mistakenly listed as full. He will play on Sunday. Donald Jones was full go today after being limited on Wednesday. Demeterius Bell and Kyle Williams were the only players who did not practice at all. Injury Page.
Whiteout In Effect: There will be whiteout conditions at Ralph Wilson Stadium on Sunday even though there is no snow in the forecast. With the team wearing their away white uniforms and players tweeting for fans to wear white the Bills have got on board with the whiteout the Ralph campaign. Russ Brandon tweeted today that 50,000 white pom poms will be handed out at the Stadium on Sunday.
Huge Game This Week: When the Jets come to Buffalo for Sunday's game, it will be the biggest game the Bills have played since the 2004 season finale. On the surface that is a bold statement, but in reality that is the case. A Bills win will put the Jets farther back in the rear view mirror. A loss and the Bills can fall to third place in the division. Game Preview.
Wednesday November 2, 2011
Levitre Sits: Andy Levitre and Johnny White were the new names missing practice. Levitre has a banged up shoulder but should practice tomorrow. White sat with an illness. Donald Jones, Aaron Williams, and Chris Hairston returned to practice. They were all limited but Williams did not take part in any contact drills. Jones and Hairston felt good but neither are near 100%. Injury Page.
Jones Ready To Go: Donald Jones returned to practice today and said, as of now, he's ready to go for Sunday's game. He missed two games with a high ankle sprain. The Bills will re-evaluate Kyle Williams on Monday as he will get an MRI on his ailing foot. Then they will be able to see what to do next with his ongoing injury.
Bills To Wear White: For the first time in 25 years, the Bills will wear white at home this week against the Jets. The timing is interesting as the Bills are undefeated at home in the home blues and the Jets are winless on the road. Drayton Florence tweeted that Sunday will be a whiteout at the Ralph and is telling fans to wear all white. I hope all Bills fans have some sort of white jacket.
The quickest way to get breaking news from Bills Daily is to

follow us on twitter!
Tuesday November 1, 2011
Jones, Hairston May Return: The Bills got some good news and bad news on the injury front yesterday. Donald Jones and Chris Hairston look to be ready to return to practice this week and both have a chance at playing against the Jets. Aaron Williams may also try to practice this week but he is still at least a week away from returning to action. Kyle Williams won't play Sunday and will be re-evaluated later in the week to see if he has a chance at returning next week. Demetrius Bell remains sidelined as his injury is worse than they thought. The team did not suffer any real injuries in the win over the Redskins. Injury Page.
The quickest way to get breaking news from Bills Daily is to

follow us on twitter!
Monday October 31, 2011
Defense Dominates: It wasn't just a dominating performance by the Bills defense yesterday, it was perhaps their best defensive game in years. It comes as a bit of a surprise after how poorly they have played this year. The offense continues to make plays and the special teams even got into the act this week with a blocked field goal. Overall it was a total team win. Gameday Grades.
Bills Blitz: The Bills defense came to play in the first game after the bye as they got nine sacks and pitched a shutout as the Bills rolled over the Redskins in Toronto 23-0. Marcell Dareus had a breakout game as he led the way with 2½ sacks. Ryan Fitzpatrick threw two touchdown passes to Scott Chandler. Fred Jackson ran for 120 yards and added 74 receiving as he continues his MVP type season. Rian Lindell hit three of four field goals. Bills Blitz.
Fitz Scare: There was a scare when Fitzpatrick took a good hit late in the first half on a 46 yard completion to Jackson. The Bills took a timeout and he stayed in the game. The team seemed to get out of the game injury free as no serious injuries were reported. Injury Page.
---
News Archives index
Latest News Section
Archives Library
Back to Bills Daily Homepage