Bills Get Back To Winning Ways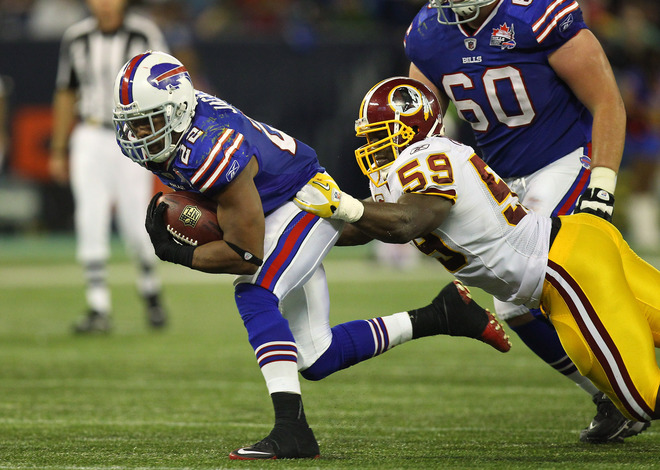 Defense Dominates: It wasn't just a dominating performance by the Bills defense yesterday, it was perhaps their best defensive game in years. It comes as a bit of a surprise after how poorly they have played this year. The offense continues to make plays and the special teams even got into the act this week with a blocked field goal. Overall it was a total team win. Gameday Grades.

Bills Blitz: The Bills defense came to play in the first game after the bye as they got nine sacks and pitched a shutout as the Bills rolled over the Redskins in Toronto 23-0. Marcell Dareus had a breakout game as he led the way with 2½ sacks. Ryan Fitzpatrick threw two touchdown passes to Scott Chandler. Fred Jackson ran for 120 yards and added 74 receiving as he continues his MVP type season. Rian Lindell hit three of four field goals. Bills Blitz.

Fitz Scare: There was a scare when Fitzpatrick took a good hit late in the first half on a 46 yard completion to Jackson. The Bills took a timeout and he stayed in the game. The team seemed to get out of the game injury free as no serious injuries were reported. Injury Page.


Friday October 28, 2011


Fitz Deal Done: According to published reports the Bills and Ryan Fitzpatrick have agreed on a contract extension. ESPN reports it's a six year deal worth $59 Million. It includes $24 Million in guaranteed money and $33 Million in the first three years of the deal. Some reports say the deal is not signed yet but is very close. The Bills have not commented yet. What do you think of the deal? Take our poll on our homepage and let us know!

Same Five Sit: As has been the case all week, the same five players missed practice on Friday and won't play on Sunday in Toronto. Kyle Williams, Aaron Williams, Demeterius Bell, Chris Hairston, and Donald Jones are on the shelf. Injury Page.

Nix Says Williams Season Not In Jeopardy: Buddy Nix contradicted reports yesterday that said Kyle Williams is in danger of having his season shutdown. Nix said there has been no discussions of putting Williams on injured reserve. An article on NFL.com yesterday said that Williams will miss another few weeks before a decision will be made whether or not to end his season. Nix said they hope to get him back after rest and that an outside doctor doesn't believe the bone spurs threaten his season. Injury Page.


Thursday October 27, 2011


Williams To Miss A Few More Weeks: Kyle Williams will sit another few weeks before they determine whether or not to shut him down for the season. He was one of five players who did not practice today. It is the same group that missed yesterday's session. Aaron Williams, Demeterius Bell, Chris Hairston, and Donald Jones are also sidelined. Injury Page.

Annual Game In Toronto: The Bills go back to work after the bye week in Toronto for their annual game. This year the Redskins are their opponent. Washington is banged up after suffering several injuries in their loss to Carolina on Sunday. The Bills are well rested but still banged up as well. This is a big game for both teams as Washington tries to get back on track after two straight losses and the Bills try to put the loss to the Giants before the bye behind them. Game Preview.


Wednesday October 26, 2011


Five Sit: Five players did not practice today for the Bills and there were no surprise in who didn't workout. Aaron Williams, Kyle Williams, Demeterius Bell, Chris Hairston, and Donald Jones all were missing from the practice field and all but Bell have been all but ruled out for Sunday's game. Aaron Williams was seen on the sidelines for the first time in weeks as he was working on the stationary bike. With Shawne Merriman out, Chan Gailey said there will be a rotation in replacing him. He said Antonio Coleman likely won't be able to help them this week. Injury Page.

Bills Bring Coleman Back: The Bills filled Shawne Merriman's spot on the roster by signing Antonio Coleman off of the Giants practice squad. Coleman was with the Bills last year and in training camp before being among the final cuts. Front Office Page.

The quickest way to get breaking news from Bills Daily is to

follow us on twitter!
Tuesday October 25, 2011
Merriman On IR: The Bills have placed Shawne Merriman on injured reserve ending his season. His Achilles flared up before the Giants game causing him to miss it. He said after the bye he would return but he didn't. The injury isn't getting better and Buddy Nix said it won't get better anytime soon. The team decided to shut him down for the best interest of the team and Merriman. On his website, Merriman said that doctors have concurred that his Achilles is in danger of rupturing and he needs surgery to fix it. Arthur Moats and Danny Batten should battle to replace him in the lineup. Depth Chart.
Monday October 24, 2011
Six Sit: Six players did not practice on the first day back from the bye week. Shawne Merriman, Kyle Williams, Demetrius Bell, Donald Jones, Aaron Williams, and Chris Hairston all sat. Torrell Troup was limited and Chris Kelsay practiced and should be ready for Sunday. The Bills are thin at left tackle and Andy Levitre may need to start there with Chad Rinehart starting in Levitre's spot. There is a chance that Bell will return this week but Hairston is out. The team is thin at defensive tackle as well with Williams out and Troup hurt. They made a practice squad move to help there by adding DT Jay Ross and releasing WR Tim Toone. He was an undrafted free agent last year out of East Carolina and spent time with the Saints and Packers. Injury Page.
Bills Back To Work: The Bills will be back to work today at One Bills Drive. The place was shutdown as the players, and presumably the coaches, got four days off from Thursday through Sunday. Many players traveled while others rehabbed injuries. The team should be well rested as they get ready for a Redskins team that has now lost two straight games.
The quickest way to get breaking news from Bills Daily is to

follow us on twitter!
---
News Archives index
Latest News Section
Archives Library
Back to Bills Daily Homepage