Fitzpatrick May Get New Deal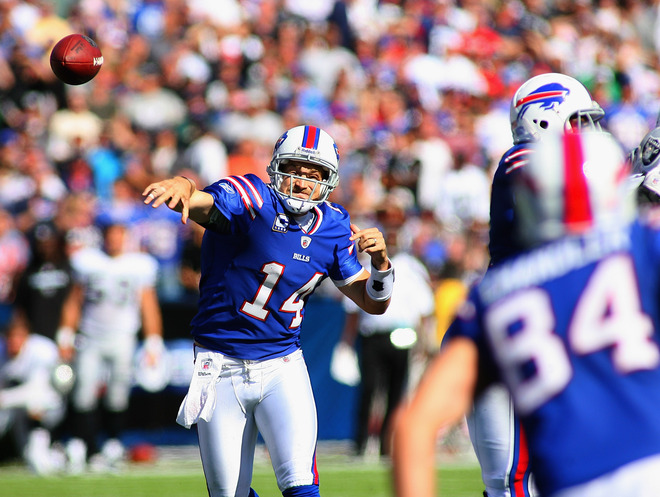 Bills, Fitz Close: Reports are that the Bills and Ryan Fitzpatrick are close on a new long term contract that will reportedly pay him between $9-$12 Million a year. That would put him right in the middle to top of the second tier of quarterbacks. A deal could be done before the Bills hit the field after the bye. What do you think of this? Take our poll on our homepage and let us know!
Thursday October 20, 2011


Bills Looking To Renovate The Ralph: The Bills have hired an architectural firm to look into what renovations are needed to Ralph Wilson Stadium. Any work would be tied to a new lease with the Bills lease running out in July of 2013. The Bills and the commissioner have made it clear that for the Bills to remain viable in Western New York the stadium would need to be renovated to keep up with the modern stadiums of the NFL. It appears the price tag of any renovations would run between $40 and $100 million according to the article from AP. The firm Populous will conduct a study to see what will be needed to upgrade the stadium and add fan-friendly, revenue-generating enhancements. Russ Brandon would not elaborate on what enhancements they are looking at but said they are looking inside and outside the stadium to take advantage of the tailgaiting tradition. Brandon also stressed the stadium's bones are in good shape and work is needed to make sure it stays sound for years to come. They are not looking to add more club suites and luxury boxes like they did under the current lease.

The quickest way to get breaking news from Bills Daily is to

follow us on twitter!
Wednesday October 19, 2011
Bills Practice: The Bills hit the fieldhouse for their only practice of the bye week. The players will be off the rest of the week. Chris Kelsay said he feels good and was on the field in limited duty. It looks like he will be back after the bye. Many players got the day off to use the bye week to nurse injuries. Not practicing today were Donald Jones, Aaron Williams, Nick Barnett, Shawne Merriman, Andy Levitre, Chris Hairston, Demetrius Bell, and Kyle Williams. Jones is doing a lot better and may be ahead of schedule in returning from his ankle injury. He was originally diagnosed to be out 4-6 weeks but hopes now it will be closer to four. That means he may be able to come back against the Jets in two weeks. Williams is expected to miss another game or two and will likely not be 100% all year. Injury Page.
Former Teammates Remember Hull: Players who were teammates of Kent Hull are stunned and saddened by the loss. He died of intestinal bleeding. Jim Kelly, Steve Tasker, Andre Reed, Fred Smerlas, Darryl Talley, Thurman Thomas, Marv Levy, and Glenn Parker are among the people who have come out to talk about Hull. Kelly called him his best friend saying words fall short in expressing his pain at the loss. Thomas said his heart breaks for his family calling him a big brother and a best friend. Reed said the Bills family lost a piece of itself with the loss of Hull. Levy called him one of the most memorable individuals he ever had the privilege to coach. Talley said Hull would call the plays when Kelly was knocked woozy on some plays.
Tuesday October 18, 2011
Hull Dies: Very sad news as the Mississippi State A.D. has reported that former Bill great Kent Hull has passed away at the age of 51. No word on the cause. Hull was a pro bowl center who Jim Kelly credited with being the brains behind the K-Gun offense as he made the line calls on the fly without hesitation. Our Condolences go out to his family.
Troubling Loss: Is the loss to the Giants one of those acceptable losses like we wrote in the my take section of the Bills Blitz? Or is it more signs that the Bills 4-2 start may not lead to the first playoff berth in 11 years. The Giants game was winnable but ended with a loss. Tony Bogyo breaks down where the Bills currently are as they hit the bye. Complete Story.
The quickest way to get breaking news from Bills Daily is to

follow us on twitter!
---
News Archives index
Latest News Section
Archives Library
Back to Bills Daily Homepage