Bills Lose Tough One In Meadowlands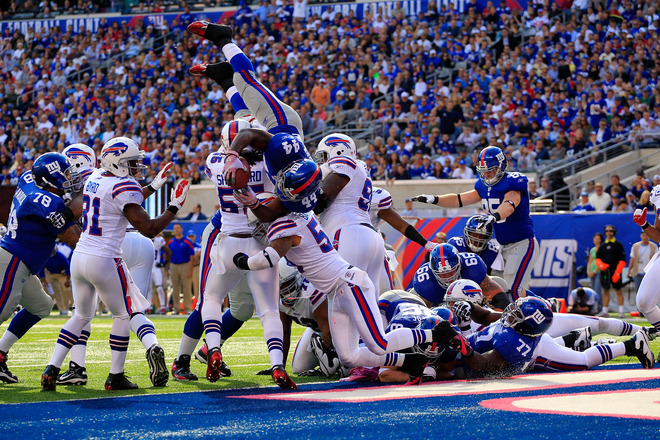 Hairston Out 2-4 Weeks: Chan Gailey addressed the media today and updated the team's injury situation. He said Chris Hairston will be out 2-4 weeks but the team may get a break. Demetrius Bell may return to action after the bye as they got good news on his injured shoulder. Shawne Merriman told the media he will be good to go after the bye as well. Injury Page.

Sheppard To Start: Chan Gailey said today that Kelvin Sheppard will start over Andra Davis at inside linebacker after the bye. The writing has been on the wall at the position as Sheppard has seen an increased role the past couple of weeks. C.J. Spiller will remain at wide receiver for the short term but long term he will move back to running back. Depth Chart.

Gameday Grades: The Bills had another uneven performance in their loss yesterday to the Giants. They did some good things on both sides of the ball but not enough to win. They were on the wrong side of the turnover battle for a change and that is the reason for the loss. Gameday Grades.


Sunday October 16, 2011


Bills Lose 27-24: You live by the turnover, you die by the turnover. Lawrence Tynes hit a 23 yard field goal with 1:40 left gave the Giants a 27-24 win over the Bills. Buffalo had a chance to take control of the game but Ryan Fitzpatrick threw an interception at the Giants 4 yard line with just over 4 minutes to go to give the Giants a chance and the ball back to drive for the winning score. Ahmad Bradshaw rushed for 104 yards and three scores in the Giants win. Fitz did throw a touchdown pass to Stevie Johnson to tie the game midway threw the fourth quarter. Fred Jackson had an 80 yard touchdown run and Naaman Roosevelt had a 60 yard catch and run for a score. For only the second time in his career, Jackson ran for over 100 yards in a Bills loss. Bills Blitz.

Hairston Hurt: Chris Hairston suffered an injury and was carted off in the second half. Andy Levitre moved to left tackle and Chad Rinehart replaced him at guard. Injury Page.


Saturday October 15, 2011


Another Nice Day For Football: The Bills streak of good weather games should continue tomorrow at the Meadowlands when the Bills battle the Giants. Gametime temperature will be in the mid 60s under bright sunny skies. The only issue will be winds out of the West Southwest at around 16mph. We will be at the game and will tweet from Met Life Stadium! Our Bills Blitz and Gameday Grades normally done on Sunday evening may not get done until midday Monday this week.

For in game commentary and breaking news over the weekend

follow us on twitter!
Friday October 14, 2011
Merriman Doubtful: Shawne Merriman is officially doubtful for Sunday's game after his Achillies injury flared up yesterday. He said it isn't a setback and they expected it to happen at some point. Having it happen a week before the bye may be good timing as they just have to take control of it. It sounds like he won't play. Kyle Williams, Nick Barnett, and Da'Norris Searcy are all questionable after practicing on a limited basis today. Williams will test his foot during pregame warmups to see if he can go. Searcy shocked the coaches by practicing today after he was all but ruled out yesterday. Injury Page.
Williams Practicing: Kyle Williams surprisingly is on the practice field this morning as the Bills workout in the fieldhouse. He was taking part in individual drills and stretching exercises. Nick Barnett was also practicing today after being limited yesterday. Da'Norris Searcy was also on the field although it is unlikely he will play on Sunday as he is battling an ankle injury. Shawne Merriman is not practicing as it is looking more and more likely that his Achilles injury may effect his chances of playing this week futher depleting the Bills outside linebacking corps that is already missing Chris Kelsay. Donald Jones, Demeterius Bell, and Aaron Williams have already been ruled out.
Thursday October 13, 2011
Merriman's Achilles A Problem: Shawne Merriman returned to practice on Thursday but was limited. His designation has been changed from a shoulder injury to an Achilles problem. This is a huge red flag since that is a problem he has had over the past two years. Kyle Williams remains sidelined and Chan Gailey confirmed he will be a gametime decision. Nick Barnett was added to the report as limited with an ongoing sore ankle. Torrell Troup is expected to play on Sunday. Andy Levitre also practiced today and should play on Sunday but Da'Norris Searcy remained sidelined. Injury Page.
NFC East Stretch Continues: The Bills head to New Jersey this weekend to take on the Giants. It is the second of three straight games against NFC East foes and continues a stretch of four games against the division in five games. The Giants will be a tough battle as they are favored in the new Meadowlands stadium. Game Preview.
Wilson Honored: George Wilson was named AFC Defensive Player of the Week yesterday for his performance against the Eagles on Sunday. He had nine tackles, three pass breakups and an interception in the win.
The quickest way to get breaking news from Bills Daily is to

follow us on twitter!
Wednesday October 12, 2011
Eight Sit: Eight players sat out practice which isn't unusual for a Wednesday session. Kyle Williams did not practice as he is battling a foot/ankle injury that started in training camp but flared up during the game against the Eagles. He hopes to play Sunday but it will be up to the coaching staff. Also sitting were Aaron Williams, Shawne Merriman, Demetrius Bell, Da'Norris Searcy, Donald Jones, Andy Levitre, and Chris Kelsay. Torrel Troup and Chris White returned to practice. Injury Page.
Tuesday October 11, 2011
Practice Squad Move: The Bills needed help at wide receiver and were overloaded at corner so they made a move to their practice squad. They have signed WR Tim Toone and released CB Brandon Bing. Toone was Mr. Irrelevant in 2010 as the last pick in the draft.
Bills Keep Winning: It's a conflicting time for our featured columnist Tony Bogyo. He turns to philosophy to try to figure out why the Bills keep winning despite the mountain of yards they give up on defense. Do the yards matter if they keep winning? Will the winning continue? Check out Tony's take on the Bills winning ways. Complete Story.
The quickest way to get breaking news from Bills Daily is to

follow us on twitter!
Monday October 10, 2011
Jones, Bell Out This Week: Chan Gailey spoke to the media this afternoon and updated the injury status of several players. Donald Jones will miss 4-6 weeks with a high ankle sprain. Demetrius Bell will sit another week with his shoulder injury. Kyle Williams will be questionable at best with an ankle injury. Chris Kelsay remains sidelined as well so Arthur Moats will stay on the outside. Terrence McGee will play this week. He was active yesterday but did not play. Injury Page.
Commissioner Confident: Roger Goodell took in the Bills game from the soldout stands at Ralph Wilson Stadium yesterday. Before the game he addressed some season ticket holders and the media. He spoke about the future of the team in Western New York and stated he's confident the team will remain in Buffalo. He feels if they get some stadium improvements and the fan support remains high there is no reason the team will leave. On the future after Ralph Wilson is no longer with us, Goodell said he thinks the Bills owner as taken the right steps for the team and said the league will work with the team to fulfill his wishes. He also confirmed that talks for a new long term lease are underway.
---
News Archives index
Latest News Section
Archives Library
Back to Bills Daily Homepage