Bills Rebound With Win Over Philly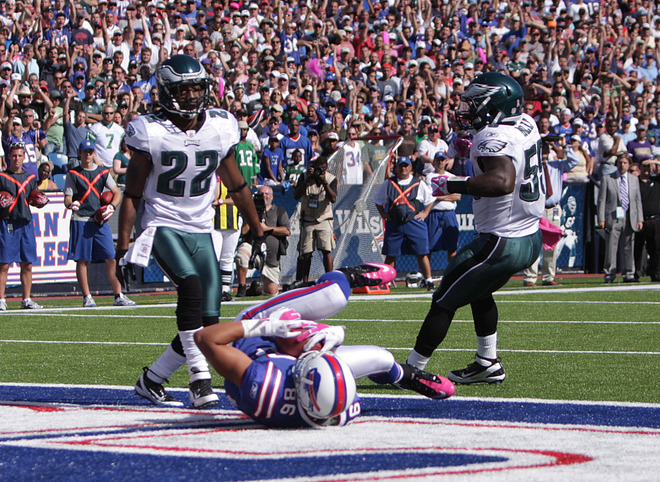 Gameday Grades: How do you grade this defense? They give up huge chunks of yards but also make huge plays. The offense did enough to win and adjusted to losing Donald Jones to an ankle injury early in the game. They are passing grades as the Bills move to 4-1 on hte season. Gameday Grades.

Bills Hold On For Win: Nick Barnett intercepted Michael Vick with 1:49 to help end the Eagles feverish comeback attempt and give the Bills a hard fought 31-24 win. The game was clinched when the Bills drew the Eagles offsides on 4th and inches when the Bills weren't going to snap the ball. That was Barnett's second pick of the day, his first was returned for a touchdown and gave the Bills a 21-7 halftime lead. They upped the lead to 28-7 on a Brad Smith touchdown run early in the third before the Eagles started coming back. The Bills defense used their tried and true formula as they gave up a ton of yards and points but forced five turnovers to hold on for the victory. Fred Jackson led the way with 111 rushing yards and 85 through the air including a touchdown run of his own. Ryan Fitzpatrick used a short passing game after losing his deep threat Donald Jones to an injury. Fitz hit 21 of 27 passes for 193 yards and a touchdown pass to David Nelson. Corey McIntyre and Kyle Williams also got banged up in the win. Bills Blitz.

Jones, McIntyre, Williams Hurt: Donald Jones was taken to the locker room on a cart in obvious pain after limping off in the first quarter. He suffered a left ankle injury and did not return. Chan Gailey said he will be out a while but it's not season ending. Corey McIntyre was injued in punt coverage in the fourth quarter. Kyle Williams hurt his ankle late in the game and was not on the field on the final drive. Gailey wouldn't comment any further on his injury but said nobody else besides Jones was seriously injured. Injury Page.

Inactives: Aaron Williams, Chris White, Demetrius Bell, Chris Kelsay, and Torell Troup are all inactive today with injuries. The other inactives are Colin Brown and Terrence Wheatley. That means Terrence McGee and Kraig Urbik both come back from injuries.

Beautiful Day For Football: The Calendar may say it's fall but it will be downright summer like at the Ralph this afteroon for the Bills and Eagles. The game will be played under beautiful sunny skies with a gametime temperature of 74° and very light winds out of the West Southwest.

For in game commentary

follow us on twitter!
Friday October 7, 2011
Kelsay Sidelined: Aaron Williams, Chris White, Demetrius Bell, Chris Kelsay, and Torell Troup did not practice today and have all been ruled out of Sunday's game. All the other players who missed practice time this week are listed as probable. Kelsay has what appears to be a torn calf muscle and will be out more than just this week. Chan Gailey said it will depend on the situation who will lineup in his place but Danny Batten gets the first shot. Arthur Moats is back outside and should get playing time. Spencer Johnson is also getting some time at outside linebacker. Terrence McGee is listed as probable as he is ahead of schedule in returning from a hamstring injury. He may not start but should see some time in subpackages. Injury Page.
Thursday October 6, 2011
McGee Close For Sunday: Terrence McGee practiced for a second straight day today and Chan Gailey said he is close to being available on Sunday. They will see how he makes it through tomorrow's practice but know they can't rush his return from a hamstring injury. Torrel Troup is suffering from lower back problems again and did not practice. It appears he will not play on Sunday. Chris Kelsay felt a twinge towards the end of practice and was taken in for a look. Eric Wood, Ruvell Martin, Shawne Merriman, C.J. Spiller and Nick Barnett returned to practice. Injury Page.
Vick Creates Matchup Problems: The Bills and Eagles go into Sunday's game at Ralph Wilson Stadium needing a win. The Eagles are a bit more desperate than the Bills since they are the so called dream team is off to a 1-3 start. It is as close to a must win for Philadelphia as you can get this early in the season. That will make it just that much tougher for Buffalo. Game Preview.
The quickest way to get breaking news from Bills Daily is to

follow us on twitter!
Wednesday October 5, 2011
Eight Sit: The Bills have a growing number of bumps and bruises as eight players sat out practice today. Nick Barnett, Shawne Merriman, Eric Wood, Demetrius Bell, C.J. Spiller, Aaron Williams, Chris White and Ruvell Martin all did not work today. Spiller hurt his knee against the Bengals but should play Sunday. Merriman was resting his ailing shoulder but should be fine. Barnett was banged up and Wood has a minor ankle injury, neither is considered serious. Terrence McGee was back on the practice field but not wearing pads and Kraig Urbik took his normal right guard spot. Chad Rinehart worked at left guard while Andy Levitre took the snaps at center. Stevie Johnson practiced on Wednesday for the first time in three weeks meaning his groin injury is better. Injury Page.
Tuesday October 4, 2011
Bills Come Down To Earth: What a difference a week makes. The Bills went from winning on a last second field goal to losing the same way. The team has come back to earth as some of its fans. One of them is our own Tony Bogyo who analyzes the loss and what is wrong with the team at the quarter pole of the season. Complete Story.
The quickest way to get breaking news from Bills Daily is to

follow us on twitter!
Monday October 3, 2011
Bell Out This Week: Demetrius Bell will not play this week Chan Gailey said in his press conference today. He doesn't need surgery but he will not play. Rookie Chris Hairston will start for him. Gailey said Hairston has improved and will have a big test this week. Luckily for the Bills he won't have to face the Eagles best pass rusher. Right defensive end Trent Cole will be out for the Eagles. In other injury news, Aaron Williams will not play on Sunday as he has already been ruled out by Chan Gailey. Terrence McGee is expected to practice but it doesn't appear too likely that he will play on Sunday. Kraig Urbik has a chance at playing and the coach said he will resume his starting role when he's ready to play. Nick Barnett was banged up in the loss to the Bengals and may miss practice time but should play against the Eagles. Injury Page.
---
News Archives index
Latest News Section
Archives Library
Back to Bills Daily Homepage