Bills Get Blown Out For 6th Straight Loss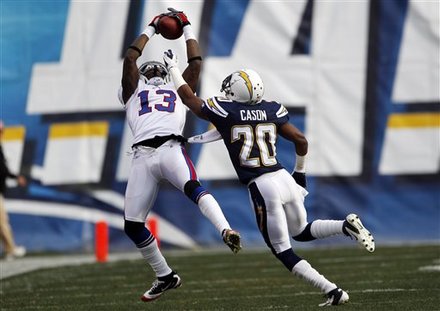 All Three Units Awful: I feel like I've written this before, all three units contributed to another blowout loss. The grades once again are not pretty. Gameday Grades.

Bills Blown Out By Chargers: It's official, for the 12th straight year the Bills will not be in the playoffs. The 37-10 loss to San Diego officially eliminated the Bills from the AFC playoff picture and gave the Bills their 6th straight loss as the season continues to crumble down around them. Phillip Rivers threw three touchdown passes while Ryan Fitzpatrick had a terrible game throwing two interceptions, one was returned for a touchdown. The Bills lone touchdown was scored when Bryan Scott fell on a Rivers fumble in the end zone to pull the Bills within six early in the third quarter. It was just a momentary reprieve from the rout as the Chargers controlled the game throughout. Bills Blitz.

Dareus, Johnson Banged Up: The Bills seemed to get out of the game ok injury wise for a change as nobody seemed to get seriously hurt in the loss. Marcell Dareus walked off under his own power in the final minute when he got dinged. It appeared to be a wrist injury that wasn't serious. Stevie Johnson said after the game his right hand was bothering him, maybe a nerve thing. Injury Page.

Inactives: Inactive with injuries today are Aaron Williams and Scott Chandler. That means George Wilson will return after a lengthy absence for a neck injury. Derek Hagan and Kyle Moore will make their Bills debuts. The healthy scratches are Joshua Nesbitt, Kamar Aiken, Sam Young, Fendi Onobun, and Antonio Coleman.

Nice So Cal Weather: It will be beautiful "winter" weather in San Diego for today's game. Gametime temperature will be 58° and the game willbe played under partly to mostly cloudy skies. Winds will be out of the West Southwest at 8mph.

Follow us on twitter! For commentary throughout today's game!
Friday December 9, 2011
Chandler, Williams Remain Sidelined: Scott Chandler and Aaron Willians remained sidelined during this morning's practice before the team headed to San Diego. Chandler has been ruled out while Williams is doubtful. Jairus Byrd and George Wilson both practiced again today and are probable. Chad Rinehart is probable after tweaking his shoulder. He is expected to play. Injury Page.
Bills Sign TE: The Bills filled the roster spot vacated by Rian Lindell. They have signed tight end Fendi Onobun. He was a sixth round draft pick of the Rams in 2010. He caught two passes for them last year. This season he has bounced around as he was on the practice squad of Seattle, Washington, and Jacksonville. He was released by the Jagaurs last week and had spent last week on their active roster when they played the Chargers so he will be facing San Diego two weeks in a row. He played college basketball for four years at Arizona. The team released Felton Huggins from injured reserve. Front Office Page.
Williams Recovering: Kyle Williams was at Bills practice yesterday adn spoke to the media regarding his injury. He said the surgery was a success and he should be ready to go in six months. He explained the injury was bone spurs on his heel under his Achilles tendon. He had the issue since college and since he had the surgery he has more flexibility in his ankle than he has had in years. They decided to have the surgery and shut him down because he was in danger of rupturing the Achilles tendon which would have made the surgery much tougher and the recovery time would be doubled. Injury Page.
The quickest way to get breaking news from Bills Daily is to

follow us on twitter!
Thursday December 8, 2011
Byrd Returns: Rian Lindell has been placed on injured reserve ending his season. The latest x-ray on his broken shoulder was not clean. Jairus Byrd returned to practice today after sitting out yesterday with a shin injury suffered in the loss to Tennessee. George Wilson also practiced for a second straight day making it more likely he will play on Sunday. Scott Chandler did not practice as Chan Gailey had hoped. That increases the likelihood that he won't play on Sunday. Aaron Williams remains sidelined as expected. Injury Page.
Bills Head West: The Bills head to the West Coast for their one and only trip this season. They will leave a day earlier than usual flying out Friday in hopes to get acclimated to the time change. The Chargers are coming off a Monday night win against Jacksonville that ended their six game losing streak while the Bills try to stop their five game losing streak. Game Preview.
The quickest way to get breaking news from Bills Daily is to

follow us on twitter!
Wednesday December 7, 2011
Byrd Sits: Jairus Byrd was a bit of a surprise as one of the players not practicing. He had x-rays after the game against Tennessee when he injured his shin in the game but on Monday Coach Gailey said he'd be fine. In his place Da'Norris Searcy moved over to free safety to practice for Byrd. George Wilson practiced at his normal free safety spot and Bryan Scott took reps at inside linebacker. That is not unusual but he usually also works at safety, he did not today. Demeterius Bell is expected to get reps at left tackle during Sunday's game. Injury Page.
Wilson Cleared To Practice: George Wilson told the media today he has been cleared to practice and that he expects to play this week. Chan Gailey said on Monday he wasn't optimistic that Wilson will play. Scott Chandler is not practicing today but he is feeling better as he battles an injured ankle.
Tuesday December 6, 2011
McKelvin Likely To Start: Aaron Williams will likely be sidelined this week meaning rookie Justin Rogers or Leodis McKelvin will take his place in the starting lineup. Chan Gailey would not committ to a starter but admitted he is leaning towards putting McKelvin back in the starting lineup. He replaced Williams against Tennessee and had two long pass breakups. The other position in question is left tackle. Chris Hairston will start again but the coach would like to get Demeterius Bell involved. Bell is now healthy and was active last week but did not get in the game. Depth Chart.
The quickest way to get breaking news from Bills Daily is to

follow us on twitter!
Monday December 5, 2011
Williams Not As Bad As Feared: Chan Gailey addressed the media regarding the injuries today. He said the injury to Aaron Williams is not as bad as it could have been. He will likely miss this week's game. Scott Chandler has an outside chance at playing this week after leaving the game with a sprained ankle but will likely be sidelined. Jairus Byrd is expected to be fine. Rian Lindell had another x-ray on his shoulder and it isn't as clean as they would like. The coach is not optimistic that George Wilson will return this week. Injury Page.
---
News Archives index
Latest News Section
Archives Library
Back to Bills Daily Homepage