Bills Losing Streak Continues Against Miami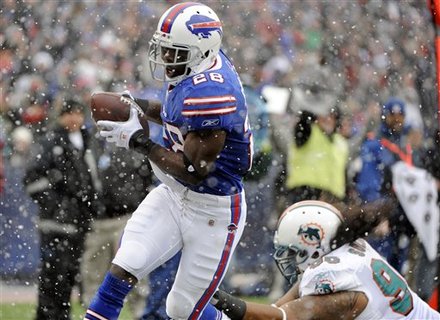 Gameday Grades: The offense was awful until the Dolphins went prevent in the fourth quarter. The only player on that side of the ball that played well was C.J. Spiller. The defense played inspired at times but also gave up 200 yards on the ground to Reggie Bush. Special teams have been a huge part of the problem in recent weeks. That will make for some tough grades once again this week. Gameday Grades.

Bills Lose 30-23: Ryan Fitzpatrick threw three interceptions and Matt Moore threw two touchdown passes to lead the Dolphins to a 30-23 victory over the Bills. The game wasn't nearly as close as the final score as the Bills padded their stats against the prevent defense and scored 16 fourth quarter points surrounded by a 76 yard touchdown run by Reggie Bush who ran for 203 yards. C.J. Spiller ran for 91 yards and added 76 yards receiving while scoring two touchdowns. Fitzpatrick continued his free fall since signing the contract extension. He was awful while the game was still in doubt and had one of the worst 300 yard passing game I have ever seen. He hit Spiller and Derek Hagan for touchdown passes in the fourth quarter. The Bills recovered one onside kick and hit the field goal to get within seven but the second onside kick was easily recovered by Miami ending the game. Bills Blitz.

Smith, Johnson Hurt: Lee Smith suffered the most significant injury in the loss to Miami. He hurt his left ankle and was carted off after getting off to the sidelines with help. He did not return. Stevie Johnson missed the final minutes of the game with a reoccurence of his groin injury. Marcell Dareus missed a series after getting dinged up but returned to action than left again with what looked like a left thumb injury. Kelvin Sheppard missed some plays as well after getting a shot to the ribs on a collision with Bryan Scott. Both players finished the game. Injury Page.

Roosevelt Surprise Inactive: The only player inactive because of an injury is Scott Chandler. The healthy scratches include newly signed Jarron Gilbert. Also inactive are Joshua Nesbitt, Kamar Aiken, Sam Young, Fendi Onobun, and Naaman Roosevelt is a surprise inactive. For the Dolphins, T Jake Long is inactive but Matt Moore will start at QB.

Snow Possible: December games in Buffalo always have snow as a possibility and today is no different. There are snow showers in the forecast for the morning and more possible later in the day. The gametime temperature is expected to be 34° under partly cloudy skies with winds out of the West Southwest at 11mph. The wind chill factor will be in the 20s.

Follow us on twitter! For commentary throughout today's game!
Saturday December 17, 2011
Bills Add DE: The Bills made a rare Saturday roster move today by releasing LB Antonio Coleman and signing DE Jarron Gilbert. The newest Bill spent most of the past two seasons on the Jets practice squad and played in one game for them last year against the Bills. He is considered a 3-4 defensive end. Depth Chart.
Friday December 16, 2011
Rayner Ready: Dave Rayner kicked in practice again today and is ready to go for Sunday, he is officially listed as probable. Aaron Williams will start as he practiced fully again today and is listed as probable. Chan Gailey confirmed he will start moving Leodis McKelvin over to a backup role once again. Demetrius Bell will start at left tackle but Chris Hairston is expected to see some action. Scott Chandler has been ruled out. For Miami, QB Matt Moore and LT Jake Long are listed as questionable. Moore is expected to play, Long may be more questionable. Injury Page.
Thursday December 15, 2011
Williams Should Start: Aaron Williams practiced fully today and is expected to start on Sunday. Dave Rayner kicked but was limited in practice today with a groin injury. He should be good to go for Sunday as well. Scott Chandler remains out of practice but did some work on the stationary bike on the sidelines. Injury Page.
Game Blacked Out: As expected Sunday's game against Miami is blacked out. The Bills are donating several thousand tickets to military personnel. One of the main intrigues may not happen, QB Matt Moore returned to practice today meaning he may start Sunday instead of J.P. Losman. T Jake Long also practiced today after sitting yesterday.
Intrigue Surrounds Matchup: On the surface this week's game between Miami and Buffalo will be a boring matchup of bottom feeders. There is some interesting things to watch for starting with the likely return of J.P. Losman to Buffalo. He will be here with the Dolphins and will likely start for the injured Matt Moore. Miami also brings a new head coach to town with them as Tony Sparano was fired on Monday. Game Preview.
The quickest way to get breaking news from Bills Daily is to

follow us on twitter!
Wednesday December 14, 2011
Williams Returns To Practice: Aaron Williams returned to practice today. Chan Gailey will wait and see how he does during the week before deciding on whether or not he will play on Sunday. He said he has high hopes he'll be ready but wouldn't say if he will start if he can go. Scott Chandler is not practicing today and the coach doesn't feel good about his chances of playing. Demetrius Bell is taking first team reps at left tackle. Roscoe Parrish was on hand yesterday and said he's nearly fully recovered from his injury. He is an unrestricted free agent but said he'd love to stay in Buffalo. Stevie Johnson is saying the same thing, he is content to ride out his contract this year though. He said he will sign with the Bills if everything is right. Marcus Easley has been cleared to return next year. He missed the year with a heart ailment. Injury Page.
QB Not In Thought Process: Chan Gailey was asked about the possibility that the team will draft a quarterback in the first round of the draft. He said the media would have to talk to GM Buddy Nix but quickly added that it isn't in the thought process. On Monday, Gailey re-affirmed that he is totally committed to Ryan Fitzpatrick as his quarterback going forward. The big contract signed by Fitz makes him the franchise quarterback. The Bills also likely won't draft high enough to get one of the big three quarterbacks in the draft.
Bills Add TE: The Bills filled their open spot on the practice squad today. They signed TE Kevin Brock to fill the spot vacated by Mana Silva who signed with the Cowboys. Brock was with the Panthers in 2009 as an undrafted free agent. He has bounced around to Pittsburgh, Chicago, and most recently Oakland. He played his college ball at Rutgers.
Cuomo Won't Commit: New York Governor Andrew Cuomo was in Buffalo yesterday and was asked about the future of the Bills in Western New York. He said he's committed to keeping the Bills in Buffalo and said they are very important to the entire state, not just Western New York. He said he's looking forward to working with local governments and the community in finding ways to keep the Bills in Buffalo. He also said money is tight and wouldn't commit to the $100 Million that the local governments are expected to ask the state for to renovate Ralph Wilson Stadium.
Practice Squad Loss: The Bills have lost a player on their practice squad. The Cowboys have signed S Mana Silva who has been on the unit for just over a month.
Tuesday December 13, 2011
Pears Extended: The Bills announced that they have reached an agreement on a contract extension with T Erik Pears. The 7 year veteran was due to become an unrestricted free agent at the end of the season. He joined the Bills late last year and moved into the starting lineup at right tackle this year. He has played very well and has been steady this season.
The Journey To Shame: The Bills have been in a free fall since the season was at its halfway point. The fans have taken that fall right with the team. Tony Bogyo's latest article talks about the journey to shame for all Bills fans as they get back to their usual losing ways. Complete Story.
The quickest way to get breaking news from Bills Daily is to

follow us on twitter!
Monday December 12, 2011
Dareus May Be Limited: Chan Gailey addressed the media today and said that Stevie Johnson will have his hand taped but should be fine. He hurt it in yesterday's loss. Marcell Dareus did get nicked up and may be limited on Wednesday but is expected to be ok. The coach feels better about Aaron Williams' chances at playing than he does about Scott Chandler. The coach was pleased with the play of Demetrius Bell saying it was better than expected. He will decide later in the week who will start at left tackle. They are expected use the last three games to evaluate personnel for next year. Injury Page.
---
News Archives index
Latest News Section
Archives Library
Back to Bills Daily Homepage