Bills Snap Seven Game Losing Streak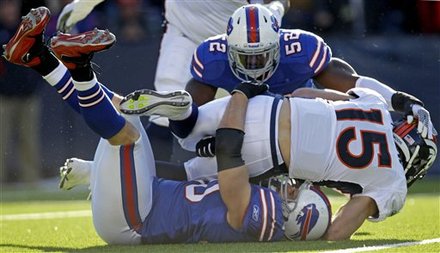 Big Plays Lead To Rout: There were big plays made by the defense and special teams leading to the rout of Denver. Two defensive scores and a special teams score along with four field goals helped bail out an offense that struggled in the red zone. Gameday Grades.

Bills Blow Out Broncos 40-14: There was no magic for Tim Tebow on this day. The Bills picked him off four times, two of them were returned for touchdowns on back to back plays to lead the Bills to a 40-14 Christmas Eve rout over the Broncos. Leodis McKelvin set a club record for punt return yardage including an 80 yard return for a score. C.J. Spiller ran for a career high 111 yards and also had a score. Jairus Byrd took an interception back 37 yards for a touchdown. On the next play from scrimmage Chris Kelsay hit Tebow from behind and Spencer Johnson picked it out of the air and rumbled 17 yards for another touchdown. Dave Rayner bounced back from two misses to hit his last four field goals. Bills Blitz.

More Injuries: Anothe rash of injuries for the Bills in today's win. Kraig Urbik left the game with a knee injury in the first half. He was riding the stationary bike in the second half so it didn't appear too serious. Colin Brown took his place and was errant on his first two shotgun snaps. Demetrius Bell suffered a left knee injury and did not return. Brad Smith left the game with a hip flexor. Mike Caussin and Kamar Aiken both got banged up on a kickoff return. Caussin was ruled out for the rest of the game with a knee injury. Injury Page.

Chandler Will Play: Johnny White and Ruvell Martin are out with injuries. Newly signed Kevin Brock is active for the first time, he was on the practice squad until this week. Scott Chandler is also active. Healthy inactives are Joshua Nesbitt, Sam Young, Jarron Gilbert, Fendi Onobun, and Naaman Roosevelt.

Nice Christmas Eve Weather: For a game in Orchard Park on Christmas Eve the weather will be great. At kickoff the skies should be Partly Cloudy with a temperature of 32°. There will be little wind and very little chance of any snow or rain. The winds will be out of the Southwest at 6mph.

Follow us on twitter! For commentary throughout today's game!
Friday December 23, 2011
Chandler, Johnson Look Good To Go: Scott Chandler and Stevie Johnson are both listed as probable and should play tomorrow. They both practiced again today but Chandler was still limited. Ruvell Martin and Johnny White have been ruled out after not practicing again today. Injury Page.
Owner Talks: Ralph Wilson doesn't talk to the media often so when he does it's worth noting. Wilson spoke on the phone with the Associated Press yesterday and spoke on a number of subjects. He said renewal discussions are underway on a new deal to continue the Buffalo Toronto Series at reduced ticket prices. He said the team is totally committed to Ryan Fitzpatrick but they need to get some wide receivers and healthy tight ends for him to throw to. He also said fans must be patient as the rebuilding project will take several years to make the team a contender. I have two questions to that, how patient can fans be? Hasn't waiting 12 years been patient enough? Why does it take several years to rebuild? If you draft smart and spend money wisely you can do it much quicker, ask San Francisco.
The quickest way to get breaking news from Bills Daily is to

follow us on twitter!
Thursday December 22, 2011
White, Martin Sit: Johnny White sat again today with his concussion, he will most likely be ruled out this week. Ruvell Martin missed practice today after being limited yesterday with a hamstring injury. Scott Chandler practiced again today but appeared still hobbled with his ankle injury. Chan Gailey said yesterday that he has a decent chance at playing but many obvservers feel like it will be tough for him to play. Injury Page.
Wednesday December 21, 2011
Johnson Practices: Stevie Johnson returned to practice today and although he was limited he will play on Sunday. Scott Chandler practiced again but was limited, Chan Gailey said he has a decent chance at playing. Johnny White missed practice again with a concussion reducing the chance he plays. Ruvell Martin was a late add to the report, he was limited with a hamstring injury. Injury Page.
Game Blacked Out: As expected Saturday's game is blacked out with approximately 24,000 tickets left. It is in danger of being the smallest crowd at Ralph Wilson Stadium since 2001 or 2002. There was a game each year that had less than 50,000 people because of a snow storm. Weather has nothing to do with the remaining tickets for this game. According to Buffalo Sports Daily since the Bills sold out 26 straight games they have had six blackouts in the last 14 games.
Tebow Mania Comes To Town: There is excitement leading up to the Bills Christmas Eve home finale but it has nothing to do with the Bills. It has to do with the opposing quarterback as Tebow mania hits Western New York on Saturday. It will be very tough for the Bills to snap their seven game losing streak with the phenom on the other side of the field. Game Preview.
The quickest way to get breaking news from Bills Daily is to

follow us on twitter!
Tuesday December 20, 2011
Smith To IR: The Bills have placed TE Lee Smith on injured reserve with his ankle injury ending his season. They filled his spot by promoting TE Kevin Brock from the practice squad. The Bills hope to get TE Scott Chandler back this week but he was very limited in practice today. Marcell Dareus was also limited with his hand injury but he says he will be ready for the game this week as he looks forward to going against Tim Tebow like he did in college. Johnny White missed practice today as well. Injury Page.
Johnson Sits; Chandler Returns: Stevie Johnson is not practicing today as they are resting his groin. He is expected to practice later in the week and play on Saturday. Scott Chandler has returned to practice and Chan Gailey is hopeful he will play this week. Marcell Dareus is also practicing. Injury Page.
The quickest way to get breaking news from Bills Daily is to

follow us on twitter!
Monday December 19, 2011
Players Day Off: The players have the day off today instead of Tuesday. With this week's game on Saturday they will have their usual media day activities on Tuesday. Most teams play Saturday this week and have off Sunday for Christmas Day. That means there will be no injury updates likely today. Marcell Dareus had his left hand or wrist x-rayed after he came out of the game twice yesterday and did not finish it. Stevie Johnson said he is ok after re-aggravating his groin injury. Lee Smith has already been ruled out this week with an ankle injury. Injury Page.
Sunday December 18, 2011
Gameday Grades: The offense was awful until the Dolphins went prevent in the fourth quarter. The only player on that side of the ball that played well was C.J. Spiller. The defense played inspired at times but also gave up 200 yards on the ground to Reggie Bush. Special teams have been a huge part of the problem in recent weeks. That will make for some tough grades once again this week. Gameday Grades.
Bills Lose 30-23: Ryan Fitzpatrick threw three interceptions and Matt Moore threw two touchdown passes to lead the Dolphins to a 30-23 victory over the Bills. The game wasn't nearly as close as the final score as the Bills padded their stats against the prevent defense and scored 16 fourth quarter points surrounded by a 76 yard touchdown run by Reggie Bush who ran for 203 yards. C.J. Spiller ran for 91 yards and added 76 yards receiving while scoring two touchdowns. Fitzpatrick continued his free fall since signing the contract extension. He was awful while the game was still in doubt and had one of the worst 300 yard passing game I have ever seen. He hit Spiller and Derek Hagan for touchdown passes in the fourth quarter. The Bills recovered one onside kick and hit the field goal to get within seven but the second onside kick was easily recovered by Miami ending the game. Bills Blitz.
Smith, Johnson Hurt: Lee Smith suffered the most significant injury in the loss to Miami. He hurt his left ankle and was carted off after getting off to the sidelines with help. He did not return. Stevie Johnson missed the final minutes of the game with a reoccurence of his groin injury. Marcell Dareus missed a series after getting dinged up but returned to action than left again with what looked like a left thumb injury. Kelvin Sheppard missed some plays as well after getting a shot to the ribs on a collision with Bryan Scott. Both players finished the game. Injury Page.
Roosevelt Surprise Inactive: The only player inactive because of an injury is Scott Chandler. The healthy scratches include newly signed Jarron Gilbert. Also inactive are Joshua Nesbitt, Kamar Aiken, Sam Young, Fendi Onobun, and Naaman Roosevelt is a surprise inactive. For the Dolphins, T Jake Long is inactive but Matt Moore will start at QB.
Snow Possible: December games in Buffalo always have snow as a possibility and today is no different. There are snow showers in the forecast for the morning and more possible later in the day. The gametime temperature is expected to be 34° under partly cloudy skies with winds out of the West Southwest at 11mph. The wind chill factor will be in the 20s.
---
News Archives index
Latest News Section
Archives Library
Back to Bills Daily Homepage