Bills Close Out Season With Another Loss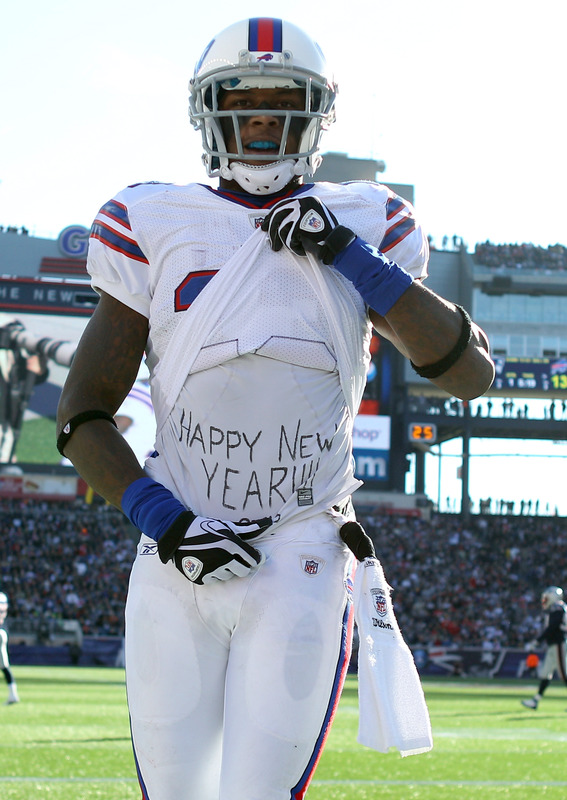 Both Units Fail Down The Stretch: The Bills started off very hot in this game but the offense and defense failed down the stretch as the Bills season has come to a merciful conclusion and our grades reflect that. Gameday Grades.

Johnson On His Benching: Stevie Johnson said after the game that he didn't know it would draw a penalty and it is hurting him that it hurt his team and his teammates. He respected Coach Gailey's decision to sit him the rest of the game. He can't wine and pout about it. It doesn't matter why a penalty was called he just has to take his punishment and is upset it hurt the team. He hopes his play on the field determines his future and not the benching but he admitted he doesn't know. It was hard for him to stand by his guys knowing he should be out there. His teammates said they had his back but inside he felt bad by the decision he made. He said he lives and he learns. He said he knew Gailey's rule about benching players who have demonstration penalties and he respects it. He re-iterated as of now he is a Buffalo Bill.

Gailey On Benching: Chan Gailey was asked about the benching of Stevie Johnson during his post game press conference. He said after the issue earlier in the season that anyone that got a demonstration penalty would be out for the rest of the game. Since he said that he was going to do it so Johnson was out. He was disappointed that it happened. He did defend Johnson somewhat saying he didn't get a penalty last year when he put a message on his shirt but he did this year so he would want to know which way is it, a penalty or not. When asked if he is getting tired of the theatrics he said he was tired the first time he did it. Gailey said Johnson's a good guy that uses bad judgement sometimes and it hurts the team. He said he has to learn from his mistakes and he doesn't seem to be learning from it. When asked if this affects him wanting Johnson next year, Gailey said that they will talk about the future in the days ahead.

Patriots Blow By Bills 49-21: The Patriots scored 49 unanswered points as they overcame an early 21-0 deficit to blow by the Bills 49-21 and clinch homefield throughout the playoffs. Ryan Fitzpatrick threw four second half interceptions, the first two led to short touchdown drives and the third was returned for a score and the fourth put an exclamation point on the 6-10 season. The Bills came out like gang busters scoring three first quarter touchdowns to build a big early lead. Fitzpatrick was on his game early and followed a Tashard Choice 4 yard touchdown run with an 18 yard touchdown pass to Stevie Johnson and a 15 yard catch and run for a score by C.J. Spiller. Johnson was called for an excessive celebration penalty after his score and was benched for the rest of the game by Chan Gailey. The Patriots started their journey to back with two second quarter touchdowns. Two Steven Gostkowski field goals pulled them within one point late in the third before Fitz's miscues gave the Patriots total control of the game. Western New York native Rob Gronkowski scored two touchdowns for the Patriots. Tom Brady threw for 338 yards and three touchdowns. Bills Blitz.

Chandler Hurt: Scott Chandler left the game in the first half with a knee injury and did not return. Ruvell Martin hurt what appeared to be his left hand or wrist in the first quarter. He was helped to the sidelines but did return. Chris Kelsay and Nick Barnett both got banged up and returned as well. Injury Page.

Inactives: The three injured inactives are Kraig Urbik, Demetrius Bell, and Brad Smith. As expected Johnny White and Ruvell Martin will play. The healthy inactives are Joshua Nesbitt, Jarron Gilbert, Fendi Onobun, and Kamar Aiken. That means that Naaman Roosevelt is active for the first time in a few weeks.

Nice New Year's Day Weather: The weather is downright balmy for New Year's Day in New England. The gametime temperature is expected to be 43°. Skies will be Sunny and the winds will be light at around 4mph out of South.

Follow us on twitter! For commentary throughout today's game!
Friday December 30, 2011
Smith Misses Practice Again: Brad Smith did not practice today and has been ruled out along with Kraig Urbik and Demetrius Bell. Johnny White and Ruvell Martin practiced again and will play in the finale. They are officially listed as probable. Injury Page.
The quickest way to get breaking news from Bills Daily is to

follow us on twitter!
Thursday December 29, 2011
Smith Out: Brad Smith missed practice again today with a hamstring injury and Chan Gailey said he won't play in the finale on Sunday. He said the hamstring injury won't go away and it looks like he's not going to make it. Ruvell Martin and Johnny White both practiced for a second straight day and will likely play. For the Patriots, Tom Brady is practicing today and will start despite suffering an injury to his non throwing shoulder. Injury Page.
Tough Finale: The Bills will face a really tough challenge in their 2011 season finale on New Year's Day. The Patriots are not only looking for revenge from the week 3 loss to Buffalo but they are looking to wrap up homefield advantage throughout the playoffs. It will make it very difficult for the Bills to pull off the road upset. Game Preview.
The quickest way to get breaking news from Bills Daily is to

follow us on twitter!
Wednesday December 28, 2011
White Practices: Johnny White returned to practice today after sitting all of last week with a concussion. Brad Smith missed practice with the hip flexor suffered against Denver. Good news on the Kraig Urbik injury front. He suffered a torn meniscus and not a torn ACL. He will have surgery on Friday and be ready by mid february. Injury Page.
Bills Swap Kickers: The Bills have placed their second kicker of the year on injured reserve. Dave Rayner joins Rian Lindell on that list. No word on what injury landed him on the list. The Bills new kicker is Brandon Coutu. He was released from the Jaguars practice squad on Dec. 17th. The University of Georgia product was a 7th round draft pick of Seattle in 2008. Front Office Page.
Tuesday December 27, 2011
No Pro Bowlers: No Bills were selected to represent the AFC squad in the Pro Bowl. This could change however as many players are known to back out and players from the AFC Champions won't go as well opening up spots. The game is played the week before the Super Bowl. It is unknown at this time if any Bills were named as alternates. The league usually keeps that information pretty close to the vest.
Jasper Promoted: The Bills filled a hole on the offensive line by activating Michael Jasper from the practice squad. He was on that list all year since being released before the start of the season. He was a 7th round draft pick at defensive tackle for the Bills before moving to the other side of the line. Mike Causin was placed on injured reserve. The team also added WR David Gilreath and OL Jake Vermiglio to the practice squad. The Bills needed another guard with Kraig Urbik and Demetrius Bell sidelined by injuries in the win over Denver. Front Office Page.
Monday December 26, 2011
Three Injuries Serious: Kraig Urbik, Demetrius Bell, and Mike Caussin have serious knee injuries although Bell's is also an ankle injury. Caussin will have surgery for a torn ACL and the other two may also be headed for surgery. The Bills now have six healthy offensive linemen and will likely have to activate one from the practice squad. Brad Smith and Kamar Aiken were also injured against Denver, Aiken should play on Sunday. There was no update on Smith. Injury Page.
Back To Normal Routine: The Bills get back to their usual weekday routine today as the players come in for treatment and film study. Chan Gailey is expected to address the media later this afternoon. Follow us on twitter for our normal updates from the presser.
The quickest way to get breaking news from Bills Daily is to

follow us on twitter!
---
News Archives index
Latest News Section
Archives Library
Back to Bills Daily Homepage