Bills Get Blowout Opening Day Win 41-7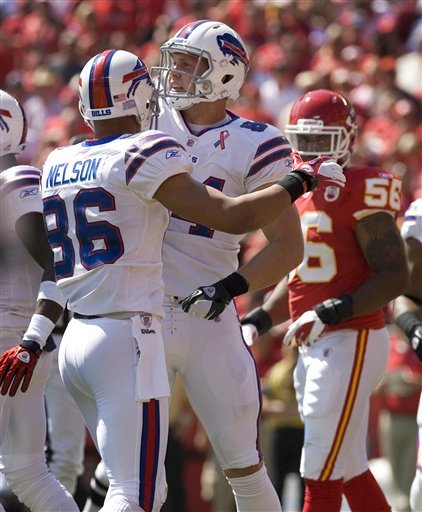 Gameday Grades: These were fun grades to write. They will likely not get any better this season as the Bills totally dominated the game. The offense put up 41 points while the defense kept giving them good field position as they did a nice job shutting down the Chiefs passing game while not letting the running game beat them badly. Gameday Grades.

Bills Blowout Chiefs 41-7: Ryan Fitzpatrick threw four touchdown passes as the Bills went into Kansas City and shockingly routed the Chiefs 41-7 at Arrowhead Stadium handing KC their biggest opening day loss in franchise history. Scott Chandler caught two of those touchdown passes while Stevie Johnson and Donald Jones caught one apiece. C.J. Spiller wrapped up the scoring with his first career touchdown. The game started off very good with the Bills recovering a fumble on the opening kickoff. They would score a quick touchdown when Chandler caught a third down pass for a four yard score. Johnson had a nice leaping touchdown 27 yard touchdown pass and the Bills built a 20-0 lead in the 2nd quarter and never looked back. Jackson rushed for 112 yards while Fitzpatrick threw for 208 yards before all the starters got to take most of the fourth quarter off. Bills Blitz.

McGee Hurt: Terrence McGee limped off the field on the first defensive player with a hamstring injury and did not return. That hurt the secondary that had only three healthy corners active for the whole game. Shawne Merriman came off the field in the first quarter with a right shoulder injury. He returned to the game with it heavily wrapped. Chan Gailey said there were no more serious injuries in the game. Injury Page.

Inactives: Marcus Easley, Arthur Moats, and Torrel Troup are inactive with injuries or in Easley's case, an illness. The healthy inactives are: Justin Rogers, Colin Brown, Sam Young, and Lee Smith. This year there are 46 active players and no emergency third QB designation.

Perfect Football Day: The Bills kickoff the NFL season in Kansas City on what looks like a picture perfect late summer day for football. It will be sunny and warm with the gametime temperature around 80°. There will be low humidity and little or no wind.

Follow us on twitter! for commentary during today's game!
Saturday September 10, 2011
No Troup Or Easley: Torrel Troup and Marcus Easley both did not make the trip to Kansas City and are now out for the game. Easley was suffering from an illness during Friday's practice and Troup has been bothered by a lower back problem. Arthur Moats is also out with an ongoing calf problem. Everyone else should be ready to go for the game. Injury Page.
Bills Name Six Captains: The Bills are now in Kansas City for tomorrow's game against the Chiefs. They announced today that Ryan Fitzpatrick, Fred Jackson, Kyle Williams, Andra Davis, George Wilson, and Brian Moorman are the captains for the team this year. Moorman has been captain for six straight years, this is Wilson's fourth consecutive year as a captain. They are both considered the special teams captains. Jackson is one of the offensive captains along with Fitzpatrick. They are both captains for the first time.
Friday September 9, 2011
Easley Leaves Practice: Marcus Easley left practice early on Friday with an illness. Chan Gailey said it's not injury related and should resolve itself quickly. He is listed as questionable for the game along with Torrel Troup. Injury Report.
Troup Hits The Field: The Bills continue to get healthy heading into the season. Torell Troup hit the field on Friday for at least individual and stretching drills. He came off the field Wednesday when his back locked up. It's an ongoing issue and they hope he's ready for Sunday. Arthur Moats is the only other injured Bill, he will miss at least another couple of weeks. Injury Page.
The quickest way to get breaking news from Bills Daily is to

follow us on twitter!
Thursday September 8, 2011
Troup Not Practicing: Torell Troup is not practicing today after leaving early with a lower back injury yesterday. He said he was feeling better today and it just locked up on him yesterday. He is day to day and it is unknown if he will play on Sunday. Injury Page.
Wednesday September 7, 2011
Troup Leaves Practice: The Bills are pretty healthy with just Arthur Moats not practicing today. They did have one setback when Torell Troup left practice early with a lower back injury. No word yet on how serious the injury is. This was the first practice for him without the cast on his injured hand. Roscoe Parrish pronounced himself ready to go and said his hamstring injury is behind him. Alex Carrington was on the field today after missing Monday's practice session. Injury Page.
Bell To Start: As expected Chan Gailey announced today that Demetrius Bell will start at left tackle for the Bills and Andy Levitre will start at left guard. He said Bell has been more consistent as of late and deserves the nod. At the cornerback position, Gailey said he hasn't decided who will start but believes he has three starting cornerbacks in Terrence McGee, Drayton Florence, and Leodis McKelvin. Florence is third on the current depth chart on the team's website. There will be many combinations at inside linebacker and their should be a rotation between Andra Davis, Nick Barnett, and Kirk Morrison.. Depth Chart.
Season Set To Start: The start of a new NFL season brings great anticipation and hope to all teams. The Bills are no different but it will be an uphill climb as they continue their rebuilding process. It will be even tougher to open on the road in one of the the louder stadiums in the league against the defending AFC West Champions. Game Preview.
Roosevelt Back: The Bills brought back popular local product Naaman Roosevelt. He was signed to the practice squad today. To make room, they released C Michael Switzer from the squad. This leaves them dangerously thin at center. Roosevelt gives them two wide receivers on the practice squad but they only have five receivers on the active roster. Six if you include Brad Smith with that unit. Front Office Page.
Tuesday September 6, 2011
Roster Moves Made: The Bills have signed OL Sam Young off of waivers from the Cowboys. He was a 6th round draft pick in 2010 and did not appear in any games. To make room they released WR Ruvell Martin. They also filled their final practice squad spot by putting recently cut DB Doyle Miller on the unit. Front Office Page.
Moats Out 2-3 Weeks: Arthur Moats and Alex Carrington were the only two players on the sidelines during Monday's practice. Carrington should practice on Wednesday as Chan Gailey said he was held out for a precaution. He got banged up in the preseason finale on Thursday. The news isn't as good on Moats. Gailey said he will miss another 2-3 weeks. Injury Page.
Jasper Move: A day after being cut, the Bills placed 7th round pick Michael Jasper to the practice squad. That wasn't the only move for him, the team has moved him from defensive tackle to offensive tackle as he took reps at right tackle. He played a lot of guard in college and Gailey said he's welcoming the move. When he was drafted Jasper made it clear he preferred to play defense. The team is very thin at offensive tackle as 4th round pick Chris Hairston is the lone backup if Andy Levitre remains at guard. Depth Chart.
The quickest way to get breaking news from Bills Daily is to

follow us on twitter!
Monday September 5, 2011
Jones Ready To Go: Donald Jones is healthy and ready to go after missing most of the preseason with a head injury. He confirmed he will be the number two wide receiver and lineup opposite Stevie Johnson. He said he is fully healthy as well. He missed most of the preseason after taking an illegal hit against Denver and was knocked out cold and suffered a concussion. He has been practicing and has held off Marcus Easley for the starting job. Injury Page.
Bills Hit Regular Season Mode: The Bills are now in their regular season routine as they practice today at One Bills Drive. They will be off tomorrow before getting ready in earnest for the opener on Sunday in Kansas City. The big news surrounding the Chiefs is that Matt Cassel may not be available for the game as he is suffering from a rib injury suffered in their preseason finale. If he can't go little used backup Tyler Palko will get the start. Bills Daily is gearing up for the regular season. We have launched our Gameday Homepage and will be putting our Chiefs game preview on it later this week. Depth Chart.
---
News Archives index
Latest News Section
Archives Library
Back to Bills Daily Homepage