Huge Comeback Win In Memorable Home Opener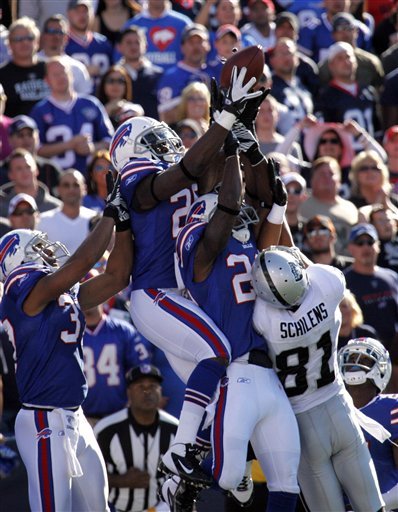 Bills Complete Unbelievable Comeback Win: Ryan Fitzpatrick hit David Nelson for a 6 yard TD pass with :14 left on fourth down to complete an unbelievable 38-35 comeback win over the Raiders. The Bills trailed 21-3 at halftime and took just three plays to get in the end zone on the opening possession of the third quarter as Fred Jackson scored from 43 yards out. The Bills would score the next two touchdowns to take a 24-21 lead on Jackson's second TD run just :50 into the fourth quarter. That was the first of five lead changes in the final quarter of this wild game. The team's went back and forth up and down the field. Scott Chandler and Stevie Johnson also caught TD passes as Fitzaptrick threw for 264 yards and Jackson had 117 yards on the ground while Nelson caught 10 passes. Since we were at the game there will be no gameday grades this week but our blitz is up. Bills Blitz.

Three Hurt In Win: Roscoe Parrish, Kraig Urbik, and Stevie Johnson went down with injuries in the game. Chan Gailey said Parrish will be re-evaluated but he will be out a while. It sounds like after the evaluation there is a chance it's season ending or a long term thing at least. Urbik will be out a few weeks according to Gailey. Johnson tried to gut it out at the end but couldn't stay on the field in the final drive. It appears like he got cramps in both legs. Injury Page.

Perfect Weather: Today will be picture perfect for the home opener against Oakland. The game will be played under sunny skies with no chance of preciptation. The temperature will get into the 70s during the game with some wind out of the south around 12mph. Our Bills Blitz will be up tonight and our grades will go up if time permits.

We will be tweeting comments from inside the Ralph during the game so

follow us on twitter!
Friday September 16, 2011
Johnson Practices: Stevie Johnson returned to practice today after sitting out yesterday with a nagging groin injury. He said he feels a little pinch and called it the mildest form of a groin injury. He said he's ready for the game and just hopes nothing happens during the game. He is listed as probable along with Arthur Moats who should be ready to make his season debut if needed. Torrel Troup continues to progress from his back injury but not enough to hit the field likely. He is listed as doubtful. Terrence McGee was the lone player not practicing today and has been ruled out for Sunday. Injury Page.
The quickest way to get breaking news from Bills Daily is to

follow us on twitter!
Thursday September 15, 2011
Johnson Sits Out: Stevie Johnson sat out of practice today with a nagging groin injury. It was an injury that bothered him in camp, went away, and then came back this week. It's minor and he is expected to be fine. He should practice tomorrow. Arthur Moats was pretty much full go today and Torrel Troup did some more things today. It is still up in the air if one or both of them will be available on Sunday. Injury Page.
Tough Home Opener: Bills fans are still on cloud nine after the opening day rout of the Chiefs. The Ralph will be rocking for the home opener on Sunday but the Bills can't take the Raiders lightly. Oakland is a good football team that poses some matchup problems for the Bills. They have a very good front four on defense and a solid running game that mixes power and speed well. This will lead to a very tough, but winnable, matchup on Sunday. Game Preview.
Wednesday September 14, 2011
McGee Lone Player Out: Terrence McGee is the lone player not practicing today. Torrel Troup worked out on a limited basis as did Arthur Moats. Alex Carrington had his upper leg wrapped heavily but was practicing. He took reps exclusively on the line today while Spencer Johnson got some reps at outside linebacker. He would likely play close to the line in more of a 4-3 defense. The Bills may apply that defense a bit more this week against the big and fast running game of Oakland. Injury Page.
Corner Back: The Bills added much needed depth to the cornerback position by re-signing recently released Reggie Corner. To make room they placed LB Robert Eddins on injured reserve ending his season. Corner can step right in and help since he knows the defense and brings a veteran presence to a young backup unit. He will likely be the fourth corner on Sunday. Front Office Page.
Season Ticket Sales Down: The Buffalo News is reporting that season ticket sales this season are down almost 15%. There are 37,355 season ticket holders, last year there were 43,925. In 2009 there were nearly a third more season tickets than this year. Early season individual games are selling well as Sunday's home opener is soldout along with the Eagles game on October 9th. The Patriots game next Sunday is down to single seats and is virtually guaranteed to sellout in time to lift the TV blackout. If the team continues to play well they have a chance at selling out the Jets game on Nov. 6th. The final three home games are in December and will be tough to sellout unless the team is on an improbable playoff run. CEO Russ Brandon said ticket sales are brisk especially after Sunday's win in KC.
Easley Has Heart Ailment: The Buffalo News is reporting that the illness that Marcus Easley suffers from his a heart ailment. No further details were available and it is unknown if it could be a career threating ailment a source told the News. Injury Page.
Tuesday September 13, 2011
Easley On IR; Martin Re-Signed: It is another lost season for Marcus Easley. He has been placed on injured reserve with an undisclosed illness that was discovered on Friday. No word on what is wrong with him but it appears to be fairly big at least to cost him his season. That is tough break for the talented former fourth round pick who missed his rookie season with a knee injury. The Bills replaced him by re-signing Ruvell Martin who made the team but was then released days later. The team also made a practice squad move by releasing QB Levi Brown and signing CB Terrence Wheatley to the unit. He played in 11 games with the Patriots before being released last November and being picked up by Jacksonville days later. The team desperately needs depth at corner with Terrence McGee sidelined and just four active corners, two being rookies. Wheatley is the second corner on the practice squad. Front Office Page.
The quickest way to get breaking news from Bills Daily is to

follow us on twitter!
Monday September 12, 2011
McGee Out A Few Weeks: Chan Gailey addressed the media this afternoon and updated the team's injury situation. He said the injury to Terrence McGee is not good and he will miss a few weeks. He also said that Marcus Easley will not play for a second straight week with an undisclosed illness that needs further evaluation. Shawne Merriman told members of the media that his shoulder is ok and he will practice on Wednesday. Injury Page.
Win Has Fans Giddy: Many fans are absolutely giddy over the 41-7 rout over the Chiefs yesterday. Tony Bogyo even has no choice but to be optimistic after the blowout yesterday. He does caution fans that one game doesn't make a season and the team needs to build on the win. But for one day at least, the Bills were the team getting all the bounces and having things go their way enroute to victory. Complete Story.
The quickest way to get breaking news from Bills Daily is to

follow us on twitter!
---
News Archives index
Latest News Section
Archives Library
Back to Bills Daily Homepage