Bills Break Pats Streak With 34-31 Win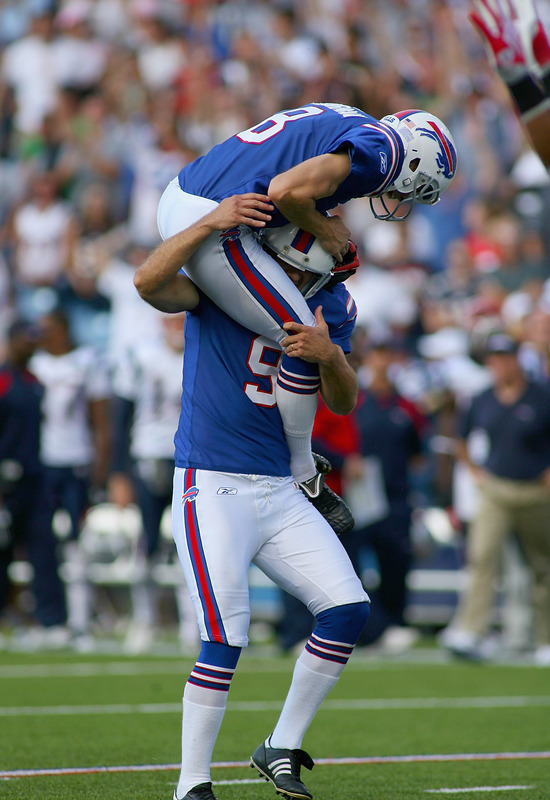 Gameday Grades: It was another wild game at the Ralph as the Bills put an end to the Patriots 15 game winning streak. Early on the Bills secondary was getting toasted but they came back with four picks. It was an up and down day but since they got the win the grades will be pretty good. Gameday Grades.

Bills Get Another Dramatic Win 34-31: For a second straight week the Bills dug a huge hole at home and came roaring back for a dramatic win. This time it meant even more as they battled back against Tom Brady and the Patriots. Rian Lindell hit a 28 yard field goal as time expired to give the Bills the 34-31 win and end the 15 game losing streak to the Patriots. New England opened up a 21-0 lead on three Brady touchdown passes before the Bills began their comeback. Ryan Fitzpatrick hit Stevie Johnson for an 11 yard touchdown and Lindell hit a 42 yarder just before the end of the first half to make it 21-10. The Bills pulled closer in the third on a Scott Chandler touchdown reception and tie it on a Fred Jackson one yard plunge. Drayton Florence then picked off one of four Brady interceptions and returned it 27 yards for the go ahead score. The Patriots would tie it on a fourth and goal touchdown pass but the Bills drove down to the Pats one and kneeled down a few times before Lindel's winning kick. Bills Blitz.

Williams Hurt: Aaron Williams suffered a chest injury and is the only notable injury from the win over the Patriots. He was down for several minutes and taken off on a stretcher. Chan Gailey said it doesn't appear to be particularly serious that would cost him the season. X-rays were reportedly negative. Injury Page.

Gameday Inactives: Kirk Morrison, Terrence McGee, and Kraig Urbik lead the Bills list of inactives as they were all ruled out on Friday. Torrel Troup also isn't ready to return from his lower back injury despite being listed as probable. The healthy inactives are: Justin Rogers, Sam Young, and Lee Smith.

Nice Day For Football: For the second week in a row it appears to be a nice day for football in Orchard Park. Rain was in the forecast earlier in the week but it doesn't appear like it has materialized. The game now is expected to be played under partly cloudy skies with a temperature of 72° with light winds out of the East at 9mph.

Follow us on twitter! for commentary throughout today's game!
Saturday September 24, 2011
Patriots Shorthanded: NFL.com's Jason LaCanfora reports the Patriots have ruled out safety Patrick Chung and DL Albert Hayneswoth for tomorrow's game against the Bills. That is good news for the Bills as they will lose a key member of their defensive line in Haynesworth. Chung is one of the members of a very banged up secondary for the Patriots. Injury Page.
Friday September 23, 2011
Johnson Doing Better: Stevie Johnson seems much improved from earlier in the week with his groin injury. He practiced fully again today without a noticeable limp this time. He said he's doing much better than earlier in the week and will play Sunday. He's officially listed as probable along with Spencer Johnson and Torrel Troup. Terrence McGee, Kraig Urbik, and Kirk Morrison have been ruled out although Morrison did practice today so his hamstring injury doesn't appear too serious. Injury Page.
The quickest way to get breaking news from Bills Daily is to

follow us on twitter!
Thursday September 22, 2011
Both Johnsons Practice: Stevie Johnson and Spencer Johnson both returned to practice today after sitting yesterday. Stevie will likely get a day off each week for the foreseeable future as he battles a groin injury. He did practice with a noticeable limp. Spencer sat with a hip problem. Terrence McGee, Kraig Urbik, and Kirk Morrison all sat again. Morrison was watching on the sidelines, Urbik and McGee have already been ruled out for the game on Sunday. Torrel Troup practiced fully again but may not be ready to return. Injury Page.
Game Soldout: Sunday's game against New England has soldout in time to lift the television blackout. The Bills announced that a limited number of premium tickets are available from the team's website, ticketmaster, or the box office.
Highly Anticipated Matchup: Sunday will have the most buzz a Bills game has had in a very long time. In a battle of 2-0 teams the Bills look to end the Patriots curse. New England has beaten Buffalo 15 straight times and 20 of the past 21 games. The Bills are confident after their come from behind win last Sunday but the Patriots are red hot as Tom Brady has thrown for nearly 1,000 yards in two games. Game Preview.
Wednesday September 21, 2011
Five Sit: Five players sat out practice for the Bills on Wednesday. Terrence McGee and Kraig Urbik have been ruled out for the game. Urbik hopes to practice next week. Stevie Johnson, Spencer Johnson, and Kirk Morrison all did not practice as well. The Patriots have 14 players who are either out, did not practice, or were limited. Bills will likely fill the hole at WR, left when Roscoe Parrish went on IR, with Brad Smith and C.J. Spiller. Smith practiced with the receivers today and Spiller is expected to see some time in the slot and will return punts. Injury Page.
The quickest way to get breaking news from Bills Daily is to

follow us on twitter!
Tuesday September 20, 2011
Parrish To IR: The Bills have placed Roscoe Parrish on injured reserve ending his season after a little more than one game and one catch. The team has activated Naaman Roosevelt from the practice squad. They used the open spot on the practice squad to sign G Keith Williams who was a 6th round draft pick of the Steelers this year. The team also got an injury settlement with Robert Eddins and released him from injured reserve. Front Office Page.
A Tale Of Two Halves: Tony Bogyo takes a look at the heart stopping game from Sunday between the Bills and the Raiders. It was truly a tale of two halves. The Bills looked awful in the first half, came roaring back in the third quarter, than outgunned the Raiders in a wild fourth quarter. Complete Story.
Monday September 19, 2011
Injury Update: Chan Gailey updated the media on the injuries today. He re-iterated that Roscoe Parrish's injury is a long term thing and they have not ruled out injured reserve for him. Gailey expects Kraig Urbik to miss 2-4 weeks with his leg injury. Stevie Johnson confirmed he left the Oakland game late with cramps in both his legs. That won't be a problem going forward but his groin was hurting today. He said it's normal post game soreness but he will have to play through the groin pain for a while. He said the pain is a 7 on a scale of 1 to 10. This is a concern but he said it won't keep him out of the games. Injury Page.
The quickest way to get breaking news from Bills Daily is to

follow us on twitter!
---
News Archives index
Latest News Section
Archives Library
Back to Bills Daily Homepage