Bills Add 9 Players Through Draft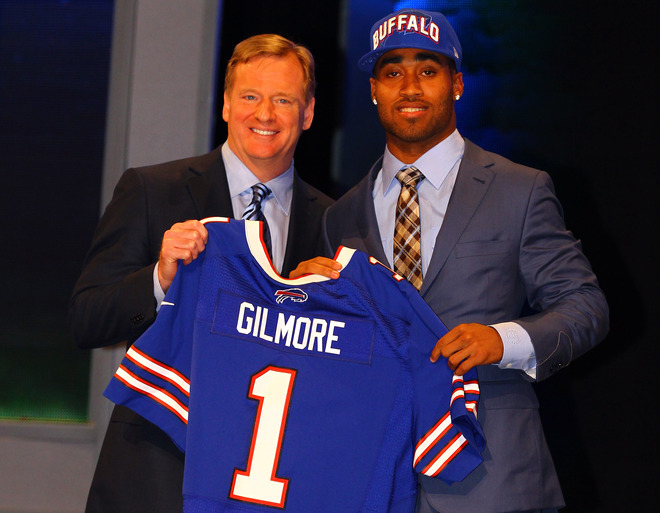 Johnson Surgery: Stevie Johnson will undergo groin surgery but it is considered very minor and he will remain at the facilities for the offseason conditioning program. Johnson tweeted himself that he will have the surgery in Philadelphia tomorrow. His agent says it is not serious and has a very brief recovery time.

Undrafted Free Agent Time: Over the next few days lots of undrafted free agent signings will leak out. The Bills will announce all their signings sometime this week. They currently have 79 players counted towards their 90 man roster limit. Draft picks now count towards the roster count even if they are not signed. They can now sign 11 undrafted free agents without releasing anyone. We will follow the rumors and update them on our twitter feed throughout the day. Our final draft grade and review will be up sometime tonight or more likely tomorrow.

For all undrafted free agent signing rumors

follow us on twitter!
Saturday April 28, 2012
Potter Surprised: John Potter knew the Bills were interested in him because he had been in contact with Bruce DeHaven. He was shocked however that they would draft him. He thought he may be brought to Buffalo as an undrafted free agent. He said he has no problem kicking touchbacks but would like to do better on place kicking. He said is much improved kicking thanks to working with coaches.
Nix On Draft: Buddy Nix addressed the media at the end of the draft an joked how they waited three hours to draft a kicker with the 2nd to last pick in the draft. They chose Western Michigan Kicker John Potter with the 251st pick in the draft. He won't be a real threat to Rian Lindell who signed a new deal this offseason. Nix called Potter a kickoff guy he can kick it through the uprights on kickoffs. They may want to keep him just for kickoffs. Nix said as a whole they got bigger and faster in this draft. They took the players they needed in the positions they needed. They now need to hope they due what they expect them to do. These guys are big on the offensive line and they got faster on defense. Nigel Bradham and Ron Brooks will make an impact on special teams. On the pick of Mark Asper he thinks he can be a developmental center behind Eric Wood. On Tank Carder he called him a good player and a tough guy. On Bradham, he can play any spot at linebacker and looks like tarzan and is really cut up. He is a good, punishing hitter. He feels with this defensive scheme most linebackers can play all three positions. On Ron Brooks was an impact player when he played he has great speed they clocked him at a 4.34. He is a good blitzer and an impact hitter. On Zebrie Sanders he can play both tackle positions and has played a lot of games at the collegiate level. The reason he fell so far was that he had a bad Senior Bowl. He had just lost a lot of weight and was a bit weak but now has some of that strength back. They will bring in a quarterback in the undrafted free agent class. They were poised to draft a quarterback but there just wasn't one there. Draft Capsules.
Bills Add Guard In Round 6: The Bills finally took a player from a northern school it took to round 6 for that to happen. Oregon guard Mark Asper is the third offensive linemen taken by the Bills and adds depth on the interior of the offensive line. In his conference call with Western New York media Asper spoke of loving the high tempo pace of the Oregon offense. He played all over the line his freshman year before playing guard his sophomore year and tackle is junior year. He was going to play tackle his senior year but the situation forced him to play guard. He has played both positions and on both sides and volunteered to play center at an all star game. He doesn't consider himself an underdog but he will approach it with the same attitude he has always done, which is trying to prove himself. He is confident in his ability and work ethic so being drafted later is not an obstacle. He has the most experience at guard but would play anywhere they want him to play. He has been successful wherever he has played so he knows he can do it. He does a good job of getting on blocks and staying on them to the whistle blows. Draft Capsules.
Scouts On Carder: Scout Shawn Heinlen spoke about how Tank Carder plays faster than he times. He has great coverage skills and is fluid for a linebacker and is very smart and has a great feel for the game. He will need to bulk up a little. He is a competitor at everything he does. He likes to excel at anything he is doing. He will likely start at weakside linebacker but as he bulks up he can play in the middle or the strongside. He has a good feeling in zone coverage and gets his hands up in the passing game.
Carder Wraps 5th Round: The Bills took inside linebacker Tank Carder three spots after taking Zebrie Sanders. He overcame a horrific accident as a teen and is another speedy defensive player who will backup in the middle and possible backup Nick Barnett on the strongside. He spoke to the media on his conference call and said he's excited. When he came up to Buffalo he had a good feeling and loved that it was not a lot of flash and it was just about football. He knew the Bills liked him and he appreciates being put on the Bills. He is tough and hasn't missed any games despite having three surgeries. His shoulders are 100% ready to go. He calls being drafted the most awesome experience in his life. He has great instincts and has a nose for the ball and feels it helps him overcome any lack of linear speed. Draft Capsules.
Sanders Conference Call: Zebrie Sanders spoke to the local media in a conference call. He is very happy the Bills gave him a shot and he wants to earn respect to get on the field. He feels he can play either side but will give it his all no matter which position they put him in. He feels he improved tremendously under the coaching staff at Florida State. He feels he will get a fair shot and will work hard to have a shot.
Sanders First Of Two In 5th: The Bills took Florida St. OT Zebrie Sanders was taken with the first of two fifth round picks. The Bills scout says he has good size and length and has played both right and left tackle and was productive at both. The scouts aren't sure now which side he will play. He seemed more athletic at right tackle but it could be because that was his more natural position. He played left tackle after an injury at Florida State. He has the size they are looking for and has good athletic ability but not great. He needs to play a little stronger and be more consistent with his hand play but they think they can correct those things. He will need to do some more development like any offensive lineman taken this late in the draft.
Scouts On Brooks: Scout Shawn Heinlen spoke about the speed of cornerback Ron Brooks. He finds a way to get on the field and when he does he just makes plays. When he gets a chance to play he is productive. He can play both inside and outside it depends on where the coaches want to start him out. He's an ace on special teams as he is physical and doesn't shy away from contact. He is a solid jammer and a gunner. He was the nickel rush corner on obvious passing situations but played on the outside when necessary. You saw how he played better with the more playing time he received later in the season. He does a great job of closing to the ball and would have started on other football teams besides LSU. He's a good kid who will fit in great in the locker room and he's a hard worker.
Bills Take DB Brooks Late In Round 4: Buddy Nix said all along the team would take two corners in the draft and now they have done just that. The Bills selected LSU DB Ron Brooks who is undersized with a lot of speed. He wasn't a full time starter but is a very good gunner on special teams as the Bills continue to go with faster players. He ran a 4.37 40 at the combine and played behind Morris Claiborne. In his conference call with the local media he said he is excited to know where he is going. He is excited and ready to get to work for a great organization like the Bills. He played in 53 college games without getting hurt. He lined up inside most of the time covering slot receivers and blitzing. He has played on all special teams except field goal kicks and is a team player first that didn't mind not getting the limelight at LSU. He felt he learned a lot going against the tought competition in his college conference. He is looking forward to being re-united with Kelvin Sheppard who was a college teammate. He will be comfortable either on the inside or the outside and feels his versatility is a strength. He had two interceptions last year and returned both for touchdowns. Draft Capsules.
Bradham Conference Call: LB Nigel Bradham said he is ecstatic with the opportunity and is so happy as it came through the phone line in the media conference call. He will contribute anyway he can to his new organization. He will give it his all and is looking for the opportunity to help win games. He feels special teams is just as important as defense and has a lot of passion for it because of his love for the game. He was a team captain at Florida St. He was more of a lead by example early in his college career but became a vocal leader as he got older. He was moved inside because of his leadership abilities. He feels comfortable at both outside spots and inside as well. It depends where he best fits in to the team's defense.
Bradham The Pick: The Bills took Florida St. LB Nigel Bradham with their first of two fourth round picks. Scout Darrell Moody said he can play inside and outside. They feel their outside positions are interchangeable so he an play weakside or strongside. He likely will backup Kirk Morrison to start. He is a physical kid with good size and good straight line speed. He is a great special teams player according to Moody.
Bills Fill Needs: The Bills came into the draft with three big needs and everybody knew it. The Bills brass filled the needs at offensive tackle, wide receiver, and cornerback. The question is will the players they took be able to perform where they want them to. Top pick Stephon Gilmore should fit in perfectly in the secondary. Cordy Glenn played more guard than tackle in college but the Bills feel he has the size and wingspan to play tackle. He played left tackle last year and got more comfortable as the season went on and played great at the senior bowl. Some experts feel he's better at right tackle or guard. T.J. Graham is going to get a shot to play outside since the team needs him there but is he big enough against the physical corners? He seems to be a prototypical slot receiver. They are all very talented and will get a chance to fill those huge holes on the depth chart. Now the Bills can go for best available player today. They now have six picks in the last four rounds, down from seven thanks to the Redskins trade. They probably will take a developmental quarterback, another corner, and another tackle with three of those picks. They also could use depth at linebacker and defensive end.
Friday April 27, 2012
Gailey Sees Graham Outside: The Bills were worried Graham would not be there so Buddy Nix decided to make the move up two spots and he wasn't too concerned with giving up the 217th overall pick since they have a compensatory pick in the round. Chan Gailey sees him outside since he can run by everyone. He has return ability but will likely not put him there right off the bat. The difference with Graham on film is that he would go North and South with the football and not try to run out of bounds. He says he's a football player that happened to run track not the other way around. Has a great attitude on the field, if he had played three years he would have went higher. Is still a bit raw but will develop. On Cordy Glenn, Nix was adamant that he isn't a guard, he played tackle all last year in Georgia. Nix was shocked Glenn was there. He has good feet but has such a big wingspan you can't get around him. He does have work to do but has shown consistent improvement. The Senior Bowl capped it off for them. Gailey feels Glenn can go a long way at left tackle thanks to his size and wingspan. Gailey feels he may ask Glenn to lose a bit of weight but they know he will have no problem doing it. Draft Capsules.
Graham Conference Call: T.J. Graham said in his conference call he will enjoy the opportunity he has with the Bills. He says he will pay anywhere and just wants to get on the field and he lined up inside and outside with NC State. He felt Buffalo was a possibility and he has had success returning both kicks and punts. He feels he can stretch the field and make plays as he has track star speed.
Bills Move Up For Graham: The Bills moved up in the third round to select N.C. State WR T.J. Graham. They moved up from 71st overall to 69th overall and gave up their first 7th round pick #217 overall to Washington in the deal. Graham is a speedy receiver who was more of a slot receiver in college but the Bills feel he can play outside. He is shifty and can break tackles deep and will battle for playing time early but is a big raw.
Scouts On Glenn: Bills scout Darrell Moody said they feel Cordy Glenn is very similar to what Marcus McNeil was when they drafted him in San Diego. They feel Glenn will be whatever weight they want him to be because he's that kind of kid. He is very good in the weight room. They feel he has good feet but not great footwork. He doesn't need great feet because he has great length and size. He got better every week he played left tackle and performed really well in the Senior Bowl. He is a huge athletic player that gives you a good combination of size and athletic ability. He has room to grow and is a tough kid he is a better pass blocker than run blocker right now but they feel that will come. Draft Capsule.
Glenn Conference Call: Cordy Glenn told the media in his conference call that he liked the coaching staff when he visited the Bills. He wishes he went earlier but he's just happy to have been picked. He feels he got better last year as the season went on when he got more and more comfortable at the position. He said the team thinks he can play tackle but he just wants to help at any position they want him to play. He spoke to Chan Gailey and Buddy Nix and said he was very excited and called it the happiest moment of his life. He feels he has size, strength, and versatility.
Bills Get Glenn: One of the players many thought the Bills would get in round one, they got in round two as they picked Georgia OT Cordy Glenn. He was the top player on their board going into today and only one tackle was picked before him on day two. It started a run on tackles that included Jonathan Martin going a pick later. Top WRs Stephen Hill and Reuben Randle was also still on the board. Glenn played more guard than tackle in college but the Bills feel he has the size to protect the blindside of Ryan Fitzpatrick. The only question is if he will be able to play left tackle at this level he held his own when he was thrown there last year because of injury. He will battle Chris Hairston for a starting job. He's very agile for a big man and has 50 career starts as the Bills addressed their second of their three big needs.
Good Talent At Need Positions: Stephon Gilmore arrived in Buffalo in the wee hours of the morning and has been making the radio shows circuit this morning. The brass is now looking ahead to rounds two and three tonight beginning at 7pm. The Bills have the ninth pick tonight and there are several solid prospects at their two main need positions of wide receiver and offensive tackle. Only two tackles were taken in round one. Still on the board right now at tackle are Cordy Glenn, the guard from Georgia who the Bills and many others feel can be a left tackle in the NFL. Stanford's Jonathan Martin, Ohio State's Mike Adams, and Troy's James Brown. We have the Bills getting Brown in the third round of our Bills mock draft. Glenn and Martin had been tied to the Bills in the first round so if one of those players making it nine more picks look for the Bills to run to get their card in. There is also some really good talent at wide receiver as four went in round 1. Still on the board are Georgia Tech's Stephen Hill, Reuben Randle of LSU, Gilmore's South Carolina teammate Alshon Jeffery, and Appalachian State's Brian Quick who we mocked going to the Bills in round 2. Draft Page.
For running commentary and rumors throughout the draft

follow us on twitter!
Thursday April 26, 2012
Gilmore With WNY Media: Stephon Gilmore had a conference call with the Western New York media late tonight. He came to Buffalo to visit and said it's a great feeling and he looks forward to playing in Buffalo with their great fans and he said he will be ready to go. He will work hard and come in to compete like he always has done. He feels he can play man, press, and off man whatever they want him to do. He will just come in and make plays. He feels he will be a piece in the improving defense. He loves playing the game and all he knows is football. He wants to be a great cover guy. He was very happy on the inside despite not showing his emotions with a big smile.
Gilmore Calls It A Blessing: Stephon Gilmore was on Sirius NFL Radio and called it a blessing that the Bills took him and he's happy with the decison. Having Mario Williams on his team makes it a lot easier for him. He will do whatever he can to help the team, he will give it his all and they will be happy with their decision. Draft Capsule.
Gailey On Gilmore: Chan Gailey said you can't have enough corners and getting Stephon Gilmore to go along with Aaron Williams gives them two good young, physical corners which is necessary in the pass happy league. He's big, fast player who has a great body of work. They set out to help their defense this offseason and what they did in free agency freed them up to take Gilmore in the first round. He said there is no question Gilmore can start from day one.
Bills Take Gilmore First: The Bills took South Carolina CB Stephon Gilmore with their first pick of the draft. The choice was made easier when the Cowboys traded up to take S Mark Barron at 7 and the Panthers took LB Kyle Kuechly one pick ahead of the Bills. Buddy Nix said he was a 40 game starter with good ball skills and great speed as he ran in the high 4.3s. He was very high on their board and they were fortunate to get him, he should help the football team. He's very physical for a corner and you need your corners to tackle when you spread with five receivers. Nix said they had more opportunities to move up more than they had to move down. He re-iterated that he doesn't like to lose draft picks by moving up. Knowing it's a passing league he said they want to take two corners in the draft and now they got one of them. He played in the best league in college so they go to where the players are.
Draft Weekend Begins! The NFL draft gets underway at 8:00 tonight with the first round. The 2nd and 3rd rounds will be tomorrow starting at 7pm with the final four rounds on Saturday beginning at noon. Our draft page will have our big board and links to the newest Bills. It will also have our draft capsules after each pick our grade and review after the draft. Right now it has links to our Bills seven round mock draft, our first round mock, and our draft preview along with links to resources around the web for draft coverage. This latest news page will press conference snippets from scouts, Bills brass, and the newest players. Draft Preview.
For running commentary and rumors throughout the draft

follow us on twitter!
Wednesday April 25, 2012
1st Round Mock Draft: Bills Daily correspondent Rich Orefice gives us his first round mock draft. He has the Bills taking Mark Barron who has been reported as the favorite as the draft nears. Mock Draft.
Bills Want Barron? Joe Buscaglia of WGR is reporting that sources say the Bills are very interested in Safety Mark Barron and also have interest in CB Stephon Gilmore but Barron may be the favorite with the 10th pick in the draft if he's still on the board. Supposedly the Bills are very enamored with the top safety in a draft that is weak at the position. The only issue is the Bills have little need for a safety with George Wilson and Jairus Byrd entrenched at the position. Safeties historically haven't done well when picked that high so it would be a controversial pick to say the least.
The quickest way to get breaking news from Bills Daily is to

follow us on twitter!
Tuesday April 24, 2012
Our Bills Mock Draft: For the 13th straight year we have put up our Bills Seven Round Mock Draft. For the first time in a long time the Bills can go several different directions with the top pick but we think they may go with Boston College LB Luke Kuechly. He fits a real need as a run stuffer and in pass coverage and can man the middle of the defense for the next decade. Check out our 10 picks for the Bills and let us know what you think the Bills will do with their first pick by taking our poll on our homepage. Draft Page.
Monday April 23, 2012
Guards Signed: Kraig Urbik and Chad Rinehart officially signed their one year tender with the Bills locking them up for the 2012 season. This was a formality as neither of the restricted free agents received offers from other teams before Friday's deadline.
Ticket Sale Dates Announced: The Bills announced various dates that tickets will go on sale this year. Individual game tickets will go on sale to the general public on Tuesday July 10th. Season ticket holders will get first crack at individual game tickets in a pre-sale starting Wed. May 16th. Group tickets will go on sale Saturday June 9th. The Bills hope with advance sales to season ticket holders and groups that three or four games will sold out or near sold out by the time individual game tickets go on sale.
Players Excited: The players are excited to be back at work at One Bills Drive. There was near perfect attendance for the first day of offseason workouts. Stevie Johnson was the most notable player absent as his wife had a baby last week. Shawne Merriman said he feels great after his Achilles surgery. He's not 100 percent yet but he knows he will be before the season and now knows the Achilles problem is behind him. Mario Williams was in attendance and said the addition of Mark Anderson makes things easier for him. He feels the sky is the limit if the team remains healthy. Fred Jackson is at the workouts proving that his ongoing contract situation is not a concern. Jackson said he knows the timing isn't right to get a new deal with the draft upon us. He said he expects something to get done before training camp like Buddy Nix said.
Offseason Program Begins: As everyone's attention has turned towards the draft that takes place later this week the players are back in snowy Buffalo. The Bills begin their voluntary offseason conditioning program today. Most of the players are expected back for workouts but no on the field work can begin for a few weeks. The players won't even be allowed to pick up a football for the first two weeks and can't put on helmet and pads for five weeks according to the new CBA agreement.
---
News Archives index
Latest News Section
Archives Library
Back to Bills Daily Homepage