Playoff Keep Faint Playoff Hopes Alive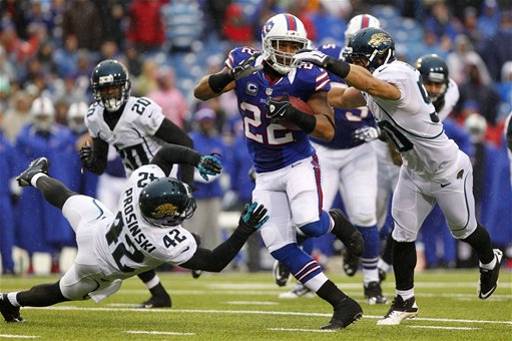 Gameday Grades: It was a total team effort at the Bills beat the Jaguars 34-18. The Offense grounded out over 200 yards on the ground while the defense was holding Jacksonville in check. Special teams played well despite one big gaffe. Gameday Grades.

Bills Win 34-19: Ryan Fitzpatrick threw two touchdown passes but it was the running game that led the Bills to a 34-18 win at very wet and somewhat windy Ralph Wilson Stadium. As the calendar turns to December the Bills finally turned to a ground game that rumbled for 232 yards as they ran the ball 46 times. Fred Jackson had 109 yards and took the majority of the carries because he was having his best day of the year. C.J. Spiller added a 44 yard touchdown run and 77 yards on the ground. Fitzpatrick only threw 17 passes but threw for touchdowns to Scott Chandler and Stevie Johnson. He also dove in for the first score of the game. Bills Blitz.

Four Hurt In Win: Four players were injured in the game and did not return. Stevie Johnson left the game with a hamstring injury. Chris Hairston was carted off the field also in the fourth quarter. Ed Wood was also hobbled but stayed in the game for a few more plays. He then walked to the cart before being carted to the locker room. Leodis McKelvin was banged up on his first punt return. He did not play defense after that and was on the field to fair catch the second punt before leaving for the day with a back injury. Ron Brooks got banged up but returned. Injury Page.

Jones Inactive: Donald Jones, Aaron Williams, Mark Anderson, and Chris Kelsay are all inactive because of injuries. Jones has a calf injury that got worse as the week went on, his absence is a big blow. Justin Rogers was the most notable banged up player that is active. The healthy scrathes are: Tavaris Jackson, Thomas Welch, and Kirk Morrison. That means Marcus Easley is active may see some substantial playing time with Jones out.

Windy, Rainy Weather For Game: It will be unseasonably mild for a December game at the Ralph but weather will still be a factor. The gametime temperature will be around 51° but there is a 60% chance of showers throughout the game. The wind will also be a factor as it usually is late in the season in Orchard Park. It will be out of the Southwest at 20mph. That is the reason the team practiced outside in the stadium on Thursday when there were similar winds swirling.

For in game commentary

follow us on twitter!
Friday November 30, 2012
Reed, Tasker On List: Andre Reed and Steve Tasker made the list of 27 semi finalist for the class of 2012 induction into the Pro Football Hall of Fame. Reed has been one of the 15 finalists the last six years. Tasker has been a semi finalist before but not a finalist.
Jones Not Practicing: After being limited yesterday with a calf injury, Donald Jones did not practice today and is questionable. It is tight and they can't get the knot out. Leodis McKelvin reportedly limped off but came back in and is fine. He has been listed on the injury report the last two weeks with a groin problem. Justin Rogers was on the field a day after coming off the field with a foot injury. He wasn't in his usual starting slot position because of the injury but did more today and is questionable. Dorin Dickerson did not practice because he was at a funeral. Spencer Johnson is questionable after battling an illness this week while still being bothered by an ankle injury. Aaron Williams is also questionable but has done more as the week progressed. Chris Kelsay and Mark Anderson have been ruled out as expected. The Jaguars got some good news by getting WRs Justin Blackmon and Cecil Shorts back on the field today after they sat on Thursday and will play. Injury Page.
Byrd Contract Talks: ESPN.com is reporting citing a league source that the Bills have begun preliminary contract talks with Jairus Byrd. He declined comment referring questions about his contract status to his agent. No deal is imminent but the Bills are obviously looking to keep him off the free agent market in March. Byrd and Andy Levitre are the two big free agents the Bills have this offseason.
Jags Receivers Sidelined: The Jaguars top two wide receivers both got hurt during practice on Wednesday. Justin Blackmon hurt his groin while Cecil Shorts suffered a hamstring injury. Both sat out practice on Thursday and are likely questionable for the game. If one or both of them can't play this will hurt an offense that has improved with Chan Henne at quarterback. Updated Preview.
Thursday November 29, 2012
Spencer Johnson Misses Practice: Spencer Johnson did not practice today because of an illness after being limited yesterday with his ongoing ankle injury. Mark Anderson and Chris Kelsay were the other two players not participating. Kyle Williams returned to practice as expected. Justin Rogers tweaked his foot in practice yesterday and was limited today. Aaron Williams practiced again and has an outside chance at playing according to Chan Gailey. Injury Page.
Playing Out The String: The Bills will be getting a lot of homecooking over the final month of the season. Three of the final five games are at Ralph Wilson Stadium with a fourth being in Toronto. They look to salvage was is left of the season and it starts on Sunday against lowly Jacksonville. If the Bills can't win this week it will get even uglier than it is already. Game Preview.
Wednesday November 28, 2012
Aaron Williams Practices: Aaron Williams returned to the practice field today, two days after Chan Gailey said he likely would sit. Mark Anderson, Chris Kelsay, and Kyle Williams did not practice. Anderson and Kelsey are expected to miss Sunday's game while Williams is likely just getting his usual Wednesday off to rest his ankle.Injury Page.
Bills Lose Howell: The Bills have lost S Delano Howell as he was plucked off of their practice squad by the Colts today. Howell was the lone undrafted free agent to make the club out of training camp. He was later released and signed to the practice squad. The club had a right to keep Howell by putting him back on the 53 man roster but chose to let him go. The Bills replaced him by signing DE Corbin Bryant who was signed as a free agent by the Steelers last year out of Northwestern. He has spent most of the last two season between the Steelers practice squad and active roster. Front Office Page.
TV Blackouts Loom: Russ Brandon was on WGR radio this morning and said he fully expects the final three games at Ralph Wilson Stadium to all be blacked out in Western New York. This Sunday's game will be blacked out as almost 15,000 tickets remain for the Jacksonville game. The Toronto game will be on television in the Buffalo area. December games continue to pose a challenge to sellout no matter how good or bad the team is according to Brandon.
Changes At Cornerback? Chan Gailey was asked about the play of Justin Rogers as the nickel corner covering the slot receivers this year. He admitted to the inconsistent play of the former seventh draft pick and left open the possibility of a change there. He said they may look to move Leodis McKelvin back to covering the slot like he did at the beginning of the season. If that happens this week than two rookies will start at corner because Ron Brooks would be the next in line on the outside. Depth Chart.
Tuesday November 27, 2012
Spiller To Remain Starter: Chan Gailey re-iterated yesterday that C.J. Spiller will remain the starter and Fred Jackson is fully healthy. He envisions a 60-40 split in snaps but the number of carries will depend on the game situation. In the loss to the Colts Jackson actually received three more snaps than Spiller (32-29). The reason for that was Gailey was concerned about Spiller's pass protection. He did get beat on a blitz for a sack early in the game and the coach was worried it was going to be a tough day in that role for Spiller who's blocking ability has improved dramatically the past two years.
Lease Talks Going Well: New York Lt. Governor Robert Duffy told WGRZ-TV that lease talks have gone extraordinarily well adding that they are in a good place, but no deal and no agreement is finalized until it's finalized. The Bills are looking for a long term lease that will include over $200 Million in improvements to Ralph Wilson Stadium.
Organizational Failure: As The Bills spiral downward heading towards their 13th straight year of not making the playoffs, Tony Bogyo looks at the issues with the team. It starts from the top as the organization has failed miserably during the 21st century and has left the fans feeling dismayed. Complete Story.
Monday November 26, 2012
McIntyre Ok; Kelsay Out: Chris Kelsay will be out a while after re-aggravating his neck injury during the loss to the Colts. He will be sidelined awhile but it is not considered season ending. Corey McIntyre was doing much better today after leaving the game with an ankle injury. He has a good chance at playing Sunday. Injury Page.
Stevie Clarifies: Stevie Johnson said he was upset with how his comments yesterday were taken. He said he was not misquoted but he misspoke. He didn't mean Ryan Fitzpatrick should be calling the plays, he meant he should be allowed to call more audibles. He said there is no disconnect between the play calling and how the plays are being run.
Stevie Speaks Out: Stevie Johnson gave the most critical quotes after yesterday's loss in Indy. Johnson said he thinks Ryan Fitzpatrick should be calling the plays at the line of scrimmage in certain situations instead of it coming from the booth or the sidelines. He feels Fitz is capable of doing it and has done it before. He even did it some in this game with success citing the 63 yard pass hookup between the two as a player that was changed at the line. Johnson said Fitzpatrick had more freedom in past years to change the play than he does now and that is hurting the team. Chan Gailey responded on his WGR weekly radio show today. He said Fitzpatrick has the option to audible sometimes but other times he does not have that option to change a play. He says Fitz is extremely smart and can make adjustments on the field but they are doing what they did the past two years when they were successful they just need to execute better offensively.
---
News Archives index
Latest News Section
Archives Library
Back to Bills Daily Homepage