Playoff Hopes Dashed In Indy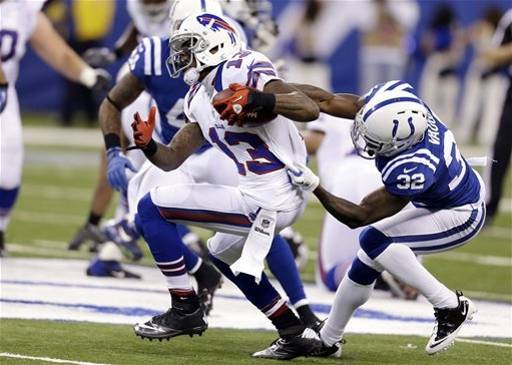 Gameday Grades: The coaching was pathetic and despite big days by C.J. Spiller and Stevie Johnson the offense could not execute well. That negated a solid performance by the defense in the loss to the Colts. Gameday Grades.
Bills Blitz: Poor play calling, questionable coaching decisions, and the pathetic play of the offense, especially in the red zone, all added up to a 20-13 loss to the Colts. The defeat pretty much puts the final nail in the coffin of the Bills playoff hopes. They had a lackluster effort in falling behind 20-6 thanks to a 75 yard punt return for a score by T.Y. Hilton and an 8 yard scoring catch by the rookie. The Bills finally got closer on a one yard touchdown pass by Ryan Fitzpatrick to Lee Smith. Chan Gailey had some head scratching calls including not trying a 52 yard field goal in the first half and punting on 4th down from their own 49 yard line in the final minutes effectively ending the game as they never got the ball back thanks in part to a pass interference call on Stephon Gilmore on a third down pass. Bills Blitz.
Kelsay, McIntyre Couldn't Finish: Chris Kelsay did play but couldn't finish the game as he re-aggravated his neck injury. Corey McIntyre needed help getting off the field in the fourth quarter after hurting his ankle. He did not return. He was already slowed by a knee injury going in to the game. He tweeted after the game that he is ok and will play next Sunday. Injury Page.
Gamenight Inactives: Mark Anderson and Aaron Williams were the lone injury inactive players as expected. They were ruled out during the week. The other inactives are: Tavaris Jackson, Thomas Welch, Marcus Easley, Crezdon Butler, and Kirk Morrison.
Game Played Indoors: Weather will not be a factor for today's game against the Colts since Lucas Oil Stadium is a dome. The outdoor weather is just fine as well in Indianaplis with temperatures in the upper 40s and partly cloudy skies with a brisk wind.
For in game commentary

follow us on twitter!
Saturday November 24, 2012
Moore Likely To Start: Even though Chris Kelsay is going to return tomorrow, from the torn ligament in his neck, Kyle Moore is expected to remain as the starter and see more snaps. Chan Gailey didn't commit to Moore as the starter this week but did say he has earned significant playing time. He won't get 80% of the snaps like he did with Kelsay out but all indications are he will get the start. He has been playing very well at the right end position. Depth Chart.
The quickest way to get breaking news from Bills Daily is to

follow us on twitter!
Friday November 23, 2012
Three Questionable: The final injury report has been released and Brad Smith, Spencer Johnson, and Corey McIntyre are all listed as questionable. It is believed all of them should play. Kyle Williams leads a list of 16 players listed as probable. Aaron Williams and Mark Anderson have been officially ruled out. Injury Page.
Thursday November 22, 2012
Three Return: The Bills held a shortened Thanksgiving day workout today and three players returned to practice that missed time yesterday. Ron Brooks, Corey McIntyre, and Kyle Williams all practiced and are expected to play on Sunday. Chan Gailey ruled out Mike Anderson and Aaron Williams from Sunday's game as expected. Joe Buscaglia reports for WGR that Kyle Moore was taking first team reps during the open portion of practice although Chris Kelsay was practicing at right defensive end. Spencer Johnson and Brad Smith were limited again today but should play on Sunday. Injury Page.
McKelvin Fined: Leodis McKelvin received a $75 fine from the Niagara Frontier Transportation Authority for failure to comply on a flight from New York City to Buffalo on Tuesday. McKelvin was reportedly asked several times to turn off his cell phone and place his luggage in the overhead bin but did not do it. He can appeal the notice of violation but one report says he will pay the fine and move on.
The quickest way to get breaking news from Bills Daily is to

follow us on twitter!
Wednesday November 21, 2012
McIntyre Hurt In Practice: Corey McIntyre left practice early when he hurt his left knee. Chan Gailey said it is an issue he has been dealing with on and off and it isn't too serious. He may miss practice on Thursday but should be ok for Sunday. Missing practice today were Mark Anderson, Kyle Williams, Aaron Williams, and Ron Brooks. Anderson and Aaron are likely out Sunday. Kyle got his normal Wednesday day off to rest his ankle. Brooks was getting emergency dental surgery. Chris Kelsay practiced fully while Spencer Johnson and Brad Smith returned to the field on a limited basis. Injury Page.
McKelvin Honored: Leodis McKelvin was awarded the AFC Special Teams Player of the Week award thanks to his 79 yard punt return for a score against Miami.
Jackson Cleared Won't Start: Fred Jackson has been cleared to practice by team doctors and will be on the field today. Chan Gailey said he will play on Sunday but C.J. Spiller will get the start. The rotation is unclear at this time the coach said but Spiller will get the majority of the carries. The change isn't just for the first series but Jackson will still plenty of snaps.
Practice Squad Move: The Bills made a practice squad move today by signing LB Greg Lloyd and releasing OL Reggie Stephens. Lloyd was a 7th round draft pick in last year's draft by the Eagles. He spent most of 2011 on their practice squad before being activated for the final five weeks. He was traded to Indianapolis in the summer but did not make their team. Front Office Page.
Another Must Win: Just about every game for the rest of the season is a must win for the Bills. This game is more of a must win than any other as they play a team ahead of them in the AFC standings. The surprising Colts are very tough at home and looking to keep their spot in the playoff picture while putting an end to the Bills fading hopes. Game Preview.
Tuesday November 20, 2012
Caussin On IR: The three week practice period is up for Mike Caussin and he has now been placed on season ending injured reserve. The team had three weeks to see if he was recovered enough from knee surgery to rejoin the active roster. He was on the active PUP list. He is only about 80% healthy so the team decided to put him on IR. In other injury news, Fred Jackson undergoes final concussion tests today to determine if he could return to practice tomorrow. He is feeling much better. Injury Page.
Monday November 19, 2012
Kelsay Should Play: Chris Kelsay took part in individual drills today and said he should practice on Wednesday and play Sunday. He missed the last two games with a torn ligament in his neck. He has been assured he is in no danger by coming back and playing and he feels a lot better. Fred Jackson has not been cleared to practice yet as he is suffering from a concussion. Chan Gailey hopes he will be back on the field on Wednesday. Brad Smith did not practice in today's extra full practice either with his ongoing hamstring injury. Spencer Johnson, Aaron Williams, and Mark Anderson also sat. Johnson has been bothered by an ankle problem. Williams and Anderson will very likely miss the Colts game. They have not been ruled out yet but it doesn't look good for their return. Injury Page.
Bills Back To Work: The Bills get back to work today after a mini bye following Thursday night's win. The coaches went back yesterday to get the game plan ready for Sunday's showdown in Indy. One of the injured players the Bills hope to get back on the field soon is Aaron Williams. He may not be back in his familiar starting role however as Chan Gailey said a decision will need to be made when he's healthy because of the strong play of Leodis McKelvin in his place.
---
News Archives index
Latest News Section
Archives Library
Back to Bills Daily Homepage